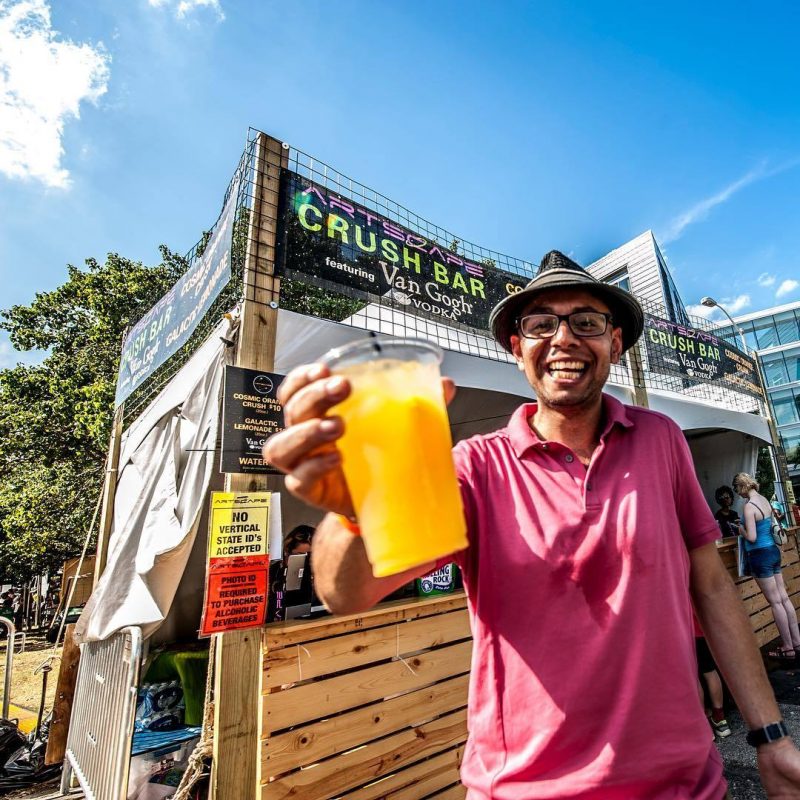 @artscapebmore via Instagram
As the largest free outdoor arts festival in the country, Artscape will be once again painting the streets this July, with a color palette that's overwhelmingly green.
In its 37th year, the free festival is making considerable sustainable efforts. Its agenda is threefold, according to Kathy Hornig, Baltimore Office of Promotion and the Arts' (BOPA) festival director, as these environmentally friendly efforts will be seen in its food and drink operations, transportation options, and visual arts exhibits.
For the first time, attendees can sip drinks through paper straws, as all BOPA vendors will be stocked with them and the remaining food stalls will be highly encouraged to do the same.
The initiative complements the successful ban of Styrofoam products among vendors, which the festival started two years ago, Hornig said.
"We were ahead of the curve on that one," she added. Since then, the independent nonprofit Trash Free Maryland has led a bill to ban polystyrene foam in Baltimore. The organization works to create legislative and policy-driven initiatives to combat trash pollution.
"Often times, there's something you can do—not in addition to—but differently," said Ashley Van Stone, executive director of Trash Free Maryland. "Like using a different material."
Along with using eco-friendly material, BOPA is partnering with Monument City Brewing Company to streamline recycling efforts, piggybacking off their partnership from Light City. The brewery will provide about 50 clearly labeled recycling containers.
With an estimated volume of 350,000 attendees, preventing trash pollution was a priority. The receptacles will help outline how to separate materials and make it easier to sort trash out.
"I think the Artscape attendees want to support sustainability," Hornig said. "They just need clear, visible units to make that happen. With the addition of these assets, we find the crowd is as into being sustainable as we are."
In line with celebrating Baltimore's own sustainability efforts, Artscape will also make use of the new permanent bike lanes up Mount Royal Avenue. Starting this year, BOPA will have free pedicab rides going up and down the hill.
"It's completely human-powered, sustainable pedicabs—a free way to get up and down the hill," Hornig said. "We're hoping that festival goers will use those to maybe see something at Artscape they haven't seen before."
Up at the top of Mount Royal, the festival features local bands, food vendors, and indoor art venues. Its footprint is "symbolic" of the culture Baltimore has to offer, including local sustainability practices.
"Whatever the best practices are for our city in general, festivals should try to accommodate those," Hornig said. "As a showcase and celebration of everything that makes our city great, sustainability efforts should certainly be a part of that."
Looking at Artscape festivals to come in the years ahead, the team hopes to continuously add more environmentally conscious efforts.
"We would like to just keep doing a better job year after year," Hornig said. "We're interested in the possibilities of solar power for some of our temporary power moving forward. We just want to continue to do the good work."