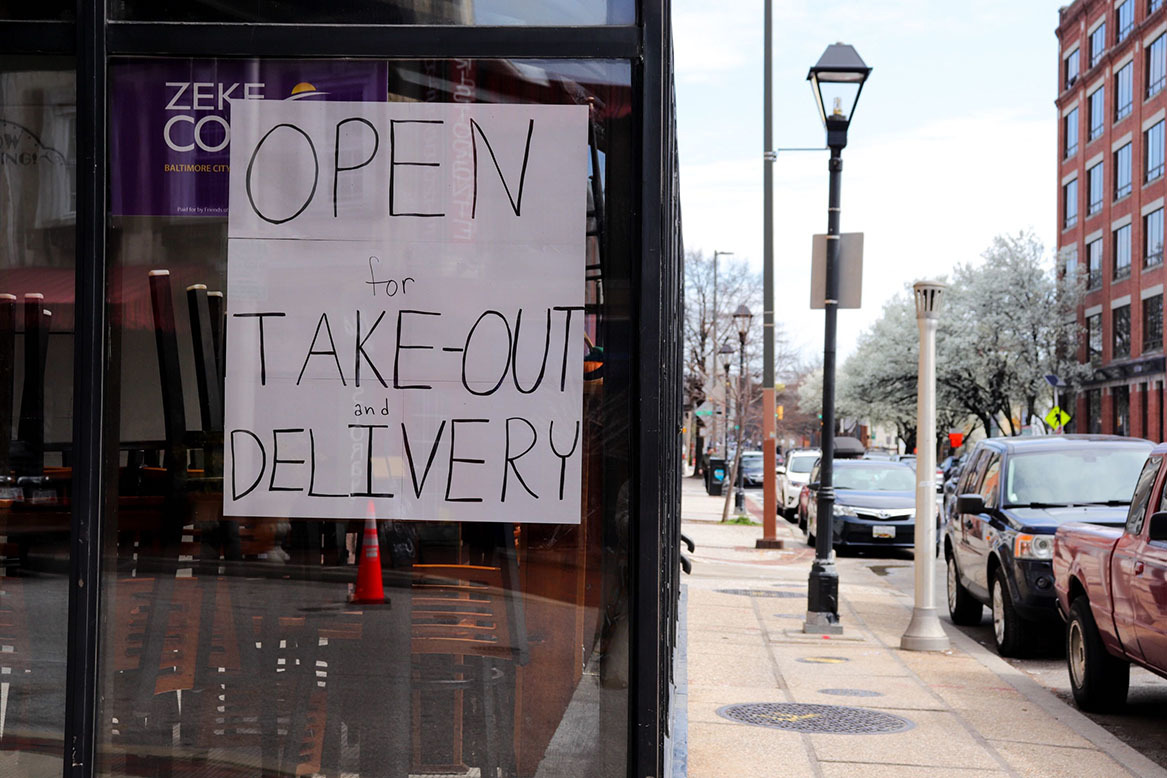 Photography by Lorann Cocca
[1/1/21: Editor's Note: This piece was originally published when the first restaurant shutdown went into effect in March of 2020. Though many of the establishments listed below are still offering to-go service, some of their specials may be outdated. For an updated list of restaurants offering takeout, please visit our Restaurant Directory.]
If there is any good that can come of the mandatory bar and restaurant closures across the state—aside from, of course, slowing the spread of COVID-19—it's seeing how the resilient hospitality industry has come together to support one another during these surreal times.
Longtime restaurant publicist and industry advocate Dave Seel has started a Facebook group to share resources and propose relief efforts for culinary professionals. Industry veteran Abby Hopper has created a Virtual Tip Jar for locals to send a few dollars to their favorite servers, bartenders, and baristas while dining rooms remain closed.
But above all, supporters of the city's dining scene have come out in droves to promote carryout and delivery service, which makes it easy to support your favorite small businesses when they need it the most. Can't decide what you're feeling for your next meal? Here's an easy-access guide with some of the many spots offering carryout and delivery, and more information on how to order:
Breweries, Wineries, and Liquor Stores
At one of his many public announcements, Governor Larry Hogan declared that he has signed an executive order allowing for alcohol delivery in an effort to help support the industry while encouraging citizens to stay home. Though this is permitted at all establishments, here are a few favorites to consider:
Bin 604: The experts at this Harbor East headquarters are offering curbside pick-up and free delivery services from 11 a.m.-7 p.m.. Browse the store's inventory and order online, here.
Canton Crossing Wine + Spirits: Not only is this neighborhood shop offering its regular delivery service, it's also offering work to industry professionals in need. More information here.
Diamondback Beer: Diamondback is offering hot pizza and cold packaged products to-go in order to limit contact and put safety first. Online orders can be placed through Toast Tab or DoorDash, where curbside pickup can be requested.
Full Tilt Brewing: This Towson brewery on York Road will be offering curbside pickup for its cans and crowlers, and a 25-percent discount on them all from 3-7 p.m. this week.
Grand Cru Bottle Shop: Visit this Belvedere Square staple's online bottle shop to find tons of wine, beer, and spirits available for delivery and curbside pickup. Be sure to check out the "Staff Picks" section for practical suggestions (think boxed wine and local craft beer) perfect for hunkering down at home.
Guinness Open Gate Brewery: Customers can now order a range of Baltimore-brewed experimental beers, as well as Dublin classics, for curbside pickup at the Halethorpe facility. Guinness Blonde and Over the Moon milk stout are among the options available for to-go service. All proceeds will benefit the Maryland Food Bank's COVID-19 response efforts.
Mr. Nice Guy Cocktails: Mr. Nice Guy Cocktails is a group of bartenders offering takeout and delivery eats and drinks in Canton and the surrounding Baltimore area. Menu items include snacks, craft cocktails, and nonalcoholic drinks with frequent collaboration with local bars and restaurants. Run by bartenders impacted by the virus, 10 percent of all profits will be donated to the Baltimore Bartenders' Guild Relief Fund. The kitchen is open Monday through Saturday and the bar runs daily from 12-8 p.m.
Monument City Brewing: Show your support for this Highlandtown brewery by grabbing cold cans from its curbside station from 11 a.m.- 6 p.m. Wednesday through Sunday, and 12-7 p.m. on weekends. Online ordering is now also available.
Nepenthe Brewing Co.: Though its doors are closed, this Falls Road hangout is offering pickup orders for crowlers, food, and homebrew supplies. The team has even started bottling their house cocktails. More information here.
Union Craft Brewing: Union is offering online beer orders for pickup or carryout. Customers can purchase a six-pack, case, or specialty growler.
Union's taproom neighbor Well Crafted Kitchen is orchestrating pickup for its pizzas, shareables, and snacks, as well as other goodies from its farm partners and fellow Union Collective tenants. Visit the kitchen's website to bundle The Charmery ice cream, Baltimore Spirits Company liquors, Vent Coffee beans, and more with your pizza order.
Waverly Brewing Company: Waverly is operating on modified to-go hours so that customers can still enjoy the beer in crowlers and growlers. The team is currently featuring six different brews, with two more coming later this week. Hours are 4-7 p.m. Tuesday through Friday and 12-4 p.m. on Saturday and Sunday.
Wild Kombucha: This homegrown fermentation facility is offering free home delivery (within Baltimore city and county limits) on 12-packs of its signature kombucha and Icaro Yerba Mate. All orders can be placed online or by phone and will be delivered to your doorstep within three days.
Looking to support local vineyards? Check out a handy guide to wineries open for curbside pickup from Vino 301 and the Maryland Wineries Association, here.
Neighborhood Spots
AJ's on Hanover: AJ's is offering all food and drink for curbside pickup from 4-9 p.m. Tuesday through Saturday and 11 a.m. to 3 p.m. on Sunday for brunch. Orders can be called in at 410-800-2657, and will be brought straight to the curb with your receipt.
Alexander's Tavern: This Fells Point favorite, along with its sister spots Papi's Tacos, Wicked Sisters, and Huck's American Craft, is offering meals to-go and through delivery providers.
Annabel Lee Tavern: The hand-written menus are still available for walk-up and carryout at this Canton corner bar. Daily specials, such as the $5-off crab cake deal on Thursday, continue to be offered.
Abbey Burger Bistro: Locations in Federal Hill and Mt. Washington are open for curbside carryout from 5-9 p.m, as well as delivery via Grubhub, Doordash, and Uber Eats. Food, beer, and wine are all available to order.
Arthouse Pizza Bar: Delivery, carryout, and gift certificates on all food and alcohol are available from 5-9 p.m. and until 10 p.m. on Friday and Saturday.
Avenue Kitchen & Bar: Hampden's Avenue Kitchen & Bar is now offering carryout and delivery daily from 3-8 p.m. Carryout orders can be placed by calling 443-961-8515, and delivery orders can be placed through DoorDash and GrubHub. Gift cards can be bought on Toast Tab, where 50 percent of all proceeds will be contributed to helping employees currently out of work.
Barracuda's: Did someone say to-go Crushes? In addition the the famous Maryland cocktail, the Locust Point Tavern is featuring a special "Quarantine" menu that highlights its signature Maryland crab soup, crab cakes, and pizzas, all available in various sizes if you're feeding a group.
The Backyard Uptown: This brand new concept, now open in the former home of The Greene Turtle in Towson, is open for contact-free carryout and delivery. Every day from 12-8 p.m., The Backyard Uptown offers its full menu of burgers, sammies, pub snacks, and larger entrees like barbecue ribs and lemon pepper chicken. Be on the lookout for special drink deals and family packages offered weekly.
Blue Agave: Food, margarita mix, and nonalcoholic beverages are available for carryout at Blue Agave in Federal Hill. Updated business hours are 5-10 p.m. Monday through Friday and 12-10 p.m. Saturday and Sunday. Blue Agave is also available for delivery on GrubHub and DoorDash.
Blue Hill Tavern: Enjoy favorites from this Canton staple in the comfort of your own home by ordering curbside pickup. Check out the restaurant's Instagram for a new menu and carry-out specials (like boozy snowballs) weekly. In addition, 100 percent of all food and gift card sales will be divided amongst the tavern's hard-working staff. The restaurant is also offering an option to donate a prepared lunch to emergency room staff and front line workers for $10.
The Bluebird Cocktail Room and Pub: The Hampden bar is offering a special curbside carryout menu including bottled versions of its famous Old Fashioneds and Manhattans. Its downstairs pub will be boxing up eats including cheeseburgers, fish and chips, and lamb meatballs.
Blue Pit BBQ & Whiskey Bar: Curbside pickup and delivery via Chownow are offered from 11 a.m.-9 p.m. Monday through Saturday and 4-9 p.m. on Sundays. Options include the full barbecue menu, as well as bottled mules and single-barrel bourbons, six-packs of beer, gift cards, and Blue Pit merch.
The Brass Tap: The Brass Tap in Midtown is offering carryout of select food, beer, and wine. Enjoy 15 percent-off carryout food, 50 percent-off select bottles and cans of beer, 25 percent-off bottles of wine, and 10 percent-off of everything between 2 and 4 p.m. for happy hour. Customers can call 888-901-BEER or place an order through the website.
Charmed Kitchen: In Butcher's Hill, this neighborhood go-to is open daily from 8 a.m. to 8 p.m. Aside from its all-day menu, the restaurant offers Ceremony Coffee, beer, wine, and cocktails to-go. If you're in need of other essentials, Charmed Kitchen's market offers items such as sugar, flour, and marinara sauce. Carryout orders can be placed online or by phone.
Clark Burger: Clark Burger's York Road and downtown locations are both still open and running. Near Belvedere Square, customers can place their burger and poutine orders online for carryout. Downtown diners closer to the location just outside of Harbor East can also order online, as well as place an order for delivery through Grubhub.
Dutch Courage: The bar may be closed, but Dutch Courage's new Bottle Shoppe is open for business. From 12 to 6 p.m, pick up beer, wine, and spirits at the Old Goucher spot, which is offering batched cocktails to-go in sealed containers. The "Stay @ Home Sour," made with gin, Strega, strawberry, and lemon, serves four.
El Bufalo Tequila Bar: The special menu at this Canton hotspot is available for carryout, delivery, and curbside pickup. Order tacos, sandwiches, burritos, and, of course, booze to-go by calling 410-814-0594. Plus, the restaurant has partnered with local artist Lynn Cipollone to provide personalized tequila kits, which make excellent gifts. Customers are encouraged to check El Bufalo's social media channels for daily specials.
Grano Pasta Bar: Aside from offering daily specials and beloved pasta dishes for pickup or delivery within a 10-mile radius, this Hampden hotspot is also selling packaged foods to be frozen or eaten as a family meal. Other offerings include Italian rice, antipasto, tomato sauces, and Neapolitan ricotta cheese cake.
Hair of the Dog: This South Hanover Street pub is offering GrubHub deliveries to your home. Plus, you can order online and pick up your food at the South Baltimore spot from 5 p.m. to 10 p.m.
Holy Frijoles: This Hampden dining favorite is open for carryout, although it plans to offer online ordering and delivery in the coming weeks. Open Monday through Thursday from 4 to 9 p.m. and Friday through Sunday, from 12 to 9 p.m, pick up cocktails to-go and other items from a new carryout menu.
Homeslyce: In addition to curb-side pickup and delivery to extended locations, Homeslyce is currently offering cook-at-home-kits. Each comes with the pizza bar's award-winning dough and all the ingredients to make your own pie.
Johnny's: In Roland Park, this neighborhood staple is offering its full cocktail menu. Pair your drink of choice with a la carte soups, salads, snacks, famous seafood dishes, and meal kits for two to prepare at home. Foreman Wolf is also hosting a pop-up market at Johnny's Sunday mornings from 8 to 11 a.m. featuring fresh pasta and sauces from Cinghiale, empanadas from Bar Vasquez, produce from Mexico, breakfast and coffee from Johnny's, and wines picked by Tony Foreman and sommelier Lindsay Willey. The restaurant group is also hosting farmers' produce from AgriBerry Farm, Two Boots Farm, and Richfield Farms, as well as crafts and art from Foreman Wolf employees.
Koco's Pub: Got a hankering for a classic crab cake? This Harford Road staple is offering curbside takeout, including its full menu and cocktails to-go, Wednesday-Sunday from 11 a.m.-8 p.m. The team is also shipping its crab cakes to out-of-towners who need their fix.
Lee's Pint & Shell: Continuing its daily food and drink deals, Lee's is providing carryout, curbside, and delivery in Canton and Brewer's Hill. Among the specials are $10 growler fills and a 16-inch pizza, 25 wings, and a case of beer for $50.
Mahaffey's Pub: Local beer bar Mahaffey's Pub in Canton is open for carryout food, beer, wine, and cocktails. Take advantage of deals like 50 cent wings with the purchase of a bottle of beer, canned cocktails, and bottles of liquor. Orders can be called or texted in at 443-695-3485, and hours can be seen here.
Mick O'Sheas Irish Pub: Choose your favorite Irish cuisine and pub grub from the full menu, as Mick O'Sheas offers curbside pickup daily starting at 5 p.m. Looking for a drink? The spot also offers bottled cocktails including margaritas, as well as mix-and-match 6 or 12-packs of craft beer, all to go.
No Land Beyond: This recently relocated gaming bar in Old Goucher is offering carryout and delivery on select beer, cocktails, and board games. No Land Beyond is open everyday from 12-8 p.m., and orders can be placed through its website. All delivery orders are $20 minimum and will be dropped off within five miles of the bar.
Papi's Tacos: Both Papi's Tacos locations in Fells Point and Hampden are now available for delivery. Papi's Fells Point location will deliver through GrubHub, and Hampden through DoorDash.
Pen & Quill: Though we're unable to hang out in the bar or dining room of this Station North gem, the restaurant is offering carryout food and cocktails to hold us over until it's safe to return. The limited menu features to-go Grapefruit Crushes and basil lemonades, along with homemade focaccia, sandwiches, burgers, and lasagna for two.
Refocused Vegan: Open for carryout and delivery, this vegan concept offers its plant-based dishes and desserts, as well as specialty 16-oz. bottled cocktails. Try the "Peach Potent Potion" sangria, "Ravens Purple Reign" vodka cocktail, or Hennessy "HEN-demic Punch."
Taco Fiesta: Taco Fiesta in Harbor East is serving eats and drinks for carryout and delivery. Enjoy tacos, dips, tequila, and "Fiesta-ritas" from its standard menu. Orders can be called in or placed through GrubHub or Uber Eats.
Topside: Hotel Revival's rooftop bar and restaurant is offering delivery through Uber Eats. But to further do its part in these challenging times, the hotel is offering its unused first-floor restaurant space to local food startups without a brick-and-mortar location free of charge. Known as the "Pop-Up and Pick-Up" initiative, the project allows small businesses the space to take orders, prepare food, and offer carryout.
Additionally, Hotel Revival is partnering with Kiss Tomorrow Hello and The Night Brunch to collect resources such as money, supplies, and fresh produce from Healthy Harvest for service industry workers who have been recently laid off.
Wet City: House beers, guest beers, canned wines, bottled cocktails, hot Cheeto-fried deviled eggs, confit chicken wings—this Mt. Vernon hangout is offering it all for pickup and delivery. Be sure to grab some merch (including the popular Spagett t-shirt) to further show your support.
Wicked Sisters: Wicked Sisters is offering it's full menu for delivery or curbside pickup via Grubhub. Customers can also call in their orders.
Produce and Groceries
Copper Kitchen: Caroll Park's Copper Kitchen is open for curbside pickup and doorstep delivery for those who live within a 10-mile radius. Their menu features soups, salads, sides, entrees, and desserts. Customers can also purchase fresh organic produce and mix- -and-match beer kits to pair. Orders can be placed by calling 410-244-7152 or by sending an email. All orders must be placed by 3 p.m. and at a 48-hour notice.
Culinary Architecture: In the wake of COVID-19, Culinary Architecture has refocused its services and is now a reliable neighborhood source for food and grocery needs in Southwest Baltimore. All orders can be placed via email for guaranteed contactless transactions.
Chuck's Trading Post: Enjoy carryout, curbside, or delivery from this Hampden bodega and saloon. Chuck's continues to offer its full menu, as well as grocery items including eggs, milk, produce, beef, butcher boxes, and meal kits. Carryout beer, wine, and liquor are also a plus.
La Cuchara: La Cuchara is now operating as a curbside grocery store, providing neighbors with fresh fruits, vegetables, and proteins from suppliers, as well breads baked fresh in-house. Beyond that, the team is peddling household items such as bleach, gloves, and garden seeds. There are also some prepared meals easy to heat up at home. Orders are accepted Tuesday through Saturday to be picked up the following day. A 10-percent gratuity is added to orders to support hourly staff who are unable to work.
Table Field Catering: With special events canceled for the foreseeable future, Table Field Catering has pivoted to delivering locally sourced organic vegetables. For just $35, 10 pounds of freshly picked produce will be delivered right to your door weekly, biweekly, or monthly. They are also a community partner of The Maryland Foodbank and every order supports a food-insecure Marylander.
Woodberry Kitchen: Woodberry Kitchen's expansive "Here for Us Market" menu includes its own recipes (think wood-fired meatballs and maple-glazed sweet potatoes), as well as items from other local purveyors. Among the goods to-go are ice cream pints from The Charmery, salsas from Papi's Tacos, loaves from Motzi Bread, and produce from Karma and Liberty Delight Farms.
Additionally, restaurant partner Corey Polyoka has created a signature line of curbside cocktails that will act as a fundraiser to maintain health benefits for Woodberry Kitchen and Artifact Coffee employees. The first release is a barrel-aged Black Manhattan featuring Catoctin Creek rye and local kumquats.
Food Hall Hubs
Baltimore Public Markets has made the decision to close Lexington, Avenue, Broadway, Hollins, and Northeast markets in an effort to prohibit patrons from congregating to make purchases and to keep its merchants safe and healthy. However, other market and food hall tenants inside Cross Street Market, Belvedere Square Market, and R. House (beginning Friday) are offering curbside, takeout window, and delivery service.
Amano Taco: R. House has made it easy to enjoy all of its food hall staples, including Amano Taco. Amano is available for delivery through DoorDash, GrubHub, Postmates, and Uber Eats, as well as for takeout and it's selling gift cards through Toast Tab. New hours of operation are Monday through Thursday 11:30 a.m. to 8 p.m., Friday 11:30 a.m. to 10 p.m., Saturday 11 a.m. to 10 p.m., and Sunday 11 a.m. to 9 p.m.
BeBim: BeBim Korean at R. House is available for carryout daily from 11:30 a.m. to 8 p.m. Gift cards can be purchased here to support the business now while treating yourself to a DIY rice bowl in the future.
Between 2 Buns: This Mount Vernon Marketplace mainstay will be offering its entire menu of burgers, poutine, and milkshakes for curbside pickup every day from 12-7 p.m. Call ahead with your order and the make of your vehicle and the team will meet you outside the marketplace with your food.
BRD: BRD's flagship location at R. House in Remington is offering curbside pickup by ordering online or calling in. BRD is also delivering through DoorDash, GrubHub, Postmates, and Uber Eats. Updated hours of operation are Monday through Friday 11:30 a.m. to 9 p.m. and Saturday to Sunday 11a.m. to 10 p.m. Gift cards can be purchased here.
Gangster Vegan Organics: This vegan hub inside Cross Street Market will be taking orders from 11 a.m. to 6 p.m. daily. Call 410-617-8903 to place orders.
Gundalow Gourmet: This local caterer, which will soon open a homebase inside the forthcoming Whitehall Market in Hampden, is offering a menu of prepared items to stock your fridge and freezer. Follow updates on Gundalow's Instagram, which boasts offerings such as family-style lasagnas, shepherd's pie, and summer squash quiche.
Fishnet: You can still head to Mount Vernon Marketplace for your seafood fix. Fishnet is open Tuesday through Saturday from 12 to 7 p.m. for pickup and delivery via UberEats.
Neopol Savory Smokery: Get all of your favorite smoked snacks and bulk-order deli items delivered via Uber Eats, Doordash, and Grubhub, or the Neopol team will bring it all to you directly during two daily delivery windows. In addition, online ordering and pickup from Belvedere Square is available.
Pizza di Joey: Access to Pizza di Joey in Cross Street Market will be available through its carry-out window from 11:30 a.m. to 8:30 p.m. Place orders online, over the phone, or at the window.
The Pizza Trust: The Pizza Trust is currently open Wednesday through Saturday from 3 to 8 p.m. Order for delivery via GrubHub or UberEats or head to the restaurant's pickup window at PlantBar in Belvedere Square.
Vikki's Fells Point Deli: After closing briefly this month, Vikki's has re-opened to offer carryout and curbside delivery, as well as delivery via GrubHub, DoorDash and Postmates. The Broadway Market deli is not accepting cash payments. Pull up to receive your prepaid, online order and check Vikki's Facebook page for daily soups and specials.
Fine Dining
Aldo's Italian Ristorante: Aldo's famous Italian cuisine is now available for delivery and takeout from 5-8 p.m. daily. Orders can be placed by calling 410-727-0700, and customers receive 25 percent-off any gift card after their first online order.
Alma Cocina Latina: Alma has started an arepa ordering service for pickup. All arepas are $15 and can be ordered by calling 667-212-4273 after 3 p.m. daily. Pick up will be available from 5-8 p.m. with Sundays excluded.
Amicci's: This Little Italy staple is accepting carryout orders, which can be called in at 410-528-1096. Amicci's is also available for delivery through DoorDash, GrubHub, Uber Eats, and Postmates.
Ananda: Beginning Friday, March 20, this Howard County gem will be offering carryout service from 12-8 p.m. daily. Favorites including the crispy Gobinda cauliflower, Kerala crab cakes, and lamb vindaloo are all featured on the takeaway menu.
Bar Vasquez: Chef Mario Cano Catalán is offering tacos, tapas, meats, fish, and suggested wine pairings at Brazilian steakhouse. In addition, you can pre-order a special meal kit with proteins to throw on the grill at home.
Cafe Gia: Little Italy's Cafe Gia is offering takeout and delivery of its classic pizzas, pastas, family-sized entrees, and bottles of wine. Orders can be placed by calling 410-685-6727.
Citron: This Pikesville restaurant at Quarry Lake is offering curbside pickup for their New American eats. Call the restaurant to order all of your menu favorites along with selections from their award-winning wine list. Use promo code "Citron To Go" for 20 percent-off all carry-out orders.
Cosima: Treat yourself to a Sicilian feast in the comfort of your own home with offerings including oven-fired pizzas, pastas, fish dishes, sides, and decadent desserts. You can't go wrong with grilled salmon over saffron risotto, black roasted garlic chicken, or classic spaghetti and meatballs with house garlic bread.
Clavel: Move over, McDonald's. Clavel has created its own drive-thru outside of the restaurant for fans to pick up tacos and bottled cocktails everyday from noon to 7 p.m. Text your order in at 443-900-8983, wait for confirmation, and send payment via Venmo, Paypal, or CashApp.
Charleston: Chef Cindy Wolf is back in her kitchen at this Harbor East hotspot, whipping up a limited menu of à la carte dishes. Pull out the candlesticks, set the dining room table, and enjoy dishes such as rich lobster soup, sweetbread empanadas, pan-roasted sea scallops, grilled black sea bass, and a half rack of roasted Colorado lamb. There are also cheeses and sweets, as well as discounted to-go bottles from the restaurant's cellar. Please note take-away must be ordered for next day pick-up.
Cinghiale: Take a drive to Harbor East to grab curbside pickup from this Italian classic. The dinner menu includes the restaurant's famous pastas, including tagliatelle with forest mushrooms, ricotta-filled mezzaluna, and spaghetti with Gulf shrimp, garlic, and capers. Be sure to also check out the Roman-style pizzas, desserts, and suggested bottled wine pairings.
Chez Hugo Bistro: Between 5 and 8 p.m. Thursday through Saturday, Chez Hugo will be offering curbside pickup. Place your order off of the special to-go menu, which features French Onion soup, a croque monsieur, and whole roasted chicken, by calling the restaurant and pre-ordering Wednesday-Saturday from 1-8 p.m.
Coal Fire Pizza: Coal Fire Pizza in Baltimore, Ellicott City, Hunt Valley, and Gambrills is offering its full menu for carryout and delivery. Customers can enjoy fresh pizzas, pastas, wings, and more. Coal Fire is offering pizza kits for families to make at home, and BWL. To give back to the community, Coal Fire is offering complimentary food to restaurant workers in need and running a program to help feed healthcare workers fighting on the frontlines.
Cookhouse: If you haven't yet tried this Bolton Hill newbie, order online and pick up your food from 5-7 p.m. Tuesday through Friday.
Dylan's Oyster Cellar: Dylan's is offering a smaller takeout menu with classics for customers to enjoy. Call 443-759-6595 or email to place an order for pick-up between 3 and 9 p.m. Both in-store and curbside pick-up are available.
The Food Market: Order the signature Amish soft pretzels, "Big 'Ole" mozzarella sticks, and Baltimore club sandwich to pick up curbside from 4-9 p.m.
Germano's Piattini: Curbside pickup and delivery orders can be placed daily from 2-9 p.m via phone or by emailing [email protected]. Since Germano's has also had to stop operations of its upstairs cabaret, each order will include a CD of music performed by artists who have frequented the stage.
The Helmand: This traditional Afghani restaurant is open for lunch and dinner from 12-8 p.m. Monday through Sunday. Diners can place carryout orders of the famous "Kaddo Borwani" (baked pumpkin with yogurt sauce), kabobs, and vegetarian entrees, or order delivery via Grubhub and Doordash.
Hersh's: Beginning at 4 p.m., swing by this South Baltimore staple for antipasti, wood-fired pizzas, and booze to-go. There's also a section of prepared foods, which includes options like housemade mozzarella and take-and-bake lasagna with Hersh's homemade pasta.
Ida B's Table: Chef David Thomas' soul food spot is open Tuesday through Sunday from 11:30 a.m. to 6 p.m. for delivery and curbside pickup. Healthcare workers who visit the Holliday Street restaurant will receive 15 percent-off curbside orders with hospital ID. Call 410-844-0444 to place pick-up orders.
Koco's Pub: Koco's Pub is open for curbside takeout Wednesday through Saturday from 11 a.m. to 8 p.m. The Famous Koco Crab Cakes along with the full menu are available, and speciality cocktails. Crab cakes are also being shipped to customers out of town, and orders can be called in at 410-624-5044.
Le Comptoir du Vin: For those who are going through French lentil withdrawal, Le Comptoir in Station North has began offering contactless carryout. In addition to the lentils, the owners are offering their beloved house sourdough, chicken liver pâté, wine by the bottle, and cocktail kits.
Little Italy Restaurants: Aldo's owner Sergio Vitale and Cafe Gia owner Gia Fracassetti have created a website for patrons to order takeout and delivery from their favorite Little Italy restaurants.
The Milton Inn: The Northern Baltimore County mainstay has officially reopened for curbside and delivery, offering special "Butcher Boxes," platters, pizza kits, and booze to-go. The classic menu of fine-dining favorites is also available, with options including braised beef short ribs, 6-oz. crab imperial, clams casino, and fried jumbo shrimp.
Orto: Takeout dishes including rotating appetizers, pastas, and main dishes are available for pickup from 5-8 p.m. Tuesday-Saturday.
Petit Louis Bistro: Create your own French feast to remember with take-away dishes from this Roland Park mainstay. Favorites on the limited menu include steak frites, trout amandine, traditional Quiche Lorraine, and a croque monsieur on brioche. Now offering outdoor seating, Petit Louis is a great spot to enjoy the summer weather while dining al fresco.
Peter's Inn: Pull up to this Fells Point gem from 12-7 p.m. to grab thick slices of garlic bread, sweet sausage lasagna, braised pork shank with cheesy grits, and more.
Restaurante Tio Pepe: To get a taste of authentic Spanish cuisine at home, order carry-out by calling 410-539-4675 from noon to 8 p.m. The team will also offer delivery through DoorDash, UberEats, and Postmates within a limited radius from the restaurant.
Sammy's Trattoria: Sammy's Trattoria is Station North is offering curbside pickup and delivery through Uber Eats, GrubHub, Postmates, and Slice. They are also partnering with local NPO's & Under Armor to deliver large quantity orders to families and first responders in need.
Sobo Cafe: This Federal Hill staple is ready to serve all of your needs with delivery via Doordash, Grubhub, and Uber Eats, as well as individually packaged catered meals available via contactless delivery. Browse the menu full of comfort foods including stuffed eggplant, seared salmon, and a family-size chorizo mac and cheese. There's also keto and paleo-friendly meals, weekly specials such as Burger Nights on Thursdays, and plenty of growlers and adult beverages to-go.
Tapas Teatro: Break away from your typical takeout routine and plan a menu of small plates to pair with sangria and wine from this Station North gem. Order for carryout or delivery via ChowNow for lunch and dinner Tuesday-Saturday.
True Chesapeake Oyster Co.: While the restaurant is closed, you can still pick up wine, liquor, six-packs, and swag from True Chesapeake, where general manager and beverage director Chelsea Gregoire will be busy hand-picking and packing orders. Email [email protected] to see selections from the restaurant's daily price list, available for drive-thru pickup.
Verde Pizza: Verde Pizza in Canton is serving takeout and delivery, including cocktail kits, from 12-8:30 p.m. daily. Be sure to have your home pizza cutters ready, as the team has stopped slicing its pies in an effort to reduce any additional handling of the food. Place your orders through the restaurant's website, Uber Eats, or Grubhub.
Cafes and Coffee Shops
Attman's Delicatessen: Attman's is open for carryout and curbside pickup. Ten people are allowed inside at a time, but the shop is open from 8 a.m. to 5 p.m. everyday. Curbside orders can be called in at 410-563-2666 or placed online.
Atwater's: All five of Atwaters' locations are open for takeout and delivery through GrubHub and Uber Eats, with updated business hours. The Belvedere location is open 8 a.m. to 2 p.m. daily, Canton and Catonsville are open 10 a.m. to 3 p.m. daily, Hopkins is open 10 a.m. to 2 p.m. Monday through Friday, and Kenilworth is open 8 a.m. to 3 p.m. Monday through Saturday and 9 a.m. to 3 p.m. on Sunday.
Aveley Farms Coffee: Stop by to get coffee, merch, and grinds to-go from 8-12 p.m. on weekdays and 8-2 p.m. on weekends.
Baby's on Fire: Both locations in Mt. Vernon and Fells Point are offering online takeout orders on coffee, breakfast, lunch, and merch.
Bottoms Up Bagels: This fan-favorite bagel purveyor is offering standard menu items to be ordered through its website, with specials once a week. Sandwiches, bulk bagels, lox, and spreads are all available for home delivery on Tuesdays, Thursdays, and Sundays. Orders can be placed through Waverly Farmers Market on Saturdays, and orders through Bmore Kitchen can be placed here.
Ceremony Coffee Roasters: All three Ceremony locations at Harbor Point, Cross Street Market, and in Mt Vernon now offer carryout and gift cards for purchase. The shop's mobile ordering app is up and running for all cafes, and first-time users will receive 25 percent-off their entire order. Bottles of wine are available for carryout at the Harbor Point location only.
Charmed Kitchen: In addition to breakfast, lunch, and wine to-go, Charmed Kitchen is currently offering grocery essentials. Stock up on milk, butter, and other pantry staples between your next grocery delivery and grab a bite to-go from 8 a.m. to 8 p.m.
The Charmery: This beloved Baltimore sweets staple is accepting online orders 24/7. Pick up from 2 to 8 p.m. at The Charmery's Towson and Hampden locations, which are offering deliveries from 5 to 8 p.m. Thursday through Sunday.
Cheese Galore and More: To encourage social distancing, Cheese Galore and More is only allowing 1-2 customers in at a time. However, you can still stop into the gourmet cheese shop, which offers made-to-order paninis and necessities like coffee and olive oil. Grab wine and beer to-go and call 410-244-5515 for curbside and takeout, which is available 11 a.m. to 6 p.m. weekdays, 11 a.m. to 7 p.m. Fridays and 12 to 6 p.m. Sunday.
Common Ground: Curbside pickup and local delivery in Hampden will be available from 7 a.m.-3 p.m. daily.
The Corner Pantry: This Mt. Washington haunt has come up with a variety of family-style dinners available for carryout. Among them are vegetarian lasagna, lemon chicken with basmati rice, and French toast casserole. Gift cards are also available.
Dangerously Delicious Pies: Visit the Canton location for carryout or curbside delivery every day from 10 a.m. to 6 p.m. Enjoy a $5 discount when purchasing a whole pie, and the $22 date-night deal still stands. Orders can be placed by calling 410-522-7437 or though GrubHub or Uber Eats.
The Daily Grind: Grab-and-go eats and drinks will be available from 7 a.m.- 5 p.m. daily.
Earthshake: Earthshake in Fells Point is offering curbside delivery and delivery through DoorDash so you can enjoy an acai bowl from home. Call 410-276-0777 to place your order.
Felici Cafe: Felici Cafe and Catering in Govans has a boxed lunch menu available for delivery or carryout from its kitchen. Orders can be called in or placed on the website. Felici is also donating boxed lunches to a local soup kitchen to give back to the community.
Golden West Cafe: This Hampden go-to is now offering carryout, curbside pickup, and delivery of its updated food, drink, and merchandise menus. Orders can be called in at 410-889-8891, or placed for delivery through Uber Eats. Customers can also enjoy free door-to-door delivery when they order through the Toast Takeout app.
HomeMaid: Call ahead to order off of this Key Highway spot's full supper menu for curbside pickup. The signature brunch menu will also be available to-go throughout the weekend.
LB Bakery: Grab-and-go service from 7:30 a.m.-8 p.m. includes coffee, housemade pastries, grilled salmon and chicken breast, lox platters, and side orders of mac and cheese. From 11 a.m.-7 p.m., the cafe will also offer $3 local craft beer cans and $12 bottles of wine.
Lenny's Deli: Get your delicatessen fix with curbside pickup, carryout, and delivery from Lenny's. The Baltimore mainstay is offering its full menu, including the famous corned beef sandwiches, breakfast options, deli counter offerings, and bakery items. Call 410-363-3353 to order.
Love Puddin': Love Puddin' is open for delivery from 11 a.m. to 4 p.m. Although pop-ups are closed, you can still enjoy flavors like lemon drop and butter crunch, brought right to your door (limit 3 per flavor.)
Miss Shirley's Cafe: Satisfy all of your breakfast, lunch, and dinner needs with offerings from Miss Shirley's, which will offer delivery through DoorDash, Grubhub, Uber Eats, and Postmates, as well as online, phone, and walk-in orders.
Nalley Fresh: With a little determination and ingenuity, a drive-thru was just created in Nalley Fresh's Hunt Valley location, allowing you to pick from more than 100 toppings for your salad or bowl from the safety of your own car. Don't have time to drive? Nalley Fresh has you covered, offering GrubHub delivery straight to your doorstep.
Order & Chaos Coffee: Swing by the Key Highway shop for carryout eats and drinks from 7 a.m.-1 p.m. Monday-Thursday, and 7 a.m.-3 p.m. Friday-Sunday. Customers can place orders by phone (410-244-1111) or order online through the shop's website.
Plantbar: Get a bit of fresh air by visiting the Towson and Brewers Hill locations of this local juice bar and cafe, which are open for carryout. Delivery is also available via Grubhub and Postmates.
Pure Raw Juice: All four of Pure Raw Juice's locations in Towson, Hampden, Federal Hill, and Bel Air are open for carryout only. Towson, Hampden, and Bel Air are open from 8 a.m. to 7 p.m. on Monday through Saturday, and 8 a.m. to 5 p.m. on Sunday. The Federal Hill location is open from 8 a.m. to 7 p.m. Monday through Friday, and 8 a.m. to 5 p.m. Saturday and Sunday.
Rosina Gourmet: Operating solely out of its Thames Street location for the time being, Rosina Gourmet is offering catering and carryout while also working with partners at Our Daily Bread to provide meals to those in need. Owner Jim Lancaster hopes to reopen the Lombard Street location downtown soon (with special deals on carryout orders), but, until then, customers can enjoy sandwiches, soups, salads, and more from Thames Street.
Stone Mill Bakery & Cafe: Stone Mill has amped up its carryout business with its sumptuous selection of soups, sandwiches, and salads, plus daily specials like lobster rolls and brisket. Grocery items such as milk, eggs, and bread are also on offer. Customers can order online or call in for curbside pickup or carryout during breakfast, lunch, and dinner. The $20 dinner, including soup or salad, a main course, two sides, and a dessert, is one of the best deals in town.
Teavolve Cafe: Open from Friday through Sunday, 9 a.m. to 4 p.m., Teavolve Cafe is still serving customer favorites. Menu staples like spiced chai, red velvet pancakes, omelettes, and sangria pouches are available for curbside pickup and local delivery. Orders can be placed on its website or called in at 410-522-1907.
THB Bagels & Deli: All locations of this beloved Baltimore cafe are offering 50 percent-off to-go orders for all hospital employees and first responders. THB is also fulfilling curbside orders placed on its website and mobile app.
Vagrant Coffee: Both Vagrant Coffee locations, Milk & Honey Market and 3 Bean Coffee, are open everyday from 8 a.m. to 5 p.m.
Waffie Waffle:Waffie in Hampden is offering curbside pickup through its website and delivery with Uber Eats. Customer-favorite desserts like "Chicken and Waffles," "The Netflix and Chill Box," and "Chicken Sliders by the Bay" remain on the menu to enjoy.
Zeke's Coffee: Step up to the carryout window at this Harford Road hangout to fuel up while properly social distancing. The window will be open daily from 8 p.m.-4 p.m.
Seafood Spots
The Urban Oyster: Quell all seafood hankerings with the oysters, sandwiches, and snacks at this Locust Point spot, which is offering curbside service via online ordering Friday through Sunday.
Nick's Fish House: This waterfront hangout has plenty of crab cakes to go around. Order all menu items to-go from 12-6 p.m. daily.
Worldly Eats
Baltimore Chef Shop: Hampden culinary school Baltimore Chef Shop is offering two new ways to dine, with prepared dinners and make-at-home kits. Prepared dinners range from Moroccan to vegetarian Indian, and serve two for $27.99. They are available for curbside pickup from 3-5 p.m. this Friday through Sunday, and orders must be placed 8 p.m. the previous day. Additionally, bake-at-home kits are $13.99, with recipes including coffee cake and chocolate chip scones.
Curbside pickup for these meals are from 3-5 p.m. on Friday and Sunday. Baltimore Chef Shop is contributing to relief efforts by donating a portion of all wages to the One Fair Wage's Coronavirus Emergency Tipped and Service Worker Support Fund.
Cocina Luchadoras: Cocina Luchadoras in Upper Fells Point will be offering carryout and delivery through Uber Eats. Customers can expect both new and staple dishes to enjoy.
Ekiben: While Ekiben has decided to temporarily close its Fells Point location for one week to give its staff some much-needed rest, its new Hampden carryout is serving up steamed buns, rice bowls, and plenty of tempura broccoli to-go. Order online or via the Ekiben app.
Helmand Kabobi: The fast-casual, little-sister version of The Helmand in Mt. Vernon offers traditional Afghani salads, bowls, wraps, soups, and desserts. Customers can order carryout or delivery via Grubhub and Doordash.
Joe Benny's: Joe Benny's "Meatball Window" is open and ready to serve curbside orders of the restuarant's famous meatballs and fresh foccacia pizzas. Pickup or delivery for all menu items is offered daily from 4-9 p.m.
Naked Grill Sushi: Naked Grill Sushi in Canton is offering carryout and delivery through GrubHub, DoorDash, and Uber Eats. Customers can enjoy Japanese and Thai food and sushi, with updated business hours here.
Mexican On The Run: Owner Jimmy Longoria has you covered with tacos, burritos, quesadillas, and weekly specials served from his fan-favorite food truck. Customers are encouraged to pre-order online and schedule their pickup times, but Longoria is also accepting call-ahead and walk-up orders on Tuesdays, Fridays, and Saturdays.
Nepal House: Nepal House in Mt. Vernon has expanded its delivery hours from 9:30 a.m.-10:30 p.m.
Puerto 511: Got a hankering for some authentic ceviche? This Peruvian gem is offering its dishes via online ordering for carryout or delivery.
Tony Loco's Bar & Restaurant: This Italian and Puerto Rican restaurant in Howard County is giving away one free roll of toilet paper with every carryout order. Plus, 10 percent of all restaurant proceeds will be donated to charitable causes.
Trinacria Ristorante & Bar: For all of the makings of an Italian feast, carry out from Trinacria in Mt. Vernon, which is fully stocked with prepped meals to-go. Plus, carry out pizzas, pastas, and beer and wine.
The Local Fry: Order your favorite fries, wings, bowls, and banh-mi sandwiches from The Local Fry online or for delivery via Uber Eats.
The Verandah Kitchen: The Verandah Kitchen is offering family-style meals to-go. Head to the restaurant's Hampden location from 4-7 p.m for favorites like chicken curry and paneer tikka masala (each come with a side of basmati rice and serve 4-5.)
Zaatar Mediterranean Cuisine: Online ordering for takeout and delivery from this Federal Hill spot is up and running. Favorite dishes include falafel, grape leaves, shawarma, and spinach pie.
*Additional reporting by Grace Hebron, Sarah Raymond, and Ally Wade.
---
If you're a bar or restaurant owner taking new action to reach your customers, let us know by completing the following following form: