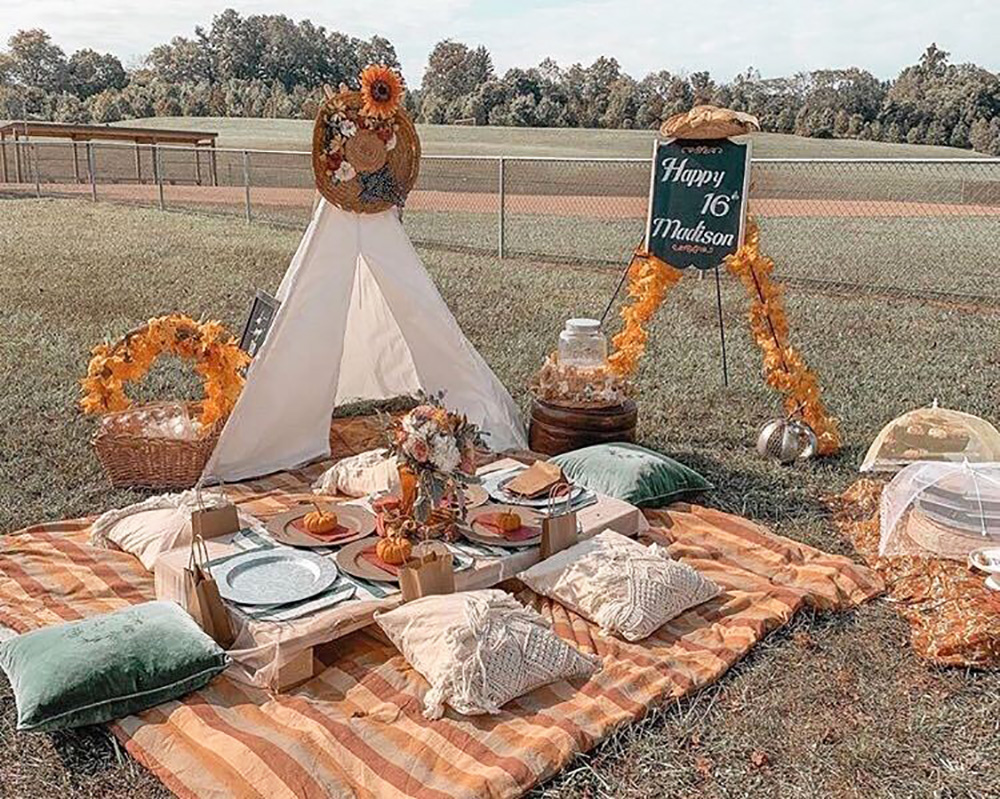 —Courtesy of Charm City Picnic
Last year, Tammy Trice bought her daughter, Madison, concert tickets to see pop duo Dan + Shay for her sixteenth birthday. But when the pandemic hit and all concerts were either canceled or postponed, Trice had to come up with an alternative plan, fast.
"With everything that's going on, there are no concerts," Trice says. "I told my daughter and she was upset. We didn't know what we were going to do."
Luckily, she stumbled upon an advertisement on her boss's Facebook page showcasing his daughter's new picnic planning business. With Madison's birthday weeks away, Trice was intrigued.  
"My daughter fell in love with it," Trice says. "It was something different."
Charm City Picnic, a personalized event-planning service founded by Baltimore County resident Alli Chavis, launched in October. Although it's only been running for a few weeks, Chavis' calendar has been booked every weekend this month with clients requesting their own socially distanced soirees at local parks, landmarks, or in their own backyards.
The picnic planning business plays on the growing popularity of eating outside in the midst of COVID-19. Customers can invite up to 10 guests, and prices start at $100-250 depending on the duration of the event and number of attendees. Chavis, 26, offers a variety of themes—from small birthday parties to holiday events—or she allows customers to create their own. 
Madison chose a fall-themed sweet sixteen party: "She went on Pinterest, picked out what she wanted, and sent it to Alli," Trice says. Chavis then used the inspiration to craft mood boards and later created a mock set up in her own front yard so that Madison could envision what the picnic would look like. 
The idea to start Charm City Picnic came over the summer when Chavis realized how often she and her husband enjoyed having their own open-air experiences.    
"A lot of our meetups tended to be in a neutral location where people could be outside and still safely social distance," Chavis says. "With each picnic that we had, I thought, 'Wow this would be a really good idea.'"
Though she's in charge of organizing the events, Chavis doesn't work alone. She grew up in the area and knew she wanted to involve as many local businesses as she could, especially since many of them have been hit hard by the pandemic.
Sharon Johnson, owner and operator of Cheese Galore and More in Federal Hill, creates charcuterie boards for Chavis' picnics. Johnson says her specialty cheese shop is surviving on grocery items that customers can buy and use to make meals at home. But she adds that staying afloat during these tough times means additional expenses for outdoor dining.
"We have to buy outdoor tables and more disposable products, so that always adds to your bottom line," says Johnson, 62.
When Chavis reached out to Johnson, she was impressed by the concept and knew it would bring some exposure to Cheese Galore and More. Johnson provides what she calls "nibblies" for the picnics—with options such as brie with homemade raspberry jalapeño jam on crackers. 
"It's a small business supporting small businesses," Johnson says. "I love that."         
In fact, partnering with area creators is a huge part of Charm City Picnic's mission. Chavis often works with Baltimore-based live musicians, makeup artists, photographers, gourmet cupcake shops, and she's even looking for a spiritual advisor to do tarot card and oracle readings.
"We don't want to just grow our company, we want other companies to grow along with us," Chavis says. 
Some of her partners include businesses in which she has personal ties. Florist Roni Stinebaugh went to high school with Chavis, and even provided the flowers for her wedding. Now, the owner of Roni's Roses Floral Design creates arrangements for Charm City Picnic.
"She's really trying to bring people together in such an uncertain time," Stinebaugh says.
For Stinebaugh, who works out of her Parkville home, Charm City Picnic was a perfect fit. "Who wouldn't want to have their engagement session with a cute picnic?" Stinebaugh adds. She hopes that when Chavis' clients see her flowers at their engagement picnics, they will be more inclined to book Stinebaugh for their weddings, as well.   
Madison and her friends celebrated her sixteenth birthday in a Mount Airy park, and Trice says the girls had a blast: "It worked perfectly for the world we live in today," she says.
Although she's seen success during the pandemic, Chavis' goal is for Charm City Picnic to thrive well beyond this time. 
"I'm definitely recommending her business to everybody I know," Trice says. "I plan on booking another one for myself."