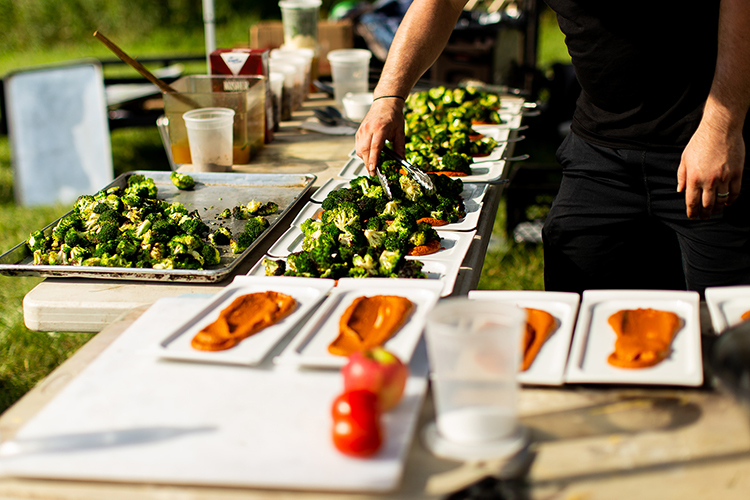 Photography by Kelsey Marden
There's something special about sharing a meal beyond the four walls of a restaurant. Sure, we love a sun-drenched dining room or spacious outdoor patio this time of year. But for diners who are craving even more of a change of scenery, the local food scene is offering plenty of ways to enjoy a top-notch culinary experience while also connecting with nature.
This week alone, Ampersea in Fells Point is hosting a wine-and-charcuterie tasting on its patio followed by a boat cruise aboard the Lady Maryland and City Seeds is throwing an outdoor Dinner in the Woods at Patapsco Valley State Park.
"We really wanted to give our guests the opportunity to just take a deep breath," says Deborah Haust, vice president of culinary enterprises at Humanim, the umbrella company for City Seeds. "Something where they could really leave their day behind and remove themselves from the bustle of the city."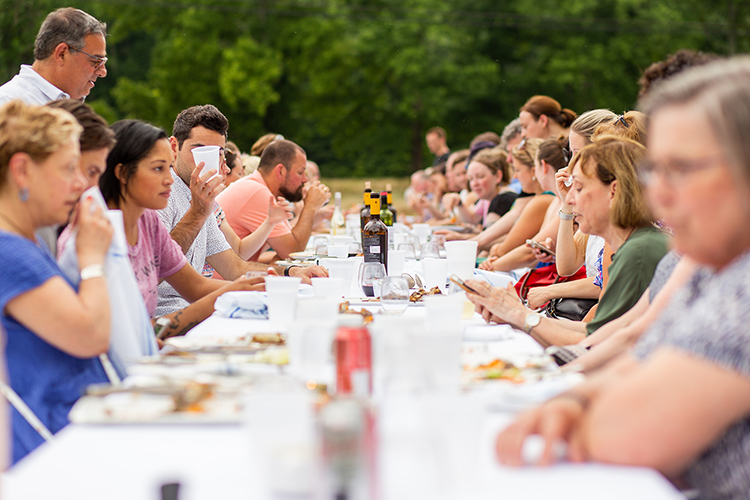 The outdoor dinner will be the first of its kind for City Seeds, a culinary organization that employs residents with barriers to entry—including those who were formerly incarcerated or lack a high school degree—to prepare meals for catering clients in its commercial kitchen.
Located just 25 minutes outside of downtown, the five-course meal prepared by chef Aharon Denrich will feature seasonal dishes such as sweet pea gazpacho, a local heirloom tomato salad, roasted squash with quinoa and goat cheese, confit chicken leg, and a watermelon poke bowl, all served with worldly wine pairings.
"The chefs and all of our cooks will be right there preparing the food on site," Haust says of the rural setting. "So everyone will be so closely connected, not just to the food, but to our social impact. You're going to see what City Seeds is actually trying to do, all while enjoying the meal."
Fostering connection is also a goal for chef Ben Lefenfeld of La Cuchara, who is prepping for the second installment of the restaurant's Farm Dinner series at The Zahradka Farm in Essex later in the month.
"It's important for people to visit the farms that their food is coming from," he says. "Lots of us go out to different restaurants and see the names of farms and suppliers on the back of the menus, but this is a great way to put a face to the name."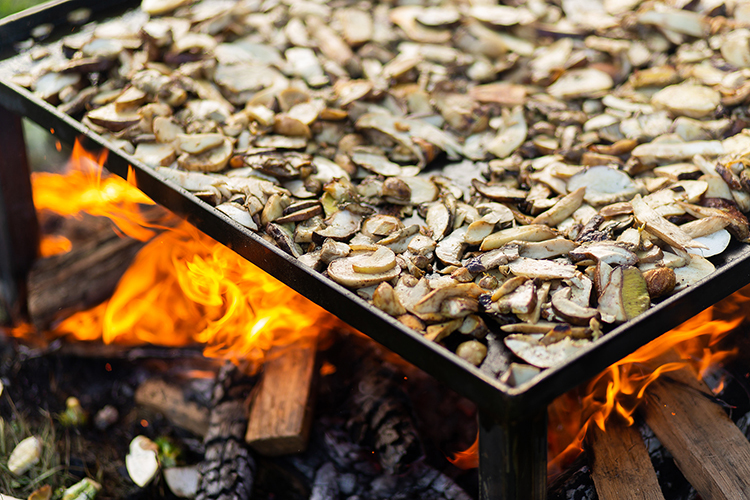 Though Lefenfeld is used to working with wood in the kitchen of his Meadow Mill restaurant, he admits that cooking over an open flame at the farm took some trial and error. At the first installment in June, the family-style menu featured a whole-roasted lamb cooked on a vertical cross.
"At the farm, you're working with a lot of indirect heat," he says. "And you need to deal with the wind, so if that changes you might need to bring the lamb around to the other side of the fire to make sure you're getting the right amount of heat on it. It's a really long, but interesting cooking process overall."
Another technique that Lefenfeld relies on while cooking outdoors is using a plancha—a thick, steel grill typically used in Spanish cuisine. For this week's dinner, the chef will be using the tool to sear comté, a soft cow's milk cheese, and a sourdough pumpernickel beet bread made by La Cuchara's head baker Carrie Goltra. There will also be roasted zucchini with a tomato and charred herb salsa, as well as a corn panna cotta made with Zahradka's bicolor sweet corn.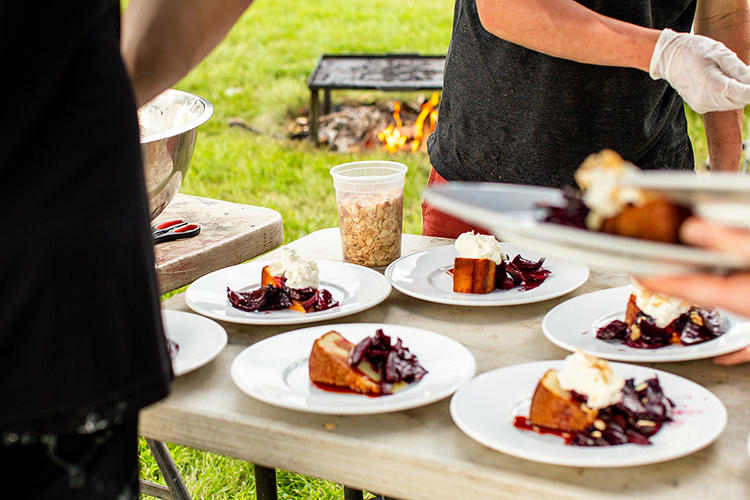 Perhaps the best part about these dining events set in unconventional places is that they have the potential to extend past the summer. Haust says that she hopes to make the City Seeds dinners quarterly, activating other spaces including Humanim's headquarters inside the American Brewery building and the Remington warehouse that houses Brick + Board—a sister organization that reclaims wood from vacant city homes.
"Chefs get great exposure in the typical restaurant space because the public can go there any time," she says. "But there are some very talented chefs that work for catering businesses and institutions like universities and hospitals who don't get the same recognition. This is a great opportunity to showcase the people who work behind the scenes."
For Lefenfeld, whose series will continue at Zahradka into the fall, the event is a way to encourage diners to break out of their comfort zone and explore produce grown beyond city limits.
"On one hand, it's about having a great evening," he says. "But it's also about letting people know that these places are not that far. There are lots of hidden experiences that are just outside of the city."