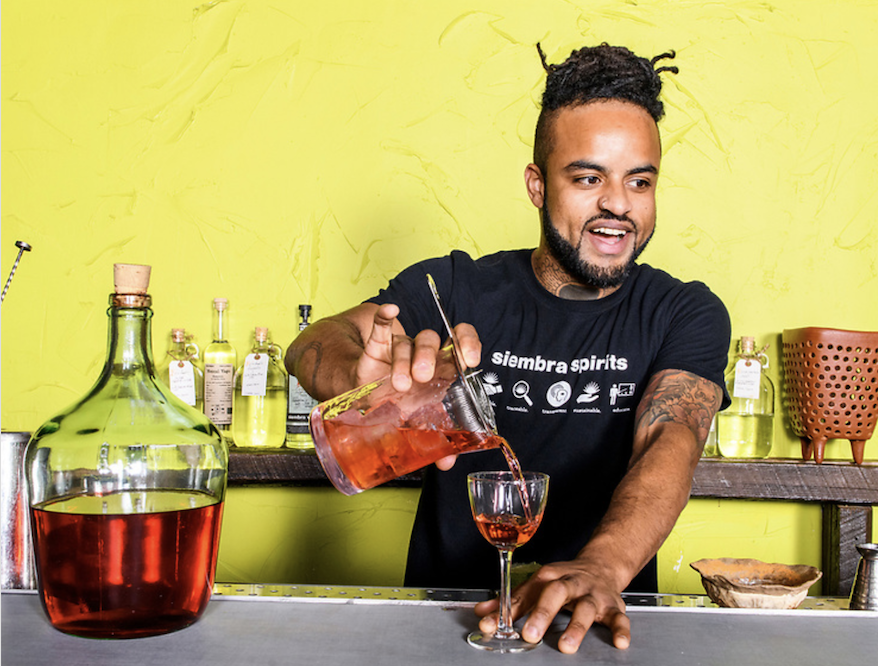 Photography by Matt Roth
When Clavel's head bartender Dre Barnhill heard the news that the Remington mezcaleria had been nominated for a James Beard Award this morning, he was almost speechless. The beverage team is one of only 20 throughout the nation to be named a semifinalist in the category of Outstanding Bar Program, with other nominees spanning from the sophisticated Columbia Room in Washington, D.C. to the tiki-inspired Lost Lake in Chicago.
"My reaction? Oh, man, this is so cool," Barnhill told us, still seeming to be in a slight daze. "There are such talented people on the list. I love some of those bars."
Co-owner Lane Harlan was also admittedly shocked: "I don't even know how this works," she said. "I messaged the entire bar team. Half of them were awake, the other half were not, but I told them that they are amazing and that I'm so proud."
Although this is Clavel's first-ever nomination for the prestigious awards, it isn't the only Baltimore name that appears on this year's list of semifinalists. Chef Cindy Wolf, executive chef/owner of Charleston in Harbor East, also received her 12th nomination for Best Chef: Mid Atlantic. This time around, Wolf is up against contenders including chef Jon Sybert of D.C.'s Tail Up Goat and chef Matthew Kern of Heirloom in Lewes, Delaware.
While Wolf—who often quips that she's the Susan Lucci of the category—has yet to bring home the medal, she remains humbled to be recognized for her unique take on Lowcountry cuisine at Charleston.
"Every time I am up for the award, all I can think is that I want to get up on that stage so I can honor and thank my Dad," she says, "and all the people I work with who are also my family. Hopefully I'll get to wear those new red jeweled shoes again that I found for Duff [Goldman's] wedding."
Clavel co-owners Harlan and chef Carlos Raba are also humbled by the acknowledgement, both emphasizing how proud they are of their staff.
"Our team works their butts off in the bar," Raba says. "They have workshops for hours planning beers and cocktails. We never expected this, but it reflects the hard work that they do and the passion for the team—it's such an honor."
Since opening in 2015, Clavel has not only gained a reputation for having some of the most authentic Mexican cuisine around, but it's also become known as the restaurant that put mezcal on the map in Baltimore. The group is so dedicated to the spirit, in fact, that they take routine trips to Mexico each year to meet with farmers and become more familiar with the intricacies of the agave plant.
"Our goal is to make things that are inspired by our journeys and these collections of memories that we have together," Barnhill says. "Clavel just seems to have this certain kind of magnetism that draws people in."
All of the on-site research is showcased in Clavel's new expanded mezcaleria, where Barnhill and his team offer one-hour tasting sessions from their library that is categorized by species of agave plants.
"We don't do what we do to get an award, that's so alien to us," Harlan says. "What drives us is that we push each other and do the best we can. That's our world, and it's pretty rad for that to be acknowledged."
Harlan also mentions that working together creatively is a huge part of the restaurant's success.
"We do everything collectively," she says. "From day one that has been the number one driving factor. We're continually evolving, holding each other accountable, embracing experimentation, and sharing ideas. We all accept criticism and take it as a challenge to be better."
Finalists in each category will be announced on Wednesday, March 27, and this year's James Beard Awards Gala will take place in Chicago on Monday, May 6. No matter the outcome (here's hoping both Wolf and the crew at Clavel medal this year), the nominations are already a huge win for the Baltimore restaurant scene at large.
"When we started people said that it would be impossible to have a good place in the middle of nowhere," Raba says. "And now to be recognized not only for the hard work that we do, but nationally, it's amazing."