The Italian Job
After 107 years, Di Pasquale's finds a new home in Brewers Hill.
Some say a great meal starts with the eyes, which would be one explanation for the perpetual line in front of the display case at Di Pasquale's in Highlandtown. A rainbow of colors bursts through the glass. Red grape tomatoes mixed with white balls of mozzarella and green basil leaves mirror the colors of the Italian flag. Bright purple octopus tentacles mingle with muted potatoes and fennel. Jet-black olives conjure visions of a moonless Tuscan night.
Others say it's through the nose that a true epicurean experience begins, which could also explain that line. The aroma of focaccia bread baking at 600 degrees in the imported pizza oven fills the small dining area and narrow aisles with a scent so alluring it's impossible to ignore. The rich smell of provolone and 30-month aged prosciutto seems to be ingrained in the walls, present even when the slicer isn't running.
"You go in and it feels like Italy," says Felicia Zannino-Baker, a Highlandtown art-gallery owner who has frequented the market and cafe all her life. "It smells like I'm in Italy. It sounds like I'm in Italy. It's about all the senses."
Ever since 23-year-old Luigi Di Pasquale opened a small corner store on Claremont Street in 1914, Di Pasquale's has been a fixture in the neighborhood. But after a one-block move to Gough Street in 1988, its popularity exploded in the years following, and it has become much more.
For some, it's a foodie destination for Italian classics such as eggplant Parm and pasta Bolognese, homemade pizza, and gourmet sandwiches you can hardly fit your mouth around. For others, it's a spot where they can pop in to pick up fresh produce, bread, or a bottle of wine for dinner at home. And for still others, it's a gathering place for locals to gossip, discuss sports and politics, or most of all, reminisce about the good old days.
In other words, it's become an institution.
"I'm Italian, and coming here gives me a chance to express my ethnic heritage," says retired Baltimore County Judge Lawrence Daniels ("In here, I'm Lorenzo Daniele," he says in his best Old-World accent.) "I'm here with a lot of other like-minded people. Good friends, great people, great food. Joey's the best."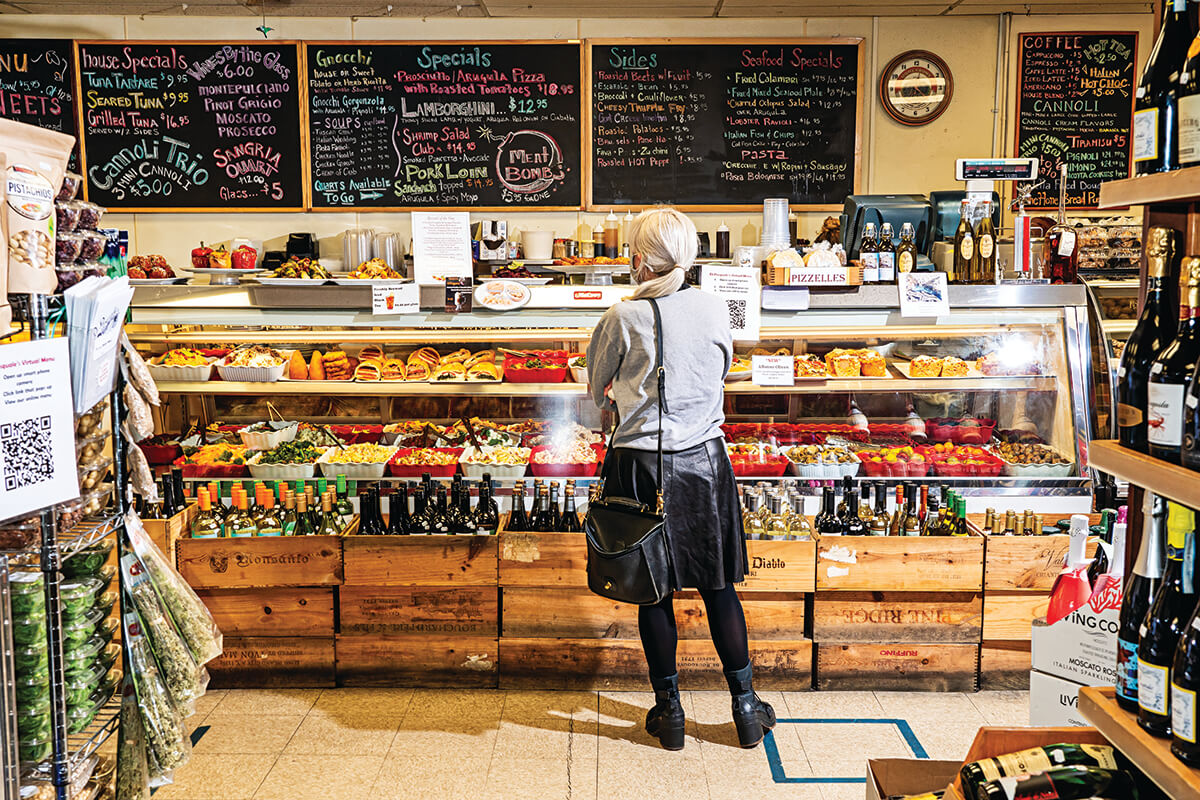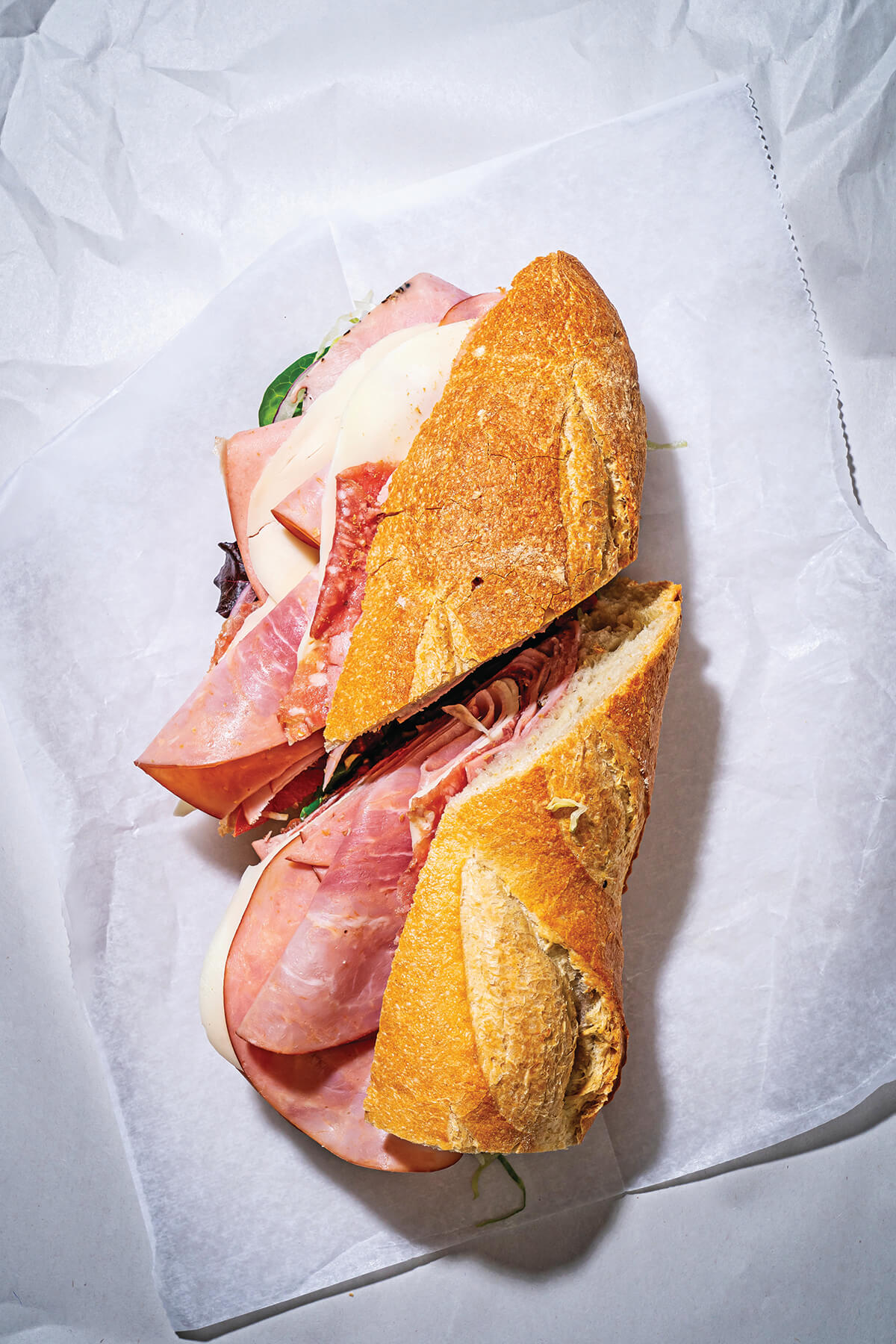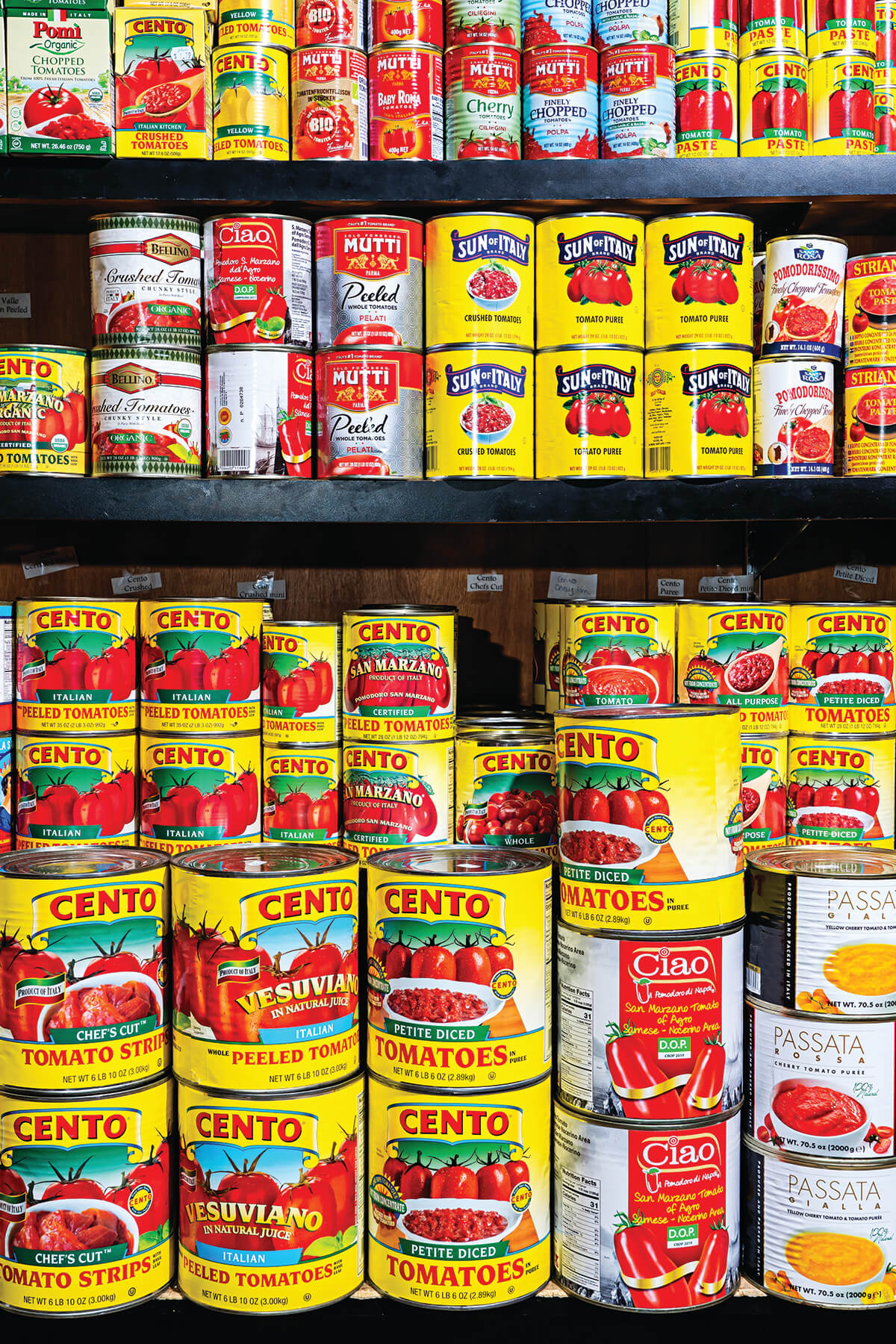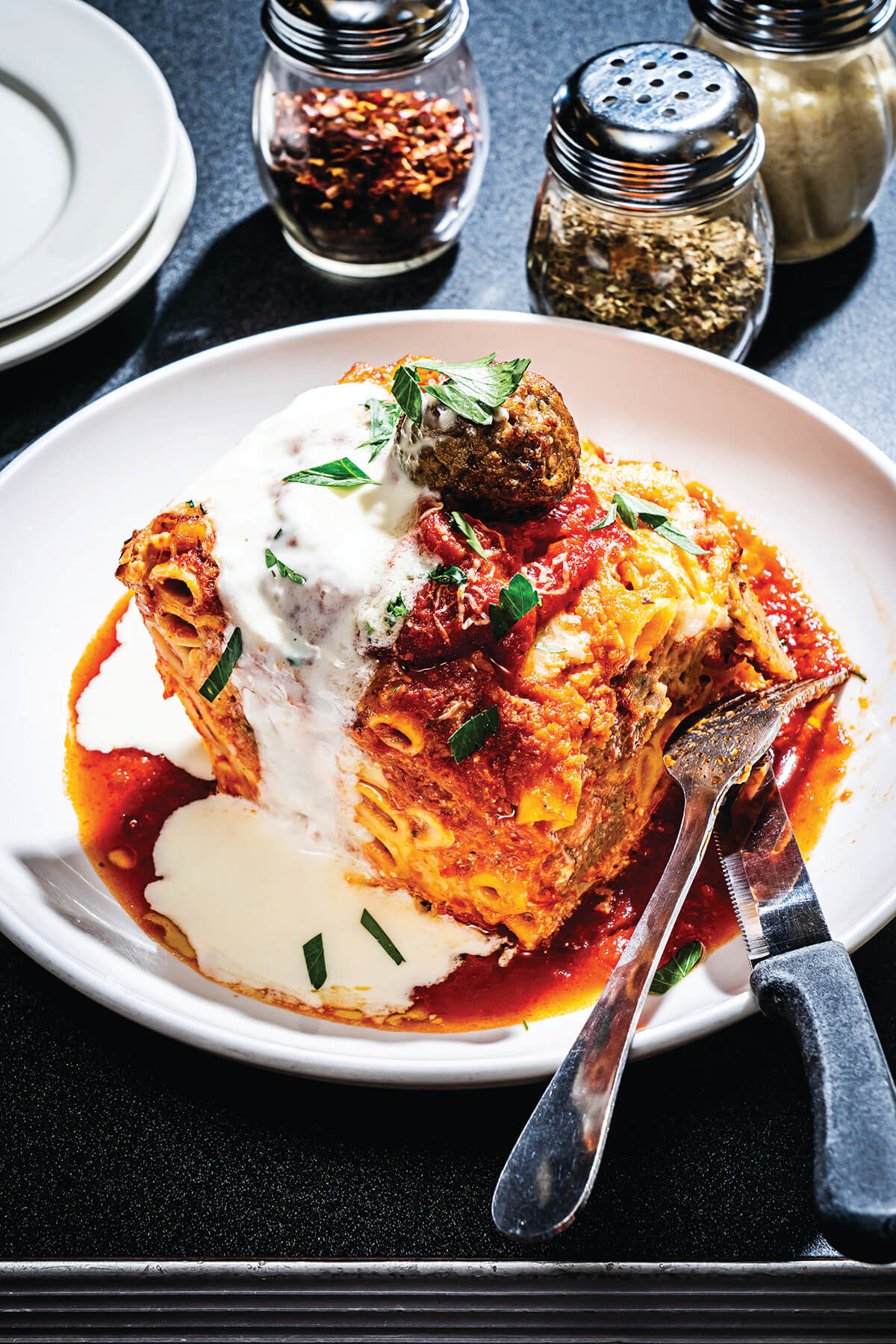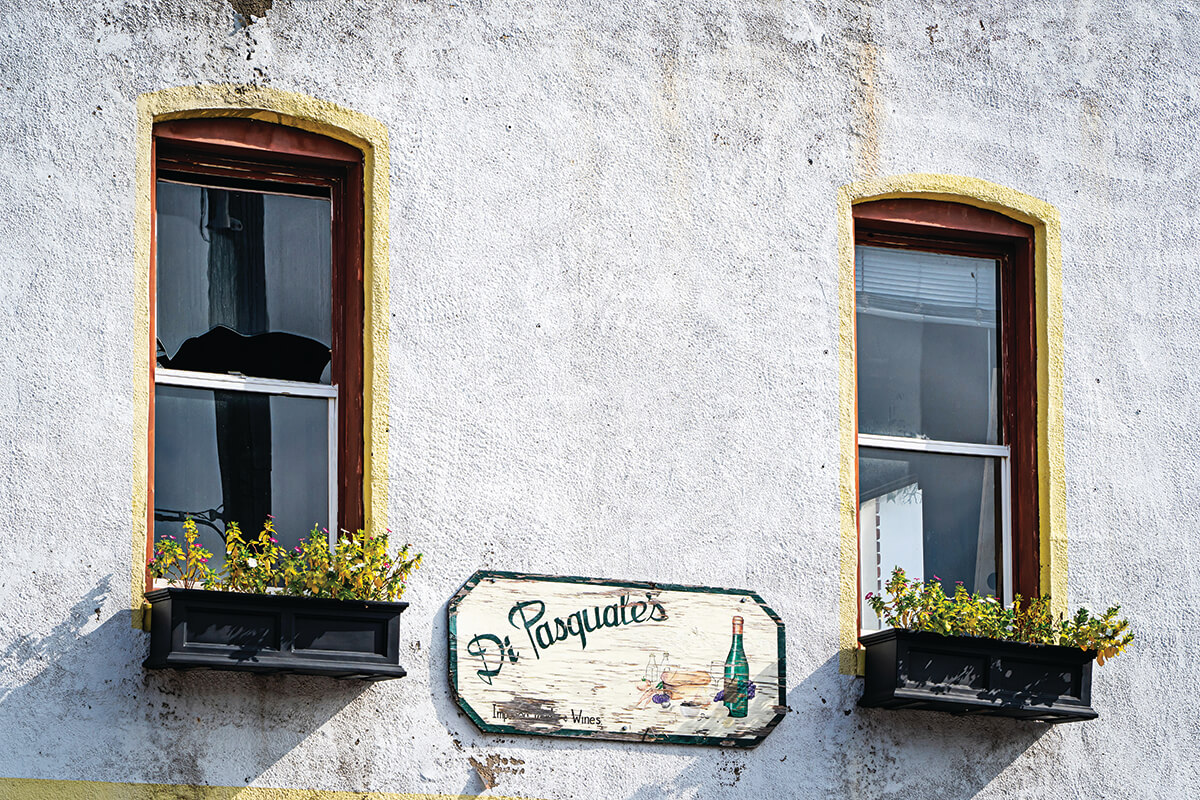 Joey is 61-year-old Joe Di Pasquale, the third-generation managing partner of the family-owned business. He's a constant presence behind the counter, taking orders from customers, barking them out to employees, greeting newcomers as if they're old-timers and old-timers as if they're kin. He grew up in the business sweeping floors, stocking shelves, and delivering everything from beer nuts to beef jerky and pickled pigs' feet to bars and houses in the area.
Since taking over the retail operation, he's spearheaded its transition from neighborhood grocery and convenience store to culinary jewel. Now, he's leading it through its biggest change yet: Di Pasquale's is leaving Highlandtown.
Before you drop your cannoli, know that when it moves sometime after Easter, it's going just 1.2 miles away, to a larger, newer space in Brewers Hill. Still, when the news broke last year, it felt like a seismic shift to those for whom the store is a part of everyday life.
"I can say with all my heart that I will miss them," says 73-year-old Ida Longo, who's been a regular since she arrived in Highlandtown from Italy a half-century ago. "I buy fresh bread and pasta and lunch meat. The mortadella is the best. It reminds me of when we were growing up in Italy. It has the same smell. Even if he's going to move a little farther down the street, we are never going to leave Di Pasquale's. We start with them and we die with them."
How's that for customer loyalty? Sabrina Di Pasquale, née Parravano, knows how Longo feels. She grew up in the neighborhood going to the original location before she fell for Joe and married him 29 years ago. She's worked side by side with him—and his sisters, his brother, her sister, their children, the list goes on—for 33 years.
"At first, I didn't think it was a very good idea," she says of the move. "Not that we wouldn't do well, but I didn't want to leave the location. It has such wonderful memories. But I'm excited now. It's not like the family is leaving Highlandtown. My son just bought a house in the neighborhood, my mom still lives in the neighborhood, my brother and sister still live in the neighborhood. We own property in the neighborhood. We're still very connected to Highlandtown. We're only a mile down the street. We're not going to forget it."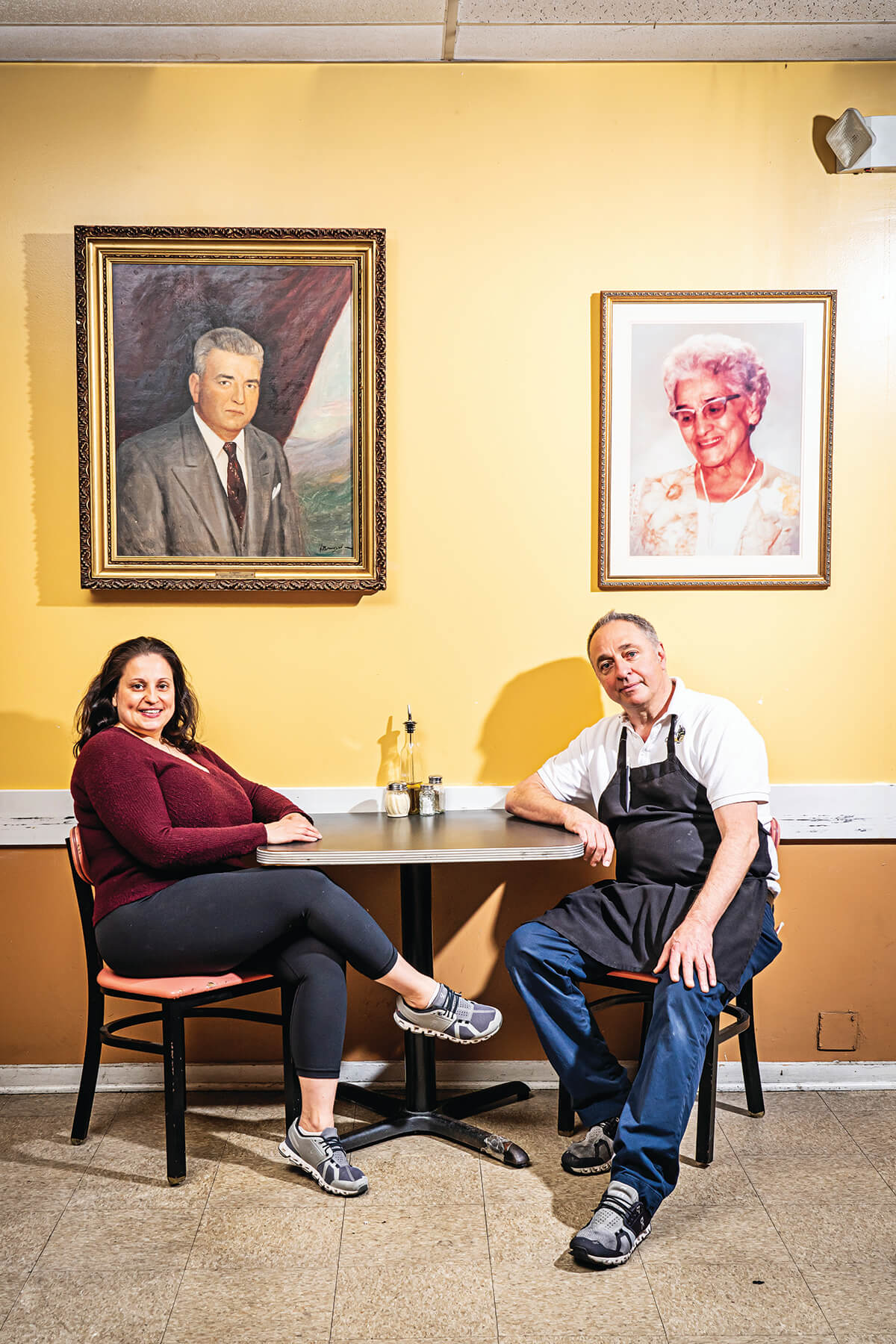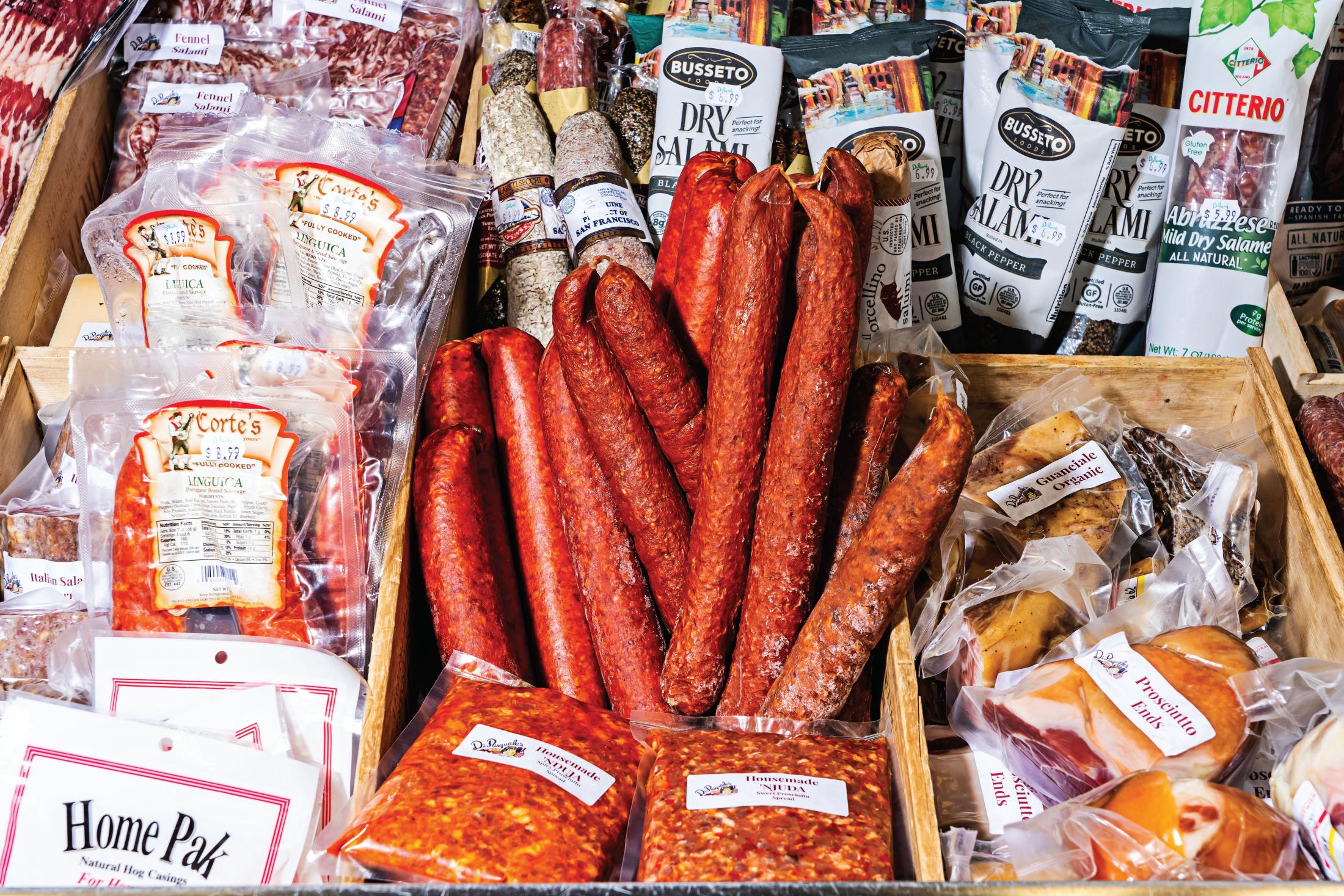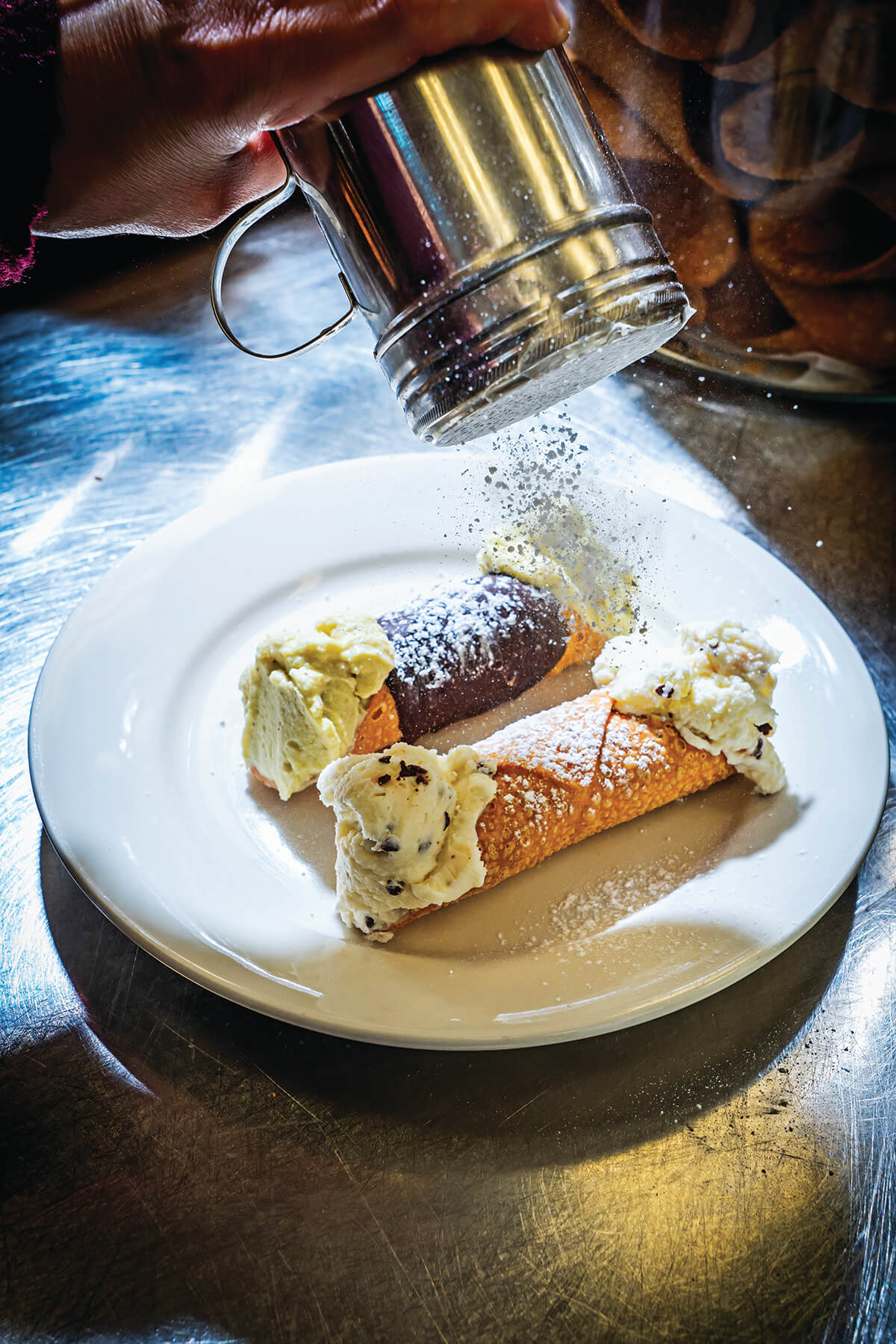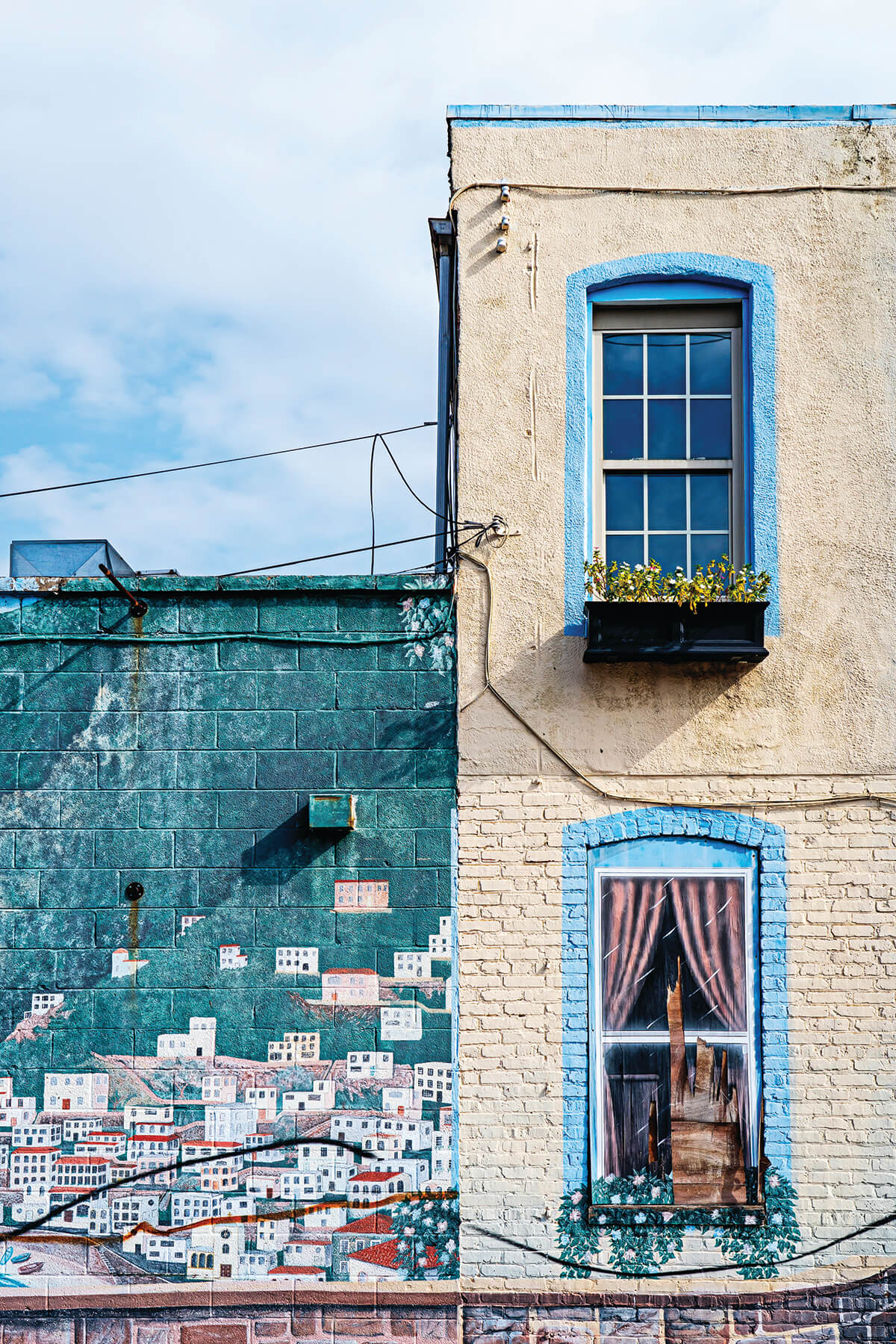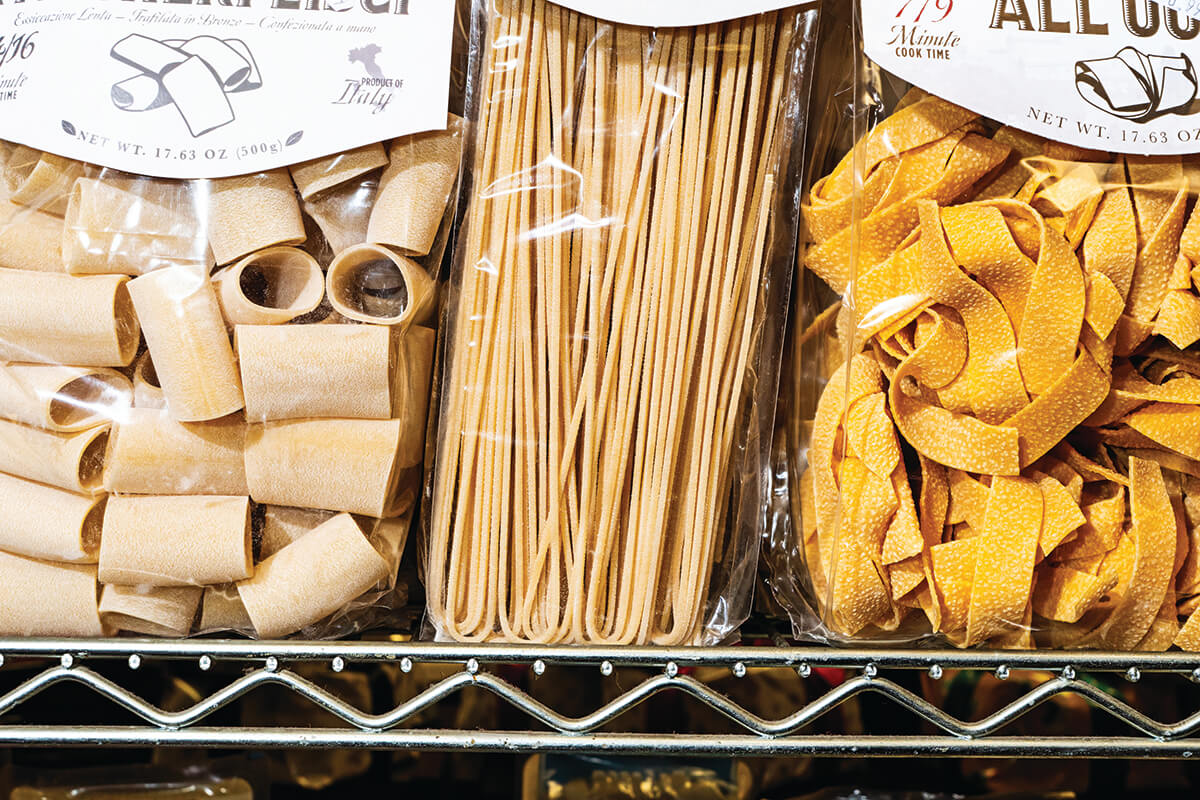 A painting of a serious-looking, older Luigi Di Pasquale hangs prominently in the Gough Street dining room. It's almost as if he's watching over his descendants, ensuring that they're not screwing up what he started.
Joe never knew his grandfather, who passed away when Joe's mother, Mary, was carrying him in 1959. But he's heard the tales of his legendary work ethic and business acumen.
Luigi arrived in Highlandtown from Corropoli in the Abruzzo region of eastern Italy when he was 14. He was sponsored by a family with five children, so eight people lived in the rowhouse on Claremont Street. The bathroom was outside.
When he started the business, he sold chickens and goats that were tied up out front. He also made vats of bleach, which was commonly used for cleaning at the time. Joe's father, Louis, (Luigi to his Italian friends), and his brothers, Carmen, Leo, Johnny, and Salvatore, were born into the business.
"Everyone had a part, whether you liked it or not," Joe says. The same can be said of Joe and his five siblings, who grew up two doors down from the store on Claremont Street before the family moved to White Marsh in 1966.
"I remember working side by side with my father," says Rob Di Pasquale, the youngest of the three boys. "I learned making change the old-fashioned way, [in] a cigar box. Before I could drive, I'd ride shotgun when we made deliveries to local restaurants to help unload the truck. Everything had to be done in a small family-owned business."
Twenty-year-old Joe caught the family business bug while spending a summer in Italy. When he returned, he felt "more Italian than my parents" and helped convince his father that the business needed more space to grow. So, somewhat reluctantly, his dad moved it from the 3700 block of Claremont Street to the 3700 block of Gough Street. The new location, formerly a hardware store, offered more than five times the space.
Success was not instantaneous. The model they'd transported from the old location—selling household goods along with food—kept sales stagnant. Joe credits the financial support of his father and the family's patience with helping the business survive leaner times.
"We built to fill every square inch. It was packed in here," Joe says. "It was a slow grind at first. I remember when the front person would buzz us in the back when somebody came in. That's how quiet it was. I got some advice from someone who said you cannot compete with the supermarkets, so get rid of the toilet paper and the dish detergent and focus on specialty foods. That was good advice."
Was it ever. Joe began to search out vendors who offered top-notch products. He began importing more and more items directly from Italy, like olive oil and tomatoes. When he saw that people were trending away from cooking and instead searching for prepared foods, he began offering sandwiches and pasta salads for takeout or to eat at a lone table he set up.
"What started it all was the Real Italian," Joe says of the salami, pepper ham, mortadella, capicola, and provolone sub that's still one of Di Pasquale's signature items. "We use the proper vegetables. We don't use the wax tomatoes, we use good tomatoes. We use the red onion rather than just the cheap white onion. It's one of those sandwiches where you crave it. It's like a meat salad on bread with the dressing."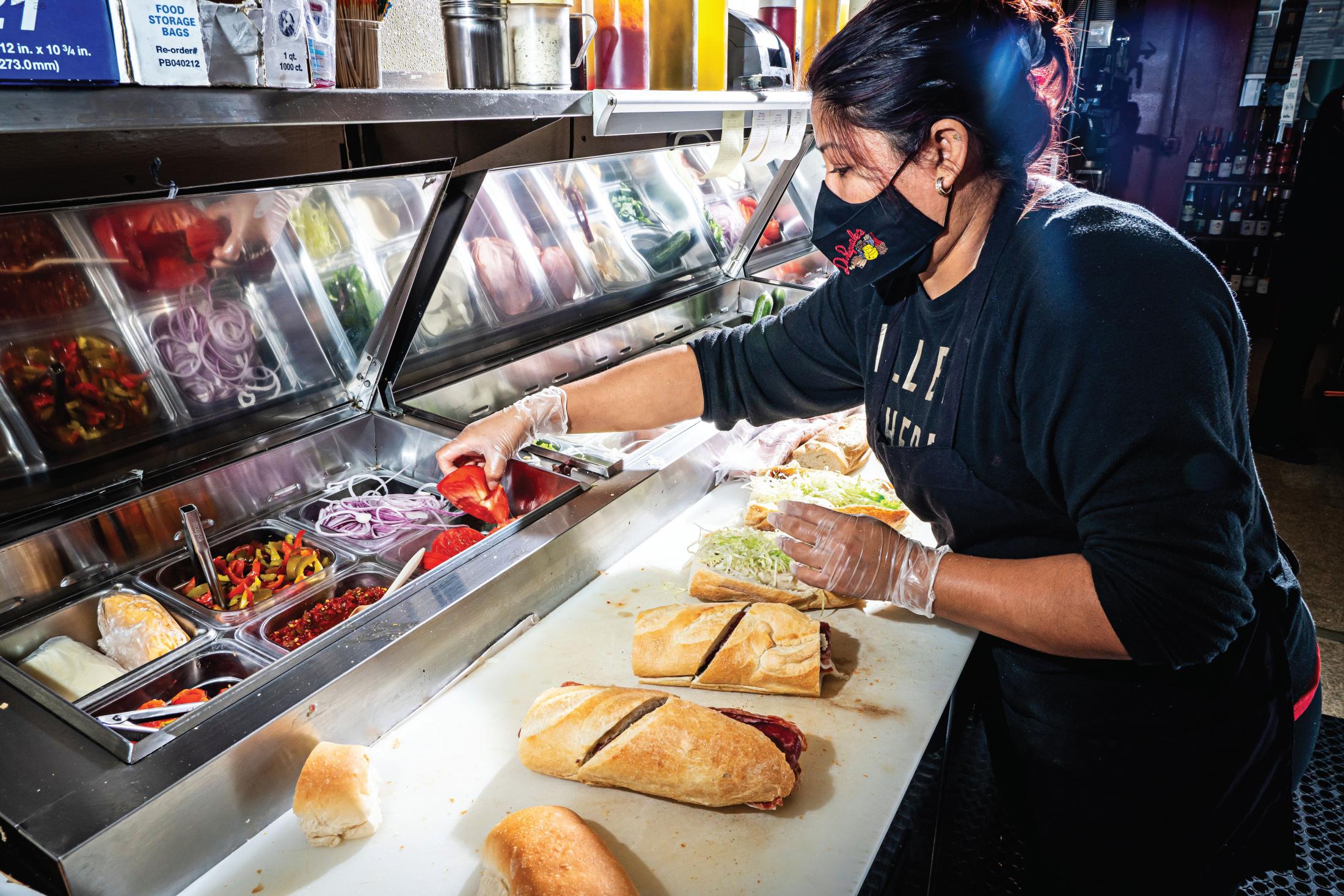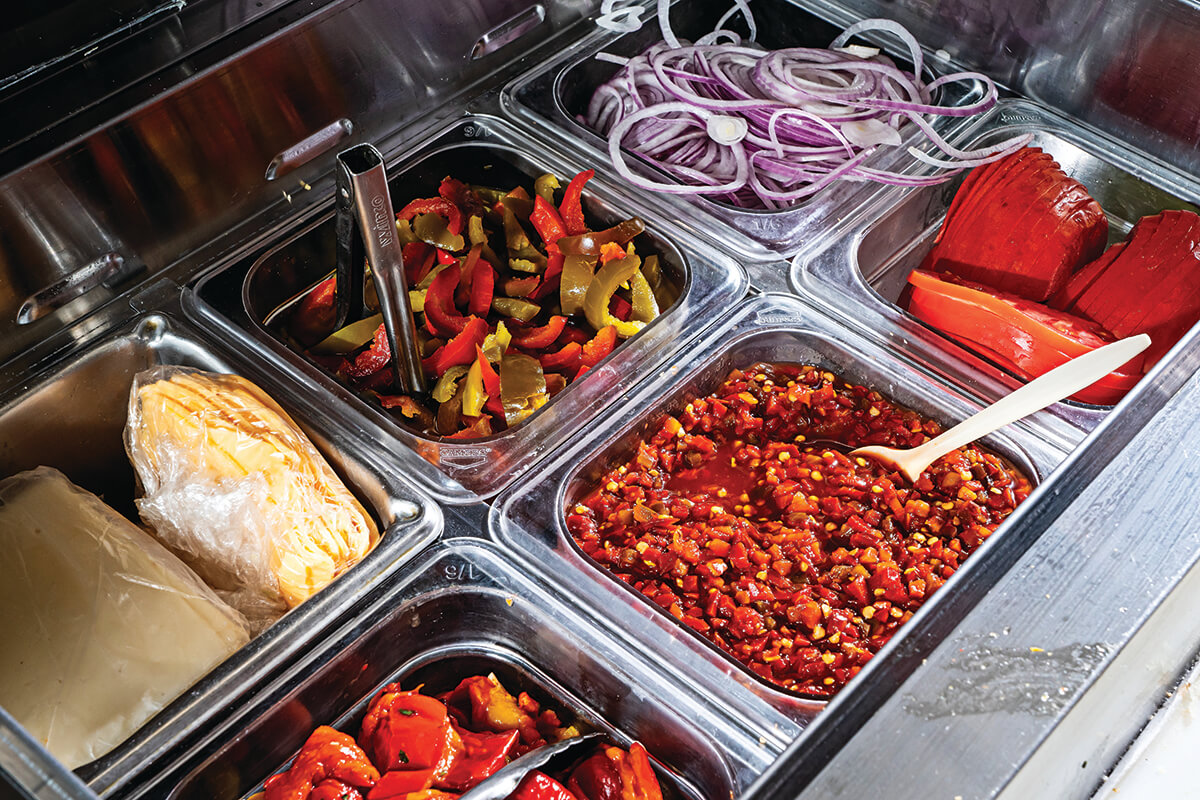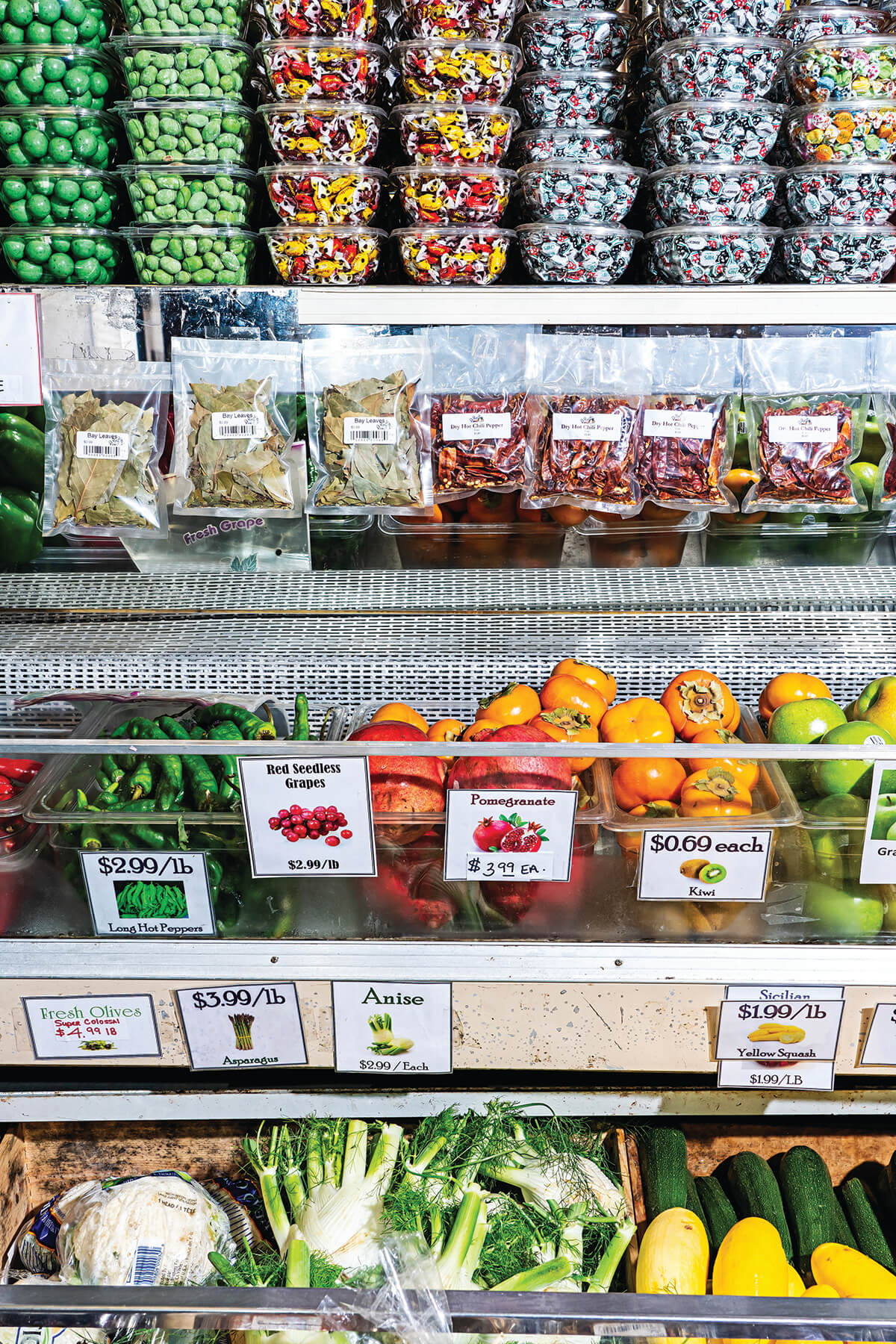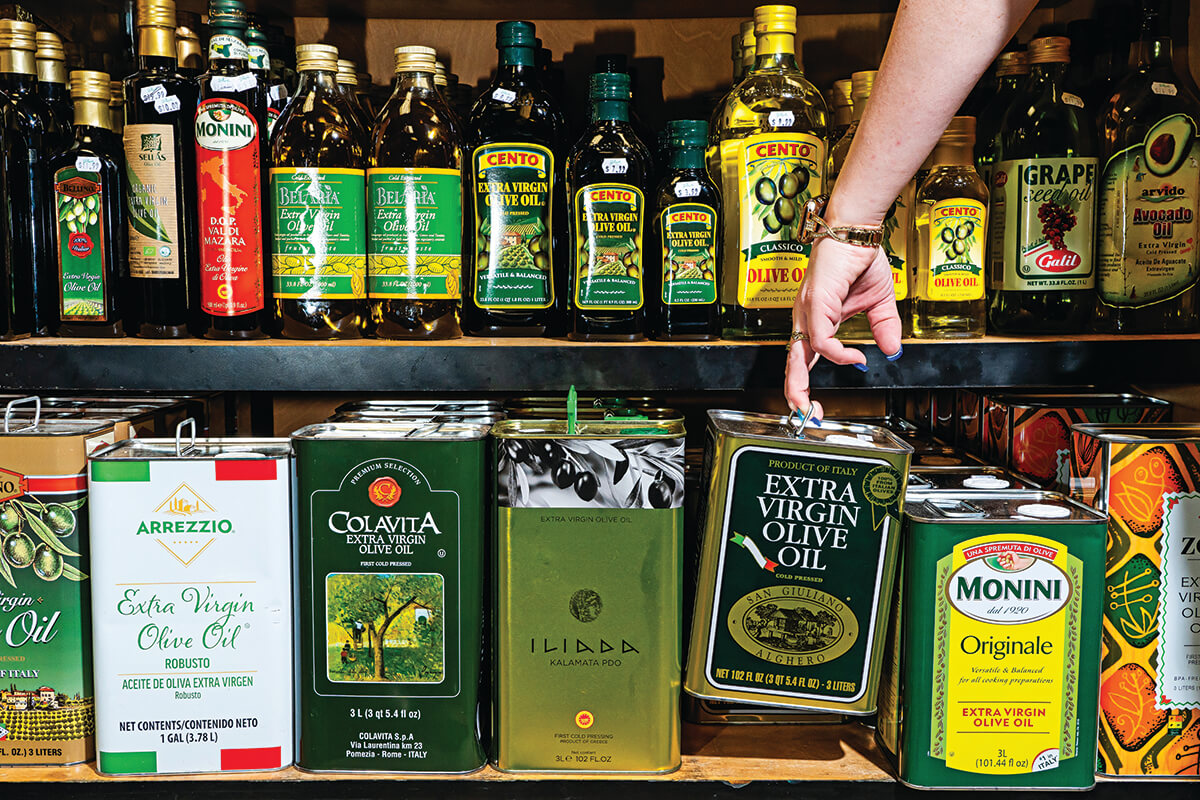 By the mid to late '90s, Di Pasquale's popularity was soaring. It included a wholesale business, run by Rob, catering, and the retail operation. Joe decided to open a second store in a converted theater in Pikesville, which proved to be a disastrous decision. Just heating and cooling the space, with its 24-foot-ceilings, cost a fortune.
"It was a tough time," he says. "I'm still feeling it. I got too big for my britches. It
almost destroyed me financially, and almost family-wise."
Butting heads is inevitable in a family business, and it has happened more than once through the years to the Di Pasquales. Heated conversations, shouting matches, and the silent treatment have all broken out during disputes. But in the end, everyone knows that they have each other's backs.
Davide Rossi has been the executive chef for the past seven years. A native of Milan, he says the family makes him feel like he's one of them.
"Because it is family-owned, you are not a number here," he says. "We all love each other very much. Joe can crack a joke with you, but he can yell at you if something goes wrong, and after two seconds, it's like nothing happened."
In 2008, Di Pasquale's success reached new heights when Guy Fieri aired a segment from the store on his Food Network show Diners, Drive-Ins, and Dives.
"We were popular before locally, but that just brought it to the next ridiculous level," Joe says. "We became a factory of making lasagna and mozzarella. We had lines out the door."
In 1998, the business bought Mastellone Deli on Harford Road, and in 2017, Di Pasquale's opened a second location in Harborview. This time, both outposts became successes. But those moves were minor compared to what's coming next.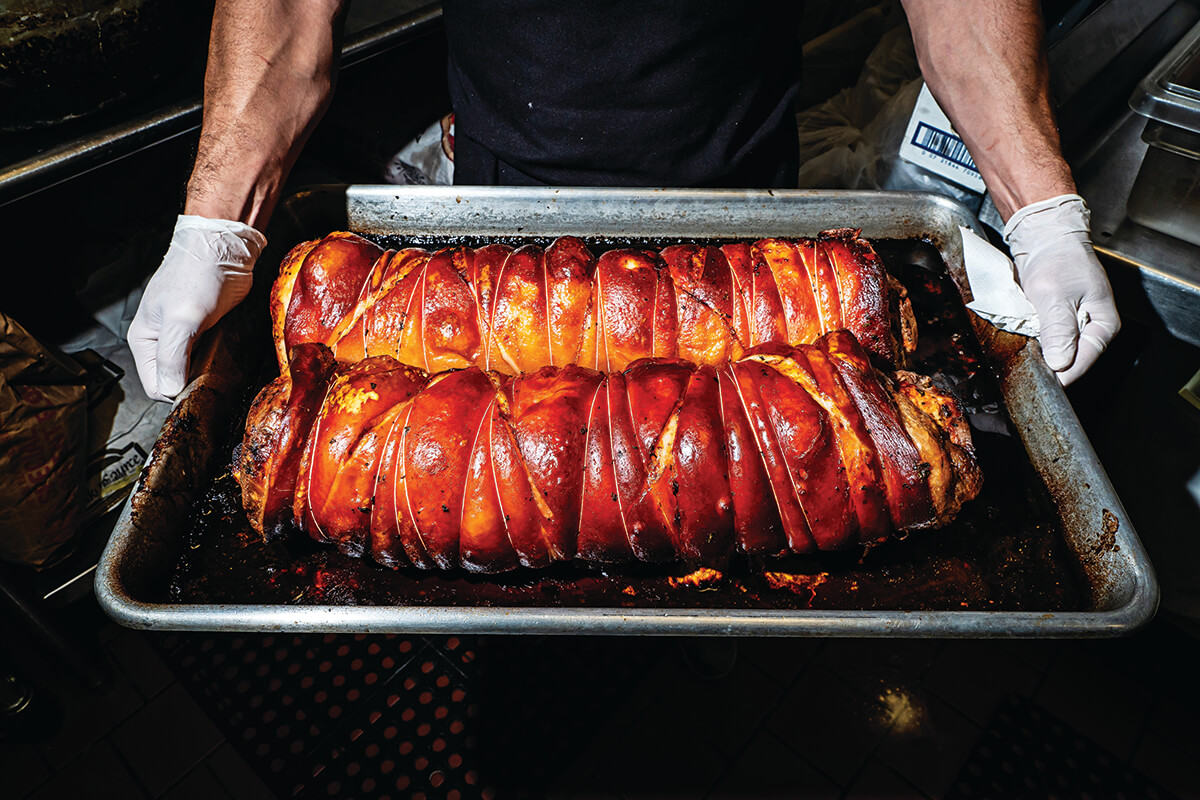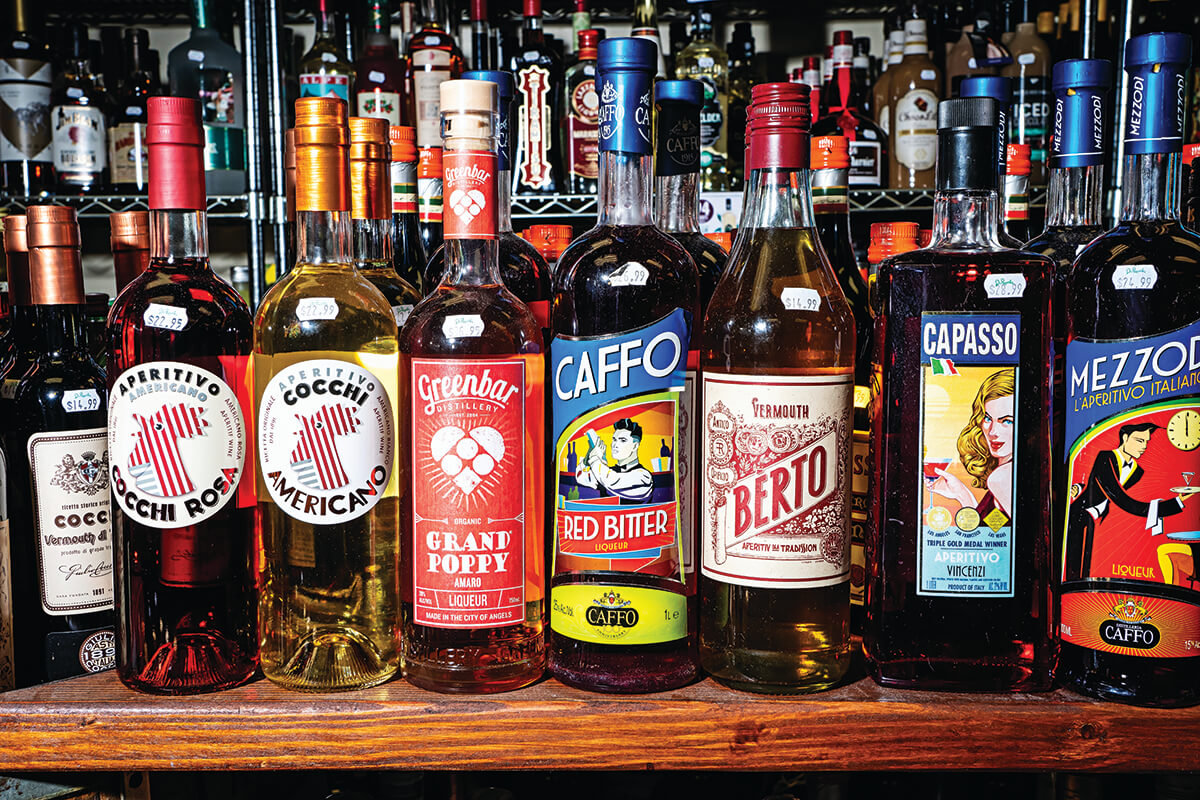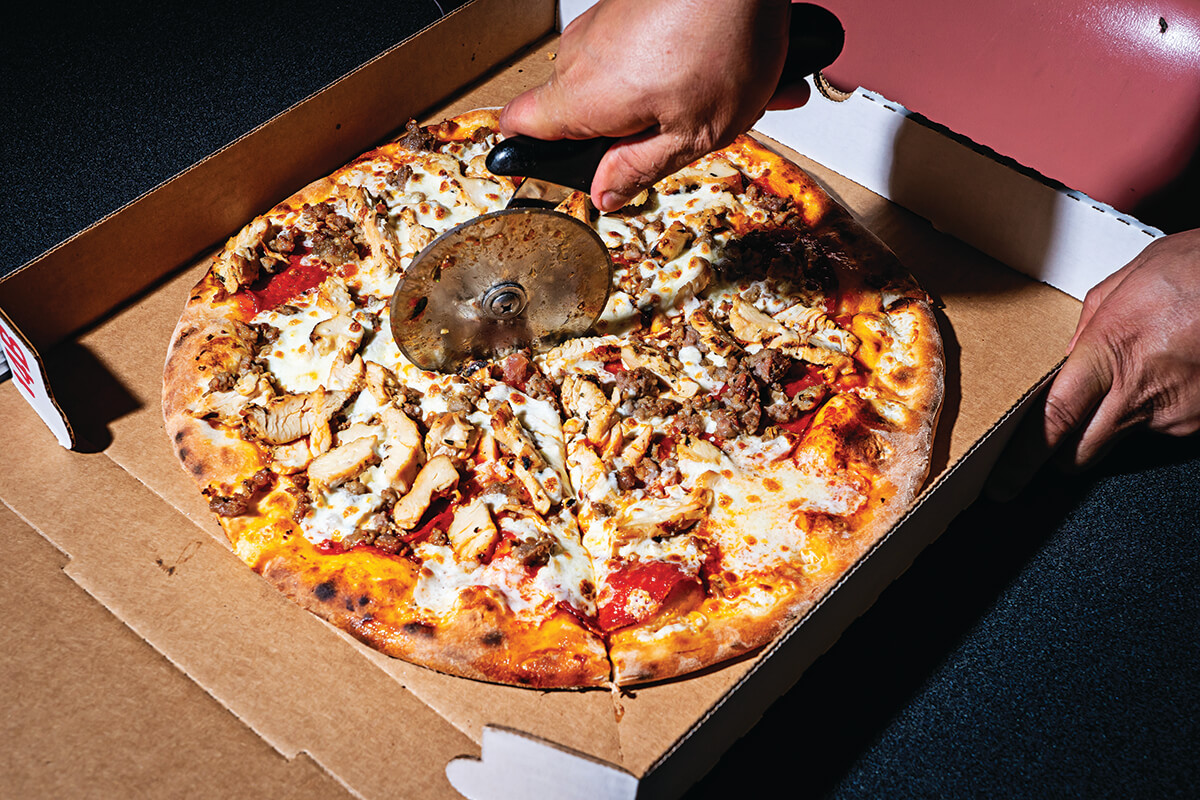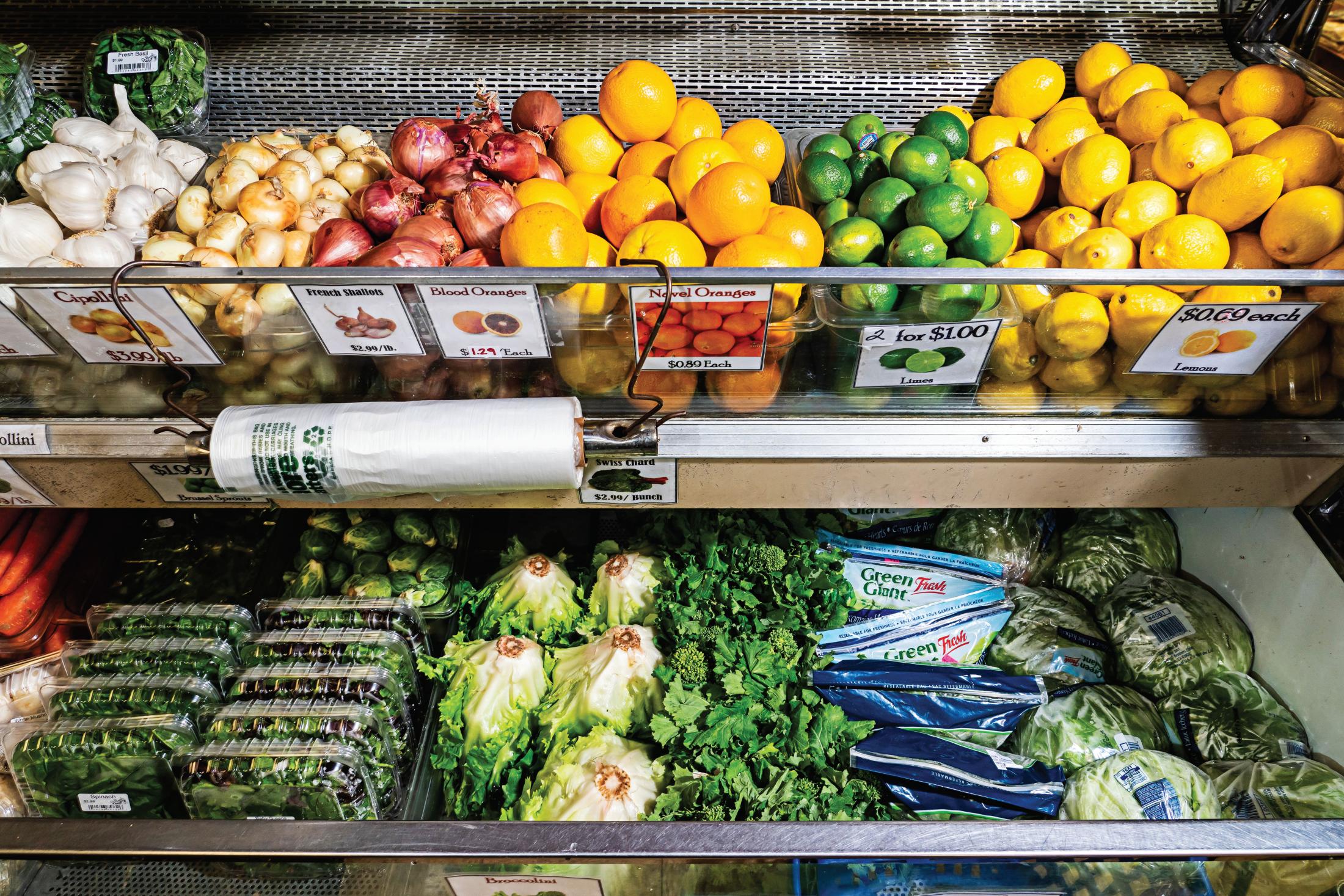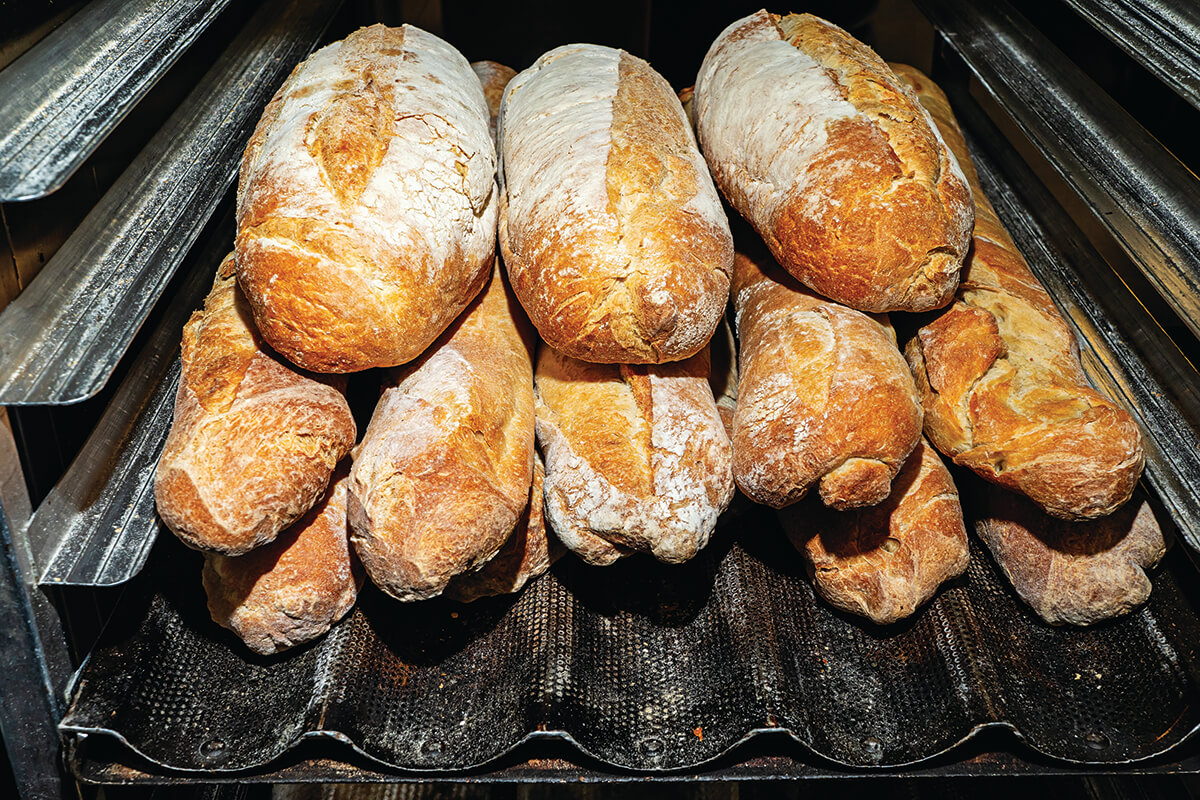 Walk through the aisles of Di Pasquale's on any random day and you're likely to see cans of scungilli and Cuoco seasoning on the shelves, collecting dust. The sliced conch from off the shores of Long Island and the seasoning for macaroni with sardines are two of Joe's beloved worst sellers, products he treasures and refuses to stop carrying, their popularity be damned.
"I don't care if there are 10 cans sitting there, I want it here for that time when someone wants one," he says. "I'm going to search out products that are quality but unique."
There's no doubt that jars of Di Pasquale's marinara sauce, containers of its frozen cioppino soup, and packages of its frozen ravioli—all homemade—attract loyal customers, but it's the ready-to-eat wedges of lasagna, massive arancini balls, and packed subs that keep them coming back.
The Old World Italian sub has soppressata, dry cured capicola, prosciutto, fontinella, tomato, and an olive spread. The Santino features prosciutto and a hunk of mozzarella made in-house daily. Di Pasquale's take on American favorites like the cheesesteak are also wildly popular, as is the almost impossibly huge meatball sub, served in a half-loaf of rustic bread baked in the back. "Be prepared," the menu warns. You never fully are.
The kitchen is headed by Sabrina, her sister, Mariagrazia, and Rossi, along with cook/baker Sadetta Hozic. They all contribute their own ideas and recipes, among them Sabrina's popular Tuscan chili and the baked ziti she made for her kids when they were young.
It's the popularity of all these items that has made staying in the current building untenable, Joe says. Lines often snake throughout the store, making social distancing in this age of COVID difficult. ("We're fortunate," Joe says of business during the pandemic. "A lot of restaurants, their food doesn't travel well, but a meatball sub does. We're down about 30 percent, but we've adjusted and we're keeping everybody employed.")
He began thinking about moving roughly two years ago.
"The infrastructure is not in this building for this kind of business," Joe says. "The drainage, the electricity. The roof with all the equipment is like a war zone up there. The parking situation has become challenging."
When they relocate from 3700 Gough Street to (the coincidentally numbered) 3700 Toone Street, they'll be moving into a modern, larger space on the ground level of The Porter apartment building that has much more parking and ample room for indoor and outdoor seating. (The space previously housed Ceriello Fine Foods.)
The old building isn't going anywhere; the Di Pasquales are keeping it for storage and one day may even open a coffee shop or bakery there, Joe says.
"I'm going to keep the ties to here as much as I can," he says. "I'm going to run a shuttle system for the Italian ladies who walk here. I'm going to try delivery for them. I'm going to keep the [Highlandtown] wine festival and do everything I can."
Julia Snyder, a Highlandtown native, is perhaps the one lifelong customer who's not bummed about the move. She lives in The Porter.
"When they get here, I'll be in my glory," she says. "I'm on the fourth floor, and I'm getting a dumbwaiter to bring his food up."
Much of the new space is being designed by the Di Pasquales' 26-year-old son, Domenico. Although he's the only one of their four children who works in the business full-time, all of the kids play a role. Marcella, 28, helps with staffing from her home in Southern California. Ivana, 22, is in college, but is instrumental in the apparel shipping business (yes, there are Di Pasquale's T-shirts and caps), and plans to play a role in expanded shipping of food at the new location. Luigi, 16, helps pick up local produce.
"It's going to be just like the old store, except more modern," Domenico says. "There's going to be high ceilings, a lot of lighting, open space, and it's going to be more organized than it is right now in terms of ordering and standing in line."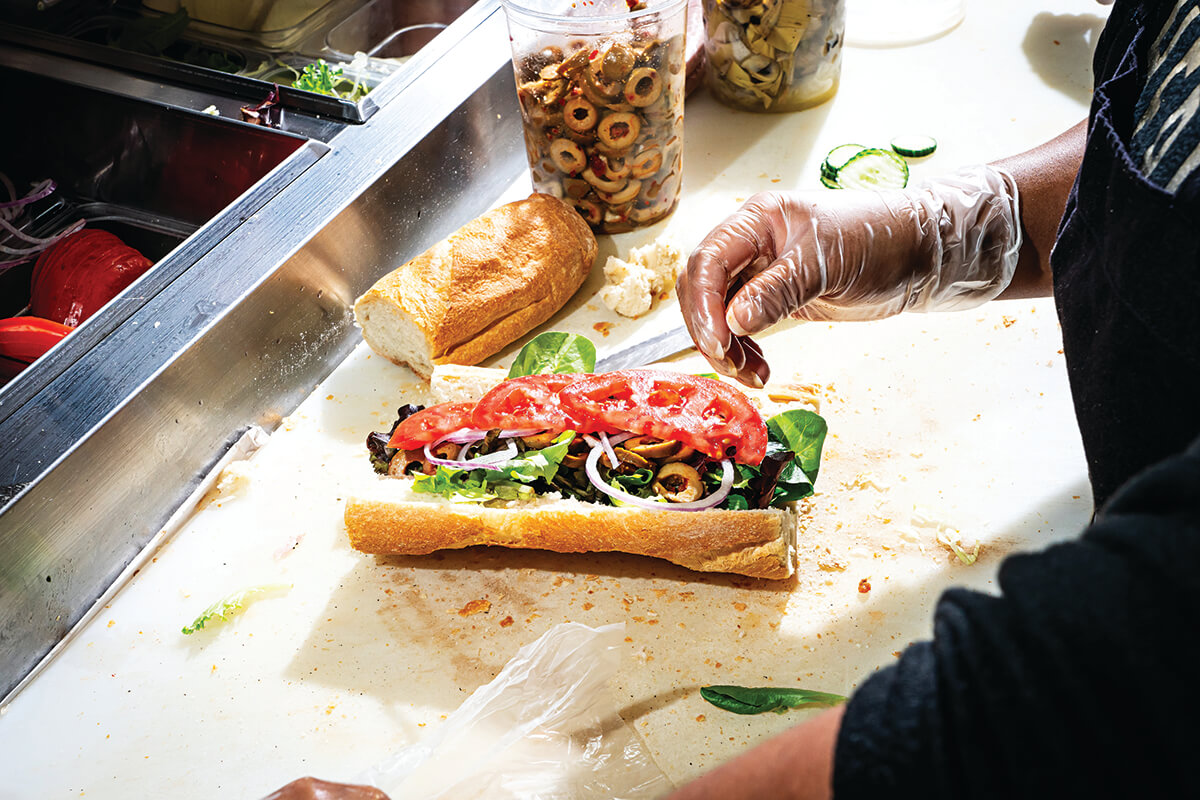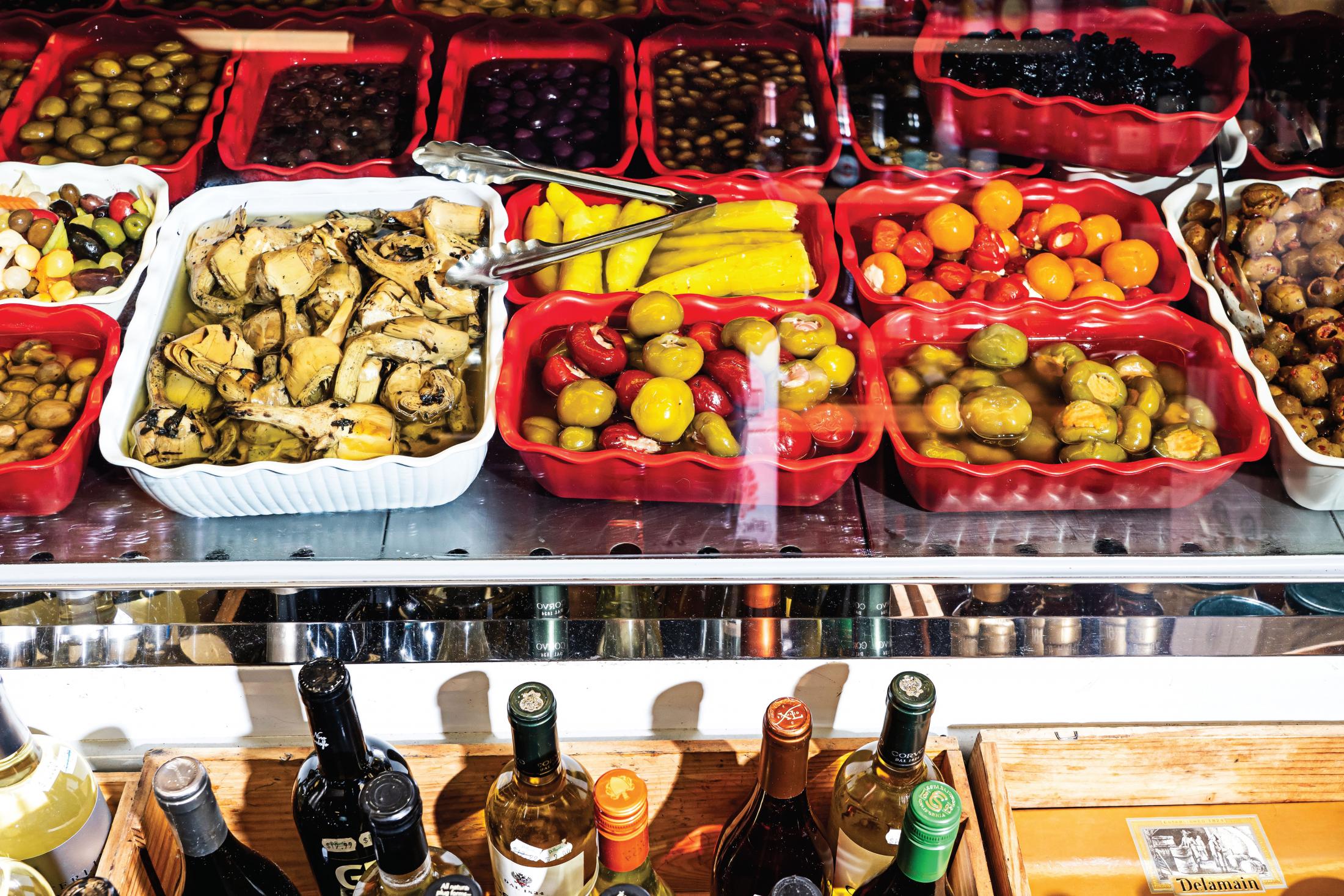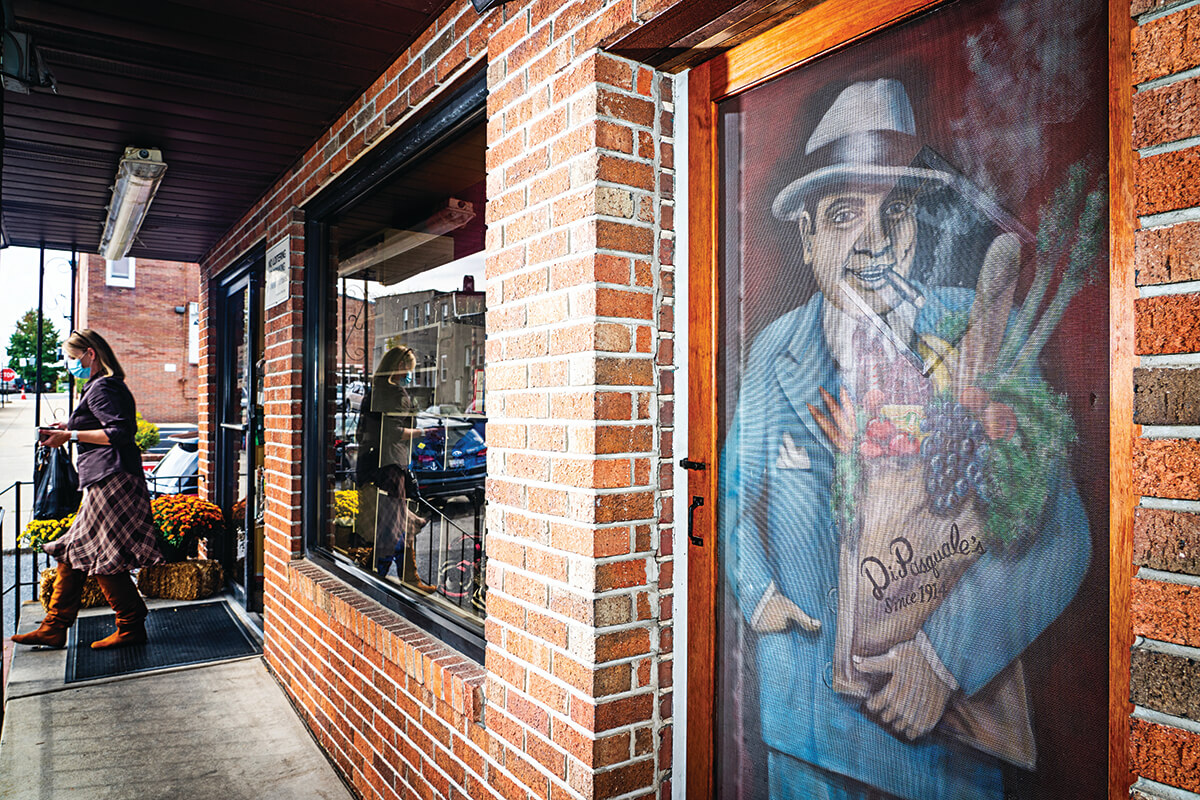 On a Wednesday in late January, the move still feels like the distant future to Joe, whose focus is squarely on the lunch rush. Cosimo Savino and his 87-year-old father, Bruno, are two of the first customers. Both men were born in Naples and have been coming to Di Pasquale's since they arrived in America. Bruno, who speaks Italian, often enjoys a morning espresso with Joe.
"They can move anywhere, and I would follow them," Cosimo says. "There is nobody that can do what they do."
Later, a couple from Pennsylvania, in the store for the first time, approaches the counter and asks Joe for a sandwich recommendation. "Hot or cold?" he replies in his typical workman-like manner. "Hot."
After pondering the question for a second, he suggests the Porchetta, a sub with Italian seasoned roast pork, provolone, sautéed onions, olive oil, and grated cheese. After eating it, the newcomers understand what the fuss is about.
Next in line is Adam Ostovitz, who moved to a house around the corner six years ago. He says he comes to Di Pasquale's "too often." This Wednesday is his third trip this week.
"It's a little disappointing that they're moving, but our loss is another neighborhood's gain," he says. "It's not like they're going away forever. It's just a little bit farther. I'm happy to see them growing and serving more people. More power to them. What are you going to do?"
As he shrugs his shoulders, it is clear this is a rhetorical question. For Di Pasquale's lovers everywhere, there's only one thing they can do: Keep eating.