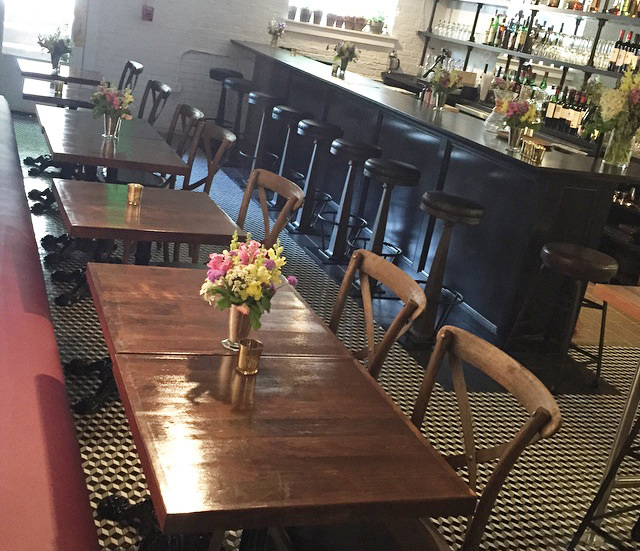 Courtesy of Sugarvale
What was once an incubator space in the basement of Dooby's in Mt. Vernon—and temporarily housed Dylan's Oyster Cellar—is now opening as permanent wine and charcuterie bar Sugarvale.
The 35-seat space opens to the public tomorrow night (hours are 5 p.m.-2 a.m.) under the helm of beverage director Ali Seradge and Dooby's executive chef Tim Dyson and chef Lori Yanke, both formerly of Bluegrass Tavern.
"This space deserves to be a neighborhood bar," says Dooby's owner Phil Han, who explains that the bar is named after the street he grew up on in Lutherville. "It's the right balance between intimate and friendly, so that you can hide away from the main street and just grab a drink with a friend, date, or neighbor."
Sugarvale will feature 18 wines by the glass, a seasonal cocktail menu, and a charcuterie program—where items will be fully cured in-house. Some menu items include an endive salad with Smith Island dressing (like Thousand Island with hard-cooked egg), Chinese bacon BLT tartine, and a green tea pannacotta.
The cocktail menu is well-curated, at just five selections, including a locally inspired take on a classic, the Oriole Reviver with Old Tom gin, lemon juice, Aperol, Suze, and a drop of Fernet. Han explains that, while cocktail bars are trendy right now, he's not trying to be the next big speakeasy, but just open a place that's comfortable.
"Growing up, the basement was our getaway," Han says. "So we wanted to capture that sentiment. I love how it's quite small and intimate down here. We never want to lose the charm of this space."