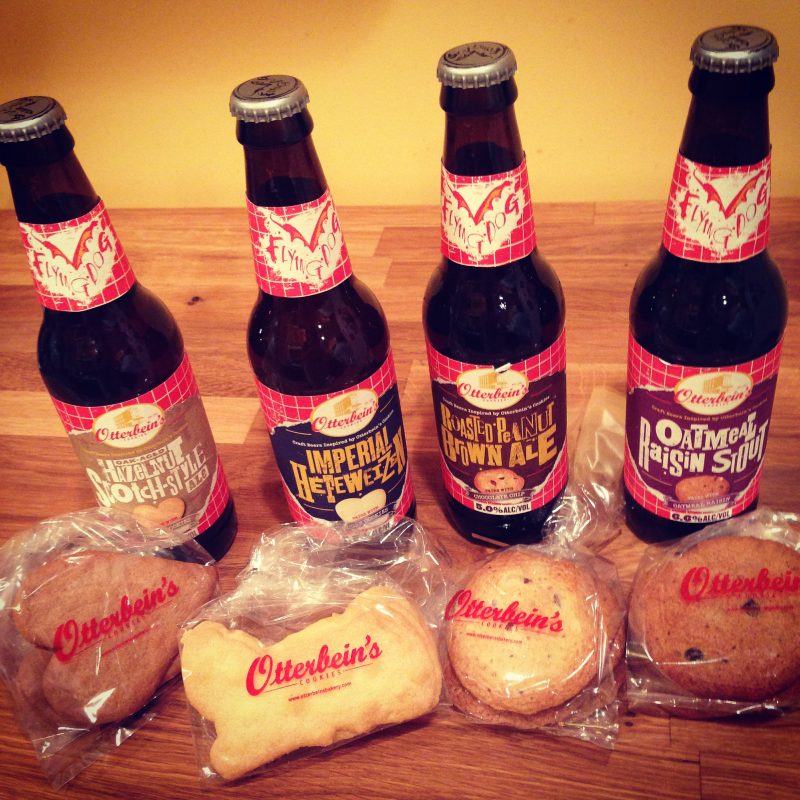 Craft beer gets more experimental everyday—throwing everything into the mix from oysters to Old Bay. In the latest creative flavor combination comes Flying Dog Brewery's partnership with Otterbein's Bakery. Rather than actually include cookies in the brew process, each beer is instead an ideal pairing with an Otterbein cookie.
The holiday collection consists of four beers: Imperial Hefeweizen (sugar cookies), Oatmeal Raisin Stout (oatmeal raisin cookies), Oak-Aged Hazelnut Scotch Ale (ginger cookies), and Roasted Peanut Brown Ale (chocolate chip cookies).
"In developing each of these recipes, we didn't simply want to recreate the flavors of each cookie," said Flying Dog brewmaster Matt Brophy. "Instead, we used ingredients like specialty-roasted malts and new yeast strains to create flavor profiles that enhance and complement each pairing."
We got a chance to sample the holiday collection this week and we agree that the roasted flavors are a nice counterpoint to the sweet cookies. Our favorite has to be the Roasted Peanut Brown Ale, which pairs with, admittedly, one of the best cookies on the planet. Washing down the Otterbein chocolate chip cookie with a sip of this 5-percent-ABV brown ale with nutty characteristics is like one giant candy bar experience. The combination is even dunk-worthy.
Flying Dog is hosting a release party with the beers and cookie pairings on Friday at Max's Taphouse at 5 p.m. Additionally, in a major coincidence, Full Tilt Brewing will be re-releasing its 2014 batch of Berger Cookie Chocolate Stout (same ingredients as last year with some slight alterations to its recipe) that same night at Smaltimore in Canton at 7 p.m.
Because why waste your money on milk?