Four Local Chefs Share Their Favorite Plant-Based Recipes
These dishes show us plant-based cooking doesn't have to be dull.
Roasted Cauliflower Panisse Cake from Preserve
"The original play was on a French panisse cake," says Preserve chef Brian Cieslak of this recipe. "It shows that vegetables don't have to be one-dimensional." To pretty up the plate (pictured above), Cieslak suggests dotting the plate with miso paste, a shower of parsley and scallions, plus pickled cauliflower stems.
INGREDIENTS
1 pound cauliflower
1⁄2 cup white onion, diced
2 cups chickpea flour
5 cups water
5 garlic cloves
11⁄2 tablespoons salt
1⁄4 cup, plus 1 tablespoon EVOO
11⁄2 tablespoons lemon juice
1⁄4 teaspoon ground black pepper
1⁄2 teaspoon onion powder
DIRECTIONS
1. Roast cauliflower in oven set at 350 Fahrenheit. Roast until golden.
2. Set aside onion, and in a blender (in batches if necessary) blend all remaining ingredients. Reserve.
3. Spray a 9.5" x 13" pan with oil.
4. In a pot that preferably has a wider bottom that can hold at least 4 quarts, sweat onion with 1 tbsp. oil.
5. Add chickpea our/water mixture.
6. While keeping on medium/ medium-high heat, continue to whisk and boil until mixture becomes extremely thick (up to 10 minutes).
7. Once firm, fold in cauliflower.
8. Pour in greased pan. Allow to completely cool in fridge.
9. When cool, griddle in a pan on low heat until golden.
Serves 4. 
For the garlic confit sauce: In a small sauce pot add 1⁄2 cup garlic cloves and 1⁄2 cup neutral oil. Place on low flame. Heat slowly for two hours and cook garlic until golden. Cool. For sauce, blanch 2 cups cauliflower florets in salted water. Cook until very tender, then toss in ice bath. Place cauliflower in a blender, blend until nearly puréed. Emulsify in garlic confit cloves and oil. Season to taste.
Beet Terrine from The Corner Pantry
If you're still scarred by those childhood beets that came from a can, this stunner from chef Neill Howell at The Corner Pantry is a surefire way to reimagine the root vegetable. "I wanted to create a fun, vegetable-centric dish that isn't a salad," says Howell. "Don't rush the chilling process," he adds. "It needs time to chill and firm up."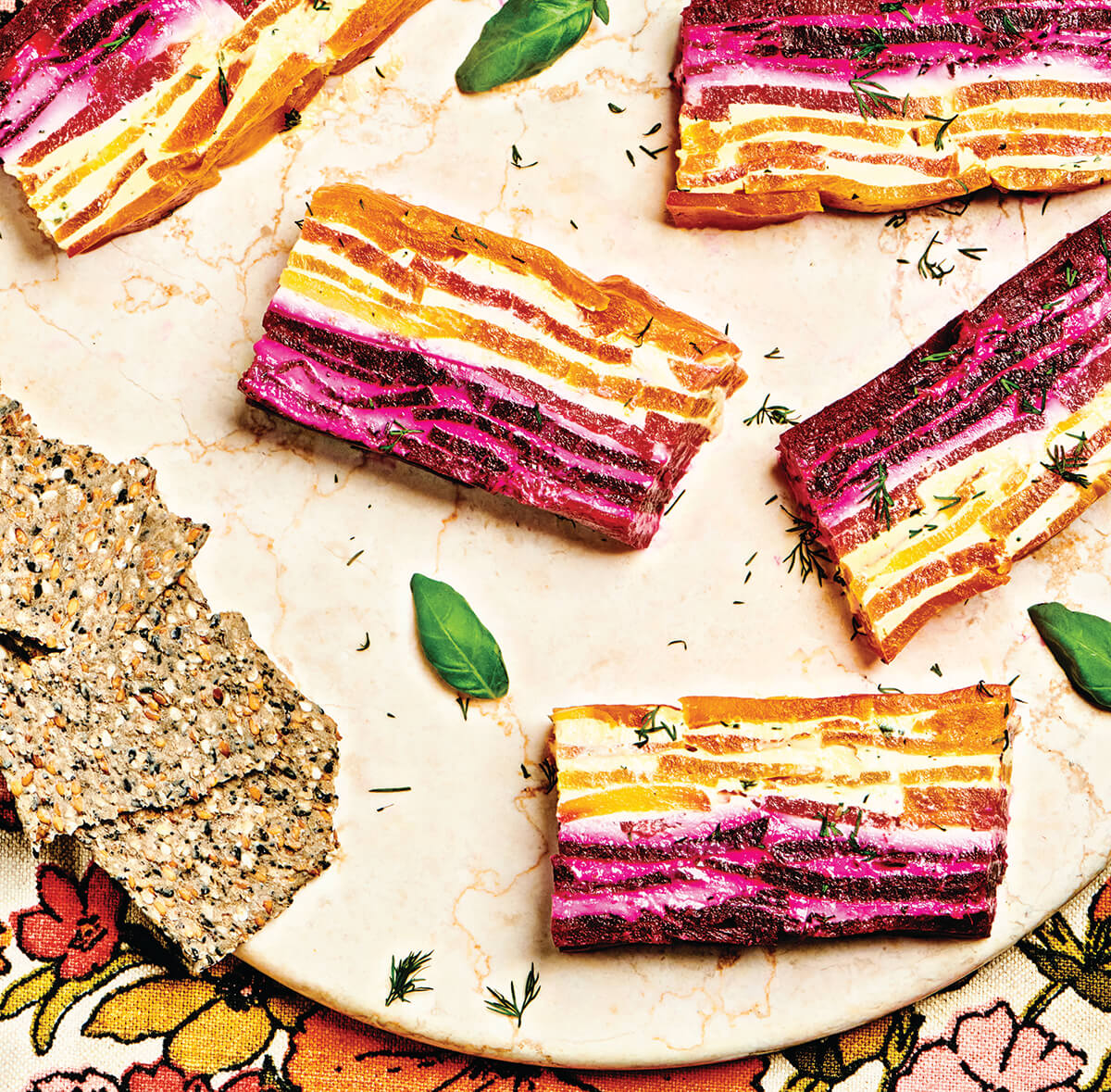 INGREDIENTS
5 red beets, cooked and peeled
5 golden beets, cooked and peeled 2 pounds goat cheese
1 each zest of orange and lemon
2 tablespoons lemon juice
2 tablespoons honey
2 tablespoons chopped dill
2 tablespoons chopped basil
DIRECTIONS
1. Slice all beets on mandolin very thin, keeping colors separate.
2. Blend all ingredients except beets and herbs in a food processor.
3. Mix goat cheese mixture with chopped herbs.
4. Line two loaf pans with plastic wrap.
5. Start layering with red beets, then use a spoon to spread a small amount of goat cheese with a spoon. Continue layering, but switch to yellow beets halfway through.
6. When loaf pan is full, cover with plastic and place an empty loaf pan on top with something weighted inside to press the terrine.
7. Refrigerate for 12 hours.
8. Turn out and slice or slice in the pan.
9. Serve with toasted bread or crackers.
Serves 8-12.
Non-Alcoholic Winter Sangria from True Chesapeake
In honor of Dry January, we asked the folks at True Chesapeake to come up with a post-holiday cocktail that would still feel festive, even while remaining booze-free. This cocktail courtesy of bartender Paull Daino takes about an hour to concoct and needs chilling anywhere from two to 24 hours. "Sangria can be paired with almost anything," says chef Zack Mills. Cheers!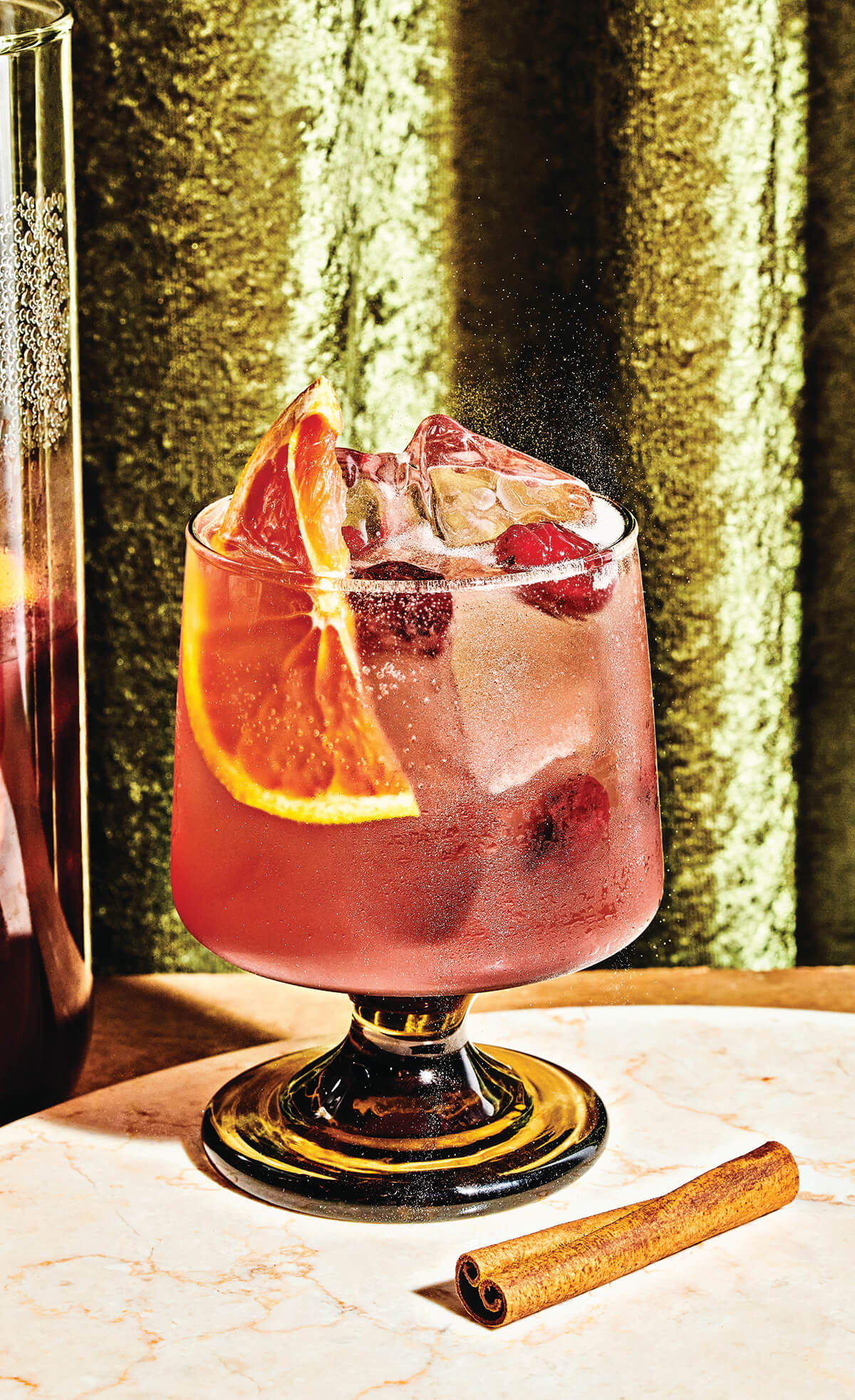 INGREDIENTS
2 grapefruits, sliced
1 cup cranberries
16 ounces pomegranate juice
1 cup orange juice
1 cup apple cider
1 tablespoon honey
2 star anise
8 cloves
2 cinnamon sticks
1 vanilla bean pod
2 black tea bags
2 cans ginger ale or sparkling water
DIRECTIONS
1. Preheat oven to 350 Fahrenheit.
2. On a baking sheet, place sliced grapefruit and cranberries.
3. Bake for 35-40 minutes, or until cranberries burst and caramelize a bit.
4. Meanwhile, boil pomegranate juice, orange juice, apple cider, honey, cinnamon sticks, star anise, cloves, and vanilla bean pod.
5. Once boiling, reduce heat to low and simmer for 10 minutes, strain out solids and pour over black tea bags.
6. Steep for five minutes.
7. Remove tea bags.
8. Add in caramelized fruit and let sit in the fridge for at least 2 hours or overnight.
Serves 8.
Pesto Roasted Vegetable and Quinoa Soup from Gundalow Gourmet
Nothing says winter meal like this single dish dinner from Gundalow Gourmet. "This is a great healthy recipe that can be changed over and over again and can be a great refrigerator clean out type of soup," says Gundalow Gourmet owner Dana Sicko. "You can use a variety of vegetables that you have on hand and most grains can be used in place of the quinoa."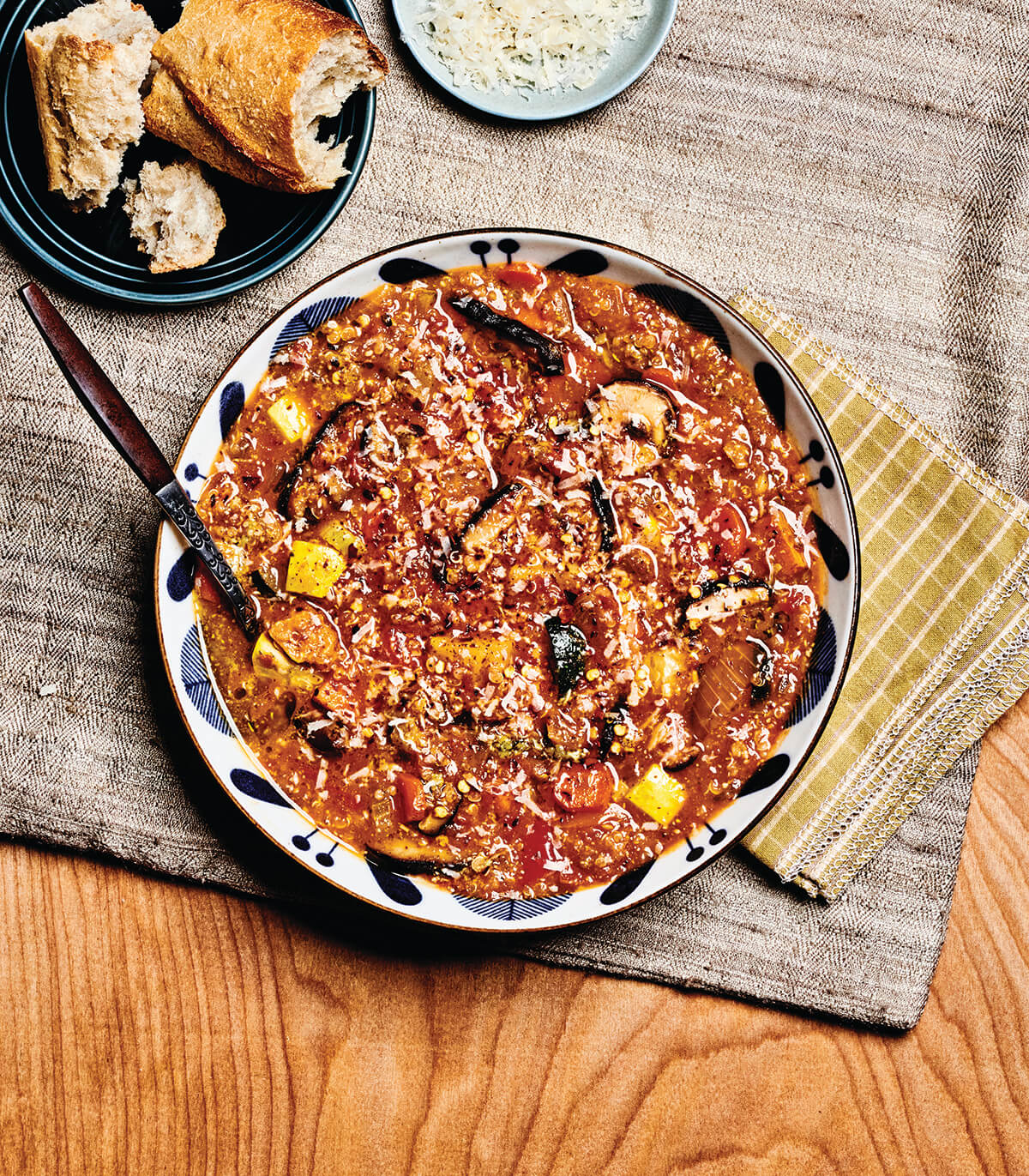 INGREDIENTS
For the roasted vegetables:
1 tablespoon olive oil
2 cups chopped vegetables, like zucchini, sweet potato, yellow squash, mushrooms, and bell peppers
For the soup:
3 tablespoons olive oil
1 medium yellow or white onion, chopped
3 carrots, peeled and chopped
2 celery stalks, chopped
4 garlic cloves, pressed or minced
1⁄2 teaspoon dried thyme
1 28-ounce can crushed tomatoes
1 cup quinoa, rinsed
4 cups vegetable or chicken broth 2 cups water
Pinch red pepper flakes
Salt and pepper, to taste
For the pesto:
1⁄2 cup basil leaves
2 tablespoons pine nuts
1 tablespoon lemon juice, to taste
2 garlic cloves
2 tablespoons Parmesan cheese
2 tablespoons olive oil
For the garnish: Add some thin shavings of Parmesan cheese.
DIRECTIONS
1. Preheat oven to 400 Fahrenheit.
2. Toss chopped vegetables with olive oil, salt, and pepper and place on a sheet tray.
3. Roast vegetables for 20 minutes until they have a roasted color and have released some of their liquid. Set aside.
4. Warm olive oil in a large soup pot over medium heat.
5. Once oil is shimmering, add the chopped onion, carrot, celery, seasonal vegetables, and a pinch of salt.
6. Cook, stirring often, until the onion turns translucent, about 6 to 8 minutes.
7. Add the garlic and thyme.
8. Cook until fragrant while stirring frequently, about 1 minute.
9. Pour in the diced tomatoes with their juices and cook for a few more minutes, stirring continuously.
10. Pour in quinoa, broth, and water.
11. Add 1 teaspoon salt and a pinch of red pepper flakes.
12. Season generously with freshly ground black pepper.
13. Raise heat and bring the mixture to a boil, then partially cover pot and reduce heat to maintain a simmer.
14. Cook for 25 minutes.
15. While soup cooks, in a food processor, process basil, pine nuts, garlic, lemon juice, oil, and Parmesan. Set aside.
17. After 25 minutes, remove the pot from heat.
18. Stir in vegetables and pesto.
19. Garnish with thin shavings of Parmesan.
Serves 4-6.