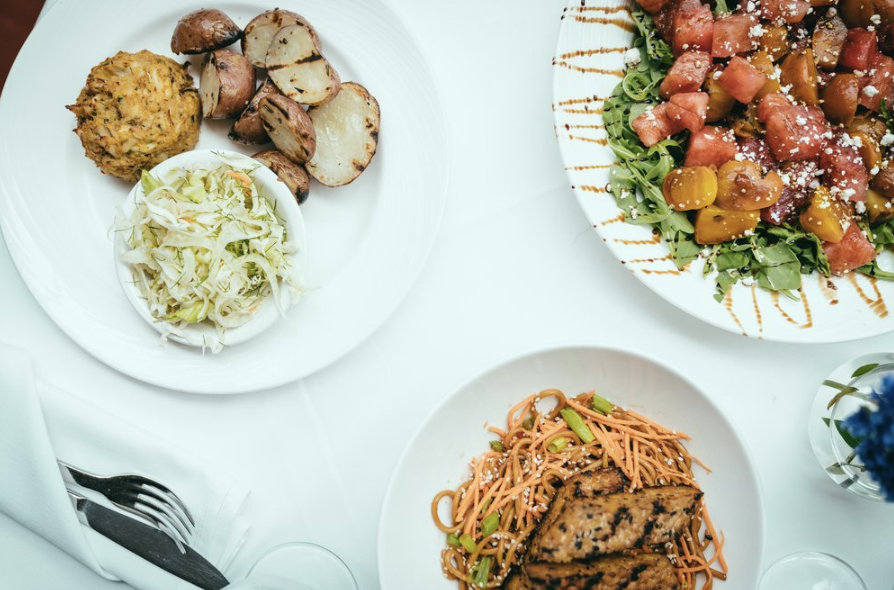 Courtesy of Gertrude's Chesapeake Kitchen
As dawn breaks over 32nd Street on Saturday mornings, Waverly Farmers' Market vendors set up their booths and prepare to greet the wave of early risers in search of gourmet goods. Though the market sees plenty of new faces from week to week, one patron guaranteed to be there is restaurateur John Shields.
"He's there every Saturday morning," says Joan Norman of One Straw Farm in White Hall. "Those are my earliest memories of him. He would come at 7 a.m. and go shopping. And he still does, it hasn't changed in 15 years."
As an acclaimed chef, author, and television personality, Shields has become a local celebrity at the market, where he collects the week's produce for his restaurant Gertrude's—newly renamed Gertrude's Chesapeake Kitchen—inside The Baltimore Museum of Art (BMA).
"Going to the Waverly market with him is like walking the streets with the Godfather," says Gertrude's executive chef Doug Wetzel, who has worked at the restaurant for 11 years. "People are always coming up to say hi and pay their respects."
Making use of local crops (including chard, cabbage, eggplant, tomatoes, and peppers from Norman at One Straw Farm) has been an essential part of Gertrude's mission since it opened in 1998. Norman credits Shields as being one of the earliest founders of the farm-to-table movement in Baltimore.
"John was doing it for the benefit of his customers," she says. "He was very proud of Maryland and the heritage of the food that we had here, and he shares that love through his restaurant."
Now, as it celebrates its 20-year anniversary, Gertrude's sustainable mantra is still alive and well—though Shields and Wetzel are also making it a priority to change with the times with a revamped menu.
To celebrate the milestone, the spot is hosting a sold-out anniversary party next week featuring live storytelling by its fans including BMA director Chris Bedford, MacArthur genius Joyce Scott, and our own Librarian of Congress Carla Hayden.
Additionally, the team will be rolling out a new fall menu inspired by Shields' latest cookbook The New Chesapeake Kitchen, which compiles healthy recipes that are also environmentally conscious.
"We need to have a whole new look at the way we eat. A lot of the fish that we used to have in the bay aren't here," Shields tells us. "Some of the protein is so precious that we can't eat it the way we used to. Then we have some species that weren't here before. We have to take a snapshot of now."
New items will include a crab-artichoke poutine; all-crab cakes that make use of backfin, claw, and jumbo meat; and a take on classic Baltimore coddies that mix potato with salted Blue Channel catfish—an invasive species that eats crab eggs.
"We're adding a bunch of plant-focused meals," Wetzel says. "But also really cherishing the Chesapeake classics and making sure we sell what we know everyone likes."
Throughout the years, weddings and social events on Gertrude's picturesque patio, which overlooks the BMA Sculpture Garden, have also become popular with the younger generation.
"It's really a testament to what John started here," Wetzel says. "We helped showcase some of these recipes that got lost in the history of Chesapeake cuisine, and I think the younger kids like knowing about the older stuff. They seem to like knowing about the history of rockfish imperial and single-fried oysters."
Norman says that, in addition to the food (she credits Gertrude's brunch as one of the best she has ever had), the restaurant's charm lies in its inviting atmosphere.
"There's a light, happy vibe that is always there—not intrusive or overwhelming," she says. "It's a happy place, kind of like John Shields himself."
For his part, Wetzel has always appreciated that Gertrude's has broken the mold of the typical museum restaurant, attracting both art and food enthusiasts alike.
"It's funny. When I first learned it was a museum restaurant, I didn't want to apply," Wetzel says. "But I don't feel like we're a restaurant in a museum, really. You have this preconceived idea of what that is and then you come here and you're like, 'Oh shit. This is just really good food.'"