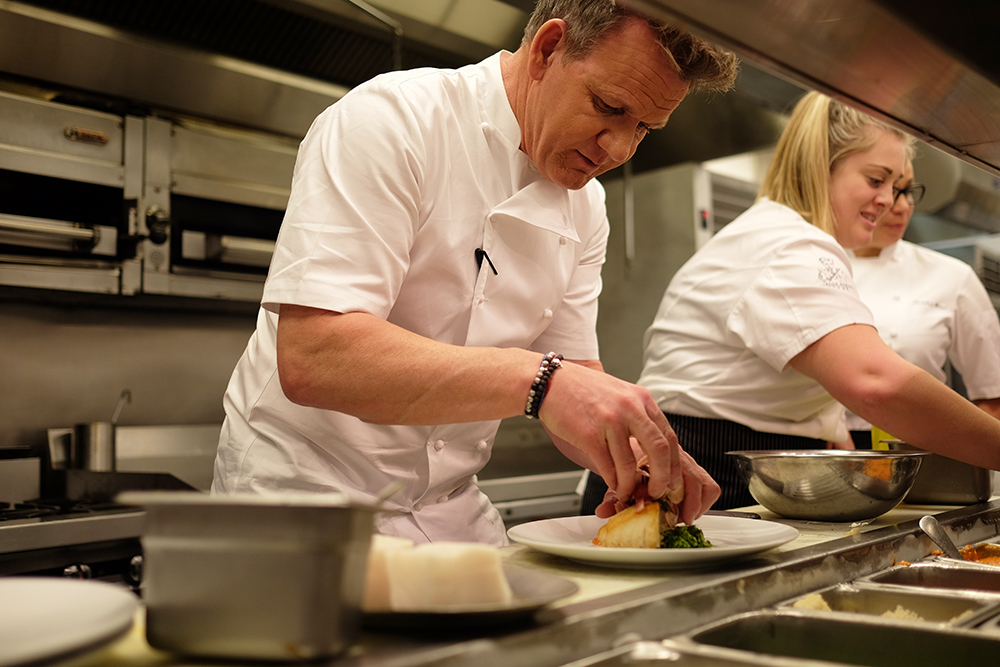 Celebrity chef Gordon Ramsay, who was raised in Stratford-upon-Avon—the birthplace of Shakespeare—is known to be a total drama king in the kitchen with his fiery temper and profanity-laced language. But in person, he's as affable as they come. Ramsay, who has 32 restaurants all over the world (and TV shows all over Fox including Hell's Kitchen, MasterChef, and The F Word with Gordon Ramsay) has been in Baltimore getting ready to open Gordon Ramsay Steak at the Horseshoe Casino. This is his first steakhouse on the East Coast, and a sister spot to his Las Vegas eatery. We caught up with the multi-Michelin starred chef to talk about steak, Baltimore, and The Bard. 
Have you visited Baltimore before?
I've been four times. It's a lot like London, hardworking, not over-glamorized. It's just one of those vibrant cities that has a real passion to it. You sense that just walking to the stadium. I didn't go to the game, but I watched it on TV and visited the stadium this morning. 
I know you worked in an American steakhouse early in your career. What did you learn?
It was just this feeling of warmth and generosity, and it was that kind of hustle and bustle of the place that I loved. It was absolutely jam-packed. Everyone was snug in the booth, and the food was exceptional. The standard of the meat was the most important thing to me, just the quality of the beef, whether it was grass-fed or dry-aged, the quality was second to none.
You've said that you know whether a restaurant is going to be good or bad in seconds. What are you looking for when you dine out?
I send my wife to the bathroom. I want to make sure that the bathrooms are immaculate before I sit down. If the hygiene isn't right, I leave immediately—that sets the tone. And then there's the lighting. Lighting needs to be an enhancer. The lighting needs to make you feel welcome and not frigid. And then that first welcome is critical, whether there's someone in the reception area, a maître d' or even a server, you need to be made to feel welcome.
To what do you owe your success?
I owe it to my mum. She taught me manners and hard work. Mum had two jobs. She was a nurse at night and a cook during the day. We got to eat the food that didn't sell. I got that determination and hunger from watching her.
Did you cook with her at home?
She'd never let me cook. I did prep. I'd peel the parsnips. Peel the carrots. The only thing I was allowed to do then was bake. I did a couple of cooking courses at school, but my main interest then was sports. I would go fishing on the river Avon and play soccer. After soccer, I'd go back and help my mum clean and cook. 
Growing up in Stratford-upon-Avon, what was your relationship with Shakespeare?
I used to live next to Mary Arden's house [Shakespeare's mother]. Throughout the summer and fall, I was in and out of theater. I was super shy about expressing myself in drama. But I understood that boisterousness and that passion from watching the plays and studying the literature. I wasn't interested in it, but we had to do it. It gave me insight for theatricality. 
You're this nice guy. Is what we see on TV for show or is that really a part of who you are?
I don't parlay bullshit. We're having a chat because I'm not even in service. But when we step into that arena where you're paying $60 or $100 for a meal, it's important to me. I'm not two-faced, I'm not hypocritical—I just call it as I see it. 
What do you think of food critics?
It's something you have to live with. I'm 51, I've been cooking since I was 19. I've been judged by individuals who know less about food than I do. I call it rhino skin, because of the beat-ups and the jump-ons and the negativity—you have to skin like a rhino that stretches. And every time [one of my cooks] is upset because someone didn't like something, I say "rhino." You have to build that character. I respect the critics when they know what they're talking about, but I don't respect the critics when they haven't got a clue. I had a Russian critic in the U.K. who got so drunk at one of my restaurants once, he phoned me the next day to find out what he had eaten. 
Other than the Union Jack on the ceiling of the dining room, what other British touches have you brought to your steakhouse?
This meat trolley is my Rolls Royce. I wanted to bring a little touch of British-ness to the dining room. Pushing one of these carts is like pushing a Rolls Royce through the dining room. This gets rolled to every table. We spaced the tables and booths purposely far apart. The grade and the marbling of the meat are apparent in the reflective surfaces of the cart. Twenty years ago it used to be a soufflé that would pass through the dining room—now it's this baby. We have a GPS on it in case it goes missing. It's good enough to cart the crown jewels. 
Speaking of the crown jewels, are you excited about the upcoming royal wedding?
I'm very excited. We know Prince Harry very well. I've seen him at events and had the pleasure of cooking for him. What an amazing match—and what a fantastic time to do it. America and Great Britain are becoming even closer. How cool is that?