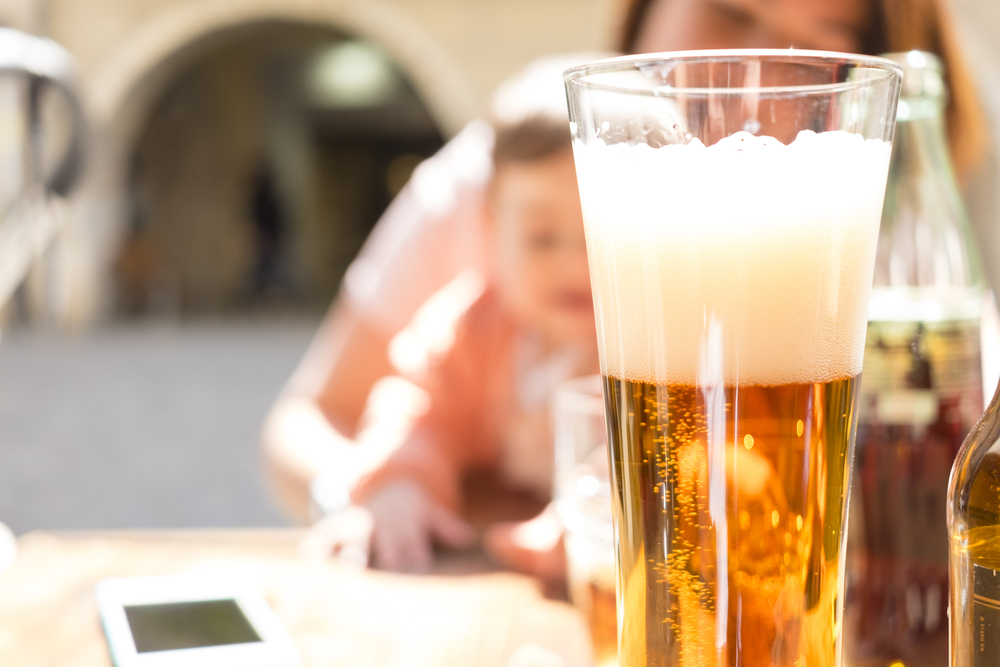 Shutterstock
Time was, taprooms were meant solely for sampling craft brews. But, as the local beer scene continues to evolve, many breweries have adopted more of a community focus—providing neighborhood gathering spaces not only for adults, but also for families with children.
At Union Craft Brewing, the homegrown beer behemoth that recently moved into a 138,000-square-foot makerspace in Medfield, children have always been a part of the brewery's inclusive philosophy.
But due to a recent influx of unattended tykes running around the taproom and climbing on furniture, staff made the decision earlier this week to begin enforcing "Adult Swim" hours Wednesday through Sunday from 6 p.m. to close. The brewery's previous policy allowed kids to hang around until 8 p.m.
"We've really been struggling with the amount of unattended children running amok in our taproom and around the property," read a post to Union's Facebook page announcing the change Monday. "We want to remain family-friendly, but we need to work together to ensure our guests are safe and satisfied with their experience here."
The post, which generated nearly 200 comments, sparked a heated—and sometimes vitriolic—debate between beer lovers who appreciate the change, and parents who are worried about how the new taproom policy will affect evening plans with their kids.
Emily Martin, a mom of two and communications professional who lives in Hamilton, feels that the rhetoric in the post, and the comments that followed, caused a divide between Union's clientele.
"What's happened now is there is this polarizing effect between parents and people without kids," she says. "It made me feel like the next time I go in there with my kids, which I'm going to do, I'm going to be looked at differently. And I think that animosity was avoidable."
In response to all of the feedback, Union spoke out again on Tuesday, stating: "It's easy to overlook the fact that Union is a brewery and taproom focused on making and selling beer. We include fun amenities like games and a photo booth to help foster a fun and lively atmosphere for adults to enjoy with their beer. Kids have always been welcome to enjoy these amenities as well, with their parents."
Jim Caruso, CEO of Flying Dog Brewery, agrees that breweries are, first and foremost, facilities for manufacturing beer—which is why he says his Frederick taproom has never been open to those under the age of 21.
"Flying Dog is very much an adult experience," Caruso says, mentioning releases like the Raging Bitch IPA and slogans like, "Good Beer, No Shit." "There's no ambiguity on our part. It's never occurred to me to have little kids running around in our taproom because we serve beer only. We simply have nothing here for children."
Caruso adds that, while his taproom may not be open to kids, there are plenty of restaurants and brewpubs in the area that carry Flying Dog beers. Though he says his taproom will likely never change its policy, he supports the many breweries throughout the state that have decided to welcome parents and their kids.
"I very much believe that people should make their own choices," he says. "So if you decide to have children in your brewery, you should have a space for them. I think it's the obligation of the breweries to create an experience that is kid friendly."
Other breweries in the area, including Monument City and Peabody Heights Brewing, have gone as far as creating separate playrooms and hosting parent social groups to be more inclusive for families.
"Breweries aren't bars in the traditional sense since they don't serve hard alcohol," Martin says. "There's something for everyone."
On Union's end, the brewery continues to offer family-friendly games for kids to enjoy before 6 p.m. and says it will continue to evaluate and refine its rules pending further feedback from the community.
"Our policies are not written in stone," reads the brewery's statement. "We know there are fantastic parents out there. We love, respect, and welcome you. We also know there are responsible adults with and without children that would like to enjoy a pint with their friends and socialize without children around. We love, respect and welcome them, too."
Parents appreciate the flexibility, especially in a time when breweries have become such a prominent part of city culture.
"People are desperate to figure out ways of staying, living, and raising their kids in the city," Martin says. "The education system doesn't fully support it, the taxes don't fully support it. It's difficult to do. I think there's a deeper thing that is happening in my heart about it—because it's already hard enough to raise your kids in the city."