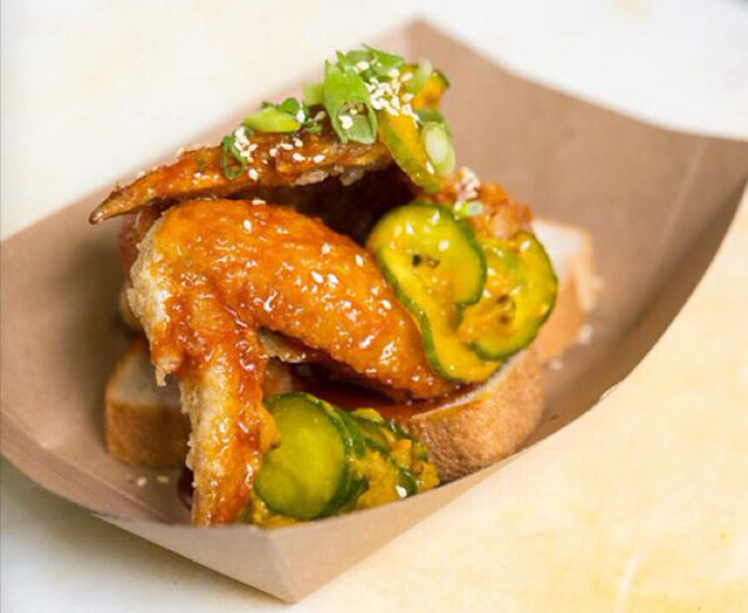 Courtesy of Dooby's
It's been one year since Lexington Market and The Bromo Tower Arts & Entertainment District debuted Light Up Lexington, a quarterly series that brings together local chefs, artists, and musicians.
On November 4 from 5-9 p.m., the fourth installment will highlight the free event's signature chef mash-ups, while also introducing a revamped live music lineup, two interactive art installations, and a special pop-up.
"We've learned a ton about what the restaurants' needs are and how to really accommodate what the merchants and the audiences want," says Priya Bhayana, director of the Bromo Arts District. "It's pretty great that we've been able to make it grow."
As in previous months, a handful of Lexington Market's vendors will be teaming up with visiting chefs from area restaurants to serve a collaborative dish for less than $10."Light Up Lexington veterans Dooby's, Sobo Café, and The Local Fry will once again participate, while newbies such as La Cuchara, Bookmakers, and Woodberry Kitchen are joining in for the first time.
Can't-miss menu items will include Korean fried chicken from Dooby's and Dudley's Fries, lemon thyme chevre cheesecake with grilled grapefruit from La Cuchara and the Fruit Basket, and specialty snacks from The Local Fry and Park's Hamburgers. The team from Union Craft Brewing will also be on hand, selling $4 beers all night.
Additionally, the foodie get-together will boast a special happy hour with James Beard Award-winning chef Spike Gjerde, who is teaming up with Faidley's Seafood to serve dishes inspired by the bay.
"To be able to partner one of Baltimore's best chefs with Faidley's, which has been an institution for so long, is really exciting," says Lexington Market manager Stacey L. Pack. "Spike is a leader in the local scene, who is super supportive of local food sourcing, and with Faidley's commitment to the Chesapeake Bay—it seemed like a natural fit."
In addition to the new food offerings, organizers are also throwing two art installations into the mix this time around. Attendees are invited to experience The Contemporary's interactive GhostFood truck performance, which makes a powerful statement on the effects of climate change, as well as browse the work of artist Rachael London in a multimedia exhibit that pays homage to the market and its vendors.
"We started talking [to London] about doing something very simple like using a former stall to incorporate neon and reference the neon that's so prevalent in the market," Bhayana says. "But she's very community-based, so she's been interviewing vendors and people that visit the market, archiving all of their stories, and creating a space for those conversations to be put on display."
And, of course, in keeping with the event's mission of creating a platform for local performers, a live music lineup featuring DJ Chuck the Mad Ox, blues performer Quinton Randall, and genre-defying band Black Root Underground will provide the soundtrack for the night's festivities.
Pack says that Light Up Lexington has been a great way to foreshadow what's to come, as Lexington Market continues to move forward with its remodeling and rebranding plans. (The market recently unveiled its revamped website in August, and is slated to include additions such as increased seating and an outdoor farmers' market space in the coming months.)
"One of the great things we've done is helped portray Lexington Market in a way many folks never thought about it before, whether it's keeping it open late or the art aspect or the collaborations with really amazing chefs," she says. "The goal is to highlight its potential to the entire city, and the more positive events and positive exposure it gets, the better."