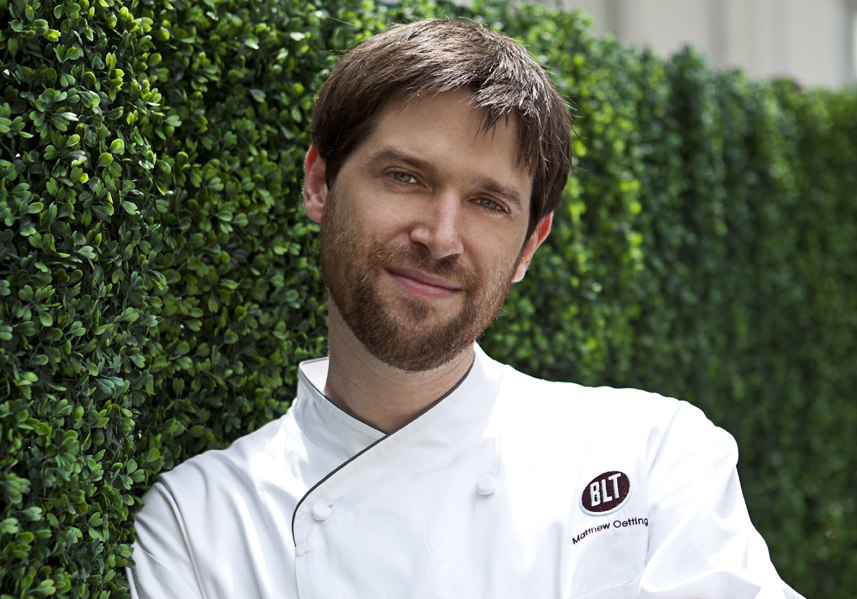 Courtesy of Atlas Restaurant Group
Although chef Matthew Oetting moved here from South Beach in the midst of a blizzard, he's eager to highlight the Chesapeake in his new role as head chef at Loch Bar, which is taking over the former Lamill coffee shop adjacent to Four Seasons Hotel Baltimore.
"This area is so rich in seafood, from ocean fish to river fish to shellfish. It's amazing how diverse it is," says Oetting, who has racked up an impressive roster of restaurants on his resume including The Modern, Telepan, STK, and Scarpetta. And though the Albany-born chef is new to the area, he has mastered one important skill that will help him pass as a local. "I do know how to crack a crab," he says, laughing.
We chatted with the head chef of Atlas Restaurant Group's soon-to-open, seafood bar/speakeasy in between breaks shoveling snow at his new Towson home.
Why did you want to come to Loch Bar after The Continental in South Beach?
I was looking to get back into the Mid-Atlantic and doing Northeastern-area regional cuisine, and this just fit. It's the kind of food that just speaks to my heart and soul. I've cooked food from all across the world from Korea to Japan to regional American to European. South Beach is a flashy area. I wanted to create something that's a little bit more traditional with a touch of class.
How familiar were you with Baltimore before coming here?
I had been to Baltimore just once or twice in the past. I have family in the D.C. area. I had been to a couple of family reunions—those were fun times eating crabs with Old Bay everywhere.
What do you want to do with Loch Bar's menu?
I want to bring in local shellfish and fish executed really consistently at a high level. The menu will not be too big, so I plan on doing extraordinary things with limited space. Working on the shellfish and raw bar is one of my biggest goals. While we will focus on local purveyors for the raw bar, we will also showcase the spectacular oysters of the Pacific Northwest.
Anything else you can say about the menu?
I'd like to do some playful things and like ahi tuna, poke, and a crispy duck bahn mi sandwich for brunch. We're still working on the concept, but we'll offer cocktails like king crab, shrimp cocktails, some crudos and ceviches, as well as razor clams and maybe sea urchin and caviar. The focus will also be on local sourcing. We're going to try to showcase the local oyster farms, cheese makers, charcuterie, and bring it all together so that what ends up on the plate is something a little more familiar.
How do you see Loch Bar fitting into the scene as a whole?
This may be hard to accomplish because we're in the Four Seasons with transient traffic, but I'd love for Loch Bar to become the local spot where people in the area travel to eat consistently.
You've worked in such a varied range of restaurants—from French and Italian restaurants to New American spots to steakhouses. What's the secret to doing all that as a chef?
I was trained classically in French technique when I went to work in New York. With each place I've been, I've gotten as much as I possibly can. There's a foundation there and everything builds off itself from French fare to New American to a steakhouse is not that far of a leap. Before you know it, you have a really good foundation of ingredients and techniques from across the world.
I know you worked inside the restaurant at the Trump SoHo Hotel. That begs the question, did you get to meet The Donald?
He came in for our orientation and once or twice after that, but he's a busy man. His children more or less run the hotel operation. I did see Ivanka and Donald Jr. a number of times.