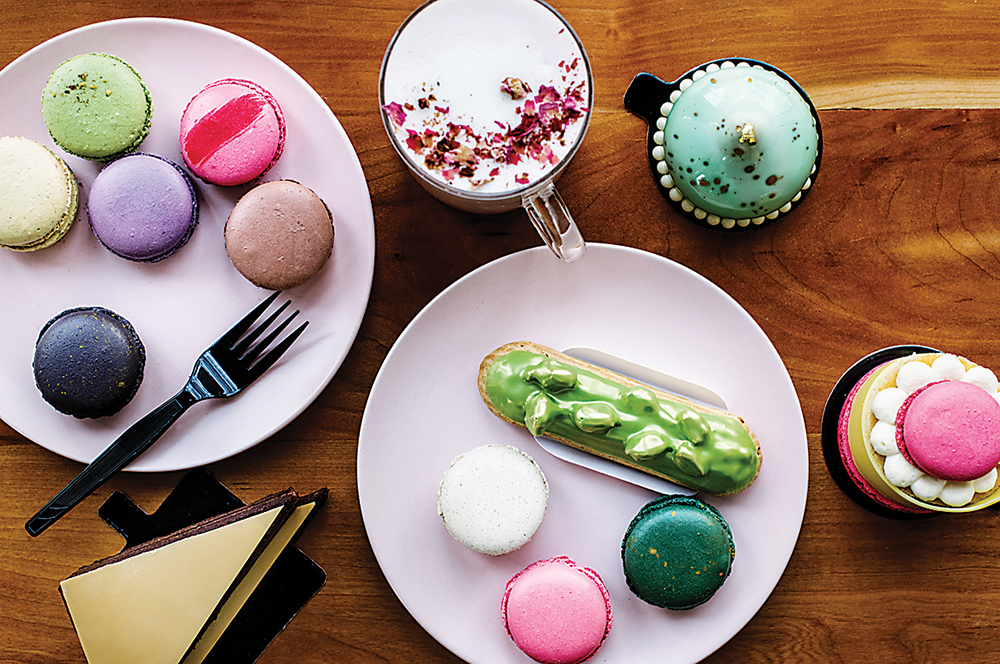 Kate Grewal
The dining scene continues to soar, and, oh, what a year it was to eat—and drink—in Baltimore. What didn't I eat this year? From foie gras and snails to matcha ice cream and crab cakes with succotash, I enjoyed it all. But a few things stand out, and there's a theme to my picks here. Life is complicated enough—when it comes to dining out, this was the year I craved simple sandwiches, comfort food, and mezcal-based cocktails to wash it all down. In looking back, who knew that celery—a vegetable of last resort—would play a starring role on my best bites list?
The Mezcalita at Clavel

I eat in restaurants for a living, so I try not to order the same dishes (or drinks) again and again when I'm dining out. That's how I came to discover the mezcalita. The margarita at Clavel is likely my favorite liquid on the planet, but I branched out this year and moved on to the mezcalita, an impossibly smoky, sweet, and spicy concoction that should be savored with every sip. If I'm being completely honest, I originally ordered my go-to margarita at this Remington hotspot, but the mezcalita was brought to the table instead. Talk about happy accidents.
The Clam Dip at True Chesapeake Oyster Co.
It's hard to find a good clam dip—or any clam dip for that matter—outside of New England, so I couldn't resist trying this offering at the seafood-centric True Chesapeake in Whitehall Mill. This version, an old family recipe that comes from owner Patrick Hudson's grandmother, was loaded with fat and luscious clams. And the house-potato chips, impossibly crispy and nicely salted, were the perfect foil for dunking and cutting the richness of the creamy dip.
The Fried Chicken Sandwich at The Choptank
Who gets a fried chicken sandwich at a crabhouse? I do. Making good fried chicken is an art form, and chef Andrew Weinzirl has demonstrated it at this new upscale crab house in Fells Point. An air-chilled, buttermilk-brined breast allows the meat to stay moist and stand up to the coating. A tangy mumbo sauce adds heat and a house-made slaw adds crunch. Think heaven in a bun.
Cornmeal Fried Oysters at Charleston
No one knows how to fry an oyster better than James Beard-nominated chef Cindy Wolf at this Harbor East gem. With six to an order, and accompanied by a kicky cayenne mayonnaise, they're all too easy to eat like candy. Learning some restraint takes willpower, but I've learned to savor each and every bite—it leaves me with less longing between visits.
Falafel Salad at The Corner Pantry
This sweet spot in the Lake Falls Village shopping center is one of my favorite stops for creative and always fresh salads. Chef Neil Howell is a Brit, but it seems he's also mastered Middle Eastern cuisine. His house-made falafel on a bed of green with tahini dressing is delicious. No shortcuts are taken here, even the pita chips are house-made.
Pesce al Brodetto at Limoncello
This Locust Point newcomer that celebrates the treasures of Southern Italian coastal cooking has been great straight out of the gate. To wit, the pesce al brodetto, a beautiful bowl rife with Manila clams, calamari, head-on shrimp, scallops, fish, tomatoes, and saffron broth. Given the different cooking times for each type of seafood, it's a dish that can be easily overcooked, but is cooked to perfection here. The accompanying grilled bread adds the final grace note.
The Tilted Burger at The Tilted Row
When is a cheeseburger more than a cheeseburger? When it's the cheeseburger coming from the kitchen at Bolton Hill's new gastropub The Tilted Row. Hard to say whether it's the addition of pimento cheese, the smoky bacon or mile-high mound of onions, the crunchy pickles, or the proprietary sauce that makes it work so well. Or maybe it's just the alchemy of it all.
The Brussels Sprouts at Birroteca
Just when I thought that I'd eaten enough Brussels sprouts for the rest of my life, I went back for one more serving at Birroteca. This dish, flash-fried Brussels drizzled with chili oil, sitting in a swirl of black garlic aioli and topped with coppa, was my go-to appetizer at this artisanal pizza spot for many years, but I hadn't been in some time. After the recent passing of its owner Robbin Haas, I went as an homage. It was as good as ever and a fitting legacy of a beloved restaurateur.
Raspberry Macarons (Or Any Macarons) at Sacré Sucré
Everyone and their uncle likes to call a cookie a macaron, but very few are the real deal. These are. Spouses Dane Thibodeaux and Manuel Sanchez use real fruit fillings and no artificial ingredients for their confections, which come in a variety of delectable flavors including salty caramel, vanilla, chocolate, and lemon. I love the burst of tangy raspberry to offset the sweetness, plus, I'm pretty sure it counts as my daily fruit serving.
The Celery Salad at Le Comptoir du Vin
There's a reason that Station North's tiny boîte, Le Comptoir du Vin, became an almost overnight sensation, landing on Bon Appetit's Hot 10 List and earning a spot on Esquire's list of Best New Restaurants in America. It's that good. But likely its star status came from, of all things, this celery salad, flecked with pistachios and dates and coltura (anchovies). It's a study in salt and sweet—a humble salad that's also incredibly refreshing. Really, the best of my best bites.