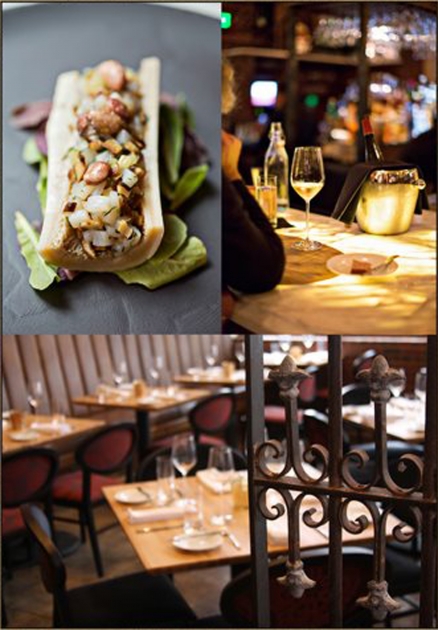 Fleet Street Kitchen
Fleet Street Kitchen—which is the most upscale of the Bagby Restaurant Group's operations—just got a little more casual with the opening of The Tavern Room.
The front room, which eschews white tablecloths and plays more casual
music, is adjacent to the restaurant's bar and offers a more relaxed
vibe.
While the menu options remain sophisticated with glazed
sunchokes, bone marrow, and a pig face and pickles plate, the prices are
much more reasonable than Fleet Street's dining room. At a media dinner
last night, the restaurant group's director of marketing Dave Seel
explained that The Tavern Room will focus on small plates and appetizers
(which they call "tastes") rather than a full tasting menu.
Another exciting aspect of The Tavern Room are the punches
that beverage director Tim Riley has whipped up exclusively for the
space. Meant to be shared between 2-4 people, the punches include Cry of
Delores (Crema de Mezcal, apple brandy, sherry, smoked tea, and
citrus); Colonel Baldwin's Punch (Haitian rum, old cognac, Madeira,
Cherry Heering, and lemons); and Kentucky Navy (bourbon, rye, spearmint
tea, black walnut bitters, citrus, local cider). All of the
punches—served in communal Mason jars—were lovely, but we especially
loved the minty, aromatic flavors of the Kentucky Navy.
Also new
is The Tavern Room's happy hour, which is Monday-Friday 5-7 p.m. and
features half-price small plates and tastes, as well as $5 beer, $6
cocktails, and $7 glasses of wine.
All in all, the new space is a
welcome addition to the restaurant concept, as it will make Fleet
Street Kitchen, as a whole, feel less intimidating and more inviting.