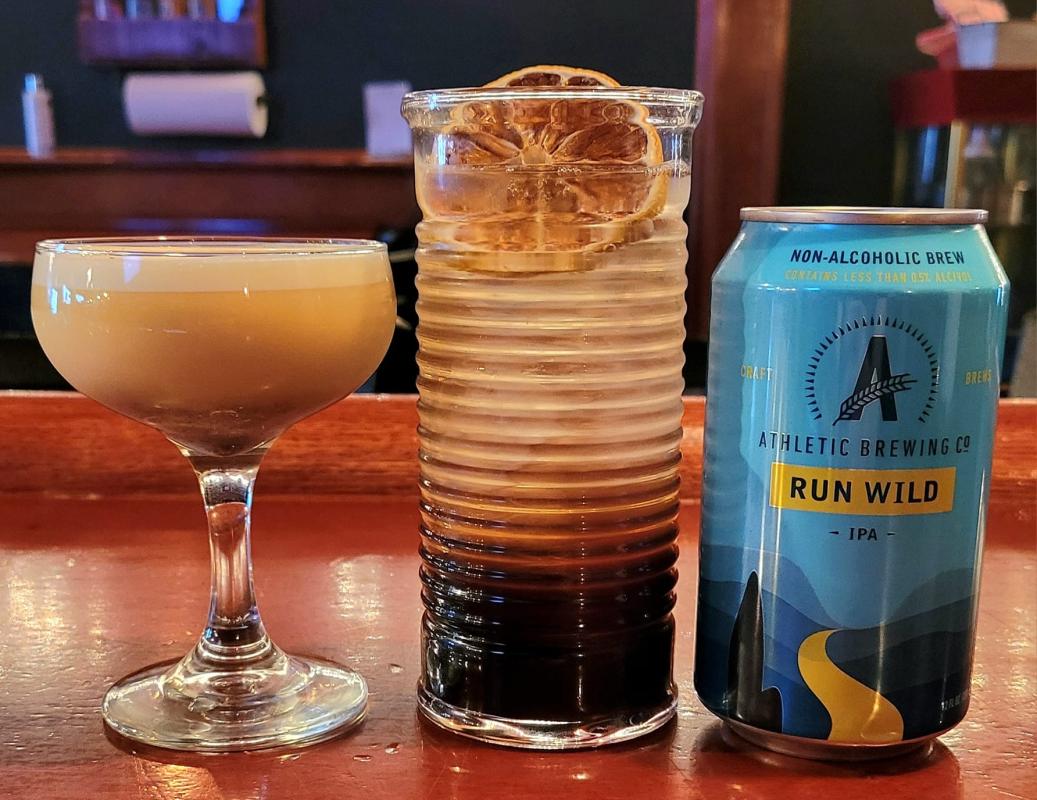 —Courtesy of Blue Pit BBQ& Whiskey Bar via Instagram
Last year, a report by Morning Consult found that one in five adults participated in Dry January in 2022. In Baltimore, there are plenty of bars and restaurants with options for those who are choosing to sever ties with booze through January 31. (More on that later.) But for many of them, catering to customers who don't drink alcohol is year-round work. 
"More and more people are embracing a sober lifestyle, whether it be for a week, a month, or a year," says chef Ashish Alfred, who owns Duck Duck Goose in Fells Point and No Way Rosé in Federal Hill. "As somebody who has a bit of a background in sobriety, I thought it was really important to make those people feel included and not like an afterthought." 
Alfred's restaurants have built a reputation for their alcohol-free beverage programs, along with spots like Topside in Mt. Vernon, Dutch Courage in Old Goucher, and NiHao in Canton. For her part, Baltimore Bartenders' Guild president Amie Ward—known as The Healthtender for her work to promote wellness within the hospitality industry—says that she has seen drastic improvements to the zero-proof drinks offered in the area in recent years.
Just try not to label them "mocktails," she points out. For many who don't drink, Ward explains that the phrase can be received as a mockery of their sobriety. Plus, crafting alcohol-free beverages calls for much more than just combining fruit juices. 
"It definitely requires you to think a little bit outside the box," says Ward, explaining that bartenders are meticulous when lessening (or amplifying) alcohol-like flavors. Capsaicin, a compound found in chili peppers, gives agave products like mezcal that burning feeling. Whereas "vodka should be odorless, colorless, and tasteless, so you wouldn't need a base spirit to make a cosmo," Ward explains—though, some people may opt for one. She's partial to non-alcoholic spirits such as Seedlip, which contains distilled botanicals. "It really requires you to play with it to know what makes it taste right." 
Throughout the years, the craftsmanship and care she's seen from bartenders in Baltimore has stuck with Ward. Her hope is that, as non-alcoholic drink options expand, so does the push for inclusivity.
"Saying that something is non-alcoholic can just be a part of the description on a menu," Ward says. "It doesn't have to go into its own separate space."
To that end, Ward says that reevaluating alcohol consumption shouldn't have to feel uncomfortable or isolating. "It's always a great idea to take a little stock in yourself," she says. "Try to figure out whether this is a relationship that suits you. Is it one that needs to be tapered off? Is it one that needs to be eliminated altogether? Giving yourself an opportunity to explore the world without alcohol in your system is a very good thing to do."
Alfred agrees, adding that the process isn't always cut and dry. And that's okay.
"Norms are being broken every day," he says. "What sobriety means to you—whether it's for yourself or your family, you're pregnant, you're religious, you're making a better life choice for yourself. Whatever your reason is, however you want to get there—that's what works for you."
The stigma that accompanies sobriety—for bartenders and customers—still frustrates Ward. "But we are seeing the barriers break down a lot, which I am incredibly grateful for."
Below, check out our list of bars and restaurants around town that are prioritizing spirit-free sips year round:
Blue Pit BBQ & Whiskey Bar: This Hampden barbecue haven is loyal to whiskey. But that doesn't mean staff won't mix a spontaneous zero-proof cocktail. Blue Pit's alcohol menu incorporates signage to show that a drink can be served spirit-free or low ABV. You can also try curated booze-free cocktails like "Figure it Out," made with a gin alternative, balsamic, fig, and apple bitters. 1601 Union Ave.
The Bluebird Cocktail Room: In keeping with its mission of sourcing local, this Hampden hangout is making use of organic, herbal hydrosols (distilled waters from plants and fruits) from White Hall's Star Bright Farm. On the current menu, there are five drinks—including the herbal "Juniper Tree" and warm and spicy "Old Sultan"—that can be made zero-proof. 3600 Hickory Ave. 
Church Bar: This buzzed-about Old Goucher bar has a fresh winter menu with plenty of zero-proof choices. (Just look for a burgundy dot next to cocktails that are designed to be created with or without booze.) Try the "Saint Brigid," which features bright bursts of lime, grapefruit, and ginger. Or order the "Lamplighter," which offers earthy hints of cardamom and cold brew. 2219 Maryland Ave.
Clavel: This Remington restaurant might be best known for its tacos and queso fundido, but you can also count on alcohol-free drinks like the "Suero," made with lemon, Topo Chico, and a pinch of sea salt. There's also the "Sandia Madura" with watermelon, lemon, basil oil, and house Tajin salt. 225 W. 23rd St. 
Duck Duck Goose: Alfred and his team have crafted several options including a Seedlip-based grape lemonade. Also worth mentioning: the "Mandarine du Sud," which merges Seedlip citrus, tangerine, pistachio, egg whites, and lime. 814 S. Broadway and one other location. 
Dutch Courage: While Brendan Dorr and Eric Fooy's Old Goucher bar focuses on gin, it continues to impress with non-alcoholic options, as well. Menu highlights include the "N.A. Groni," made with a botanical "gin" syrup, orange oil, orange bitters, and jasmine-flavored Tortuga kombucha. See also: the "Rocky Road," which features dark chocolate, orange bitters, and a giant torched marshmallow. 229 N. Charles St. 
The Food Market: With locations in Hampden and Columbia, this comfort food haven has a vast zero-proof menu. Try the "Gucci Lemonade," containing elements of blueberry, fresh mint, and vibrant lemongrass. Or keep things fresh and fuss-free with a cocktail blending grapefruit juice, agave nectar, Sprite, and thyme. 1017 W 36th St. 
Guinness Open Gate Brewery: Though known for its Irish-inspired sips, some might not know that this Halethorpe taproom brews a mean low-ABV beer. Stop by to grab a glass (or four-pack) of Guinness 0—which was made to feature all of the smooth and bitter notes of a classic Guinness draft, without the alcohol. 5001 Washington Blvd, Halethorpe.
NiHao: In addition to both hot and iced teas, the spirit-free selection at this Canton favorite features cocktails like "Shaken, Not Slurred," made with umami tincture, booze-free gin, and blanc verjus. For Bourbon lovers, we suggest "Convinced a King," with allspice syrup, rouge verjus, and whiskey barrel bitters. 2322 Boston St.
Prima Dopo: When it comes to its non-alcoholic offerings, this new Fells Point cocktail house is off to a good start. Check out the "My Cousin Dill," a green-colored libation featuring Seedlip, lemon, dill, and cooling cucumber puree. 1724 Thames St. 
Sally O's: At chef Jesse Sandlin's cozy corner eatery in Highlandtown, spirit-free concoctions are plentiful. Look to the establishment for sips including "Sun Tropics," with island-hailing fruit flavors, agave, and a squeeze of lime. 3531 Gough St.
Topside: Anna Welker—who manages the rooftop bar above Hotel Revival in Mount Vernon—has been making booze-free waves for years as the creator of the hotel's Zero Proof, Zero Judgement program, which ensures that those in search of low or zero ABV drinks have just as many options as those who drink alcohol. Welker's innovative recipes include "Just Ask Ralph," made using smoky Chinese black tea. See also: the "Hummingbird," a cocktail toting spirit-free blood orange bitters, Hibiscus Rooibos tea, and tang from lemon juice. 101 W. Monument St.
Waverly Brewing: While this neighborhood taproom is versed in craft beer, you can also stop by to enjoy something fizzy and fruity—without any booze. Choose from a variety of bottled Mocktails drink blends, which are mixed with sparkling apple cider. 1625 Union Ave.
Wet City: Truly a something-for-everyone type of place, this Mt. Vernon haunt currently offers the refreshing "Charmed Voices" (peach shrub, passionfruit, Mediterranean tonic water), as well as a non-alcoholic option on their signature slushie rotation—a pistachio-vanilla piña colada with classic notes of coconut and pineapple. 223 W. Chase St.