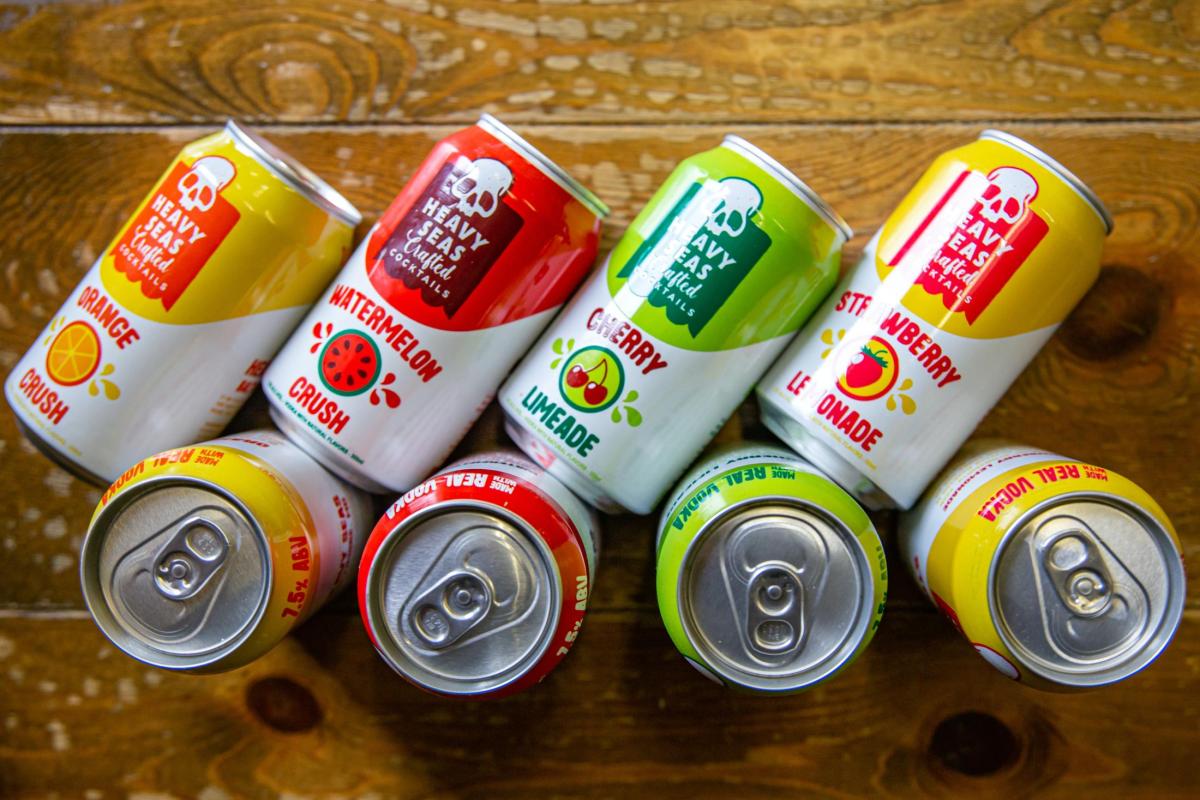 —Courtesy of Heavy Seas Beer
BOOZE BULLETIN 
Heavy Seas Releases Crafted Cocktails: Like a few other breweries in the DMV area, Heavy Seas Beer is now in the canned cocktail game. The brewery has released a new line of vodka-based canned cocktails in four flavors: Orange Crush, Watermelon Crush, cherry limeade, and strawberry lemonade. "We wanted to craft something unexpected, with the same quality one can expect from a Heavy Seas beer," brewmaster Chris Leonard said in a press release. "We went through many trials of experimentation, and we've finally come up with four flavors we're really excited about."
Orange Crush and Watermelon Crush will be available individually in four packs, while cherry limeade and strawberry lemonade will be exclusively offered in a "Crafted Cocktails" mixed pack. Each variety will be available in 12-oz. cans—each clocking in at 7.5 percent ABV—and distribution will be limited in the Mid-Atlantic region. (The brewery recommends using Beer Finder to track down a nearby distributor.) All four flavors are also available to-go only at the Heavy Seas taproom in Halethorpe.
Checkerspot Brewing Named Finalist in Nationwide Competition by Sam Adams: Founded by husband-and-wife team Rob and Judy Neff, this South Baltimore brewery is one of five finalists for the annual Samuel Adams Brewer Experienceship—a program which annually invites one craft brewer to visit Sam Adams' Boston brewery, work side by side with its team of experts and mentors, and collaborate on a special beer. Finalists were chosen by a panel of professionals from Sam Adams and the program's nonprofit microlending partner Accion. The winner will be voted on by attendees of Sam Adams' inaugural Crafting Dreams Beer Bash, which will take place on September 7 (fittingly National Beer Lover's Day) in New York City. Attendees will have the chance to meet with the finalists, learn about their respective journeys, and taste their brews before voting.
OPEN
Charlsie's Bakehouse: Pastry chef Morgaine Brunn, who previously peddled her delicious treats at Cross Street Market, has debuted a permanent home for her bakery at 706 Frederick Rd. in Catonsville. Charlsie's—which Brunn named after her paternal Southern grandmother, Charlsetta—started as a cottage business in 2020. As of earlier this month, locals can now hit up the shop for offerings like seasonal fruit hand pies, doughnuts, key lime bars, and Whoopie Pies, as well as nostalgic faves like Moon Pies and cream pies. "We did like 140 sour cream doughnuts last Saturday—it was crazy," Brunn says with a laugh. "I don't know how we sold that many doughnuts, but we did."
Patrons who stop by can also expect coffee, herb lemonade infused with thyme, and a house sweet tea. There's also a limited menu of buttermilk biscuit sandwiches, including the "Ham Jam," a bestseller layered with thinly sliced black forest ham and fig jam. A close second is the cheekily named avocado toast, "Get a Job Hippie," which is topped with housemade garlic hummus mixed with avocado, pickled shallots, and sumac salt.
Charlsie's is also known for its whole fruit pies, which Brunn says sell out quickly every day. She's already gearing up for the fall (all Thanksgiving pre-orders will open in October), when varieties like pumpkin buttermilk, apple streusel, and bourbon pecan shortbread will be on offer. 
Pure Raw Juice: The newest location of this homegrown juice bar chain opens September 1 at Green Spring Station in Brooklandville. This marks the eighth shop for Pure Raw, which specializes in signature smoothies, juice blends, and açaí bowls. To celebrate the new spot in Baltimore County, today, the first 200 customers will receive one free açaí bowl, smoothie, or juice, plus a a swag bag. Orders will be half-off thereafter. Pure Raw Juice also operates locations in Canton, Timonium, Towson, Hampden, Locust Point, Federal Hill, and Bel Air.
EPICUREAN EVENTS
9/3: Lexington Market's East Market Closing Tribute
Before Lexington Market embarks on its new era—vendors will begin serving the public in its new plaza Tuesday through Saturday beginning September 6—it will pay homage to the past by hosting a closing tribute for the East Market building, which the market has operated out of for 70 years. The free public event, taking place Saturday, September 3 from 11 a.m.-2 p.m., will feature live music, giveaways, a lineup of speakers, and a ringing of the historic market bell. "The East Market has been an essential part of the Baltimore experience for the past 70 years and holds great memories for many," said Paul Ruppert, president and CEO of Lexington Market/Baltimore Public Markets, in a press release. "This is a time to both acknowledge its legacy and to share the exciting plans we have in store for the opening of the new market building next door."
(SOON TO BE) SHUT
Noisy Burger: After nearly two years, a permanent R. House tenant has announced that it will close its stall at the end of 2022. Noisy Burger first appeared at the food hall in 2017 as a student-run pop-up—created by local community-focused production company Noisy Tenants—with culinary arts pupils from Mergenthaler Vocational Technical High School (aka Mervo) at the reins. The concept returned as a permanent fixture in 2020. 
"At the end of the year, we'll be moving on to the next chapter of the Noisy Burger story," the eatery wrote on Instagram, teasing that this won't be the last we see of the concept. "With that said, we plan to go out with a bang." To that end, the eatery recently dropped its new Blazin' Burger, topped with pepper jack cheese, bacon, lettuce, tomato, grilled jalapenos, and a signature blazin' sauce. 
This means R. House is officially looking for a permanent stall to replace the burger joint in early 2023. Applications are now open through September 9.
SHUT
North Ave. Market: Earlier this week, arcade bar and restaurant North Ave. Market in Station North announced that it will close its doors—this time for good. "We wish to thank you for your patronage over the past few years," the business wrote on Instagram. "North Ave. Market and this community has held a special place in our hearts. It is unfortunate that we must close the doors, but we would like you to know how much we appreciated your business and support."
The concept debuted in late 2019, with Matthew Steinberg and Vaughn Weitzman of Secret Sauce Co. running the kitchen, then closed during the brunt of the pandemic. It returned in 2021 with some changes, including the departure of Steinberg and Weitzman. North Ave.'s Instagram post concluded by letting followers know that they could check the restaurant's social channels for "future updates."
LōCal: After opening earlier this year in the former Chez Hugo space downtown, LōCal, from chef Calvin Riley, has closed. Riley told the Baltimore Business Journal that "the decision came down to finances and the location just being that big of a challenge." But this might not be the end for the restaurant, which specialized in French, American, and soul cuisine. Riley also told the paper that he's already scouting a possible new location. Stay tuned.