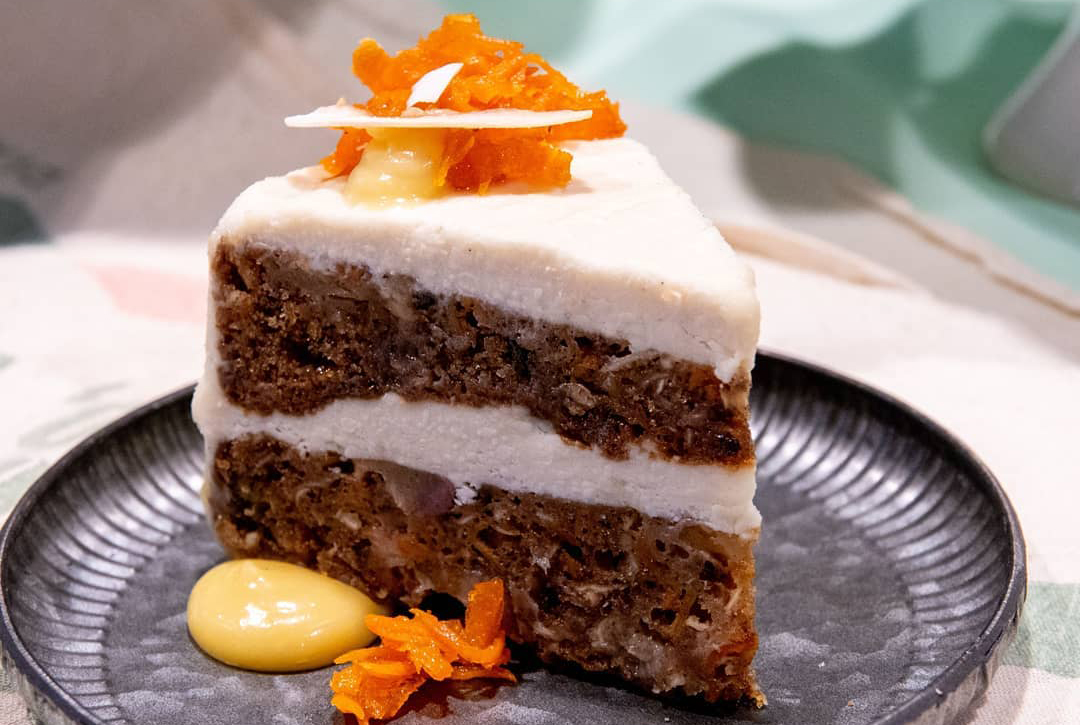 —Courtesy of Charlsie's Bakehouse via Facebook
COMING SOON
Charlsie's Bakehouse: Big things are in store for Charlsie's Bakehouse, run by pastry chef Morgaine Brunn. The bakery—which started as a cottage business in 2020—plans to close its Cross Street Market stall in Federal Hill by the end of this month, then go on hiatus until it reopens in a new space in Catonsville. "It's been the first place that feels like home," Brunn says of Catonsville, where she's lived for eight years. She grew up in a military family that moved around every year or two. "It just has a great sense of community. The businesses there, they stay there."
The new Charlsie's will be located in the heart of town on Frederick Road. When it debuts—hopefully by the end of April—patrons will find the same delicious baked goods like whoopie pies, cakes, and cookies, as well as savory hand pies, soups, and old-fashioned bologna and biscuit sandwiches. "We're hoping for it not to be just a general bakehouse," Brunn says. "Because we live in Catonsville, we're hoping for it to be more of a community hub." In the new space, she hopes to incorporate programming like cooking classes, CSA pickups, and guest chef pop-ups at night. The bakery also plans to provide composting to a local farm in Columbia. The buildout process for the new location has—as many restaurant projects do—run into unexpected hold-ups, including replacing the ceiling to align with a new fire code. Donations to help with construction can be made on Charlsie's GoFundMe page.
OPEN
Bar ONE: After it closed in early 2020 (just before the pandemic hit the U.S. full force), Harbor East professionals and locals alike wondered what would replace Gordon Biersch at 1000 Lancaster Street—which boasts prime harbor views. One year later, they had an answer: Bar ONE, a Miami-based restaurant and lounge from designer and entrepreneur Peter Thomas of Real Housewives of Atlanta fame. The Baltimore location, now open, serves up low-country and Afro-Caribbean cuisine. Menu highlights include Jamaican oxtail, jerk chicken penne Alfredo, whole fried snapper, and chicken with strawberry waffles. Since the grand opening, diners have also enjoyed sipping on house cocktails including a watermelon mule, strawberry Hennessy lemonade, lychee martini, and sparkling peach sangria.
Werner's Restaurant: A Baltimore landmark is in business once again. Werner's Restaurant, which first debuted downtown in 1950, has reopened under new ownership at its original spot in the Vickers Exchange building on Redwood Street. According to the Baltimore Business Journal, Brad Byrnes of Byrnes & Associates (who owns the building) worked with Ray Crump, the owner of Pete's Grille in Waverly, to restore the historic downtown diner. Baltimoreans can expect breakfast staples, as well as soups, salads, sandwiches, burgers, and dinner entrees. The new iteration also boasts a full bar. Fun fact: If you never patronized the original Werner's—but it still looks familiar—that's likely because the diner has long been a Charm City filming location. It's been featured in TV shows including The Wire and House of Cards, and films like Ladder 49.
EPICUREAN EVENTS
2/5: Lunar New Year at Peabody Heights Brewery
Celebrate the Year of the Tiger at Peabody Heights this Saturday from 6-10 p.m. Come for karaoke and Ekiben, which will be on site, and stay for the lion dancers from U.S. Jow Ga Martial Arts and a red envelope fundraiser for NAAAP Baltimore. The event will be held mostly outdoors (weather permitting,) but patrons can stay warm in Peabody's partially enclosed heated tent. "As a half Korean owner brewery, Lunar New Year means a lot to us," the brewery wrote on Instagram.
NEWS
Trinacria to Join New Lexington Market: Baltimore's century-old Italian market, Trinacria, will open a second location at the new Lexington Market slated to open in 2022—bringing its vendor count up to 23 (with 20-25 more still to come). Shoppers will, of course, be able to get their hands on Trinacria staples like meatball subs and cold cut sandwiches, as well as New York-style pizza by the slice. Italian grocery goods, like olive oils and fresh and frozen pastas, will also be available, in addition to gelato, beer and liquor. "What really excites me about the new [Lexington] Market is that there are no chains going in; it's all local entrepreneurs with a diversity of food offerings; we're excited to be a part of that," said Vince Fava, third-generation owner and operator of Trinacria on North Paca Street, in a press release. "This area has a rich Italian history, many people don't know that. And that's something that has always attracted me to Lexington Market—it's an institution in Baltimore just like us."
Cajou Creamery in Select Whole Foods: Big news for plant-based ice cream connoisseur Cajou Creamery: You can now find its dairy-free pints in the aisles at select Whole Foods. "The most common question we have been asked on this journey is whether we are in Whole Foods, and now we can say yes!" the creamery wrote on Instagram. Baltimoreans can find Cajou flavors like horchata, baklava, and cheesecake at Whole Foods locations in Towson, Harbor East, Columbia, and Mount Washington. Cajou also shared on Instagram that: "[Whole Foods] staff have been working hard to get us on the shelves, despite space limitations in the ice cream section, so be sure to check the whole frozen aisle, not just the ice cream section." Of course, Cajou's brick-and-mortar, which debuted last year on North Howard Street, is always in stock if you want to go straight to the source.
Liora to Celebrate World Pistachio Day All Month Long: The Inner Harbor's plant-based restaurant, Liora, located in the high-rise condo complex 414 Light Street, is celebrating World Pistachio Day (February 26) all month long. The fine-dining vegan eatery from restaurateur Matthew Kenney has partnered with Wonderful Pistachios to offer an exclusive menu item from February 1-31: a Kabocha carpaccio with winter citrus and a Wonderful Pistachios relish for $16. "This dish is the perfect combination of our favorite winter ingredients," Kenney said in a press release. "Kabocha is a Japanese winter squash and has a unique, almost velvety texture and a nutrient-dense profile. The pistachio relish adds zest and crunch, rounding out the bright flavors of the seasonal citrus with a subtly earthy undertone resulting in a perfect bite." We'll crack a pistachio shell to that.