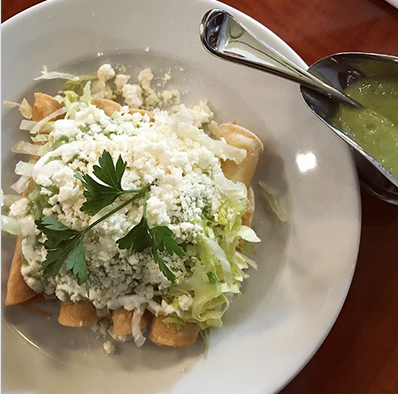 La Calle
OPEN
La Calle: Chef Valentino Sandoval unveiled his modern Mexican cantina in the 10 South Street building downtown earlier this week. The menu reflects the chef's Mexican roots, while also fusing the global techniques—from French and American to Italian and seafood—that he learned while working under the likes of Marc Vetri and Michelin-rated chef Walter Abrams in Philadelphia before moving to Charm City. Reserve one of the dark wood tables to enjoy dishes like Tijuana Caesar salad, crab empanadas with corn and Oaxaca cheese, oyster mushroom quesadillas, barbacoa tacos with guacamole, and pan-seared salmon with fava beans and huitlacoche (Mexican truffle) aioli. 10 South St. 667-312-2964
Suya Spot: This Randallstown favorite is bringing its authentic Nigerian fare to the burgeoning dining scene in Owings Mills. Suya Spot will cut the ribbon at its second location in the mixed-use Metro Centre development on Friday, July 27. Expect to see chef/owner Fola Jinadu whipping up delicacies including catfish pepper soup, spicy flamed goat, peppered snail, and, of course, the namesake suya (meat skewers) in varieties like shrimp, chicken, fish, and beef. 10309 Grand Central Ave. Ste. 104
COMING SOON
Le Comptoir du Vin: Ever since the baby-sized Bottega relocated to larger digs down the street last year, Station North locals have missed feasting on Tuscan specialties in the cozy dining room. But now, two former Bottega employees are reopening the original Maryland Avenue space—this time as a French wine bar. This fall, chef Will Mester (formerly of Woodberry Kitchen) and his partner Rosemary Liss plan to open Le Comptoir du Vin, which is French for "the wine counter." The duo recently told the Baltimore Business Journal that they will focus on pairing staples like pâté, roast duck, steak, and chicken with worldly wines from "lesser known regions." 1709 Maryland Ave.
Tiki Lee's: In the two years, since rebranding from its former concept Saute, Lee's Pint and Shell has become one of Canton's favorite corner bars. (Locals have come to love the famous 50-cent oysters during happy hour, $15 lobster dinners on Sundays, and massive Shuckin' in the Street block parties.) Now, boaters will be happy to hear that the seafood concept is expanding with a sister spot along the water in Sparrows Point. Located at North Point Cove off of Morse Lane, the dock bar is expected to open this fall, highlighting spinoffs of the grub offered at Lee's in Canton and—judging by its name—plenty of tiki drinks to go around. 4309 Shore Drive, Sparrows Point.
CH-CH CHANGES
Cafe Mezzanotte: A massive makeover is in the works at this Italian outpost in Severna Park. The restaurant, which dates back to the '70s, will close for renovations on July 30. Come September, it will be completely revamped to feature an expanded floor plan with new furniture, color schemes, lighting, and interior decor. Along with the new look, the restaurant will debut more than 20 new menu items and an updated beverage lineup at the grand reopening. 760 Ritchie Highway, Severna Park. 410-647-1100
EPICUREAN EVENTS
7/28: Trifecta Food Truck & Music Festival

This Saturday, the Trifecta festival returns to the Timonium Fairgrounds offering local eats, drinks, and live music all in one place. Chow down on grub from more than 35 local food trucks (think the likes of Gypsy Queen, Kommie Pig, and Farm to Charm) while jamming to a rockin' lineup featuring The Herd of Main Street, Kelly Bell Band, and Steal Your Peach—an Allman Brothers and Grateful Dead tribute band. Plus, there will be more than 40 craft vendors, inflatable attractions for the kiddos, and the annual pie-eating contest with Rodney Henry of Dangerously Delicious Pies. 2200 York Rd. 12-9 p.m. $15.
7/28: Beat the Clock Happy Hour at Parts & Labor
Arrive at this Remington hangout early to take advantage of discounted Old Oriole Park beers from Peabody Heights Brewing. Cans will start at 25 cents at 11 a.m., and the cost will double every hour until it reaches regular price. If you're not a beer person, enjoy boozy snowballs, Jell-O shots, and bourbon specials until 4 p.m. Of course, there will also be specialty eats like Sloppy Joes and Italian sausages on the grill outside. 2600 N. Howard St. 11 a.m.- 4p.m. 443-873-8887
SHARK WEEK SPECIALS
Frazier's on the Avenue: Tune into the Discovery Channel shenanigans from this Hampden dive, which is celebrating accordingly with aqua-themed food and drink deals all week long. Sip $4 Heavy Seas Loose Cannon and Union Skipjack drafts while enjoying $10 food specials including fish tacos with avocado sour cream, salmon cake sliders with lemon-dill tartar, and beer-battered ahi tuna bites with fries. 919 W. 36th St. 410-662-4914
Shark Week Party at Jailbreak Brewing: On Friday, July 27, head to the Jailbreak taproom in Laurel to catch up on the "Shark Week" specials before a special screening of Jaws at 7 p.m. Fittingly, the party will also feature beer-and-bite deals like the brewery's cherry cream ale paired with shark tacos. 9445 Washington Blvd. Ste. F. Laurel. 7-11 p.m. 443-435-9699
Nacho Mama's: The Towson location of this Tex-Mex cantina is getting in on the fun with a special hubcap margarita. Grab a group and sip on the blue "Shark Bite Hubcap," complete with a gummy shark, plastic swimmer figurines, and a splash of grenadine—for a scene straight out of Amity. 2 W. Pennsylvania Ave. Towson. 443-673-0069