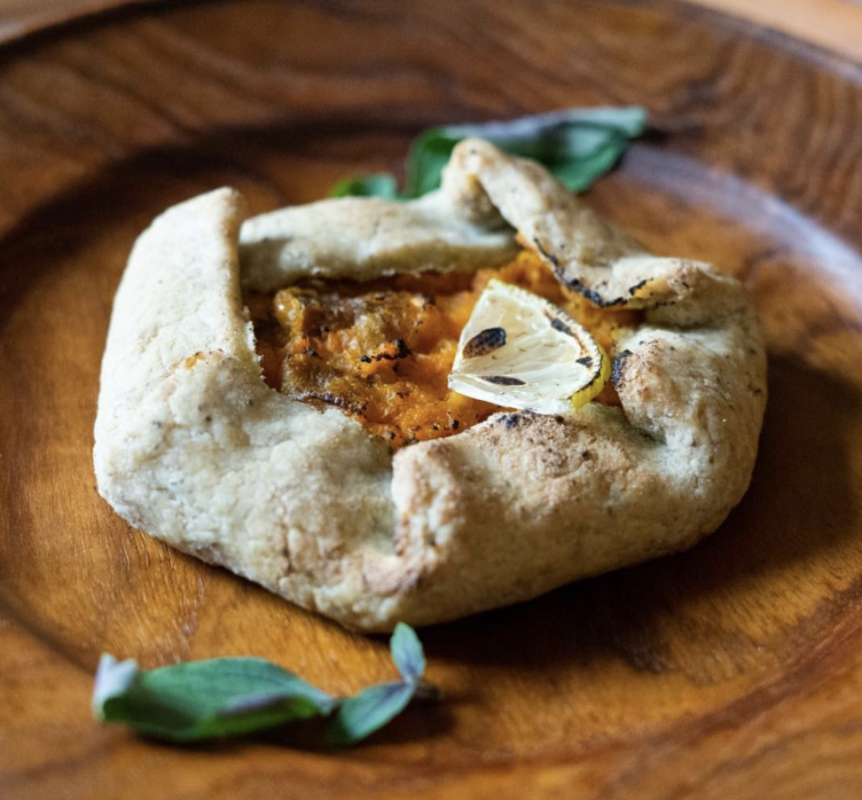 @larderbaltimore via Instagram
OPEN
Larder: Socle, the Old Goucher food-and-drink complex from Clavel owners Lane Harlan and Matthew Pierce, is officially operating in full swing now that its final concept, Larder, has opened its doors. Joining Harlan's natural wine bar Fadensonnen and celebrated coffee shop Sophomore Coffee in the renovated carriage house on Maryland Avenue, Larder will specialize in hyper-local dishes prepared by chef Helena del Pesco. Area produce—as well as many ingredients fermented in house—will show up in colorful dishes such as crunchy snap pea and asparagus salad and fig-leaf infused yogurt pudding with roasted peaches. While stopping by for lunch or an early dinner (normal hours will be 11 a.m.-7 p.m.), guests will also be able to peruse shelves stocked with artisan pantry goods from local purveyors like Hex Ferments and Keepwell Vinegar, and some from businesses as far as Oaxaca and San Francisco. 2223 Maryland Ave. 410-982-6246
COMING SOON
Old Boy: A grand opening party for Phil Han's newest concepts inside Broadway Market has been set for Wednesday, May 15. All of the stalls inside the recently renovatedFells Point institution have been celebrating staggered grand openings since March. Veteran vendors Vikki's Fells Point Deli, Sophia's Place, and Sal's Seafood were the first to premiere, followed by newbie Thai Street. Now, the concepts from Han of Dooby's are ready to make their debut.
Among them is Old Boy, an authentic Korean eatery whose kitchen will be headed up by Irvin Seo of the popular Haenyo pop-up. In addition, Han's team will operate a centerpiece bar called Fat Tiger, which is open now serving an all-day menu of coffee, beer, wine, and cocktails. The bar team will also oversee El Tigre—a tiki-inspired play on the Fat Tiger concept that will expand bar service outside to the market's patio. At the grand opening party, guests will enjoy a soju ice luge at Old Boy, complimentary welcome punch at Fat Tiger, and plenty of tiki drinks from El Tigre outside. 1640 Aliceanna St.
Rock & Toss Crab House: The developers at Greenberg Gibbons are adding yet another eatery to Foundry Row in Owings Mills this summer. The mixed-use development already boasts plenty of fast-casual destinations including Nalley Fresh, Sunset Raw Juice Bar, Mission BBQ, and Zoë's Kitchen, and now, this Bowie-based seafood spot is also joining the lineup. The 3,060-square-foot restaurant will offer shrimp, baby clams, green mussels, crawfish, and, of course, blue crabs. The entrees arrive covered in signature cajun, lemon pepper, or garlic-butter seasonings. 10100 Reisterstown Rd.
Whole Foods Towson: In other development news, Greenberg Gibbons and Caves Valley Partners have inked a deal with Whole Foods to be the anchor tenant in the forthcoming Towson Row project on the corner of York Road and Towsontown Boulevard. Whole Foods was announced as a tenant years ago, but later pulled out of the ongoing project. Now, the grocery chain is back on board with plans for two levels of parking, a mezzanine space, and an outdoor dining terrace. Construction on the store is expected to begin later this year and it will likely open in late 2021. When complete, the five-acre development will also include 75,000 square feet of retail and residential space, student housing units, luxury apartments, and a 220-room hotel. York Rd. & Towsontown Blvd., Towson.
EPICUREAN EVENTS
5/11: Diamondback Brewing Mole Stout Release
This weekend, the team from Diamondback Brewing will officially release its new bourbon barrel-aged mole stout, Tal Uno—a special collaboration with local chocolate expert Jinji Fraser of Pure Chocolate by Jinji. The 9-percent ABV beer was aged in Buffalo Trace bourbon barrels for 14 months before being infused with Jinji's ingredients to produce notes of vanilla, spicy pepper, and dark chocolate. Swing by the South Baltimore brewery from 12-7 p.m. on Saturday to sample the release while mingling with brewers who will be on hand to discuss the yearlong process. There will also be live music by funky-folk band Gene & Friends and special Mexican pizzas fired up in the brewery's new in-house kitchen. 1215 E. Fort Ave. 443-388-9626
SHUT
Atelier Culinaire: This Little Italy fine-dining den closed its doors late last month. Staffed by culinary students at Stratford University, the restaurant was known as a launchpad for young chefs transitioning into the industry. Regulars at the white tablecloth spot enjoyed classics like the roasted rack of lamb, beef bourguignon, and ginger-crusted salmon. There's no word yet on what will become of the Stiles street space, which is equipped with a built-in bar and mezzanine level. 806 Stiles St.
Gnocco: After three years in Highlandtown, Gnocco will open for its final night of service this Saturday, May 11. The decision comes as Chef Brian Lavin prepares for a move to the West Coast. Throughout its run, the cozy Spanish and French-influenced neighborhood spot became known for its antipasti, comforting pastas, and one of the best Negronis on this side of the pond. 3734 Fleet St.
Prime Corner: Sadly, the days are also numbered for Hampden's colorful bodega on the corner of 34th Street and Chestnut Avenue. Owner Tess Russell took to social media last week to announce that the she would be closing the store at the end of the month. "The economics of a grocery are super hard," Russell recently told the Baltimore Business Journal. "Some months we did great, others were tougher." In the eight months since it opened, the store became known for its artisan grocery items and pantry products from the likes of Taharka Bros., City Seeds, Donut Alliance, and The Lunchbox Lady. Here's hoping another local operator will reactivate the neighborhood gathering space, which formerly operated as kid-friendly Play Cafe before Russell took over. 3400 Chestnut Ave.