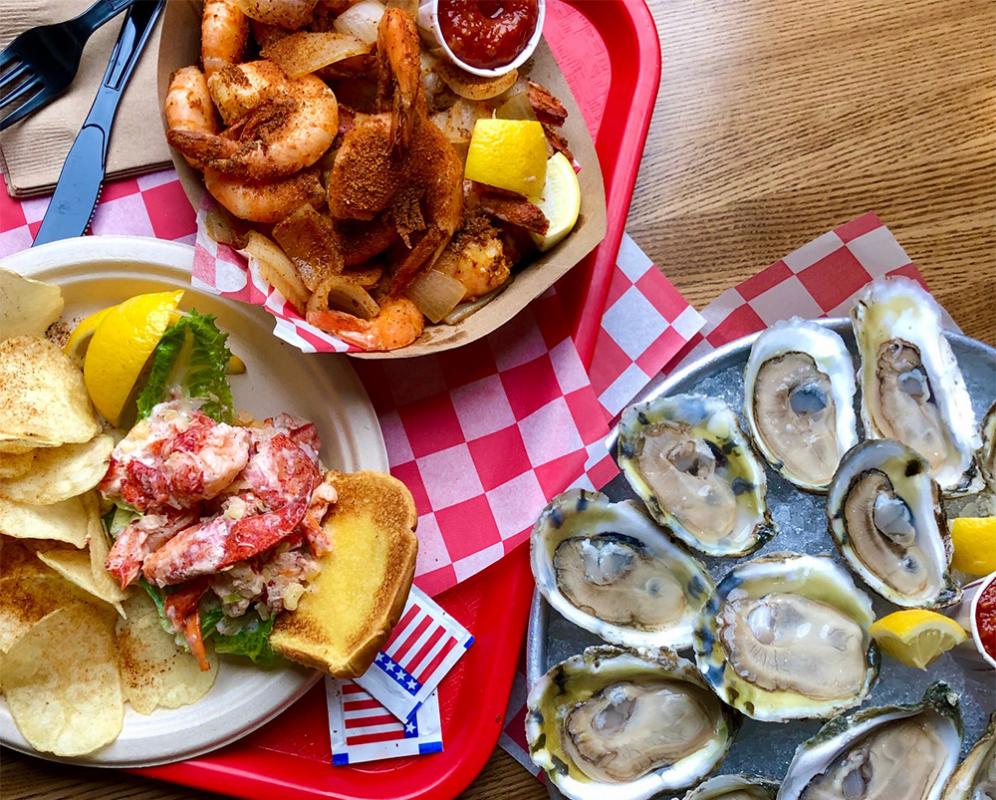 The Local Oyster
COMING SOON
The Local Oyster: A very familiar red-and-white logo will grace the corner of East Fort Avenue and Lawrence Street in Locust Point this spring. The Local Oyster—a Charm City favorite since its pop-up days—is expanding beyond its flagship stall in Mount Vernon Marketplace to open its first standalone spot in the former home of Rallo's and Big Matty's Diner. Joining the likes of Limoncello, Jazz + Soju, and Pure Raw Juice in the retail space surrounding Anthem House, the seafood joint will offer all of the classics—including its overstuffed shrimp salad sammies and, of course, freshly shucked True Chesapeake Skinny Dippers sourced straight from the owners' farm in Southern Maryland. The new digs will also make way for additional food and beverage offerings that draw on family recipes and Maryland seafood traditions. 
Shucker Nick Schauman, farmer Patrick Hudson, and chef Zack Mills are looking forward to fully revamping the old diner space with the help of SM+P Architects and Kate Giese—Hudson's sister who also designed their Hampden restaurant, True Chesapeake Oyster Co. "We've actually had our eye on the Rallo's location for years," Hudson said in a statement. "We love the neighborhood and really admire what Bozzuto and War Horse have done with the Anthem House project. But more than the location, it's about the people involved. Getting this deal done in the current environment took a lot of hard work, trust and mutual respect for the challenges we face. It's a true partnership."
The Urban Burger Bar: When chef Jasmine Norton closed The Urban Oyster in Locust Point a few months ago, we knew it was only a matter of time before she found a new homebase. Since then, she's gotten in on the ghost kitchen trend—offering delivery and curbside carryout from the Hyatt Regency Baltimore—and recently announced that she will be opening a sister-concept, The Urban Burger Bar, at Whitehall Market in Hampden this fall. Fans might remember when Norton first introduced her patty lineup at a weeklong R. House pop-up last year. If that menu is any indication, we can expect options like the "Simpleton" with cheddar cheese, "Bacon Bae" with thick-cut bacon, a portobello mushroom burger with Swiss and caramelized onions, the requisite fries, and tons of milkshake varieties. 
OPEN
Mikey & Mel's: Brothers Aaron and Harley Magden cut the ribbon at their new deli in Fulton earlier this month. Named after the owners' late father and grandfather—who they describe as "deli regulars"—the Howard County hotspot offers massive omelets, overstuffed sandwiches, hot dogs, knishes, baked goods, and classic bagels with schmear for breakfast and lunch daily. From the stuffed cabbage and scratch-made matzo ball soup to the challah French toast and corned beef on rye (with famous Stadium Mustard from the owners' native Cleveland), the spot brings a unique take on Jewish deli classics. 
RESTAURANT RETURNS 
In the wake of the ever-changing restaurant mandates these past few months, we're happy to see a few local spots resuming their (somewhat) normal routines. Among them is Foraged in Hampden, which will be extending its hours to Tuesday through Saturday from 5-9 p.m. starting September 29. For those who remain cautious about indoor dining, chef Chris Amendola will be offering delivery Thursday through Saturday and private dinners (either at the restaurant or at your home) with custom menus for up to 16 people Sunday through Wednesday. Online ordering is also available for carryout through the restaurant's website. 
Additionally, R. House will reopen indoor dining in Remington this weekend with approximately 100 indoor seats and tables set up more than 10 feet apart. Other reopenings include Bolton Hill hangout The Tilted Row—which is back at it for dinner service Tuesday through Sunday—chef Ashish Alfred's Fells Point brasserie Duck Duck Goose, and Inner Harbor cafe and bakery Bon Fresco—which is up and running with pickup and delivery Monday through Friday from 10 a.m. to 2 p.m. 
EPICUREAN EVENTS
TO 9/27: Black Restaurant Week
A handful of Baltimore-based, Black-owned restaurants are participating in this national culinary campaign that celebrates the flavors of African American, African, and Caribbean cuisine. Throughout the weekend, stop by local favorites including Cloudy Donuts, Home Maid, Berries by Quicha, Ice Queens, Old Major, Sporty Dog Creations, and My Mama's Vegan to enjoy signature specials and prix-fixe menus starting at $10. If you can't make it out this weekend, check out this list of Black-owned food businesses to patronize regularly. 
TO 9/27: Maryland Restaurant Week
There's still time to take advantage of the first-ever statewide Restaurant Week. Organized as a way to support Maryland's entire service industry during such a challenging time, the initiative encourages dining destinations to create their own deals available for dine-in, curbside, and delivery. Some of the many discounts to look out for include a $40 three-course prix-fixe at Amicci's of Little Italy, 10 percent-off dinners to-go at all Atwater's locations, a burger and a beer for $15 at Wiley Gunters in Locust Point, two courses for $28 at Blue Hill Tavern in Canton, and many more. See more specials, here. 
SHUT 
Roy's: After nearly 20 years of giving diners a taste of Honolulu by way of Harbor East, this dinner spot shuttered its doors earlier this month. Roy's was best known for its sushi, fish dishes, and island cocktails that featured Pacific Rim flavors. There's no word yet on what will take over the prime restaurant space on Aliceanna Street, which is situated in the heart of the swanky retail and restaurant district.