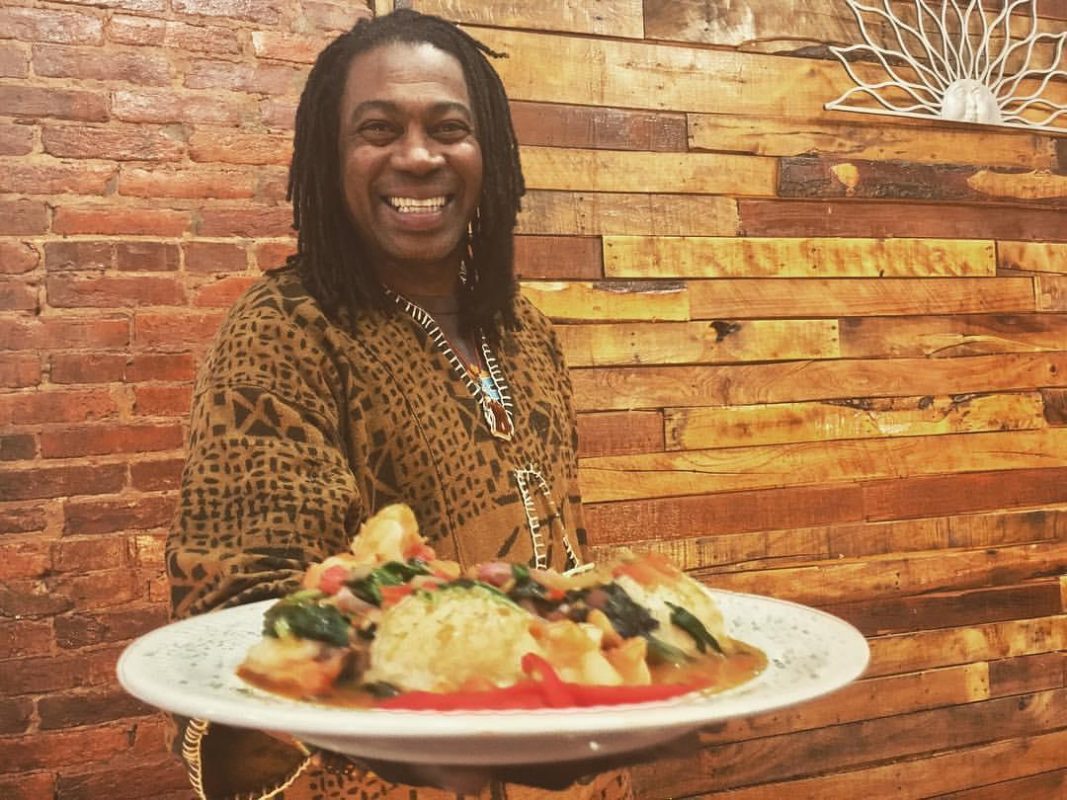 Terra Cafe
As demonstrators continue to take to the streets to demand justice for George Floyd and other victims of police violence, many are feeling helpless and unsure of how to show support.
One of the many ways to take action is to be conscious about spending money at local black-owned businesses. Especially in the wake of COVID-19—which caused the number of working African-American business owners to plummet 40 percent, according to the Washington Post—it's a tangible way to support the black community while also working to achieve racial equity and better distribute wealth.
While it's important to patronize black-led restaurants, cafes, bars, bakeries, and farms on any day, here are a few to familiarize yourself with if you're looking for a way to show support right now.
Berries By Quicha: With locations in Federal Hill and Medford, this sweets shop from owner LaQuicha Brown specializes in chocolate-covered strawberries that can be customized for special occasions.
Black Yield Institute: Led by founder Eric Jackson, this Cherry Hill-based collective works tirelessly to address food apartheid in Baltimore City. In the wake of the coronavirus, Jackson and his team continue to organize produce distribution from the Cherry Hill Urban Garden and many other community farms.
Blacksauce Kitchen: Chef Damian Mosley has developed a die-hard following with his buttermilk biscuit sandwiches filled with everything from fried chicken to cider-braised pork with onion jam. Normally you'd be able to spot the line from a mile away at the Baltimore Farmers Market, but in the wake of its cancelation, Mosley has shifted to offering parking lot pickups in Remington on weekends.
Blondie's Doughnuts: Owner Michelle Diggs slings her scratch-made brioche doughnuts in flavors such as lemon meringue, chai-spiced sugar, strawberries and cream, Jamaican rum custard, and raspberry swirl. Catch her at the Cross Street Farmers Market on Saturday mornings.
Breaking Bread: The Pigtown cafe from husband-and-wife owners Edward and Kimberly Ellis lives up to its name with a menu of comforting burgers, pasta and potato salads, and famous sticky wings.
Cajou Creamery: Husband-and-wife owners Dwight Campbell and Nicole Foster are offering contact-free "porch drops" of their plant-based ice cream pints throughout the pandemic. Must-try flavors include cheesecake, baklava, and horchata.
Connie's Chicken and Waffles: The fan-favorite chicken-and-waffles spot—run by brothers Shawn and Khari Parker and their mother, the restaurant's namesake, Connie—are offering pickup and delivery from their Broadway Market location in Fells Point.
Crust by Mack: The very soon-to-open brick-and-mortar stall inside Hampden's Whitehall Mill will offer chef Amanda Mack's scratch-made cookies, cakes, hand pies, and more.
Creole Soul Restaurant: This R. House stall takes diners on a trip to New Orleans courtesy of chef Que Neal and her fiancé, co-founder Dedric Richardson. Menu highlights include authentic gumbo, blackened catfish, sweet potato and kale soup, and "Grandma's Ole' Fashion Southern Mac."
Dovecote Cafe: Though this beloved Reservoir Hill haven—whose mission has always been "community first, cafe second"—remains closed throughout the pandemic, you can show your support for the cafe's team and their many food justice initiatives by purchasing gift cards to use in the future.
Ekiben: Co-owner Ephrem Abebe prepares beloved steamed buns and rice bowls for the shop's loyal fans. Carryout orders can be placed online at both the Hampden and Fells Point locations.
Freakin Sweet Jars: Husband-and-wife team Jaheel and Renate Garrett pack tons of flavor into their delectable dessert jars. They're offering their signature parfaits—which come in featured flavors like Pineapple Crush Cake, banana pudding, and Key Lime pie—for delivery and pickup from Natasha's Just Brittle on Harford Road.
Gangster Vegan Organics: Featuring vegan salads, bowls, burgers, and snacks, this Cross Street Market stall offers delivery via Uber Eats Thursday through Sunday from 1-8 p.m.
Granny's Restaurant: The Owings Mills location of this family-run restaurant—which pays homage to its namesake, Lessie Wainwright, more lovingly known as "Granny"—is open for carryout and delivery Monday through Sunday.
Home Maid: The homey Key Highway brunch spot created by Derrick Faulcon offers curbside pickup Friday-Sunday.
Ida B's Table: Named after pioneering investigative journalist and civil rights advocate Ida B. Wells, this modern soul food restaurant—a venture from The Real News Network—currently offers curbside pickup and delivery via Doordash, Grubhub, and Uber Eats.
Just Call Me Chef: Chef Catina Smith founded this culinary movement, which empowers female chefs of color through mentorship, networking, and education. Smith and four other chefs are currently offering special Father's Day cookout menus that are available for pickup June 20. You also support the efforts by donating, here.
Koba Cafe: For 15 years, owner Adama Fall has been serving up coffee, all-day breakfast, and other cafe fare at his bright neighborhood spot in Riverside.
The Land of Kush: Locals rave about the vegan crab cakes and dairy-free mac and cheese at this soul food eatery near the University of Maryland Medical Center's Midtown campus. Throughout the years, owners Greg Brown and Naijha Wright-Brown have become trusted leaders in the plant-based community.
Le Monade: Chef Carleen Goodridge, who has familial connections to Harriet Tubman, named her small-batch drink mix startup as a nod to how her son used to pronounce "lemonade." She also operates a Liberian pop-up, Cōl Bōl, sharing recipes passed down throughout the generations.
Lemontopia: Thirteen-year-old Jamaria Crump continues to set an example for young entrepreneurs by selling her specialty lemonades (flavors include original, watermelon, and lavender blueberry ) and baked goods.
Love Puddin': Catch Denisha "Dawn" Hightower in her mobile pudding van to savor butter crunch, strawberry cheesecake, and classic "Dirt" pudding cups, as well as other treats.
Magdalena: Owned by husband-and-wife team Eddie and Sylvia Brown, this fine-dining den inside the boutique Ivy Hotel in Mt. Vernon offers seasonal plates that explore all cultures.
Midnite Confections Cupcakery: Mother-son team Sandra and Aaron McNeil whip up 12 daily cupcake flavors at their Federal Hill bakery, which currently offers carryout, delivery, and catering. The namesake "Midnite" cupcake tops chocolate cake with a chocolate buttercream frosting and features a chocolate chip cream cheese inside.
Miss Carter's Kitchen: Endorsed by Lamar Jackson, chef Cia Carter's soul food concept is known for its Instagram-worthy seafood pastas and fried fish platters.
Neopol Savory Smokery: Dorian Brown and his mother and business partner, Barbara Lahnstein, are offering online ordering for diners to dig in to their famous smoked spreads, fish, and salmon BLTs. They also offer a weekly dinner special for two.
Next Phaze Cafe: The Lexington Street hub is open for curbside pickup and delivery, with dishes including catfish tacos, crab cakes, and crispy chicken sandwiches with red pepper sauce.
Off the Rox: At their Highlandtown liquor store, co-owners Jeryl Cole and Tyrekia Jackson feature a vast selection of local beer, wine, and spirits, as well as beers on tap for growler fills.
Old Major: Not only does owner Candice Bruno serve great food and drinks at her Pigtown neighborhood bar, but she's also turned it into a hub for community fundraisers, donation drives, game nights, and live music performances. While the bar remains closed throughout the pandemic, regulars can't wait to enjoy all of the programming when it reopens.
Papi Cuisine: Private chef and caterer Alex Perez recently opened his first brick-and- mortar restaurant in Fells Point. Try the droolworthy mac and cheese, jumbo lump crab cakes, or "Snow Cone" cocktails, all available to-go.
Pure Chocolate by Jinji: Jinji Fraser and her father, Guy, share their dairy-free, gluten-free chocolates that are produced without any refined sugar. The treats are sold at the flagship stall in Belvedere Square as well as many other markets and coffee shops around town.
Refocused Vegan: Owner Jerel Jefferies is offering his vegan bacon cheeseburgers, mac and cheese, truffle fries, and other lauded dishes for curbside pickup and delivery. Be sure to try some of the restaurant's colorful to-go cocktails to wash down all of the eats.
SoBeachy Haitian Cuisine: Husband-and-wife owners Chanel and Leo Fleurimond are offering to-go orders from their stall inside Cross Street Market Wednesday through Saturday. Enjoy traditional Haitian dishes such as simmered oxtail, whole red snapper, fried codfish sandwiches, and, of course, the boozy rum punch.
Sophomore Coffee: Co-founder Kris Fultion is one of the most knowledgeable baristas around. At his cozy Old Goucher shop, he pours the likes of Thread and Partners coffee blends—educating patrons with every cup.
Shareef's Grill: With locations in East and West Baltimore, as well as a new sister spot on Liberty Road in Randallstown, this one-stop-shop for Halal wraps and rotisserie wings takes a healthier approach to typical carryout fare. The Belair Road location even has a juice bar attached.
Sporty Dog Creations: Mother-daughter duo LaShauna Jones and Daejonne Bennett craft hot dogs that appeal to all palates, from classic ballpark to vegan and chicken franks.
Strength 2 Love Farm II: This Sandtown-Winchester farm works to combat food deserts while also creating job opportunities. The vacant plot-turned-working farm primarily grows leafy greens, as well as okra, peppers, cucumbers, squash, radishes, beets, and flowers.
Sunset Raw Juice Bar: Owned by former Ravens player Gerrard Sheppard and his family, this go-to located in the Foundry Row development in Owings Mills offers a wide selection of cold-pressed juices, smoothies, cleanses, and acai bowls.
Taste This Baltimore: Since opening in 2015, diners have raved about the stuffed salmon, honey Old Bay wings, and other drool worthy dishes at Taste This, which now operates locations in Charles Village and Hamilton-Lauraville.
Teavolve: Owner Sunni Gilliam's serene cafe took root in Harbor East long before all of the high-rises towered over the neighborhood. Order teas, smoothies, croissant sandwiches, salads, and more online during the pandemic.
Terra Café: This Charles Village staple from owner Terence Dickson has proudly served the community with great food and plenty of live music for more than 10 years. Comfort dishes include shrimp and grits, fish and waffles, and omelets of all flavors. Terra Café is offering delivery via UberEats Monday-Thursday from 8 a.m.-9 p.m., Friday and Saturday from 8 a.m.-11 p.m., and 10 a.m.-7 p.m. on Sunday.
Taharka Brothers Ice Cream: Though we do love the addictive ice cream flavors (the honey graham will change your life), the most important aspect of this homegrown business is its commitment to social justice reform. Through various initiatives, the dessert wholesaler—which also operates retail shops at R. House and Broadway Market—uses its ice cream as a mechanism to spark change.
The Urban Oyster: Chef Jasmine Norton has been getting creative at her Locust Point seafood spot, rolling out special menus exploring flavors from New Orleans to the tropics. Place carryout orders Thursday through Sunday.
Union Craft Brewing: Co-founder Kevin Blodger also serves as the director of brewing operations at this homegrown facility. Though the Union Collective taproom and patio remains closed, you can order to-go beers for delivery and pickup directly from the brewery's website.
Vagrant Coffee: After years in the United States Marine Corps, private security world, and working as a member of the clergy, Josh Dew pivoted to open this local roastery with co-founder Jared Cate in 2017. The operation has since expanded to include three retail shops across the city, including Milk & Honey Market in Station North, 3 Bean Coffee on Key Highway, and the 1100 Wicomico building in Pigtown. Milk & Honey and 3 Bean are currently open for carryout and accepting online preorders.
Serenity Wine Cafe: At this neighborhood haunt in Locust Point, diners go for the serve-yourself wine taps, but stay for the oven-fired pizzas.
Sunnyside Cafe: Order carryout or delivery from this East Baltimore favorite, which features an extensive lineup of breakfast options, wings, seafood, and an Instagram-worthy chicken and waffle sandwich.
Water for Chocolate: Chef/owner Sean Guy recently celebrated the 14th anniversary of his Butchers Hill brunch spot, which is now open for al fresco service.
With Love Co.: Officially reopening its doors on June 4, this black and female-owned vegan spot on Harford Road emphasizes the passion that goes into its food. As the hand-painted wall mural inside the shop reads: "Everything begins and ends with love." Try the lentil burgers, scratch-made soups, and filling bowls and salads.
Whitelock Community Farm: The team behind this Reservoir Hill farm is working harder than ever to supply residents, senior centers, and group homes with organic produce throughout the COVID-19 crisis. You can purchase the produce at the 32nd Street Farmers Market on Saturday mornings.