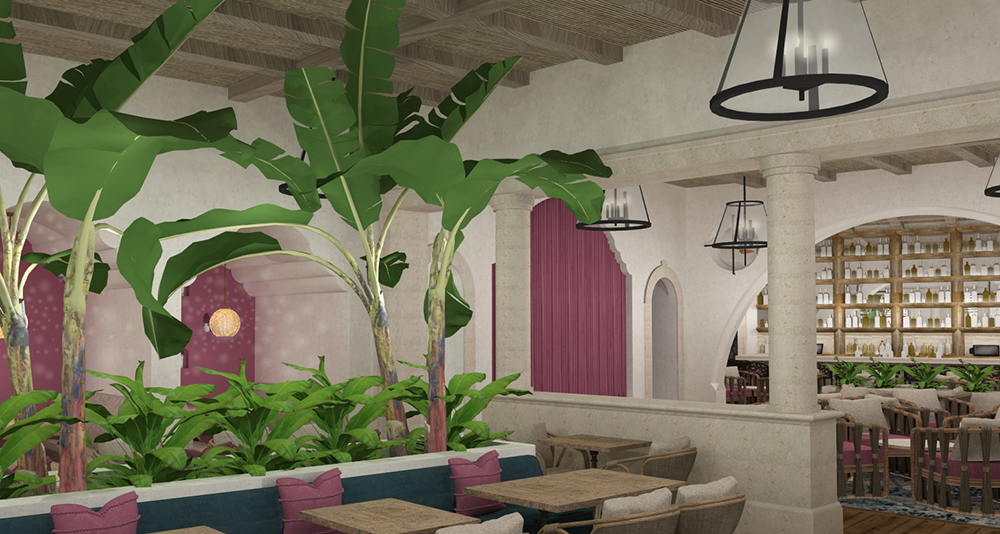 Atlas Restaurant Group
COMING SOON
Maximón: As its name suggests, the Atlas Restaurant Group has a passion for exploring global cuisine. The team has already graced us with Harbor East hotspots such as Greek-focused Ouzo Bay, Italian-influenced Tagliata, and Japanese fine-dining den Azumi. And this summer, it's conquering Latin America with a new concept opening in the former home of Wit & Wisdom inside the Four Seasons Baltimore—which also houses Atlas' Loch Bar, Azumi, and Bygone. Named after a Mayan deity who was a protector of his people, Maximón will draw inspiration from the diversity and romance of Latin American culture. The theme will permeate into the cuisine, cocktails, private tequila tasting room, and 175-seat interior designed by Baltimore's own Patrick Sutton.
Highlighting stone architecture, wood and marble furniture, and plenty of lush greenery, the 8,000-square-foot dining room will boast a large bar and a stage for Latin American performances. French doors will open up to the 125-seat exterior featuring a Spanish-style courtyard, fountains, and an outdoor bar. Construction on the new restaurant is expected to begin this month, with a slated grand opening date of late summer. 200 International Drive
El Salto: When Glen Burnie residents are in need of a filling tamale or strong margarita, they typically flock to this Ritchie Highway staple that has been around since 1995. Soon after, El Salto opened a second location in Parkville, and now, it's spreading the Tex-Mex love even further to Perry Hall. Expected to open in time for Cinco de Mayo this spring, the cantina will occupy a 5,000-square-foot space in the Perry Hall Shopping Center off of Ebenezer Road, which has sat vacant since 2006. Diners can expect to sample all of the restaurant's specialties at the new spot, including its mix-and-match combo platters featuring burritos, enchiladas, tostadas, and chile relleno. 4313 Ebenezer Rd., Perry Hall
CH-CH CHANGES
101 Baltimore: Since opening as 101 Deli Bar in 2017, this Federal Hill hangout has taken the time to find its own identity in a neighborhood full of sports bars and late-night party spots. Last year, 101 dropped the "Deli Bar" from its name in an effort to focus more on its sophisticated snacks, approachable wines, and next-level cocktail program. And now, an interior refresh and new roster of eats and drinks have solidified its reputation as an inclusive spot for neighbors of all ages and backgrounds.
"We listened to the neighborhood and analyzed what was working and what wasn't," co-owner Sean White said in a statement. "We just weren't capturing the full spectrum of the market here, so we wanted to shift the atmosphere and cuisine to meet everyone's expectations." A recent interior revamp evokes a more inviting feel with a brick wall behind the bar, more high-top tables, and darker walls to replace the previously stark aesthetic. To go along with the design changes, the bar is also debuting a new menu of playful twists on American classics, including a sunken French bread pizza, tuna burger, and hoagie-inspired salad topped with cold cuts. Though some new bar options have been added, regulars will be happy to hear that the hibiscus mules, 40-oz. rosé bottles, and two-for-one Chambongs will remain staples. 1118 S. Charles St. 443-683-9480
EPICUREAN EVENTS
ONGOING: Broadway Market Pop-Ups Continue Ahead of the debut of the renovated Broadway Market this spring, vendors are getting to know the neighborhood by popping up at surrounding Fells Point restaurants. You might have noticed Vikki's Fells Point Deli operating out of Kooper's Chowhound on Broadway Square last month, and now, a host of other vendors are stopping by The Red Star on Wednesday nights from 5-10 p.m. The Verandah and Thai Street served up their specialties earlier this month, and the next eatery popping up at the restaurant will be Connie's Chicken & Waffles on Wednesday, February 20. Mark your calendar for the last Wednesday of the month, when Old Boy—a new Korean concept from Dooby's owner Phil Han—will be giving diners a taste of what's to come at its new stall inside Broadway Market. 906 S. Wolfe St. 410-675-0212
2/20: Sip & Saute Local chefs Catina Smith, Heather Smith, and Denzel Mitchell (also of Strength to Love II Farms) are teaming up with the No Boundaries Coalition to host this intimate cooking class at the historic Avenue Market on Pennsylvania Avenue. Throw on an apron and cook three courses with wine pairings provided by Off the Rox, a new shop on Eastern Avenue. The inaugural class will celebrate the three-year anniversary of Fresh at the Avenue, a weekly community-powered produce market that provides fresh food access to residents of the Sandtown community. Proceeds will help to fund Fresh's SNAP match programs, expand its inventory, and make improvements that will decrease checkout times. 1700 Pennsylvania Ave. 5:30-9 p.m. $75