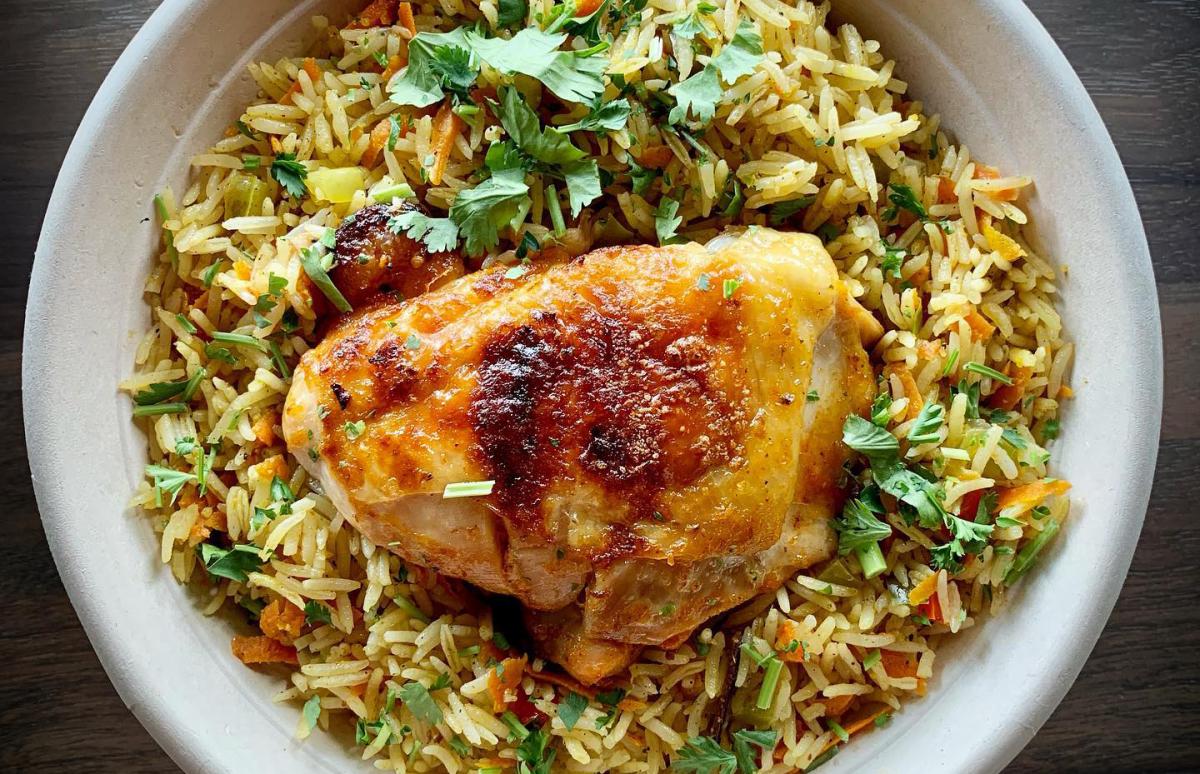 Chicken kabsa bowl with caradmom-spiced rice from Mera Kitchen Collective, which has found a permanent home in Mt. Vernon. —Courtesy of Mera Kitchen Collective via Facebook
COMING SOON
Mera Kitchen Collective: After four years of sharing kitchens with other local establishments—most recently with Alma Cocina Latina in Station North—Mera Kitchen Collective will get a place of its own. The globally inspired worker cooperative and catering company announced its new home will be in Mount Vernon at 1301 N. Calvert St. But, understandably, the transition will take time and money, so a GoFundMe has been set up to raise funds to cover eight weeks of wages for employees until the new digs are fully up and running. Mera hopes to unveil its new home in mid-November.
"The space will function as a restaurant and a community space, where people can meet over a meal or over one cup of tea," reads an announcement on GoFundMe. "A space to create free cultural events and programming that represents our community. We envision this place to be like a plaza, where the community interacts and enhances our understanding of each other's cultures."
The move will allow Mera to "drastically increase our hours, capacity and services," according to the announcement. "We will phase up to regular service, adding lunch and then dinner. Is weekend brunch in our future? Why not!?" Mera is still catering, and you can visit its website if you're looking for a caterer for your next event.
Underground Pizza Co.: Soon, Towson pizza fans will no longer have to travel down I-83 for a Detroit-style slice. Underground Pizza plans to open a location in Towson by the end of the year. The new spot will be located on the ground-floor of the Penthouse high-rise condominium building at 28 Allegheny Ave.
Owner Evan Weinstein lives in Towson and says that it's an area in which he wants to grow Underground's reach. The menu will be similar to its flagship Power Plant Live location, but Weinstein says to expect more by-the-slice and quarter pie options (ideal for Towson's college demographic.) He adds that the new location's distance, but not too far, from the Towson Circle will allow for more parking and pull-up options for takeout and curbside pickup. A new location of Banditos Bar & Kitchen also plans to open across the street. "I thought that was exciting because this end of the block has been kind of dead for awhile," Weinstein says, "so with us going in there and Bandito's, I think it'll liven up that street."
EPICUREAN EVENTS
11/5: Diwali at Good Neighbor
Hampden's hybrid retail-and-coffee shop Good Neighbor will host a community celebration of Diwali, a festival of lights, this weekend. Baltimoreans can expect games, live music from Bollymore, drinks, and a menu of specialty chaat dishes by chef Durian Neal. Tickets are $15 and include a drink. Kids under 12 can attend for free. Good Neighbor. 3827 Falls Rd.
11/6: JBGB's Welcome to Remington Meat & Greet
As an expansion of its popular Cockeysville flagship, John Brown General & Butchery made its debut in Remington's former Parts & Labor space a few months back—first with a butcher shop and then a sit-down restaurant, JBGB's, which serves up wood-fired pizzas, burgers, and other entrees. Stop by the new space this Saturday for an aptly named "Meat & Greet," where you can sample an assortment of sausages hot off the grill, sip cocktails both hot and cold, and keep warm by the outdoor firepit. The event is "family, dog, and best-sweater" friendly. JBGB's. 2600 N. Howard St.
11/6: Baltimore Craft Beer Festival
Charm City's premier craft beer festival is back! The Baltimore Craft Beer Festival returns to Canton Waterfront Park this Saturday, where festival-goers can sample beers from dozens of Maryland breweries and see live judging of the Maryland Craft Beer Competition's "Final Table." Also on tap will be live music, local food trucks, and shopping from area crafters. Tickets and passes range from $15-$60. Canton Waterfront Park. 3001 Boston St.
11/7: Dutch Courage Takeover at Baltimore Spirits Co. Cocktail Gallery
This is one can't-miss pairing. Old Goucher gin-centric cocktail bar Dutch Courage is taking over Baltimore Spirits Co.'s recently opened Cocktail Gallery at Union Collective this Sunday from 3 to 8 p.m. Expect a one-night-only special cocktail menu from the bartenders at Dutch Courage, as well as the So Good BBQ food truck parked out front. Baltimore Spirit Co. Cocktail Gallery. 1700 W 41st St. STE 430.
SHUT
The Wharf Rat: It's last call for Fells Point stalwart The Wharf Rat. The beloved bar announced on Facebook that its final four days of service will be November 3-6. "After 34+ years, the Olivers are retiring and The Wharf Rat is closing," reads the Facebook announcement. "Please join us for our final four days this Wednesday through Saturday. Help us drain the kegs, empty the coolers, and make some final Wharf Rat memories." A new chapter for the 300-year-old building on Ann Street is in the works, though. After selling at auction for nearly $1 million last month, the Baltimore Sun reported that The Wharf Rat's new owner is Jesse Sandlin, owner of Sally O's in Highlandtown. Stay tuned for further updates.
Patterson Perk: A beloved neighborhood coffee shop has closed its doors. On October 24, owner Jen Mach announced on Facebook that Patterson Perk would serve its final cups of coffee on Halloween, after 20 years on its corner of Eastern and Milton avenues. "The last two years have been the hardest ones since the great recession," Mach wrote on Facebook. "Back then, I was younger and willing to sleep on a pullout couch inside of the shop to make ends meet. This time around, between labor shortages, supply shortages, 60-hour work weeks, and my own aging, it's become very clear that this is the best decision for me, my family and my health."
Mach added that the shop will remain open a few days in early November to "say our goodbyes, sell the last of our stock, and clear out all the odds and ends that we've collected over the years." She closed with: "It's a bittersweet decision, but another great local restaurateur once told me, 'A good owner knowns when to let go.'"