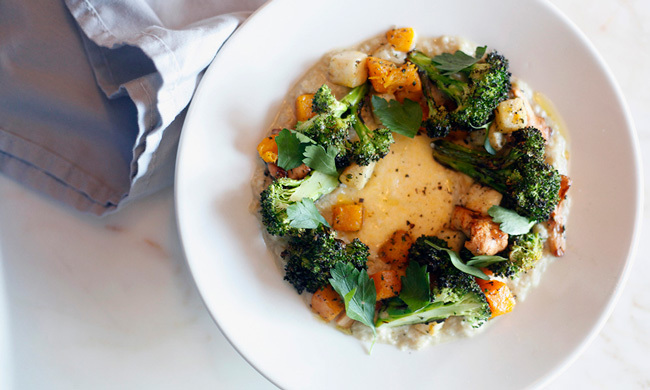 Photography by Lindsay Crisler
COMING SOON
Orto Baltimore: After Bottega owner Adrien Aeschliman recently moved out of state, former Food Market partner Elan Kotz stepped in to take over the Station North restaurant earlier this month. In a quick turnaround, Kotz has transformed the space into Orto—an Italian concept whose name translates to "vegetable garden." The team also includes executive chef Stefano Porcile and pastry chef Jaime Hacker, who both worked in the space when it previously housed Aeschliman's French concept Colette. "We were really fortunate to take on a couple of people who love the space and have a passion for it," Kotz says. "It's great that they're able to bring that same energy."
Orto officially opens this Saturday (it will be closed on Super Bowl Sunday) and will offer dinner service daily. Consisting of everything from small snacks to larger entrees, the locally sourced menu will feature house-marinated olives with fennel, a bibb salad with hazelnuts and radish, sweet onion and burrata flatbread, winter root vegetable polenta, and a whole grilled branzino with charred broccoli and mint salad. Hacker will serve sweets like a blood orange tart and tiramisu creme brûlée.
The Italian slant is also reflected in the interior renovation, which yields classic marmorino plaster treatment, large mirrors, marble accents throughout, and a new bar that has been lowered from standing height. Overall, Kotz is looking forward to being a part of the neighborhood, offering dining options for theater- and cinema-goers and commuters traveling to and from Penn Station. "I've always loved this neighborhood," he says. "I want to make it a place where you can come in for a glass of wine on a Monday and then come back over the weekend on a date or with family." 1709 N. Charles St.
TigerStyle: Next week, chef/owner Chad Gauss of The Food Market in Hampden is launching yet another spinoff project. In addition to the Mexican-influenced La Food Marketa in Pikesville, Gauss now operates TigerStyle—a wok-influenced carryout located around the back alley behind Avenue Kitchen & Bar on West 36th Street. Named after the popular Wu Tang Clan song, the spot will offer Asian-inspired appetizers (think spring rolls and Korean fried chicken wings) as well as DIY stir-fry dishes with customizable bases ranging from quinoa and salad greens to cauliflower rice and classic lo mein noodles.
Though he's excited to get creative with the Asian ingredients, Gauss says that the eatery will also feature more local flavors like Maryland corn and crab meat in the summertime. "We're not trying to be the next Momofuku," he says. "We just want to have fun, please people, and not take it too seriously." Expected to open on February 9, the casual spot decorated with old-school, hip-hop posters will offer 16 seats, but mostly focus on delivery service using apps like GrubHub and UberEats.
The project is a partnership between Gauss, The Food Market's executive chef Nick Pasco, former Food Market general manager Patrick Rainey, and La Food Marketa's executive chef Johntay Bedingfield—who was recently crowned a Chopped champion on an episode of the Food Network show that aired earlier this week. "He started as a grill cook and worked his way up to being a Chopped winner," Gauss says. "These guys have all been with me for a long time, and this is a great outlet for everyone to get a little creative." 911-913 W. 36th St.
Rise Biscuits Doughnuts: Columbia diners will soon get a taste of this chain eatery that has had Towson locals raving since it opened in the 1620 York Road shopping center last year. Coming this March, the new spot will debut on McGaw Road across from the Wegmans in Columbia. Open until 2 p.m. daily, Rise offers its namesake biscuits filled with savory ingredients like country sausage, fried green tomatoes, and buttermilk fried chicken. To satisfy sweet tooth cravings, the shop also features apple fritters, cinnamon rolls, and its famous maple-bacon doughnuts. 8872 McGaw Rd., Columbia.
CHINESE NEW YEAR CELEBRATIONS
The Corner Pantry: For the second year in a row, this Mt. Washington favorite is celebrating the Chinese New Year in style with a full-fledged Asian pop-up on February 5. Stop in to sample authentic dishes including duck spring rolls, kanpachi tartare, lemongrass pork sausage, miso black cod, and a "pig plate" with pork belly and barbecued char siu. Desserts will include Instagram-worthy bubble waffles and lychee-glazed doughnuts. The event overlaps with a big birthday for the restaurant, which turns 5 on February 14. 6080 Falls Rd. 667-308-2331
Ekiben x Clavel: Take a long lunch for this New Year's pop-up at Ekiben from 11 a.m. to 3:30 p.m. on February 5. Chef Steve Chu (more on him later) is teaming up with Carlos Raba of Clavel to serve up his signature Asian-fusion dishes for the occasion. Though the menu hasn't been finalized, we can only imagine there will be plenty of pork plates on deck in celebration of the Year of the Pig. 1622 Eastern Ave. 410-558-1914
NEWS
Steve Chu Wins Guy's Grocery Games: Speaking of Ekiben, co-owner/chef Chu is feeling the love this week after he took home $16,000 on a Super Bowl-themed episode of Guy's Grocery Games that aired on Food Network Wednesday night. Chu raced around the aisles of Fieri's makeshift grocery store and won over judges with his tailgate-inspired dishes including a tempura vegetable basket with nacho cheese vinaigrette. After winning, Chu even whipped out a business card for Fieri, which he displayed on-air. (Talk about great promotion for the city.)
EPICUREAN EVENTS
2/2-3: Groundhog Day Sale at Bin 604
Regardless of whether Punxsutawney Phil sees his shadow this Saturday, Bin 604 in Harbor East is making the official prediction that we're all going to need six more weeks of wine. To help locals stock up, the shop is throwing a massive Groundhog Day cellar raid. Hundreds of wines around the store will be available for $1 over wholesale cost all weekend long. Plus, the tasting bar will offer samples of some of the best discounted bottles. The two-day sale runs from 10 a.m.-10 p.m. Saturday and 11 a.m. to 7 p.m. Sunday. 604 S. Exeter St. 410-576-0444
SHUT
Ristorante Firenze: Reisterstown diners were saddened when the Leonardi family announced that their Main Street staple closed for good. "It has been our pleasure to serve the Reisterstown community for the last four years, and we are grateful for the support of our loyal customers," the staff wrote in an announcement posted to its website. "Many thanks to our fantastic staff for their hard work and dedication." In addition to its cozy bar with flickering fireplaces, the Italian spot in the former home of Tonino's was best known for its Boot Country pizzas and pastas. 2 Hanover Rd. Reisterstown
Courtney's Bagel Cafe & Deli: Breakfast runs in Owings Mills won't be the same after the closing of this institution across from the Stevenson University campus. Owner Susan Leeming recently told The Jewish Times that, after running the business for 20 years, she decided not to renew the building's lease in hopes of giving herself some downtime. But we haven't seen the last of Leeming: "I might end up with a Courtney's tuna truck, you never know!" she told the JT. "It's in my blood. I don't think I'm finished." As for the shop, the lease has been turned over to the team behind Quarry Bagel & Cafe in Pikesville, and is expected to reopen under new management in March. 11000 Owings Mills Blvd., Owings Mills