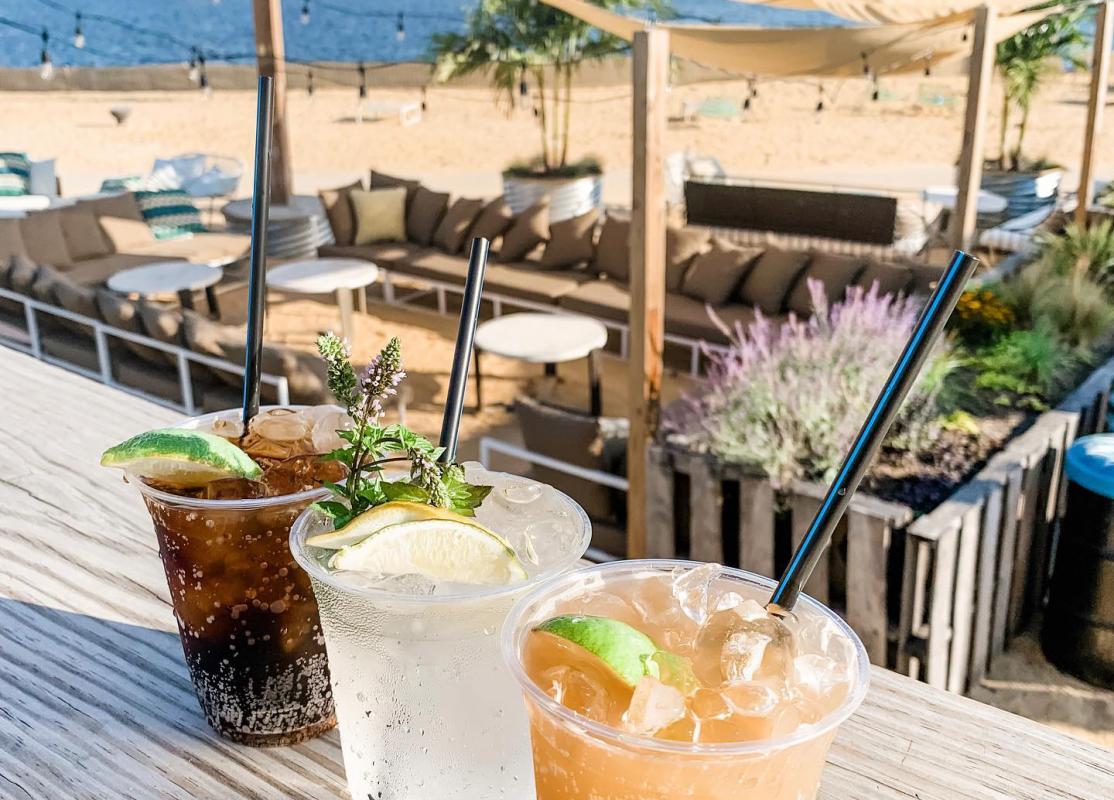 —Courtesy of Sandlot via Facebook
NEWS
Sandlot to Reopen Memorial Day Weekend: Local sun lovers will be happy to hear that Harbor Point's waterfront beach bar and recreation yard—which was originally conceived as a temporary, five-year activation—will return for its sixth season Memorial Day weekend. Previously managed by Spike Gjerde's Foodshed restaurant group, the outdoor destination will now be run by John and Mary Miller of mobile hospitality company Bar Movement.
"We just can't quit Sandlot," said Michael Beatty, president of Beatty Development Group, the development firm behind Harbor Point, in a press release. "The future of Sandlot is one of the questions we've gotten asked about the most since last season ended. We know people love it and throughout the development of Harbor Point over the past year, we've continued to stay open to the idea of keeping the spirit of Sandlot alive and well. We're excited to bring it back for a while longer."
Beatty Development Group also announced that Sandlot has been relocated to the far west end of Harbor Point (making for killer sunset views directly facing downtown), and that Bar Movement will bring "a new flavor" that includes local food trucks and guest-chef appearances.
Patrons can also expect craft cocktails, canned beer, and non-alcoholic options served from those famous retrofitted shipping containers and Airstream trailer. Three sand volleyball courts have been relocated and will host beach volleyball and cornhole leagues from Volo City Sports. Additional programming will be announced soon. Stay tuned.
OPEN
The Last Penny: ICYMI—there's a new cocktail bar in Locust Point. The spot from cousins Dipal Patel and Pratik Patel has been open for a few months at 1401 Decatur Street. Both Dipal and Pratik have lived in the neighborhood for about a decade and, with Dipal's real estate background, they bought the building in 2020 after the closure of former inhabitant Snug & Evil in 2019. Their goal? To keep the space a "neighborhood location, rather than a destination location," Dipal tells us. "We were initially looking to lease out the bar portion, however, we didn't find anyone that we thought was a good fit…So we thought, 'Let's just open it ourselves.'"
Bar-goers can expect twists on classic cocktails, including an Old Fashioned dubbed The Pop-Pop with house-made bourbon-infused cherries, as well as the whiskey sour-influenced Velvet Viper that's made a little frothy by egg whites. There's also a selection of beer and wine, with $5 wines on Wednesdays. "We wanted a cocktail bar where people can come and have a great date night, have a conversation—we're not loud, we have juice boxes and snacks for kids because I have kids," Dipal says. "We wanted something where a diversity of people would be comfortable."
Stop in on Mondays from 7:30-9:30 p.m. for trivia, and expect food offerings soon. Dipal says work is currently being done to create an all-electric kitchen that will serve small plates. "We're hoping within six weeks we have an open kitchen," he adds.
The overall goal is to foster a community feel in the bar, and to serve the community in return. So far, the bar has contracted with Volo City Sports and is excited to contribute to their philanthropy program. Additionally, a portion of this month's proceeds are being donated to a group of local doctors helping refugees in Poland. "The reason why we call it The Last Penny is because we are really invested in the community," Dipal says. "We want to support the community and help make everything better surrounding it."
Mr. Tepaches: Fells Point residents were heartbroken when neighborhood corner bar Lobo shut its doors in 2020 after navigating struggles brought on by COVID-19. But now, a new successor has taken over the space. Mr. Tepaches brings birria tacos, burritos, quesadillas, caliburritos, rice bowls, micheladas, and tepache margaritas to the corner of Aliceanna and South Wolfe streets. (Tepache is a Mexican fermented drink made from the peel and rind of pineapples.) Late-night dining is available too—the kitchen is open until 1 a.m. every day except Sunday, when the restaurant is closed. Stop by this weekend for a grand opening celebration with free tepache and samples on April 28 starting at 4 p.m.
Stuggy's: Those fan-favorite franks found at Camden Yards and M&T Bank Stadium are back in Fells Point. Late last year, Stuggy's relocated from its baby-sized Broadway digs to a new spot, which is now open, at 1928 Fleet Street (the former home of Papi Cuisine before it moved to South Baltimore). "We're very happy with the new location and all the added opportunities for Stuggy's customers," owner Ryan Perlberg tells us. "We plan to be a continued fixture in the neighborhood and Baltimore more broadly."
When we stopped by last week, we encountered a friendly staff eager to show off a new menu of sandwiches and fun cocktails (like a Taste the Rainbow, made with Skittles-infused vodka and a candied rim), plus signature loaded franks (trust us: get the crab mac and cheese dog) and other rotating specials. All of which can be enjoyed in a bright space with pops of color and greenery—or outside at dog-friendly tables.
Swill Apothecafe by Blacksmiths: We've got more news from chef Heather Smith. She recently announced that her Blacksmiths brunch concept will join the new Lexington Market, slated to open this fall, as one of 28 vendors set so far. And now, Smith is taking Blacksmiths to its first brick-and-mortar location with Swill Apothecafe by Blacksmiths, located in Pigtown at 906 Washington Blvd. The menu offers brunch favorites like Belgian waffles and shrimp and grits, plus fresh-pressed juices and vegan pastries, according to the Baltimore Business Journal. The paper says that, for now, the café is open from 10 a.m. to 2 p.m. on Saturdays and Sundays.
EPICUREAN EVENTS
4/29-5/1: Five-Year Anniversary Weekend at Sagamore Spirit 
Help the Sagamore Spirit distillery celebrate five years in Port Covington with an outdoor, family-friendly event all weekend long. Fun activations include a craft-your-own-cocktail class on Friday, a "local vendor village" on Saturday, and a make-your-own-rocks-glass class on Sunday with McFadden Art Glass. Each day, attendees can enjoy live music, craft cocktails, and bites from Brookside Market food truck. Distillery tours will be available on Saturday, but booking in advance is highly recommended. Guests are encouraged to bring blankets and chairs for the waterfront lawn, as there's a limited number of picnic tables and Adirondack chairs. Food and non-alcoholic beverages are welcome.
5/4-TBD: Thacher & Rye's New Pop-Up Experience
For those with spring trips planned to Frederick for its plethora of wineries and historical sites, consider stopping in to chef Bryan Voltaggio's downtown eatery Thacher & Rye. The restaurant—a more casual concept that Voltaggio launched in the former home of his prix-fixe spot Volt—plans to debut a "new pop-up experience." Beginning May 4, patrons can partake in a six-course tasting menu with an optional beverage pairing. The courses will celebrate "spring and early summer in the mid-Atlantic, with ingredients sourced from the Chesapeake Watershed," the restaurant wrote on Instagram. The menu will be offered weekly for a limited time on Wednesdays and Thursdays, and a reservation is required.