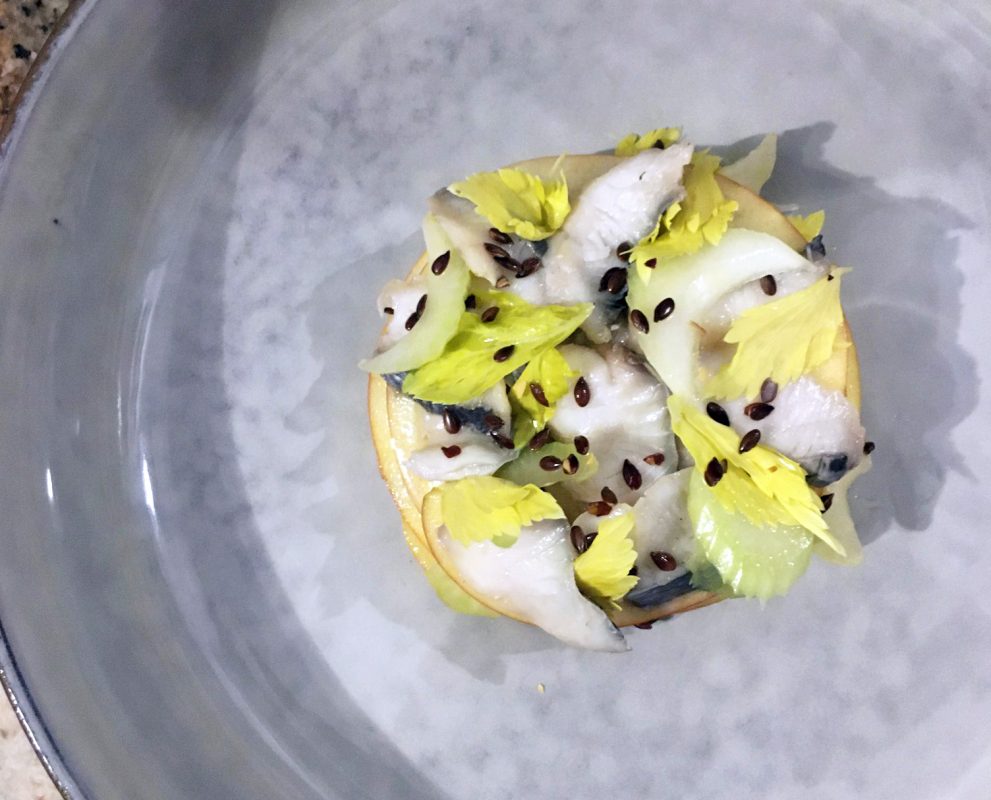 EPICUREAN EVENTS
3/6-7: Serce Pop-Up
Chef Antoni Szachowicz—who cut his teeth at fine-dining spots such as Lemaire in Richmond, Virginia, The Oval Room in Washington, D.C., and Inferno Pizzeria in Gaithersburg—has been developing a modern take on Polish cuisine in preparation for a concept that he hopes will become a future brick-and-mortar restaurant. To test out some of his dishes, the chef is hosting a pop-up in the Salt Tavern space in Upper Fells Point March 6-7. Serce, which translates to "heart" in Polish, will highlight a menu of a la carte small plates, as well as accompanying cocktails, beer, and wine. Inspired by Szachowicz's mother's cooking and his recent trips to Poland, the menu will include dishes like stuffed cabbage rolls with buckwheat popcorn, mackerel with apple and celery, and potato-fried perch in a pine shoot syrup.
3/8: Guest Chef Dinner at Foraged
True Chesapeake Oyster Co. executive chef Zack Mills is heading to his Hampden neighbor, Foraged, to prepare a special Sunday dinner with chef Chris Amendola. From 5-9 p.m., enjoy an a la carte menu that blends Mills' seafood expertise with Amendola's passion for natural ingredients. Plates to look out for will include beef tartare with smoked oyster emulsion, Nashville hot oysters, and oyster pot pie with pork belly.
NEWS
James Beard Semifinalists Announced: Once again, Charm City has been rightfully recognized by the Oscars of the food world. The James Beard Award semifinalists were announced earlier this week, and Remington's own taqueria and mezcaleria Clavel was named among the national nominees for Outstanding Bar Program for the second year in a row. Since opening in 2015, the spot has gained a reputation for putting mezcal on the map in Baltimore. Its staff even takes routine trips to Mexico each year to meet with farmers and learn more about the agave plant. Though Clavel was not named a finalist last year, we're keeping our fingers crossed that owner Lane Harlan, chef/owner Carlos Raba, and head bartender Dre Barnhill take home the medal this year.
Equally as exciting: Charleston's Chef Cindy Wolf—who often cracks that she's "the Susan Lucci" of the Best Chef: Mid-Atlantic category—was named a finalist for the 13th time. "Congratulations to everyone in our region," Wolf wrote on Instagram. "I am proud to be a part of this group and going for our 9th [finalist] nomination." The list will be narrowed down on March 25, and the official awards ceremony in Chicago is scheduled for May 4.
Le Comptoir du Vin Takes Winter Break: Unfortunately, there will be no pistachio celery salad or French lentils served at everyone's new favorite bistro in Station North this week. After a whirlwind few months that included national acclaim from Bon Appetit and Esquire, the team is taking a well-deserved winter hiatus through March 3. Dinner service will resume on Wednesday, March 4.
OPEN
Good Works Spirit House: After Coelum closed in Canton last month, the owners of the building—who previously ran Gitan Bistro Cru in the space—have initiated a quick turnaround with this new concept. Emphasizing craft cocktails and small plates, the corner bar showcases offerings such as roasted beet salads, bacon-wrapped dates, crispy tater tots, and the "Fresh Start" cocktail made with basil-infused vodka and cucumber lemon shrub.
Squisito Too: This Annapolis-based pizza and pasta palace has expanded its reach with a DIY spinoff that opened its doors in Howard County this month. The fast-casual Squisito Too in Jessup allows diners to customize pasta, salad, and veggie bowls with tons of different protein and topping combinations. Aside from the build-your-own options, there's also subs, wraps, and oven-fired pizzas to chow down on.
COMING SOON
BurgerFi: Speaking of fast-casual spots, this burger bar is moving into The Avenue at White Marsh this summer—but it isn't your average chain restaurant. Best known for its massive onion rings, Instagram-worthy shakes, and branded burger buns, the modernized concept uses self-service kiosks that have facial recognition software to remember customers' favorite orders. In keeping with that approach, the eco-conscious spot also boasts furniture made with recycled material and energy-efficient lighting.