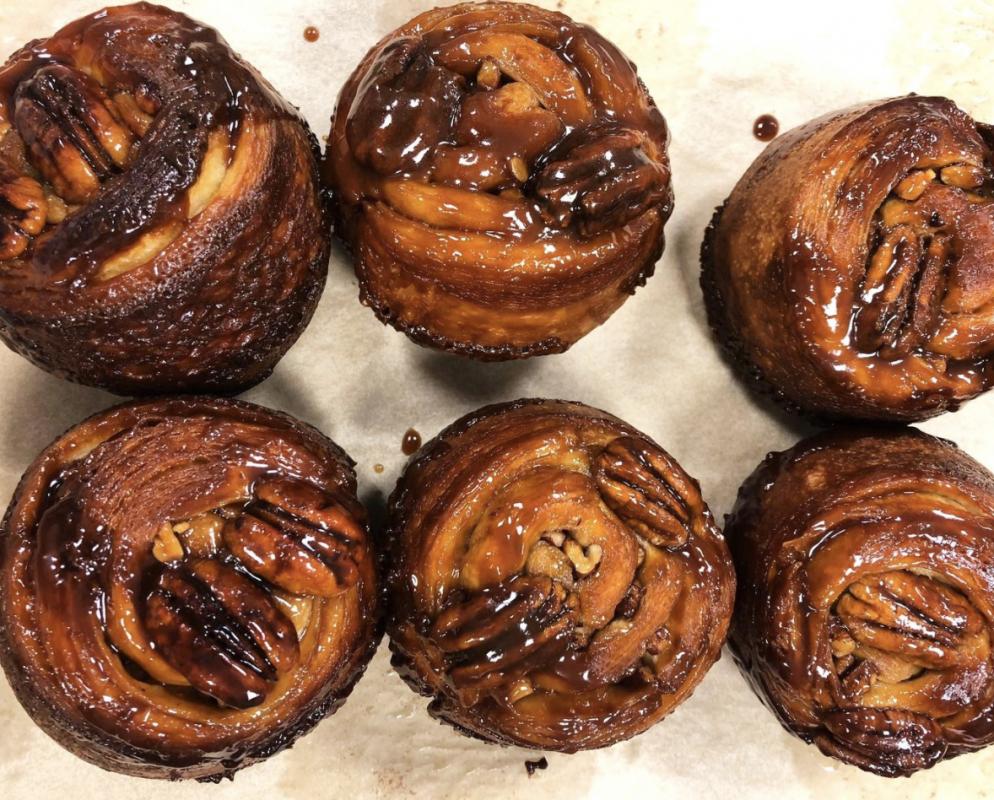 Pecan morning buns from Two Crabs Bakery. —Courtesy of Two Crabs Bakery via Instagram
NEWS
Two Crabs Bakery: Husband-and-wife culinary duo Theresa Louis and Christopher Audia—who have worked in local restaurants since 2018—have launched this new bakery operation that began as a cottage business in 2020. "We've always wanted to have our own food business," Louis, a pastry chef, tells us. "We both left our positions and were looking to start something of our own. We knew we couldn't afford to open a restaurant, and I've always dreamed of having a bakery. So that was the natural path."
Now, Two Crabs is taking orders online for pickup and delivery within city limits on Saturdays. You can also find their baked goods at Pillion Tea in Midtown-Belvedere, Bird in Hand in Charles Village, and through local meal delivery service Scratch Made. Louis and Audia, who met in 2011 at culinary school, whip up delicacies such as cookies, cakes, danishes, croissants, and fruit galettes in the summer. "We're trying to get into more bread items as well," Louis says. "We've been doing bagels, and Chris has been working on some more rustic whole loaves to sell."
For the upcoming holidays, expect cookie assortment boxes with classics like Italian butter cookies, Russian tea cakes, and ginger molasses desserts. Is a brick-and-mortar a possibility for Two Crabs down the road? "For sure," Louis says. "We would love to see where this takes us."
COMING SOON
Maillard Pastries: Speaking of pastries, this B-More Kitchen-based bakery—which currently sells its weekly goods at Sophomore Coffee and Cafe Los Suenos, among other spots—has found a permanent home in the former Full Circle Doughnuts space on Chestnut Avenue in Hampden, which closed last month. Owner, and Charleston alum, Caitlin Kiehl told the Baltimore Business Journal that she is hoping to be up and running in the space by February. Once it opens, neighbors will be able to enjoy the pastry chef's signature buns, cookies, pastries, cakes, and tarts.
Copper Shark: Locust Point will soon have a new neighborhood spot in the former home of the beloved Wine Market Bistro. SouthBmore.com reports that Copper Shark will open at the Foundry on Fort Avenue complex sometime in January—bringing a new concept from Mid-Atlantic Eateries (MAE,) the restaurant group behind breakfast-and-lunch chain Eggspectation. The restaurant and bar will be chef-driven, seasonal, and offer an extensive bourbon, whiskey, and cocktail list, according to SouthBmore.com. MAE is renovating the space to create a bar room, large dining room, and an outdoor patio.
Foraged: In October, we let you know about Chris Amendola's plans to take over the former Orto space in Station North. Now, the chef and his team have made the move from Hampden and they're officially opening the doors at the new Foraged location on Tuesday, December 7. In the new space, diners can look forward to a larger dining room, full bar, and some new additions to Amendola's roster of hyper-seasonal dishes. Reservations are available now.
OPEN
Cuples Tea House: After an official debut on November 27, Cuples Tea House in downtown's Bromo Arts District is open for business at 409 N. Howard St. Owned by Eric and Lynnette Dodson, the shop offers premium loose-leaf teas, grab-and-go items, and tea tastings. "We wanted to bring [loose leaf-tea] to folks as a substitute for the sugary, carbonated drinks," Lynnette told WYPR in late September. The Dodsons launched Cuples Tea in 2015, popping up in farmers markets, offering in-home tea parties, and running an online retail operation. (Actress Jada Pinkett Smith even included Cuples' chai gift set in her 2019 holiday gift guide for People magazine.) The tea house's brick-and-mortar storefront joins a number of new Black-owned businesses—including Cajou Creamery and Vegan Juiceology—on Howard Row, which has been revamped by the Baltimore Development Corporation.
Sammy's Trattoria II: This authentic Italian spot is back to two locations. After closing its enoteca in Fells Point, the Mt. Vernon restaurant has completed construction on a new home in Hunt Valley, and it's officially open. "We are just getting underway and trying to walk before we sprint," the Sammy's team wrote in an Instagram post announcing the opening. "So please understand we are not ready for full capacity." The post recommends patrons keep an eye out for a new website launching soon, and that they follow its new Instagram page for information on both the Hunt Valley and the downtown eateries. "Grazie mille for all the friends and family we built throughout the years, and we look forward to seeing you in both locations."
EPICUREAN EVENTS
12/2-12/30: Holiday Movies at Guinness Open Gate Brewery
Get into the Christmas spirit with a pint of Guinness in hand. The brewery, located about 10 minutes from downtown in Halethorpe, will host a series of Thursday holiday movie nights throughout the month of December. First up, of course, is Home Alone on December 2, followed by Jingle All the Way on December 9. (See the rest of the film lineup here.) The movie nights are free of charge and will be held in a heated tent. And while you're there, be sure try Guinness' seasonal brews, including the spicy Gingerbread Stout. Guinness Open Gate Brewery. 5001 Washington Blvd.
12/6: Hanukkah BrewHaHa at Union Craft Brewing
Celebrate the last night of Hanukkah at Union Craft Brewing, where you can enjoy latkes from Well Crafted Pizza, sufganiyot-flavored ice cream from The Charmery, and a Hanukkah sweater contest. Of course, Union brews will be on tap, and they can be savored while listening to live music from 27th Street Kleztet. Tickets are $18 in advance and $21 at the door. Proof of vaccination or a negative COVID test within 24 hours prior to the event is required. Register here. Union Craft Brewing. 1700 W. 41st St. STE 420.
SHUT
Mr. Nice Guy Cocktails: Canton cocktail bar Mr. Nice Guy Cocktails, which quickly became a neighborhood favorite when it opened on the corner of Kenwood and Fait in 2020, has closed up shop. The bar announced in a Facebook post on November 22 that "we have served our last drink at 800 S. Kenwood." The post didn't detail the cause of the closure, but thanked past patrons for their support. "We truly want to thank everyone who has been a part of making us who we are over the last 20 months. We haven't fully processed our next steps yet but we will follow up with another post when that's appropriate."
Mr. Nice Guy Cocktails gave Baltimoreans one last chance to enjoy a cocktail with them by offering a special Thanksgiving menu last week. "We thank anyone who does make a purchase from our goodbye menu," the post read. "We honestly wish we could have finished with a party, but this will have to do."