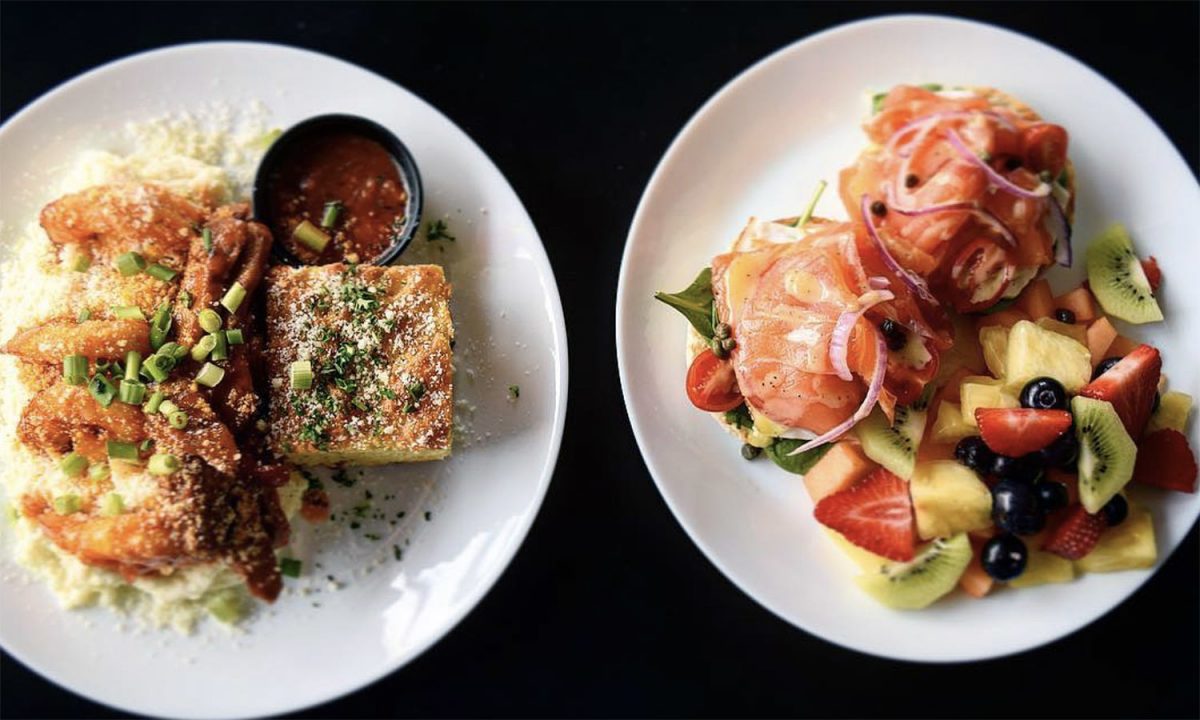 Water for Chocolate
NEWS
Water for Chocolate: Last week, chef Sean Guy unveiled the newly renovated and expanded version of his beloved brunch spot in Upper Fells Point. After two months of upgrades, the space now features a warmer feel with additional seating, wooden accents, modern backsplashes, and interior greenery. "We want to provide a better dining experience that's on par with the food that we serve," Guy said in a video announcing the changes back in May. Though the interior has gotten a fresh look, diners can still count on Guy's tried-and-true dishes such as barbecue shrimp and grits, raisin bread French toast, and stuffed breakfast burritos.
Azumi: This Japanese steakhouse in Harbor East is taking teppanyaki to a whole other level. Come October, the Atlas restaurant will debut a brand new room for chefs to prepare meals in front of guests at two scheduled seatings per night. Equipped with six tables that can accommodate 36 diners, the room will feature a special menu with options such as king crab, lobster, scallops, Miyazaki wagyu, and kobe beef. Along with the addition to the space, Azumi has also brought on chef Anthony Micari as its director of Asian cuisine. Micari—who previously headed up the kitchen at Makoto in Miami—will work alongside executive chef Andy Gaynor at Azumi, while also helping to develop a future Atlas concept. Stay tuned for more details.
Doug Atwell Announces New Bar in Fells Point: We've been following Doug Atwell's career since his days behind the bar at Rye (back when it was at its old location on South Broadway). Since then, the veteran bartender has gone on to head up the celebrated programs at Blue Pit BBQ and Dylan's Oyster Cellar. Now, he's getting ready to open a spot of his own. The Baltimore Business Journal reported earlier this week that Atwell is in the process of converting the former home of Santa Clara Bar & Restaurant in Fells Point into a new cocktail bar with a classic vibe. The spot will highlight killer Manhattans and Old Fashioneds, as well as interior touches like tin ceilings and a jukebox.
OPEN
With Love Company: The Parkville dining scene recently welcomed this healthful hangout on Harford Road—whose mission is summarized in a hand-painted wall mural that reads: "Everything begins and ends with love." The eatery incorporates its plant-based and gluten-conscious philosophies into dishes such as lentil burgers, raw veggie lasagna, and sweet potato salads. To complement all of the eats, the menu also lists holistic juices and smoothies in varieties like pineapple-mango and peach-banana.
Pure Raw Juice: Speaking of juice, this local detox destination recently debuted its newest location at The Rotunda in Hampden. The new spot adds to the health-conscious community in the mixed-use development, neighboring other tenants like MOM's Organic Market, Brick Bodies, and Corepower Yoga. For those in need of a post-workout pick-me-up, Pure Raw offers its signature smoothies, juice blends, and açai bowls like the "Electric Pink" filled with dragon fruit and granola.
Chilango's Tequila Bar & Grill: Earlier this summer, we told you about this new Mexican destination taking over the former home of Modern Cook Shop in Fells Point. Now, owner Carlos Cruz has officially unveiled the restaurant—which is a sister spot to his Highlandtown haunt Carlos O'Charlies. Stop by to sample the strong margaritas paired with Cruz's house recipes ranging from baked tilapia with tequila and garlic to a grilled flatiron steak in a spicy tomato chili sauce. The space itself has been completely transformed with classic cantina touches like wooden paneling and decorative sombreros.
COMING SOON
The Original Pancake House: Soon, Canton locals will be able to feast on flapjacks and fluffy omelets at this international breakfast favorite. Situated next to Outback Steakhouse in the Canton Can Company, the diner will mark the chain's first Baltimore location. Be on the lookout for signature items including a lemon Dutch Baby, cherry crepes made with sweet Danish wine, and an apple pancake smothered in cinnamon sugar,
EPICUREAN EVENTS
8/13: Entré Amigos
Earlier this week, mayor Bernard C. "Jack" Young signed an executive order directing city agencies to protect immigrants. Local restaurants Bar Vasquez, Alma Cocina Latina, and Puerto 511 are also coming together to support the cause by launching this new dinner series that will benefit Families Belong Together—an organization that works to permanently end family separation and detention. "Baltimore welcomes diverse and creative entrepreneurs," says Bar Vasquez co-owner Tony Foreman, who will host the series at the restaurant. "We all serve the many good people of this city and are proud to do it."
For the next three Tuesday nights, the teams from Alma Cocina Latina (August 13), Puerto 511 (August 20), and Clavel (August 27) will head to the Argentinian restaurant to prepare passed appetizers, welcome cocktails, small dishes, a meat course, and a collaborative dessert with Bar Vasquez chef Marion Caño Catalan. The menus will collectively reflect all of the restaurants' distinct regions and styles. Highlights from the first meal next week will include risotto-style arroz con pollo and mango flan.
8/12-18: Stone's Throw Hash Pop-Up at R. House
This sweet potato hash concept, which prides itself on sourcing ingredients from purveyors just a stone's throw away, is setting up shop at the R. House's rotating pop-up stall next week. Founder Ben James created Stone's Throw eight years ago, when he discovered that he was allergic to wheat. Gluten and paleo-friendly bowls to to try include the "Bay Be Blue Crab" (Chesapeake blue crab, free range eggs, pickled carrots, and Old Bay), "Wakey Wakey Apple Bacy" (shredded apples, seasonal greens, and pastured bacon) and the vegan "Buddha Hash" with crispy tofu and organic beets.