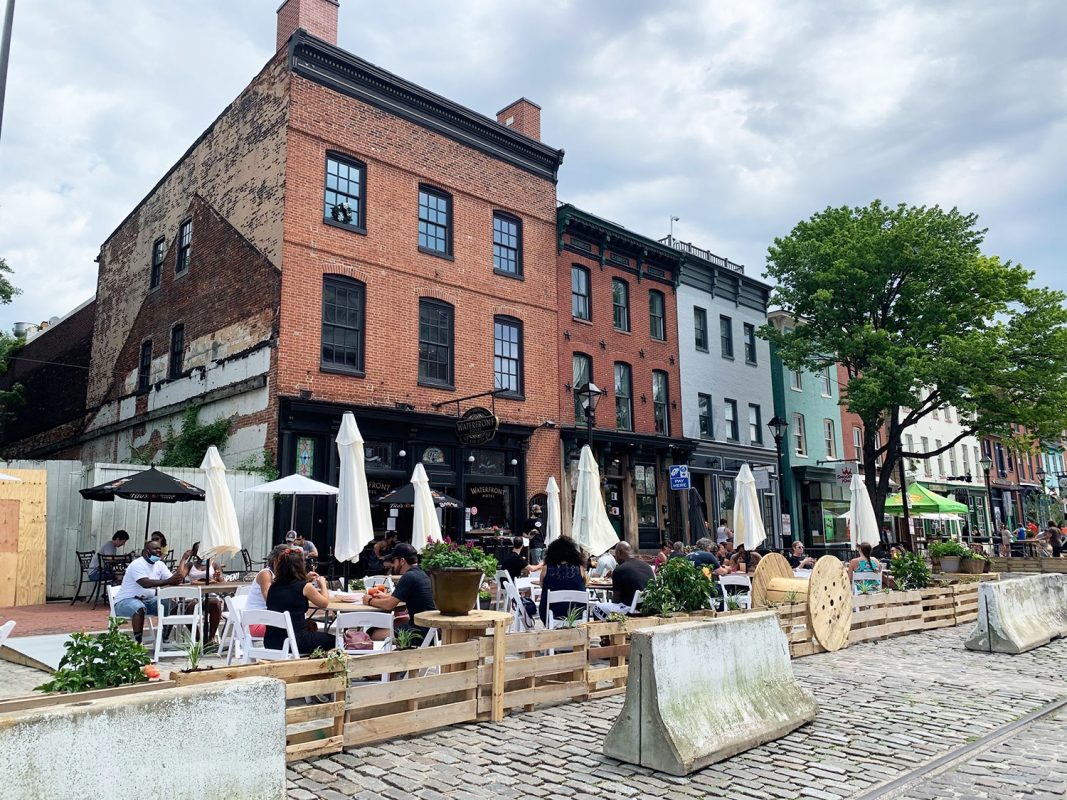 Photography by Sarah Kloepple
Locals who have recently strolled along the Fells Point waterfront have likely noticed that the neighborhood has stepped up its outdoor dining game.
The community has erected a number of "parklets"—parking spaces-turned-al fresco dining areas made out of recycled materials and greenery—adjacent to many eateries on the 1700 block of Thames Street.
The goal is to safely expand outdoor seating, while also supporting the bars, restaurants, and retail shops that have been hammered by the coronavirus shutdown.
Kooper's Tavern was the first to host a parklet last month, and since then the Department of Transportation has approved dining areas outside of Waterfront Hotel and The Point in Fells. The Kooper's parklet is divided into sections for neighboring sister-restaurants Slainte and Woody's, to use, as well. Another is currently in the works for Riptide by the Bay.
"We're hoping this helps turn 2020 into a profitable year for businesses," says Maureen Sweeney Smith, executive director of Fells Point Main Street.
Residents and restaurant owners share the same hope. Many volunteers flocked to Thames Street last week to help construct the parklets. The setup outside of Kooper's, which has been used as a prototype, was designed by Fells Point Main Street board member and resident Bryce Turner, along with his firm BCT Architects.
"I have a theory that people really enjoy being places they're not supposed to," Turner says. "I think that's true in Fells. If you can have seating in a parking space, even in the road, it can be an interesting experience. We needed a perimeter around the seating area, and we thought, 'How can we do that?' We didn't have a lot of funding. So we decided to use repurposed materials."
The parklets are constructed from reclaimed pallets, crates, and large electrical cable spools, and they're accented with plants and flowers.
"We didn't want businesses who are already hurting to have to spend a bunch of money on planters and dividers," Smith says. "I'm just bowled over with the creativity of what people are doing and how great they're making these look. It's been really impressive."
On Tuesday, June 23, volunteers and restaurant staff brought their own circle saws and got to work cutting pallets, cleaning bike racks, and sprucing up the landscaping.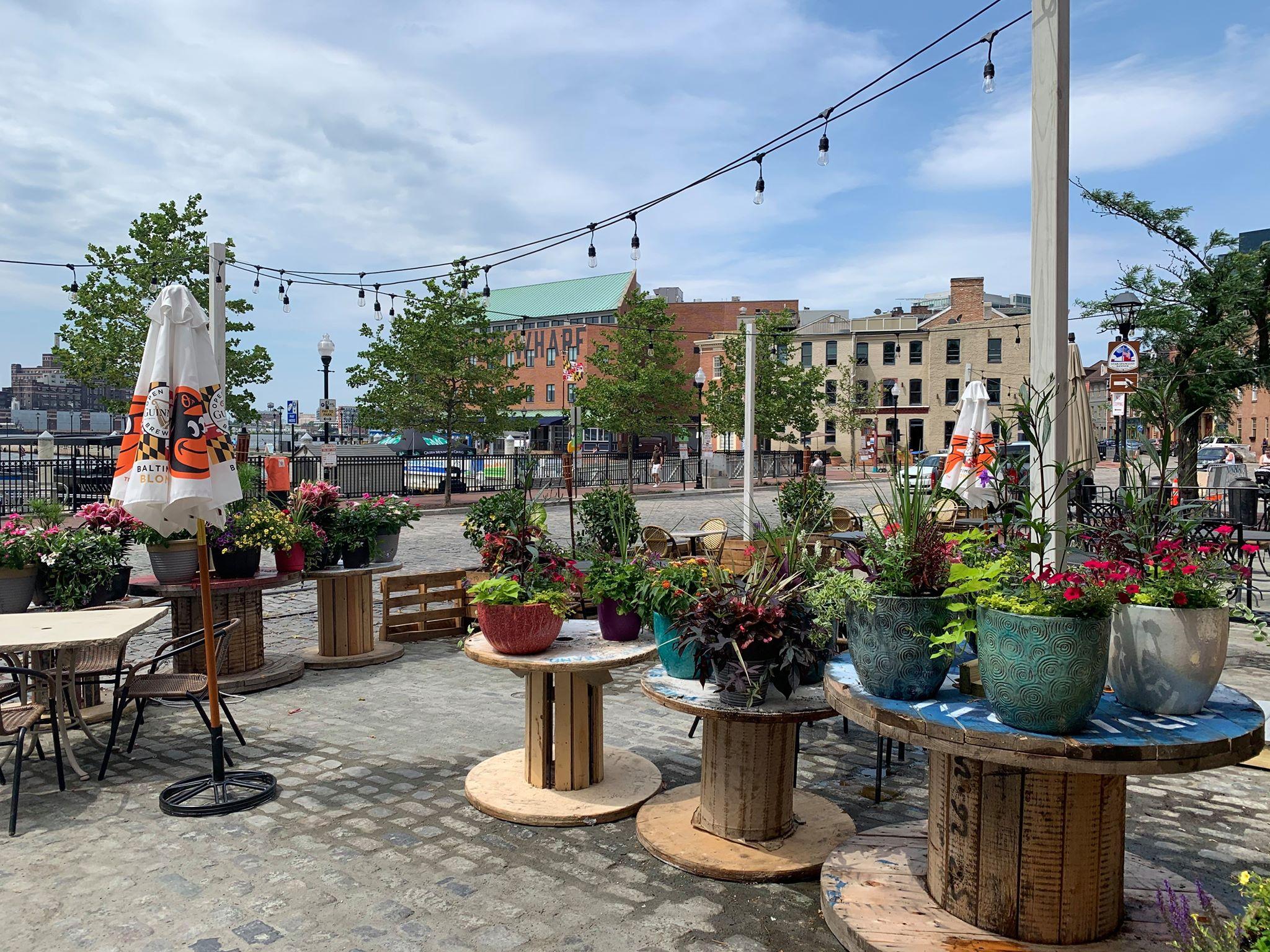 "It was very community-based," says volunteer and Fells Point resident Samantha Wilkes. "There was coffee and donuts. Folks were walking by and were interested in what was going on. Some people stopped to help for a bit, then kept walking. Everyone was sharing tools. There were good vibes all around."
The Point in Fells owner Erica Russo says that she worked with fellow Thames Street bar and restaurant owners to come up with parklets that mimicked Turner's design.
"We bounced ideas off each other to make sure they were structurally sound and safe," she says. Around 10 members of Russo's staff helped construct The Point's parklet, along with two regulars who came out to lend a hand.
"Some people aren't ready to sit inside a restaurant, even with 50 percent capacity," she says. "I think being outside in the summer, [the parklets] will revitalize the area and bring life to restaurants that might not have survived without them."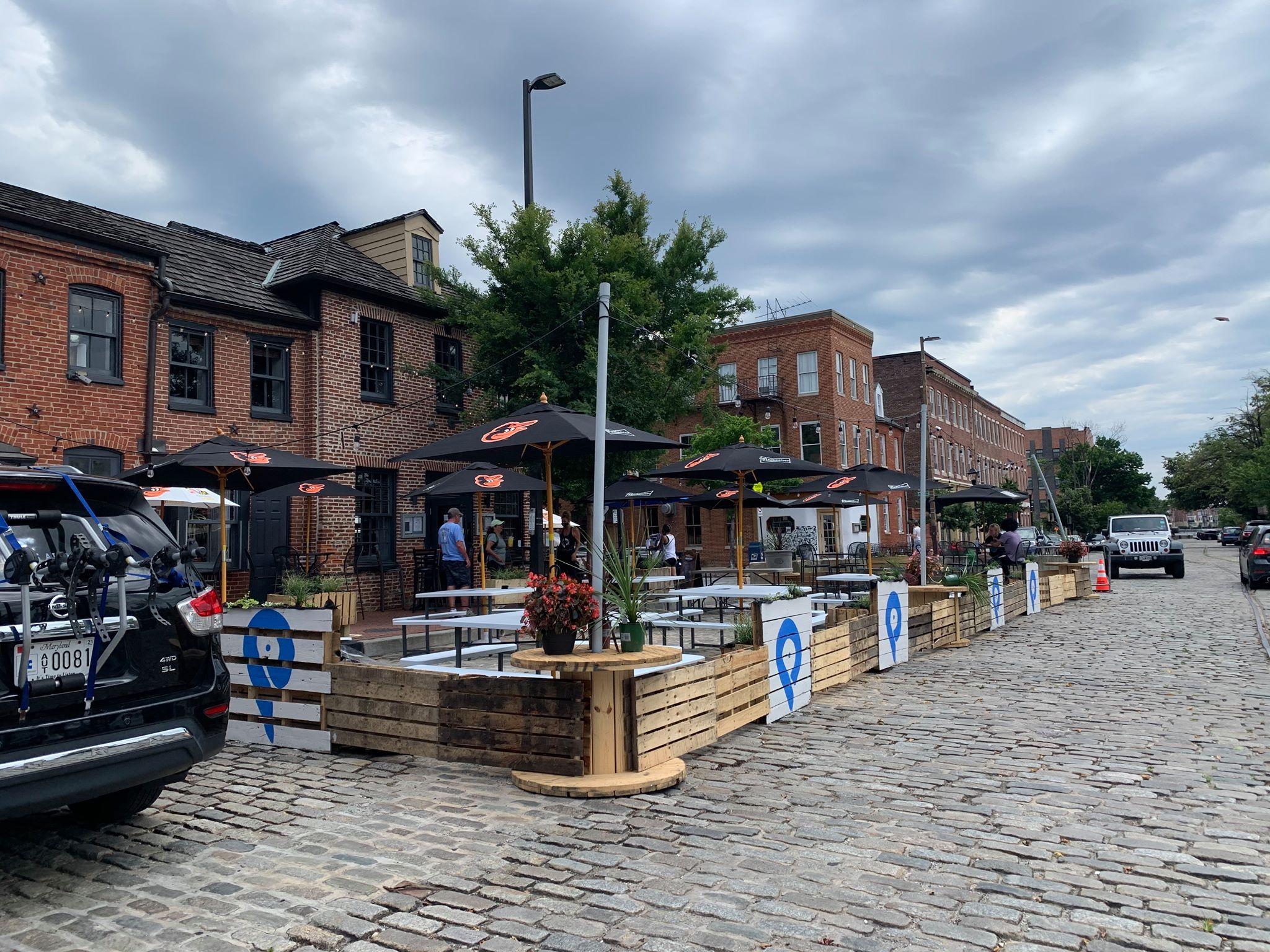 The designs are also meant to help curb some of the crowds that have routinely gathered in Broadway Square, a practice that began when bars and restaurants were only serving takeout.
"We hope the outdoor dining will have a positive effect on the neighborhood," Smith says. "We don't know whether [the crowds] will continue or not, but we're hoping the outdoor dining displaces some of the partiers."
Adds Russo: "With such a thriving area of locals, tourists, and visitors, it's been rough trying to get everyone back open and follow the rules. Fells Point is a big public open space, so we're hoping that by using some of that space to create areas for people to sit and dine and enjoy beverages, it will help control the crowds. I think this is really a lifesaver to a lot of restaurants down here."
And it might not be long before we see the parklets expand beyond Thames. Smith says she's been discussing outdoor dining expansion plans with businesses on the 700 and 800 blocks of Broadway—including Abbey Burger Bistro and Max's Taphouse.
"We're putting a lot of effort into making the neighborhood safe and friendly to all," Russo says. "Whether they're tourists or residents, we want everyone to be able to come out in a respectable manner, feel safe, and support local."