The Pawpaw, America's Largest Edible Fruit, Grows Quietly in Baltimore
The evolution of this enigmatic native fruit has been that of an underdog success story. Not just for the past few decades, but over centuries—even millennia.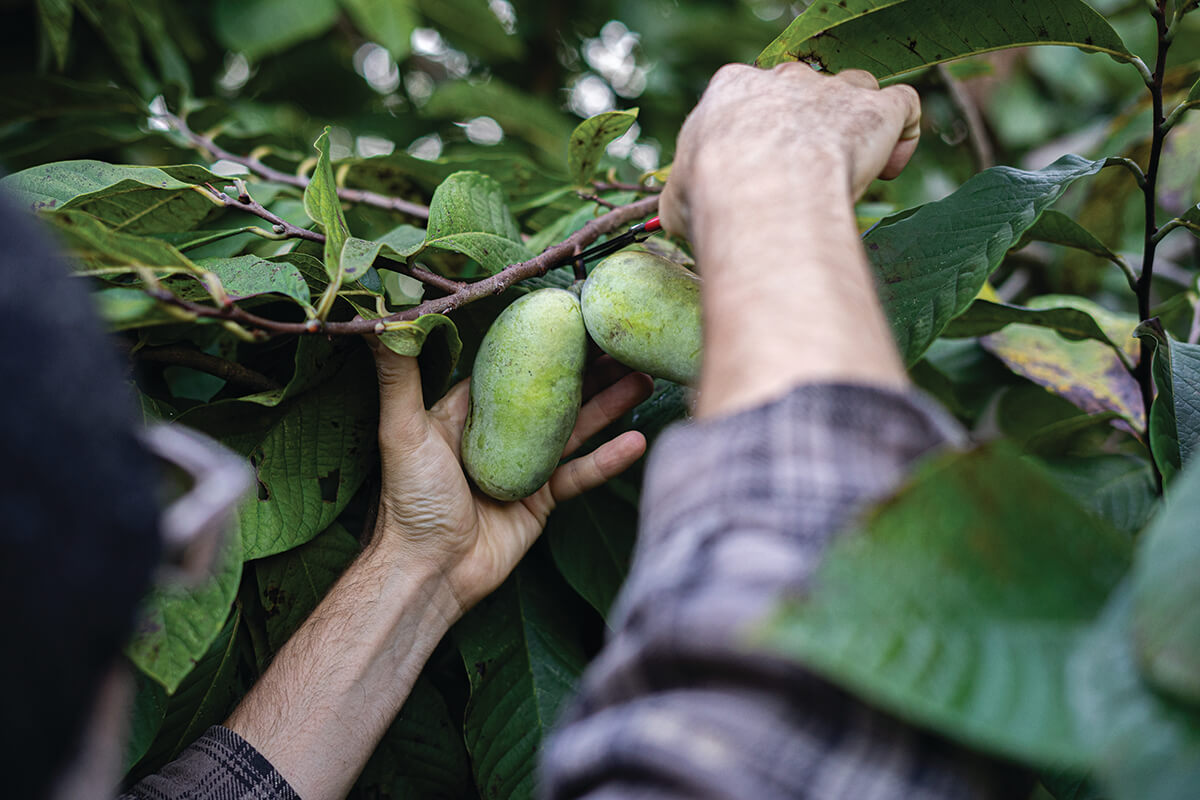 Doron Kutnick emerges from the overflowing shrubs of his white farmhouse in Hampstead, Maryland, before his first cup of coffee. It's late June, just days before the summer solstice, and at 9 a.m., the morning shade still sweeps across the open fields and enclosed greenhouses of the two-acre Two Boots Farm that he runs with his wife, Elisa.
But we're not here for the flowers and vegetables that grow before us, being tended to by several employees before the day's heat unfurls like a stretching cat. Instead, in a straw hat and gray T-shirt, holding a ceramic mug, Kutnick ambles down the hill, past the persimmons, into a meadow-like path, and through the forest, which eventually leads to a small clearing, filled with rows and rows of pawpaw trees.
"It's a beautiful tree, and it really is a lot of fun to take care of these things," says Kutnick, standing amidst the slender gray trunks and broad symmetrical leaves of some 200 of them, ranging in size from small, grafted saplings to 12-foot specimens dangling with powdery green clusters of what look like soft-skinned avocados or unripe mangos.
He wanders through the grove, thinning new offshoots, tossing them into the woods and to the ground at his feet—a technique he painstakingly learned over the past 10 years to yield more bountiful harvests during the fruit's fleeting, few-week season, come late August or early September.
"When we moved here, this was just lucky," says Kutnick. "It was December, so it wasn't completely clear, but we said, 'Oh my God, I think these are pawpaws.'"
At the time, the couple was already acquainted with this enchanting and enigmatic native fruit. Before settling in Carroll County, they found them by foraging nearby woods, often selling their findings at the Whitelock Community Farm in Reservoir Hill, which they co-founded in 2010, as well as to local restaurants, like the farm-to-table Woodberry Kitchen, whose chefs revered the pawpaw's exotic, tropical flavor.
Back then, pawpaws were little more than a blip on Baltimore's culinary radar, and even today, as more and more Maryland residents have at least heard of their funny name, they remain a largely rare delicacy of the regional foodway. Two Boots has helped raise that profile, moving some 3,424 pounds of pawpaw last year, but in an age of fast food trends, that slow rise is at least part of the allure. In fact, their evolution along the Chesapeake Bay watershed has been that of an underdog success story, not just for the past few decades, but over centuries. Even millennia.
"It sounds strange, but I'm 51, I've been living so long, and I just had no idea that this giant fruit, this great sustenance, was growing all around me, and it has been the entire time," says Kutnick. "That's a big deal to me. It's a mystical kind of thing."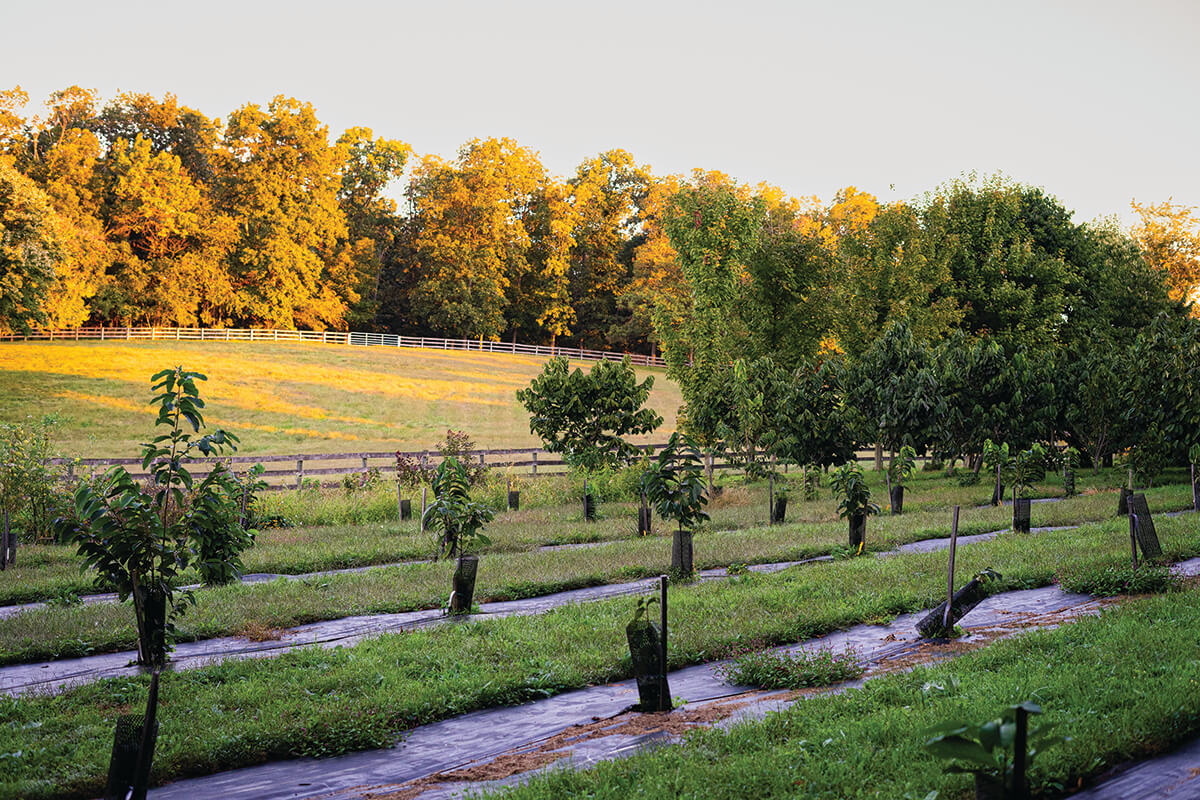 In the Mid-Atlantic region of North America, a variety of native fruit abounds. There are persimmons and crabapples and beach plums and a plethora of wild berries. But tucked beneath the sentinel trees of the Eastern Seaboard—the oaks, the walnuts, the hickories—particularly in the alluvial soil found near water along streams and rivers, like the Susquehanna, the Gunpowder, the Potomac—it still comes as a surprise to many that this is where one can find the largest edible fruit that exists in all 50 states.
"The pawpaw is an anomaly in so many ways," wrote food historian Michael Twitty in the foreword of the James Beard Award-winning Pawpaw: In Search of America's Forgotten Fruit, written by Pittsburgh reporter Andrew Moore. "It's a tropical tree in a temperate landscape that thrives in the understory rather than transitional zones on the forest edge or in open fields. It's a slow food that we wish came faster, but unlike the rest of the plant kingdom, it stubbornly demands its devotees retain their patience and sense of seasonal novelty."
And that intrigue is age old.
It is thought that the origins of the pawpaw, or Asimina triloba, date back to as many as 56 million years ago, perhaps around what is the modern-day border of Mexico. Over the eons, with the help of ice ages and the epoch's megafauna, the fruit made its way up the continent, now native to as many as 26 eastern states, discovered fossilized in present-day Pennsylvania at the earliest known site of human presence here.
Pawpaws served as a common sustenance for Native American communities—from the Iroquois to the Shawnee to the Cherokee. They also fed the earliest European settlers in Jamestown, fueled Lewis and Clark expeditions, sated former presidents like George Washington and Thomas Jefferson, and likely nourished enslaved African Americans fleeing on the Underground Railroad. They have become canonized in folk songs, as well as works of literature by the likes of Walt Whitman and William Faulkner.
These days, much of the pawpaw's common and cultural knowledge has become little more than little-known history, lost over time as American society moved away from the land. In the late 19th and early 20th centuries, attempts to domesticate pawpaws through selective breeding, as done with apples and peaches, never got far. But there are still towns that bear their namesake in the likes of Pawpaw, Kansas, and Pawpaw, Michigan, and it is in the heart and the foothills of the Appalachian Mountains where the fruit's roots truly remain.
"PAWPAWS CAN CONTEXTUALIZE WHERE WE ARE, AND THE TIMELINE OF AMERICA."
In Maryland, which cuts across those highlands, there are pawpaw festivals from Harford to Frederick counties, while the largest commercial pawpaw farm exists in Carroll, featuring more than five acres and 1,000 trees managed by Jim Davis at Deep Run Orchard. On top of that, most of the pawpaws sold today—on restaurant menus, at farmers markets, on site at farms like Two Boots—are likely the progeny of cultivars, aka varieties, invented on the Eastern Shore, at the University of Maryland Wye Research and Education Center (albeit by a West Virginian, Neal Peterson, known by many as Johnny Pawpawseed). In the wild, too, pawpaws grow all around us.
"You have to look up, rather than down, but once you see one pawpaw tree, you're going to see a lot of them," says Chris Amendola, a master forager and chef of the fittingly named Foraged in Station North, referring to the fact that the trees, which spread via a sprawling root system, often appear in patches. "I know spots where I can just reach up and grab them. In other instances, I shake the tree, cover my head, and try to not get knocked out."
On a July walk through local woods—some foragers keep their locations close to chest—dozens of wild pawpaws of varying heights rippled through the forest switchbacks, their large leaves, sometimes more than a foot long, being the first and most obvious clue that you've found them. Looking up, it's a lucky day, as fruit hangs from the spindly limbs like earrings, almost camouflaged by all the greenery, as if both hiding from and reaching toward the sun.
Like ramps and morels, stumbling upon a pawpaw grove is a bit like finding buried treasure. And every autumn, the cult of pawpaw emerges—a weird, wonderful, mixed bag of interested parties—on the hunt for this forgotten fruit.
"This crowd is dedicated," says Two Boots' Kutnick, his eyes lighting up beneath hip glasses. "There seem to be a lot of people who have an intense level of curiosity and interest—and we were the same way, enamored by this whole thing."
Some are foodies, either eager to try a new ingredient or hip to the last decade's locavore food movement, which has increasingly, with a boost from the coronavirus pandemic, included an appreciation for wild foods. Others are old-timers, who used to eat them, or multi-generational residents, whose grandaddies or great-grandaddies once had pawpaw trees of their own.
And perhaps biggest of all, there are chefs, who use their idiosyncratic flesh—sometimes mild, sometimes cloyingly sweet, with notes of vanilla and caramel and a soft, creamy interior like custard—for myriad recipes.
"Pawpaw bread, pawpaw pudding, pawpaw ice cream—all kinds of stuff," says Foraged's Amendola. "People say it's like a mix between a banana and a mango."
"I would also call them polarizing," says Zack Mills, executive chef of True Chesapeake Oyster Co. at Whitehall Mill, who features an annual pawpaw sorbet. "There are definitely some servers here who don't like them at all."
Most of the initiated prefer to eat them raw—chilled, split open with a knife, and dug into with a spoon—but some dislike them cooked or dried, which can at times yield a funky or bitter flavor. Others still have reported feeling sick afterwards. The skin and seeds are considered toxic.
"I personally don't think they taste good," says Joan Norman of One Straw Farm, which has a small pawpaw grove and occasionally sells them to local restaurants. "But it's a native plant and that's wonderful. We throw the fallen fruit to the edge of the woods, hoping they'll repopulate."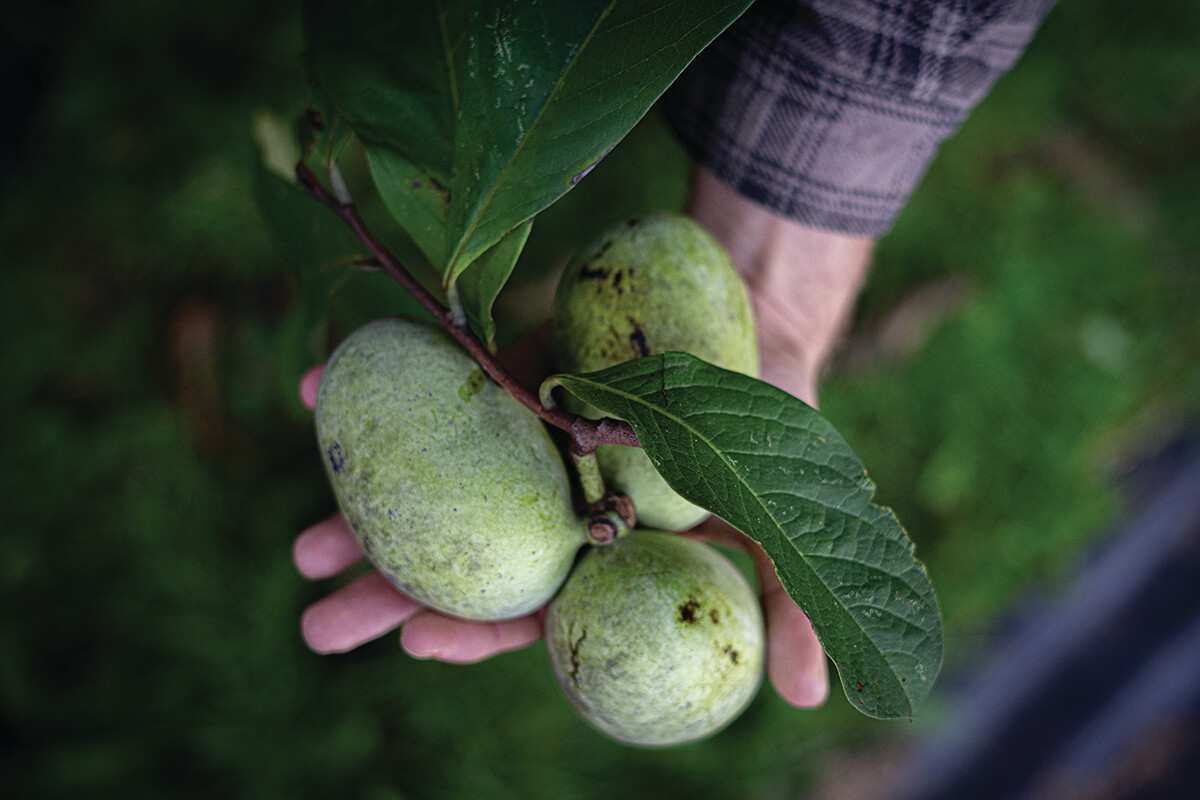 In the culinary lexicon, delicacies are often our most ephemeral foods—those difficult to come by, still so tied to the whims of Mother Nature—and with pawpaws in particular, blink, and you miss them.
They arrive for just about 30 days each autumn before they're gone again; one minute, a tree is full of unripe fruit, almost ready to be picked, and the next, it has fallen to the ground, that beautiful smooth inside already on its way toward becoming mush. Which is why, every year, at the exact right moment, it is a mad dash to make the most of the fruit's abundant harvest.
Just a stone's throw from his mentees at Two Boots, Jim Davis of Deep Run Orchard in Westminster sells more than three tons, or 6,000 pounds, of pawpaws each season.
In early spring, the branches blossom, with their maroon flowers requiring pollen from genetically diverse trees to cross pollinate, using the help of unlikely insects—not bees or butterflies, but carrion flies and beetles, typically attracted to decomposing meat (for this reason, some farmers are said to hang roadkill in their trees). They also need the right amount of sun, with some shady groves surviving fine but never bearing fruit. If all works out, before too long, the first sets will start to appear by the month of May, growing steadily throughout the summer, arriving just before the fall equinox.
Around this time, Davis' crew will begin to pace the aisles across his hilltop. They'll clean out the walk-in cooler for fruit storage. They'll prep boxes for shipping. They'll wish away bad weather that can break the brittle branches laden with fruit—typically larger and less seedy than that which grows in the wild. They wait for the first whiff of a ripening pawpaw, and then, quite literally, they feel it.
"It's a gentle squeeze," says Davis, who, like most pawpaw growers, harvests each fruit by hand. "If it gives, if it leaves a dimple, that means they're almost ripe," which is the perfect time to cut them. If picked too early, they'll never turn.
The lifelong naturalist first learned of pawpaws during a forestry class in college, but it wasn't until he met the aforementioned Johnny Pawpawseed that he fell down the rabbit hole, buying this land in 1996.
"At the time, about 99 percent of the country had no idea what a pawpaw was," says Davis, who used to ship his fruit to boutique grocers but now sells most of it at an increasing number of pawpaw festivals around the country, as well as to distilleries and breweries, like Checkerspot Brewing in South Baltimore, which makes a seasonal pawpaw beer.
"It's amazing now the number of people who call looking for them," says Davis, remembering one woman from the Midwest whose mother's dying wish was to eat one last fruit, which he sent to her for free. "These days, though, you can go on the internet and spend a whole day reading about pawpaws."
Here in Maryland, part of that education is thanks to outdoor and environmental groups like Baltimore City's Department of Recreation & Parks.
Pawpaw trees thrive in nearly every public park around Baltimore, from Gwynns Falls-Leakin and Druid Hill to Gunpowder Falls and Patapsco, and the city's TreeBaltimore program is working to add even more of them to local forests, with plantings taking place in greenspaces such as the Herring Run, Clifton, Patterson, and Stony Run parks, as well as the Woodberry Woods and Cylburn Arboretum.
Some of this work begins with urban forester Ted Martello, who also propagates saplings from the seeds of locally harvested fruit. At TreeBaltimore events, attendees have been encouraged to eat them and then spit those large, black, lima bean-like specimens into a communal bucket, which Martello then collects, places into wet sand inside Ziploc bags, stores in a refrigerator until November, then sets out into a garden bed, growing an average of 50 pawpaw plants a season.
"Trees and plants that are indigenous to our region are going to be better for transplanting, maintenance, and survival," says Martello, noting the ease of starting pawpaws from seed.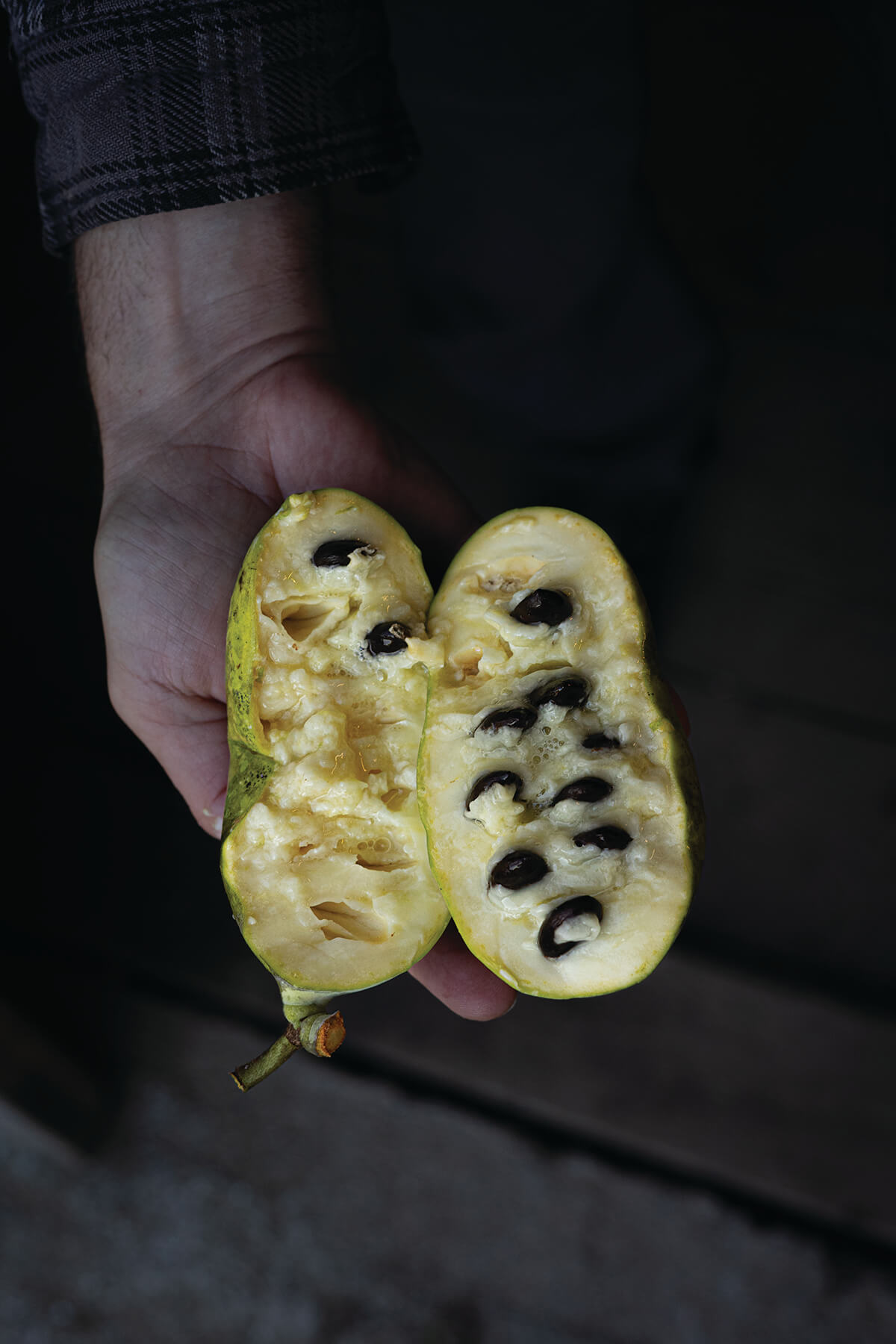 That's part of his mission—spreading not only the gospel of the pawpaw, but native species in general. These young trees are eventually given away to city residents who become the next stewards in their backyards and community gardens. He recommends planting them in groups with full sun, plenty of room, and when possible, as understory in local woods that were logged in the last century to help yield a more diversified tree canopy. They are also relatively resistant to deer, pests, and disease, allowing them to grow organically.
"I tell my Boy Scouts, you can plant tomatoes all you want, but if you're only going to plant one thing in all your life, plant an oak, because it supports 400 species of native caterpillars, [which] have digestive enzymes that can only feed on those plants," says Martello. "I know that's also the case with pawpaw. The importance of native species is going to help provide habitat for insect populations which then gets passed along higher and higher up the food chain." Squirrels, raccoons, foxes, and bears have all been known to eat the fruit.
Of course, at the top of that food chain, there may be no creature that loves the pawpaw more than its human fans, like Jenny Moon Tucker. Last fall, as lead jam maker at Atwater's, she made more than 800 jars of the stuff using nearly 1,000 pounds of pawpaws, most of which came from Two Boots.
"It's messy and time consuming, but also fun and hands on," says Tucker. "You're squeezing the pulp off the seeds and your arms get covered in this sticky paste and your skin is super soft afterwards, like you just had a beauty treatment. It's a super food, really, with lots of Vitamin C," plus minerals like zinc, iron, potassium, and other antioxidants.
But despite their wonders—researchers have also studied their cancer-fighting properties—pawpaws are still generally hard to come by, rarely if ever found at supermarkets. And it might be their very nature—a short shelf life, intensive processing for seed removal, fragile consistency that makes them difficult to store, ship, and sell to the masses—that will save them from becoming the next fad fruit. The new pomegranate or açaí.
For that, for now, the future of this millennia-old fruit remains a mystery. Will they become too popular? Will the interest last? Or are they simply destined to be a thing of the past? After all, they've already almost been lost to history.
If Tucker had her druthers, they'd be here to stay.
"People have this magical experience with pawpaw," she says. "It makes you sentimental. It connects us to older ways. It can contextualize where we are, and the timeline of America."
"I feel really grateful when I get to work with them," she continues, "to know that it's making people more aware, even just of the food they're eating. It's an opportunity to educate, about what can be lost if we don't pay attention."