WYPR's Groundbreaking 'Radio Kitchen' Celebrates 20 Years
With more than 1,000 episodes in its archives, the culinary program hosted by Al Spoler and Jerry Pellegrino is still going strong.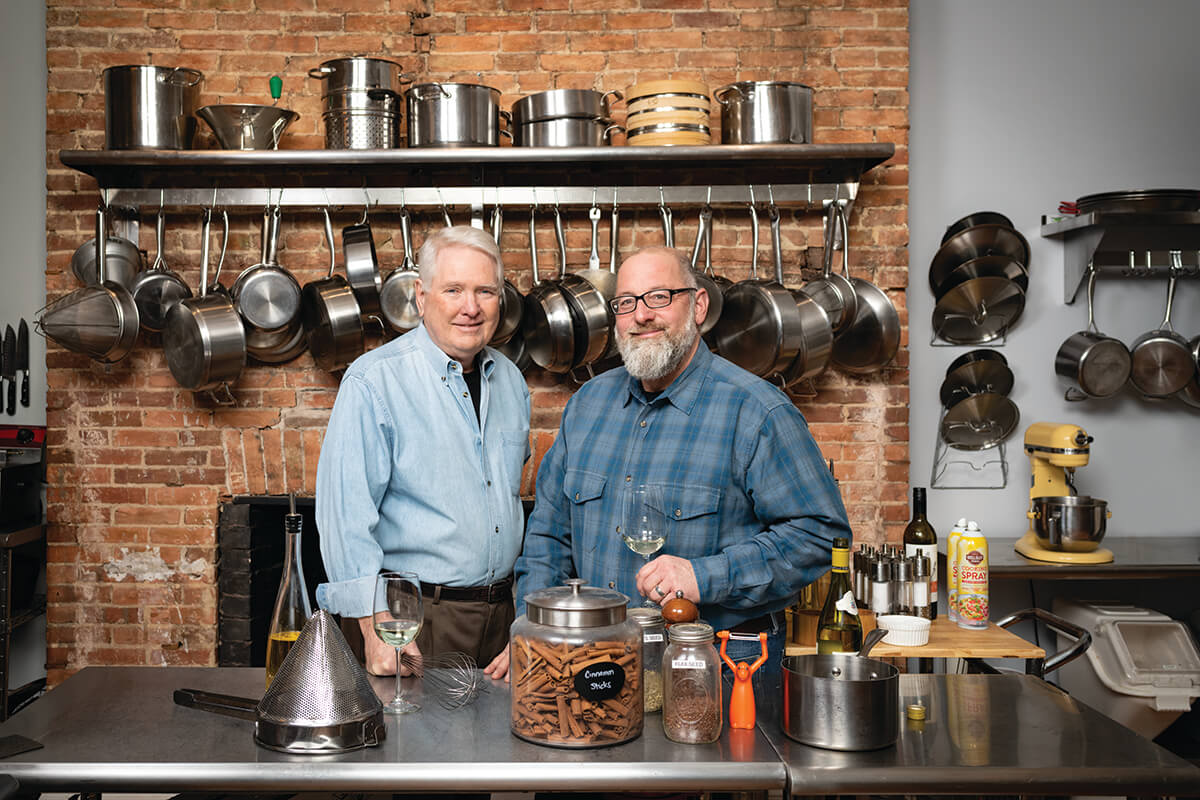 Twenty years ago, Al Spoler, a veteran director at Maryland Public Television and the long-running co-host of "Cellar Notes," a weekly wine and beer review on what was then WJHU-FM, pitched the idea of doing a cooking show for the public radio network. While the concept of talking about food on the radio was a novel one, its time had come.
Ever since Julia Child picked up a rolling pin for her famous The French Chef, cooking shows have had a place on TV. In fact, Spoler himself worked on two shows with famed French chef Pierre Franey. But home cooking had recently gotten a boost, thanks to the then-fledgling Food Network.
"There was an increased interest in home cooking," recalls Spoler. "And in America—or at least the Mid-Atlantic—everything was up for grabs. You could dabble in any cuisine you wanted—the whole world was our oyster."
Also fueling the public's passion, locally at least, was the fact that Baltimore's culinary scene was just starting to sparkle, thanks to the talents of local chefs like Nancy Longo of Pierpoint in Fells Point, brothers Spike and Charlie Gjerde of Spike & Charlie's Restaurant & Wine Bar in Mt. Vernon, Cindy Wolf and Tony Foreman, who had the fine-dining Low Country cooking spot Savannah in Fells Points, and Jerry Pellegrino, who taught the public about wine pairings at his Federal Hill restaurant Corks.
"There were the steakhouses and Martick's and Haussner's and Maison Marconi that was the old-school continental, but we were the new kids in town," says Pellegrino. Adds Spoler, "There was a whole young generation coming up. It was a pretty happening time—there was just lot of talent in Baltimore kitchens in those days."
In fact, Spoler, who, at the time, was part of an exclusive men's cooking club called the Cork and Fork Society, was a talented cook in his own right. "Every six weeks, we'd have a formal black-tie dinner and some of the members would do the cooking," he recalls. "I had a few friends in Federal Hill who were really good home cooks—and they inspired me."
One of those friends was not just a home cook, but a professional chef. That was the larger-than-life Pellegrino (who once famously made Julia Child a crown of corks when she stopped by for a meal at Corks). As Spoler thought about his concept for the show—in which an everyman learns how to cook from an expert—he decided to tap the talents of Pellegrino and cast him in the role of mentor.
"I knew that I couldn't possibly pass myself off as the expert," says Spoler. "I'd have to be the stand-in for the everyman. It was such a lucky thing that Jerry was up for doing it—he's the soul of affability. I thought he'd be the expert and I'd be the ambitious home cook or student who wanted to learn more. I felt that was a good role for me and that was a good use of his talents."
When Spoler pitched the idea to Andy Bienstock, vice president and program director at WYPR (which purchased WJHU in 2002), Bienstock gave it the green light. "Because of 'Cellar Notes,' we already knew that Al could host his way through a discussion of things that are more sensory than just words," says Bienstock. "We had a pretty good hunch they'd be able to pull it off, and once we met Jerry, who brought his enthusiasm, we knew it couldn't fail."
The whole concept of having a radio segment made total sense to Spoler, who also co-hosts Maryland Public Television's "Maryland Farm & Harvest."
"It was only four-minutes long and we could give you little nuggets of information," he says. "What I always envisioned is that 'Radio Kitchen' would whet your appetite—it would get you salivating. If we did a good job, people's mouths would be watering as they listened to our show."
Their first show in 2002 was a lesson on how to make Maryland crab cakes. ("Make the mayo from scratch for a thicker consistency. And to avoid filler, add dry mustard powder to avoid moisture, plus pan-fry them with oil and add chunks of butter to the pan," says Pellegrino, recalling what they told listeners at the time.)
About a week before the show, the duo got together at Pellegrino's Federal Hill home to test the recipe they would discuss on the show. (Until the pandemic, that was their standard operating procedure.) "We whipped up some crab cakes and they were really good," recalls Spoler, "so that became our first show."
"IF WE DID A GOOD JOB, PEOPLE'S MOUTHS WOULD BE WATERING AS THEY LISTENED

TO OUR SHOW."
"The crab cake was the most obvious starting point," says Pellegrino, who adds that what made it a great show is that crab cakes, in their own way, are controversial. "If you have 10 Marylanders in a room, there are 12 different crab cake recipes—and they're all the best."
And so, "Radio Kitchen" (which one of their friends joked should be called "No Lookin' Cookin'") was born. Twenty years later, with more than 1,000 shows in the archives, it's still going strong. To date, the show—which still airs during drive time at 8:40 a.m. on Tuesdays—reaches listeners in the Eastern Shore, Western Maryland, Southern Pennsylvania, and Northern Virginia.
"A lot of people tell me, 'If I hear you, I'm late to work,'" says Pellegrino with a laugh. "They'll tell me, 'I'll sit in the car until the show is over before I go in to work.'"
In addition to hosting shows on techniques like sous vide and braising, the duo will teach listeners how to make items both savory and sweet or focus on how to use local produce or find the best buys at area farmers markets.
"They do a terrific job of making things simple," says Bienstock. "They explain recipes as well as you can explain a recipe, they talk about things with a lot of imagination, and they make everything sound like fun, which is really important."
Of course, as the food scene has evolved, and listeners have become more sophisticated, the show has evolved, too. "In the beginning, lettuce was iceberg, not mesclun or, God forbid, arugula," says Pellegrino. "Now we can do a whole show on spring lettuces. And no one knew what heirloom vegetables were—everyone thought that a tomato was supposed to be perfectly round and red and taste like Styrofoam."
Ask Spoler to name his favorite episode, and he says he likes them all, but when pressed, he looks at a piece of scrap paper where he has jotted down notes to jog two decades of memories. In February 2016, the duo did a show about beef Wellington, which Spoler learned to perfect from watching a tutorial from the Food Network's Gordon Ramsay. "If there's a dish I want to learn, I'll do a show on that," says Spoler. "I do a lot of research and come up with the idea and then try it. Gordon Ramsay is an excellent video teacher. I watched his technique and it turned out really well."
The globetrotting host has also been influenced by his travels. "I was down in San Juan a number of times," says Spoler, "and there's a Cuban dish made with flank steak called churrasco, which I really love, especially the way they do it down there with a nice wood-fire grill. It's a really thin cut of meat heavily peppered, and then you have chimichurri with it and black beans." Of course, it inspired an episode.
For his part, Pellegrino, who co-owned the Mt. Vernon cooking school Schola until recently, often drew inspiration from whatever cooking lessons he was giving his students, from Mexican food to Italian fare. He also fondly recalls the hot dog tasting episode in which the men boiled and taste-tasted eight different brands. "Hebrew National was the clear winner," says Pellegrino. "It was either that or Nathan's," clarifies Spoler.
Occasionally, an episode has caused a stir. "The one that caused a big controversy was the chicken pot pie show," recalls Pellegrino. "I got stopped at Cross Street Market and yelled at. People were up in arms that I thought it was okay not to have a bottom crust if you didn't want to. We got some hate emails from that one."
Watching the two men together, it's clear that the bond is brotherly, though their personalities are as disparate as their backgrounds: Spoler is professorial, with every word weighed and measured, and he's fond of phrases such as "for heaven's sake." Pellegrino shoots from the hip, tends to speak more colorfully (peppering his speech with the occasional swear word), and is the radio equivalent of the class clown.
Pellegrino's mom was Sicilian, and his dad was from Naples. "I come from a mixed marriage," he says with a laugh. "We had dinner together every night. My mom and grandma and grandpa cooked, and food was important to us as an Italian family. Wine was important, too, but not fine wine. Dad would drink Gallo Burgundy out of jugs." Before opening Corks and becoming a radio co-host, Pellegrino was a dissertation shy of earning his PhD in molecular biology from Johns Hopkins University.
Spoler, who holds a master's degree in broadcasting from Boston University, had worked in communications for the entirety of his career and won an Emmy for his 1996 special on the Morgan State University Choir's Silver Anniversary show at the Joseph Meyerhoff Symphony Hall. Unlike Pellegrino, he did not come from a foodie family. Living on his own after graduate school, he asked his mother for a copy of the iconic Joy of Cooking.
"I promised myself when I moved into my own apartment that I was never going to have a TV dinner," he says, "I would cook my dinners and I stuck to that."
Perhaps their differences can best be illustrated by their varying views on avocado toast. "I get it at The Center Club all the time," says Spoler. "It's one of my go-to lunch items." "I have no interest in anything avocado," says Pellegrino. "They are oily, useless pieces of Keto diet crap."
While the two men work best when they're riffing with each other, they actually haven't been in their small WYPR studio on North Charles Street in Old Goucher since March 2020. These days, the pandemic has forced them to record into their phones and send in the audio files to their longtime senior producer Bob White for editing. But even with this new production method, they haven't missed a beat.
"I like to call their show 'Theater of the Mind,'" says White. "Their personalities and their knowledge of food and drink sells them and explains why the show has been on for so long. People enjoy the camaraderie between the two of them. They play off each other so very well and they're never at a loss for words—sometimes there are too many words though to fit what they do into a five-minute show, which is actually four minutes long, not including sponsors."
And it's a good thing this new telephone method of recording the show has gone off without a hitch, because in 2020, Pellegrino and his wife, Erica, left Baltimore, moving to a 13-acre farm, Strickland Hollow Farm & Distillery, in Meridale, NY. (On the farm, they distill gin and grow apples for brandy-making and hard cider, and keep rare and endangered species, including Soay sheep, exotic chickens, and Toulouse geese, plus two chihuahuas named Mela and Isabella.) For Spoler, home is his 100-year-old rowhome in Lake Montebello with his wife, photographer Vickie Gray.
So, after all these years, what grade would Pellegrino give his co-host "apprentice"? "I give him an A-plus," says Pellegrino. "I learn as much from Al as he has learned from me."
And what would Spoler give Professor Pellegrino?
"Jerry?" says Spoler smiling. "He has tenure for life!"