Rev. Dr. Heber Brown III Creates Black-Owned Food Systems to Reduce Food Insecurity
After 14 years, Brown recently stepped down as a senior pastor to work full time for the Black Church Food Security Network—a nonprofit he founded that connects Black churches and their gardens with Black farmers.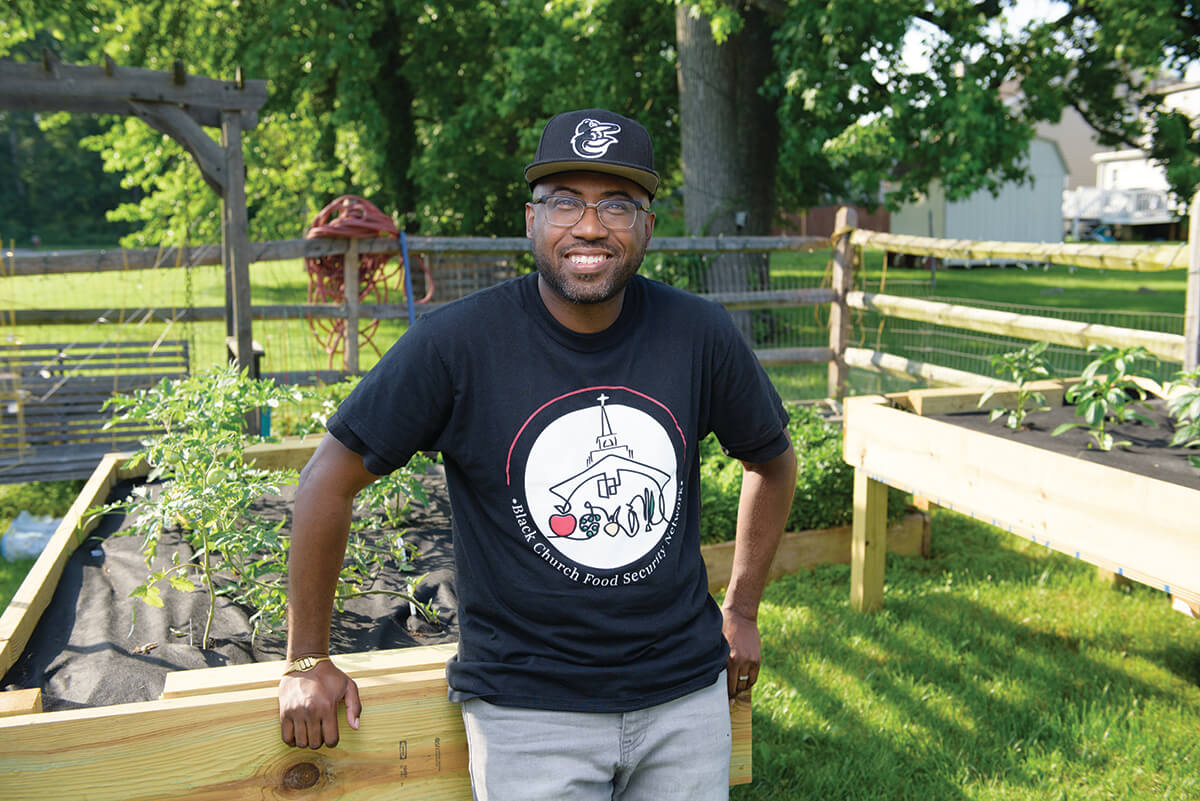 On the morning of his last day as senior pastor of the Pleasant Hope Baptist Church in North Baltimore, the Rev. Dr. Heber Brown III gave a rousing sermon, and then followed his congregation to the market set up outside called "Soil to Sanctuary," which he considers part of his ongoing ministry.
After 14 years, Brown, 42, stepped down in May to work full time for the Black Church Food Security Network (BCFSN), a nonprofit he founded in 2015 after the Freddie Gray Uprising that works to connect Black churches and their gardens with Black farmers to create local, Black-owned food systems. Nearby is the church garden where the first seeds, literal and metaphorical, of the BCFSN were sown, now filled with fruit trees and raised beds in the shape of a cross.
"It started here, in this garden—paying attention to how the church gravitated toward the garden, and the ways that we weren't addressing people's needs," says Brown, a Baltimore native and Morgan State, Virginia Union University, and Wesley Theological Seminary alum who is the third generation of pastors in his family. "Not just the need for food, but the need to have a sense of agency in addressing their own challenges around food insecurity."
In 2010, Brown and his congregation started growing strawberries, corn, herbs, tomatoes, kale, broccoli, asparagus, and more in the garden, putting in peach and pear trees, and adding a greenhouse behind the church. He began working with other community gardens and noticed that Black congregations weren't part of that network.
"I found that African-American churches weren't even thought about when it came to addressing issues of food, faith, and health—in a majority African-American city."
Brown began making connections between congregations and farmers, sending trucks and bringing food from farms to urban church communities. As of early May, he expanded his ministry beyond Baltimore, bringing 125 churches across the country into the network.
"God has positioned me as a budding farmer, as a pastor, as an organizer, as a systems-thinker, to do something," he says. "We've been so disconnected from a more agrarian, land-based community for so long, Scriptures are going over our head, truth is going over our head," he adds, some of the passion that lifts his sermons filtering into his voice.
Now that he's no longer a full-time pastor, Brown has more time to continue visiting other communities, doing farm-raisings, launching and relaunching church gardens, hiring more folks at BCFSN, and building infrastructure—or identifying and reifying the infrastructure that's already there.
"Churches are everywhere, they become outposts instantly. I have offices all over the country, kitchens and land and classrooms. You bring energy and activity—and produce. It's already there," continues Brown, who stresses he has no intention of leaving the community that he and his wife and two sons have been a part of for the last 14 years. "It is a leap of faith for me; pastors don't do what I'm about to do. I'm leaving this one pulpit—my pulpit just got so big."