Review: Easy Like Sunday is the City's Newest Spot for Sweet and Savory Brunch Fare
The charming redo of the once-beloved Village Square Café in Cross Keys is a welcome addition to the daytime dining scene.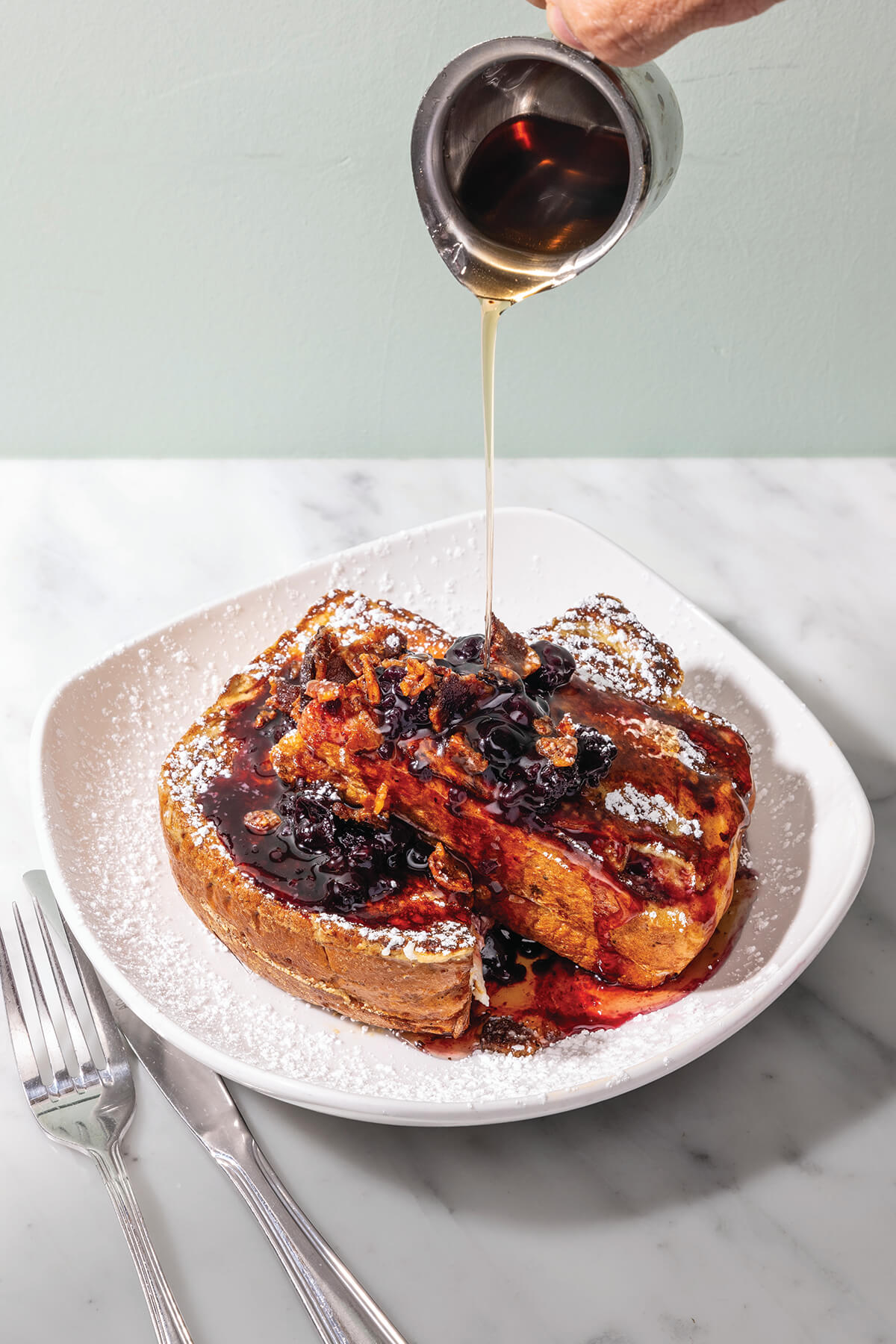 When Village Square Café in Cross Keys closed in 2021, loyal diners mourned the loss of a beloved neighborhood spot, turning to social media to share memories of good will and good food. Now, with a charming redo and a creative American breakfast, brunch, and lunch menu, Easy Like Sunday is hoping to re-create that sense of bonhomie.
If recent visits are any indication, the family-owned restaurant—named to capture the vibe of laid-back meals with dear ones and friends—is a welcome addition to Baltimore's breakfast scene. While sipping everything from espressos to morning cocktails, diners can sit back and relax inside or outside and sample eggs Benedict, stuffed French toast, crab melts, and more.
The cafe's owners—Sean MacCuish, who is the chef; his wife, Anna MacCuish, who handles the social media and marketing; and Antonios Kokolis, Anna's cousin and the front-of-house face—are no strangers to the hospitality business. They opened their Village of Cross Keys location in March after running a similarly named
operation in Charlotte, North Carolina.
The couple was drawn to Baltimore because Anna grew up here. (Her parents, Andy and Alexia Farantos, operate the long-running G&A Restaurant, now in White Marsh.) And when she and Sean started having children (Kingston, 2 ½, and Alexia, 1), they realized they wanted to be closer to family, so why not bring their brunch concept to Maryland?
The restaurant doesn't take reservations, and on sunny days, the umbrella-shaded tables on the patio are sought-after. But the serene, pale-pink-and-cream interior has its own pluses. One wall is covered with dried flower bouquets, and elsewhere in the space, baskets of ivy and a trellis of greenery create a verdant feel. A dazzling chandelier from a second-hand shop is a stately presence over the bar area. Sean, who is also an artist, fashioned the resin tables by hand.
If you're not in a hurry and can take the Easy Like Sunday name to heart, start your meal with a mimosa flight—a bottle of sparkling wine presented with three purées: Hawaiian (a mix of guava, passion fruit, and orange juices), passion fruit, and peach-lavender. Each flavor has its own seductions, though if you decide to order only a single mimosa, choose the Hawaiian one for its refreshing tropical flair.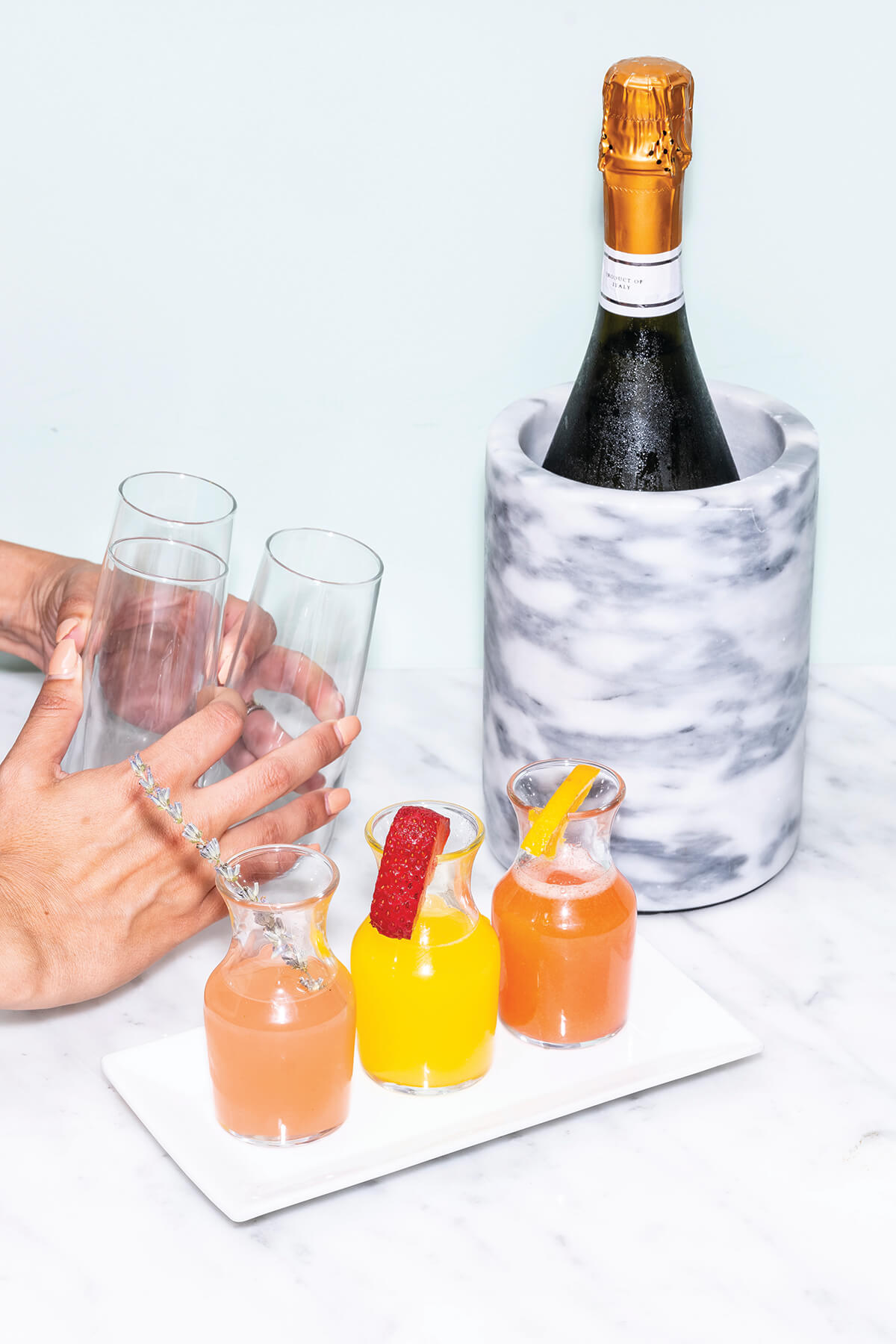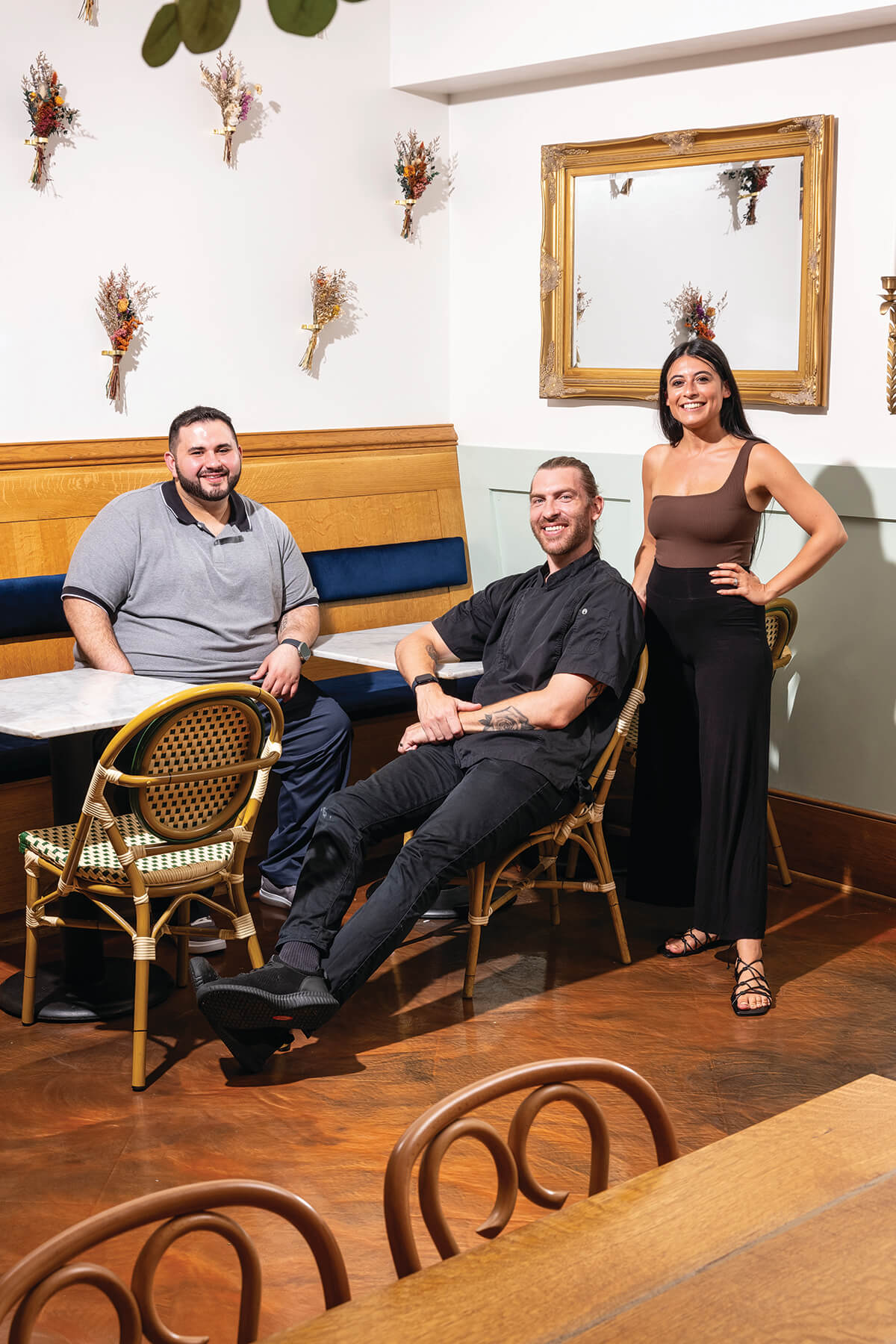 Sean, 38, who started working in kitchens as a dishwasher when he was around 18, learned his craft at various restaurants around the country. Since he and Anna often worked evenings, they enjoyed going out to brunch in their free time, eventually deciding to focus on daytime fare at Easy Like Sunday.
Their version has many high points. The succulent beef in the short-rib hash, which also showcases two eggs cooked however you want, pickled Fresno hot peppers, crème fraîche, and home fries, was so good, we couldn't wait to try the short-rib grilled cheese. It was a mouthwatering sandwich, with the slow-braised beef tangling with cheddar and goat cheeses in the best way.
If you're not into beef, at the other end of the menu spectrum, the vegan hash is quite satisfying, with sautéed vegetables, including mushroom, onion, zucchini, and spinach, over roasted red pepper potatoes and crowned with a tangy vegan cilantro-lime aioli and avocado wedges.
Another menu highlight is several eggs Benedicts, including a classic version with Canadian bacon. Baltimoreans will feel a visceral connection to the crab-cake Benedict on first bite. Two English muffin halves were lay ered with spinach, tomatoes, hefty crab cakes, and topped with poached eggs and a delicate hollandaise sauce. The Florentine Benedict, which had a nice amount of spinach and a touch of avocado, was lovely.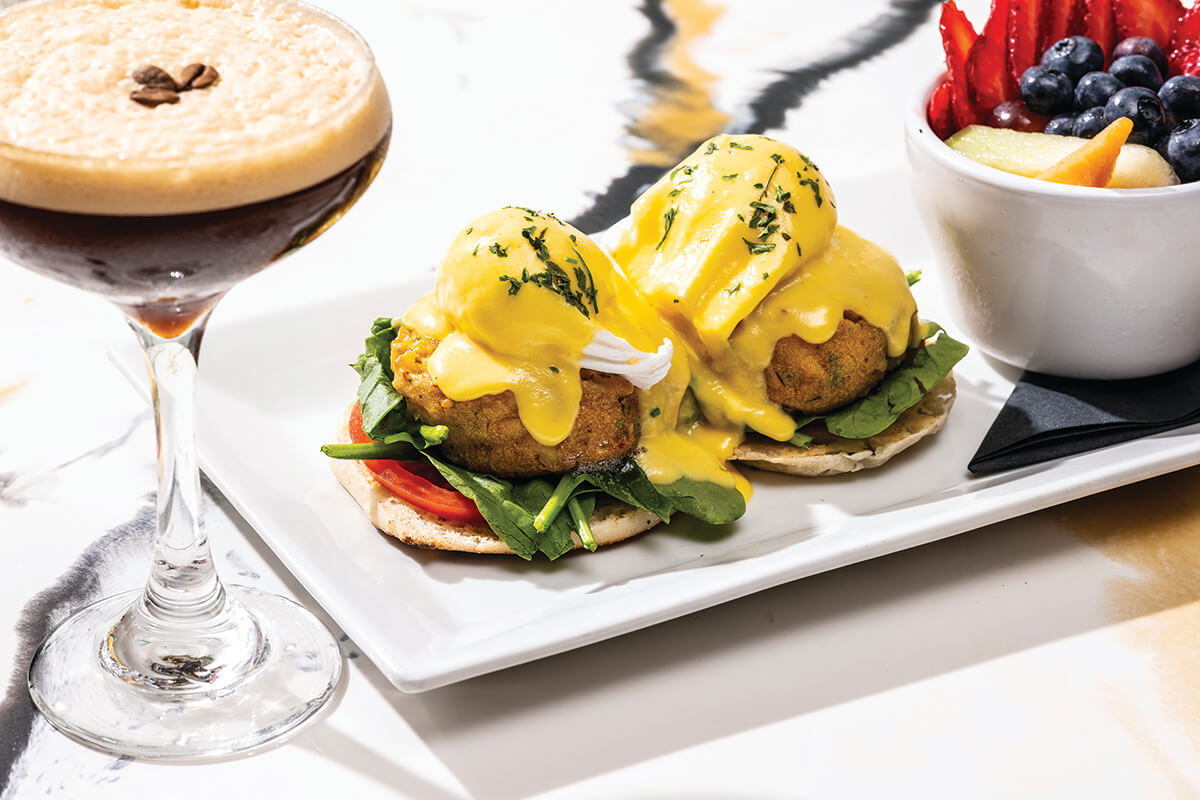 We didn't expect to be so captivated by a hunk of ground beef, but we succumbed to the brunch burger like a convert to a new religion. The juicy patty wooed us with its cowboy bacon (strips cooked with maple syrup and sprinkled with red peppers flakes and brown sugar), over-easy egg, white cheddar cheese, and avocado chipotle slaw on a brioche bun.
There's also a lovely twist on chicken and waffles. Here, it's been reconfigured into buttermilk-fried chicken tenders and cornmeal pancakes. Peach-habanero jam, maple-cinnamon butter, and maple syrup give it a sweet-heat kick.
Not everything was up to par. The shrimp and grits was a soupy mess. The Cajun shrimp dish was overcooked, and the cheddar grits were drowning in sauce, though generous coins of andouille sausage were a saving grace. We had that dish on an afternoon when the restaurant was slammed, and it took almost 45 minutes for our food to arrive. We're chalking it up to growing pains, because service on several other visits was seamless.
But even on the restaurant's busiest days, the staff makes you feel relaxed and comfortable. Just like its name says.

EASY LIKE SUNDAY: 5102 Falls Road, Suite 66, courtyard, Village of Cross Keys, 410-701-9840. HOURS: Daily, 8 a.m.-3 p.m.; reservations not accepted. PRICES: Breakfast: $6.95-18.95 (crabcake Benedict, market price); brunch, $9.95-28.95; lunch, $12.95-17.95 (crab melt, market price). AMBIANCE: Charming, relaxed indoor and outdoor seating.