Review: Flamant
At Flamant in Annapolis, expect the unexpected.
There was a moment in our meal at Flamant when, suddenly, everything made sense. It came after several starters. The herb-crusted potato cakes looked so much like scallops—did we actually order these, we asked? And then there were the Maryland Blue crab rolls. We knew we had ordered those, but as we consulted the menu, we wondered, what was that unexpected floral flavor? Oh, it was a splash of gin mixed with Old Bay and ketchup in the dipping sauce.
Despite our ongoing confusion, clarity came just as our server put down a plate of what was listed as "Peas-Shrimp" on the menu, which he'd described as "salad," but, in reality, looked nothing like any greens we'd seen. "You're never going to get what you expect here," our server explained. Strangely, this helped clear up the confusion.
Indeed, this "salad," an edible homage to spring, featured a custard-like pea jelly (peas mixed with gelatin) ringed by pickled shrimp, whole snap peas, red shiso micro greens, and a warm, still-runny poached egg, which lent a silken texture. It was beautiful and delicious, which is pretty much all you need to know.
Everything about Flamant (the French word for "flaming," a nod to the fireplace in one of the dramatic dining rooms), situated along West Annapolis Street in a quaint, 65-seat cedar bungalow, takes you by surprise, including the structure itself. The restaurant is not what you might expect in this suburban stretch of Anne Arundel County, where chains and nautically themed restaurants rule. On the site of a former children's clothing store, Flamant has been transformed into a stylish dining den, with its sculptural mid-century Cherner chairs, black flatware, light woods, blue Spanish floor tiles, and airy, light-filled rooms.
Owner-chef Frederik De Pue hails from Flanders, Belgium, and honed his culinary craft working with Michelin-starred chefs including Alain Ducasse in Monte Carlo and Alain Chapel in Lyon, France. After coming stateside, he owned several restaurants in D.C., then opened this seasonally driven, chef-forward spot in the spring of 2017.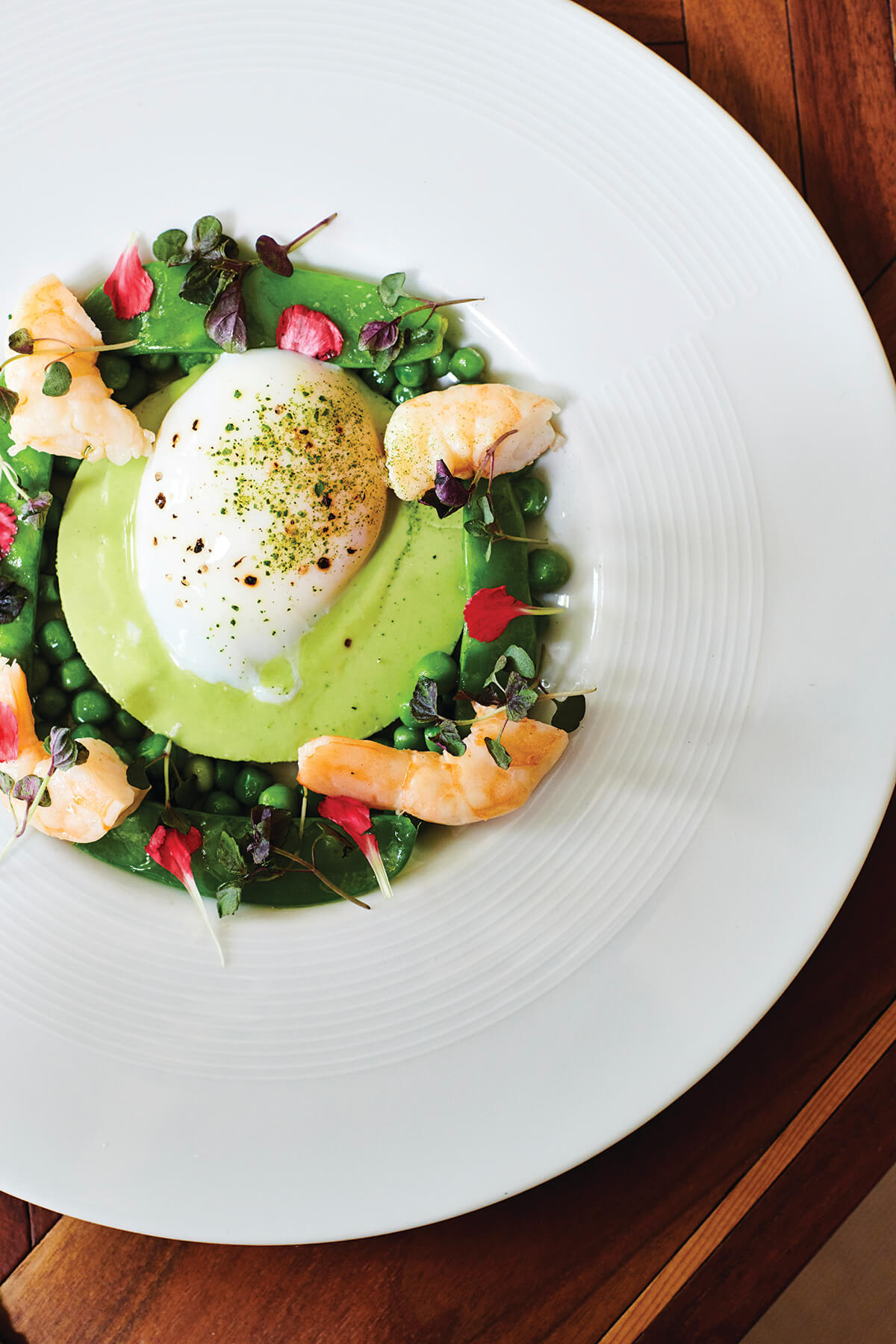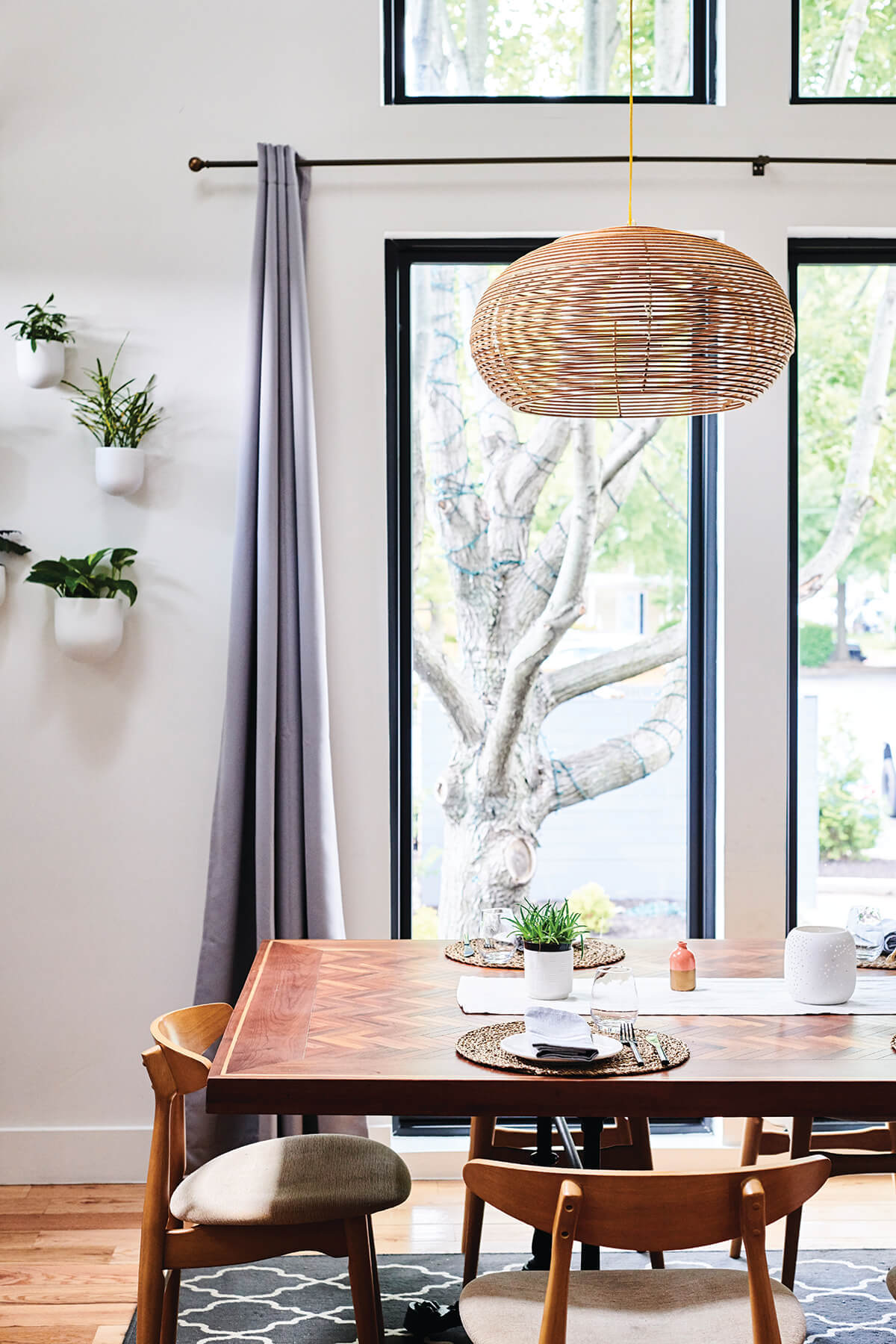 The peas-shrimp starter; the dining room. -Kate Grewal
The dinner menu, with ingredients sourced from local farms and fishermen, is concise (a sure sign that all ingredients are up-to-the-minute fresh—pulled from the sea and just arrived from field and farm), with six mains and about the same number of shareable snacks and starters. De Pue's dishes—innovative, flavorful, even celestial—are unlike anything you'll find on other area menus.
"Good food is the foundation of genuine happiness," the top of the menu reads. When you're quoting the father of modern French cooking, Auguste Escoffier, the bar is automatically set high.
Fortunately, De Pue delivers.
Flamant features classic, but edgy, European fare. His presentations are always artistic, which is not surprising given that De Pue draws his dishes on paper when he is developing recipes to help him visualize not only what's on the plate, but what flavors his combinations will yield.
Among the appetizers, something that might appear as charcuterie or a cheese plate on any other menu is listed as ricotta-feta custard here and turns up as crisp prosciutto "cups" served with a dollop of house-made ricotta and feta cheese and ripe cherry tomatoes exploding with flavor. A bowl of mussels swimming in white wine broth appears as if it rolled through a tangle of seaweed—actually threads of leeks and rosemary sprigs—on its way up the beach.
Entrees are equally appealing, both visually and from the standpoint of flavor. Among the most noteworthy on our visit was the luxurious riff on a burger. De Pue's version is a slightly sweet duck confit patty blanketed by the pungent addition of orange-blue cheese sauce. A slice of green tomato and arugula add, respectively, tangy and nutty notes. As with most of the menu, no detail is missed. De Pue pan sears the potato bun with butter and then steams it, which helps all of the ingredients stick together, thus ensuring perfection in every bite. The tarragon chicken schnitzel—thinly sliced cutlets stuffed with capers, parsley, lemon zest, breadcrumbs, and almonds and paired with potatoes and mushroom mousseline—is a delightfully deconstructed take on a German classic.
Even if you don't usually indulge, hold out for dessert. The turnover-shaped seasonal doughnuts, more like Belgian beignets, can count as a fruit serving here.
Ours were stuffed with local strawberries and rhubarb and accompanied by a dollop of house-made fromage blanc gelato, a satisfying way to end the meal. After cleaning the plate, we settled our check and headed out into the night, feeling fortified—genuinely happy, even. Somewhere, Escoffier is smiling.
---

FLAMANT 17 Annapolis St., 410-267-0274. HOURS: Tues.-Fri. 11:30 a.m.-2 p.m., 4:30 p.m.-10 p.m., Sat. 4:30 p.m.-10 p.m. PRICES: Snacks and appetizers: $9-20; mains: $20-35; desserts: $9-11. AMBIANCE: Cottage chic.