Review: Kajiken in Charles Village is the First U.S. Locale of a Japanese Abura Soba Shop
The international chain specializes in a thicker version of ramen noodles served with a variety of accompaniments and without broth.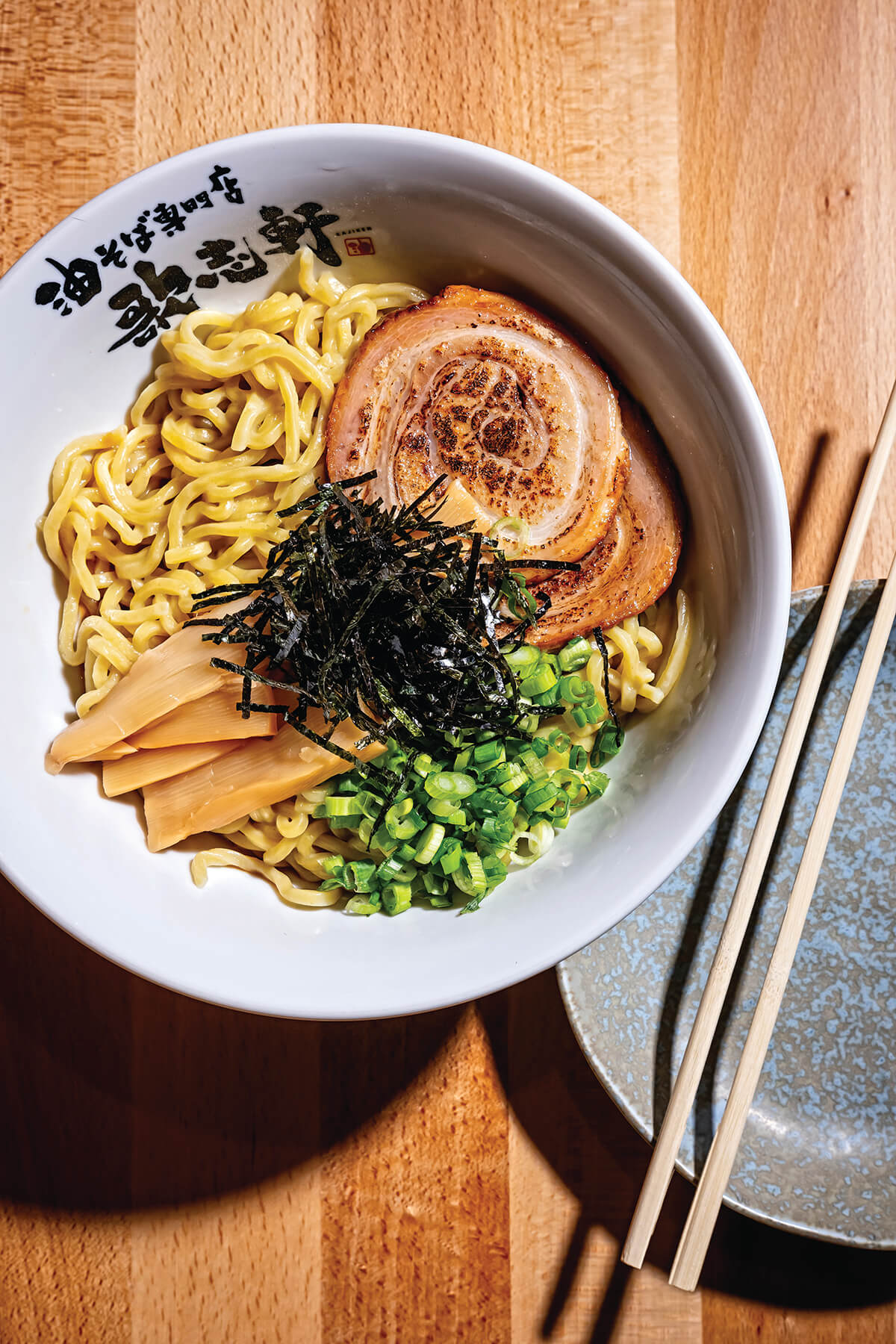 If you've never been to a ramen shop, the new Kajiken would be an excellent place to start. And if your idea of fun is a big bowl of noodles drenched in porky goodness, you have someplace to be.
A long counter bar fronts the stoves, helmed by cooks tending vats of boiling water. Low weather systems move above the pots, into which the noodles are dropped and lifted with impressive dexterity. The entire crew will call out as you enter and exit—cries of "Irasshaimase" (welcome) and "Arigato gozaimasu" (thank you very much) like cheerful incantations.
And then there are the bowls of noodles, in this case an iteration of ramen called abura soba or mazesoba, which is not soba at all but the thicker version of ramen noodles, served with a variety of accompaniments and without broth.
Kajiken is the first U.S. location of a popular Japanese abura soba chain that began in Nagoya and which now numbers some 100 locations worldwide. Ramen and its variations have been essential for a long time in Japan; tsukemen, or dip ramen, became popular about 10 years ago in American cities, and abura soba has also made the jump, especially to college towns.
This was the draw for Charles Village, with its Johns Hopkins students, many of whom on a recent day seemed to be busy eating noodles. Kajiken specializes in various toppings for those noodles, so you can experiment with things like mentaiko (fish roe), umeboshi (Japanese plum), and menma (bamboo shoots), or add what you especially like (tomatoes, cheddar, soft-boiled eggs) to make an idiosyncratic mash-up. This can be a lot, especially as the restaurant doesn't allow substitutions, and the abura soba versions—a basic, with chashu (discs of roast pork), menma, scallions, and nori; curry; carbonara; beef and onions; a cold version; and a vegan iteration—already come with plenty of ingredients.
You will be instructed to stir everything up with your chopsticks, as the absence of soup means that the tare, which is the concentrated sauce, has been installed at the bottom of your bowl. Be sure to dose your bowl with rice vinegar and chile oil, which give some extra flavor and, more importantly, a hit of acid to counter all the pork, pasta, and oil.
There are other items on the menu, notably more traditional tonkotsu ramen, made Hakata-style, as well as donburi rice bowls, and an impressive list of appetizers. Kajiken has very good versions of gyoza, or pork dumplings; and karaage, or fried chicken. And best of all, there is takoyaki, fried balls of dough embedded with octopus and topped with shaved bonito, curls of dried fish that wave in the heat and make the dish look disconcertingly like a terrarium. (Don't be deterred—it's delicious.)
There's no booze or hot tea, but there is salted plum soda, a sour-salty-sweet drink that's worth trying. There is also a surprisingly robust dessert menu, including ice cream, yuzu cheesecake, and wondrous slices of deep green matcha crepe cake. Your best bet is an order of taiyaki, a fried cake stuffed with adzuki bean paste and built in the shape of a fish. It's a common street food in Japan and the perfect conclusion to all those noodles.

KAJIKEN, 7 E. 33rd St., 443-835-4617. HOURS: Daily, 12-3 p.m., 5-9:30 p.m. PRICES: Small plates: $6-8.50; abura soba and ramen: $11-15.