Fish Out of Water
Minnow's seafood dazzles in Riverside.
Australian millionaire and real-estate mogul Tim Gurner recently shared some words of wisdom with millennials who are struggling to save for a home: Stop buying artisanal avocado toast. It seems like a piece of sage advice to the aspiring homeowner. Then again, Gurner never had the crisped-up creations with roasted tomato vinaigrette at Jake and Ben Lefenfeld's Minnow. If he had, he'd understand that renting has its merits.
In addition to the avocado toast, everything about this place is well worth the investment. The fare, prepared by former Foreman Wolf cook and Culinary Institute of America grad Drew Lesoveck, is high-quality, well-priced, and fuss-free. Situated in trendy Riverside, Minnow acts as a neighborhood place (we love that Jake, who lives within walking distance, knows the name of every dog who sniffs the sidewalk), but it's also destination dining as good, or even better, than many fine-dining spots in the city.
The nautical theme is in full force here with bait-fish lures set inside recycled sardine tins from La Cuchara (the owners' sister spot), fish-print pillows, and marine-blue touches—all of which invoke a modern-day Maryland seafood house. It's a motif that could easily become kitschy or overdone, but remains tasteful here.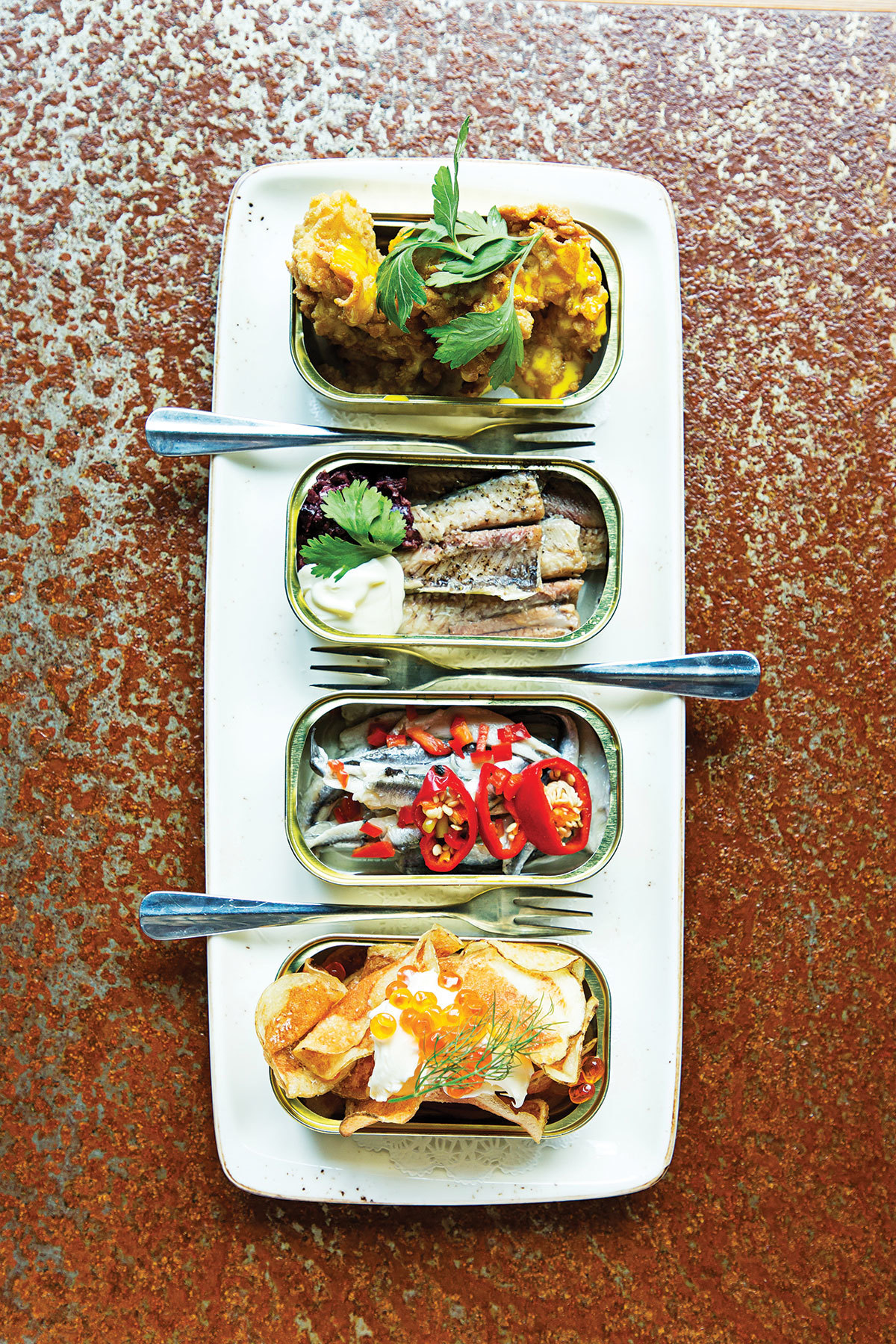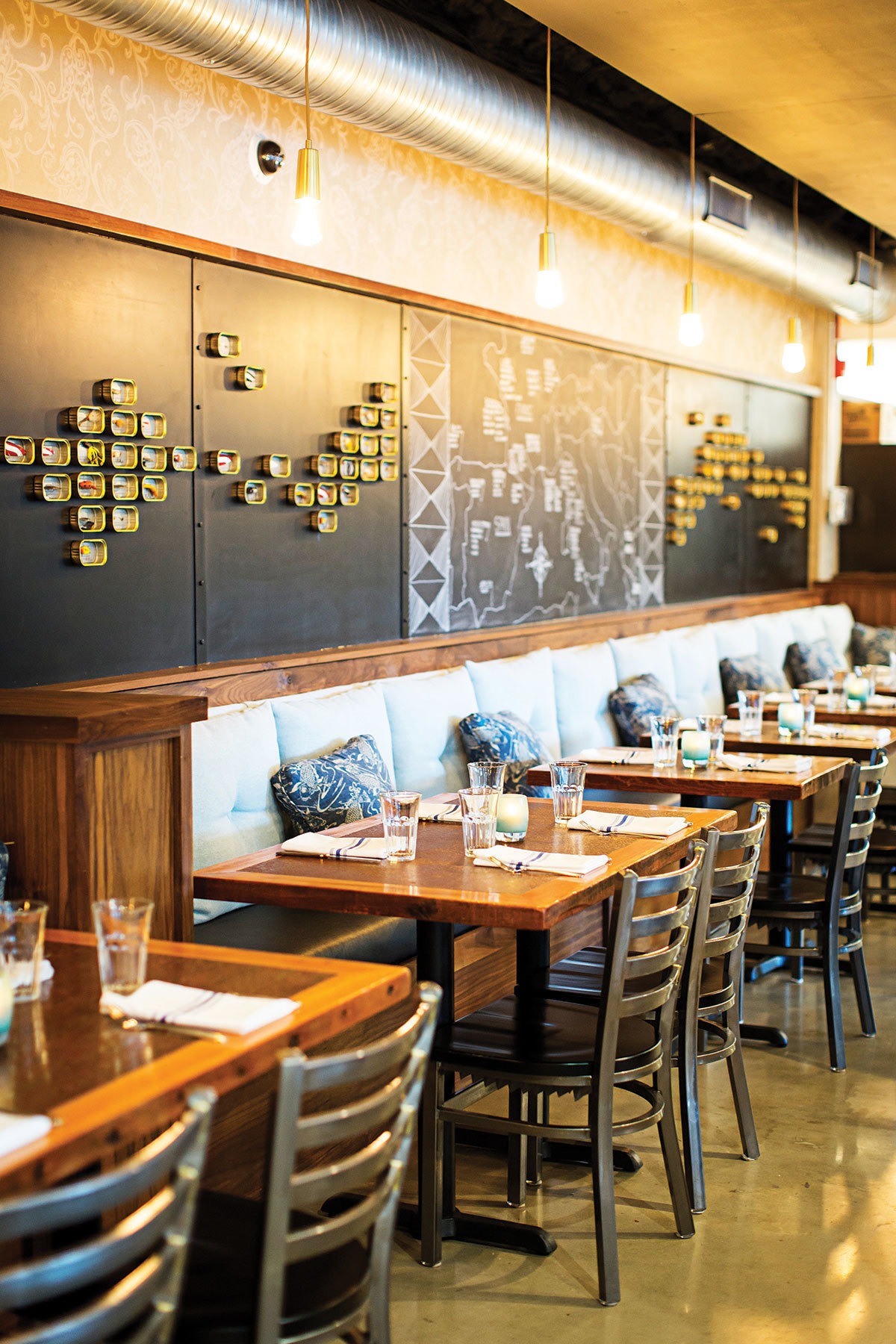 An assortment of sardines, the nautically themed dining room. —Scott Suchman
The highly approachable menu, with just the right amount of starters ("Smalls"), entrees ("Biggies"), and sides, practices similar restraint. Minnow's menu is heavy on simple seafood preparations, though, surprisingly, you'll also find several stellar vegetarian items, including a black bean burger with shredded beets and a flatbread festooned with lavender, asparagus, chevre, and zucchini.
Minnow offers a familiar take on seafood favorites, but they're done in a new way. Case in point: Another toast-forward offering is the crab toast—a fresh approach to a crab salad sandwich. It features an oversized scoop of Maryland's finest jumbo lump perched on a house-made slab of buttery brioche toast drizzled with a classic creamy Green Goddess dressing and served alongside a grilled plum tomato.
Other seafood stars include the best mussels I've ever had (and a ridiculous bargain for $5 at the daily happy hour). Sourced from Prince Edward Island, served in a ceramic white bowl, and swimming in a simple sauce of white wine, roasted garlic slices, and parsley, they were so tender they slid straight out of the shell with little to no nudging. A pile of first-rate frites, dressed in garlic aioli and plopped on top, were equally irresistible.
---
Crispy Tofu
In a sea of seafood, the crispy tofu seems like a menu anomaly and is easy enough to overlook. Go ahead and get it. It has been soaked in soy, garlic, shallots, and sesame oil for 36 hours, and is a great prelude to the menu's proteins. 
---
My dining companion and I also enjoyed the shrimp ceviche starter—a meltingly tender affair (soaked in lemon, lime, and orange juices) that seems to evaporate on the tongue and was accompanied by house-made chips for scooping.
Our "Biggies," included a first-rate plate of Baltimore coddies—two patties made of blended roasted potatoes and cod—that offered a bit of nostalgia with a modern twist. This version is prettily presented atop a bed of sauteed spinach and pea shoots, and basks in a citrusy and sweet orange beurre blanc.
Though instinct would tell you to stick with the treasures of the sea, the non-seafood entrees—including the tomato bisque with grilled raclette on house-made sourdough bread and a killer fried chicken with crunchy pickled cabbage and blue-corn waffles (the smell will make you salivate as you walk in the front door)—are eminently satisfying, too.
In keeping with the casualness of the place, the waitstaff is pleasantly low-key. Over the course of several visits, our servers were helpful without hovering and seemed well-versed on dish details.
The beverage program, overseen by Lefenfeld, is similarly stalwart. Cheekily named rum-, whiskey-, and bourbon-based cocktails are $10 a pop and perfectly put together. (F* That's Delicious—with Bulleit Bourbon, amaro, and cava—lives up to its name.) And if you don't mind a bit of restaurant rubbernecking, consider a trendy Old Fashioned that gets smoked tableside.
There's also a reasonably priced list of local beers and Mediterranean wines. In fact, at $8 a glass for a Spanish rose, you can order the $7 avocado toast and likely still afford a down payment on that one-bedroom loft in Riverside.