Review: Mona's Super Noodle Offers the Chicken Box of Your Dreams
Though the noodle dishes are all very good, what you're here for is the crunchy and succulent fried chicken—described as a Laotian take on the Baltimore classic.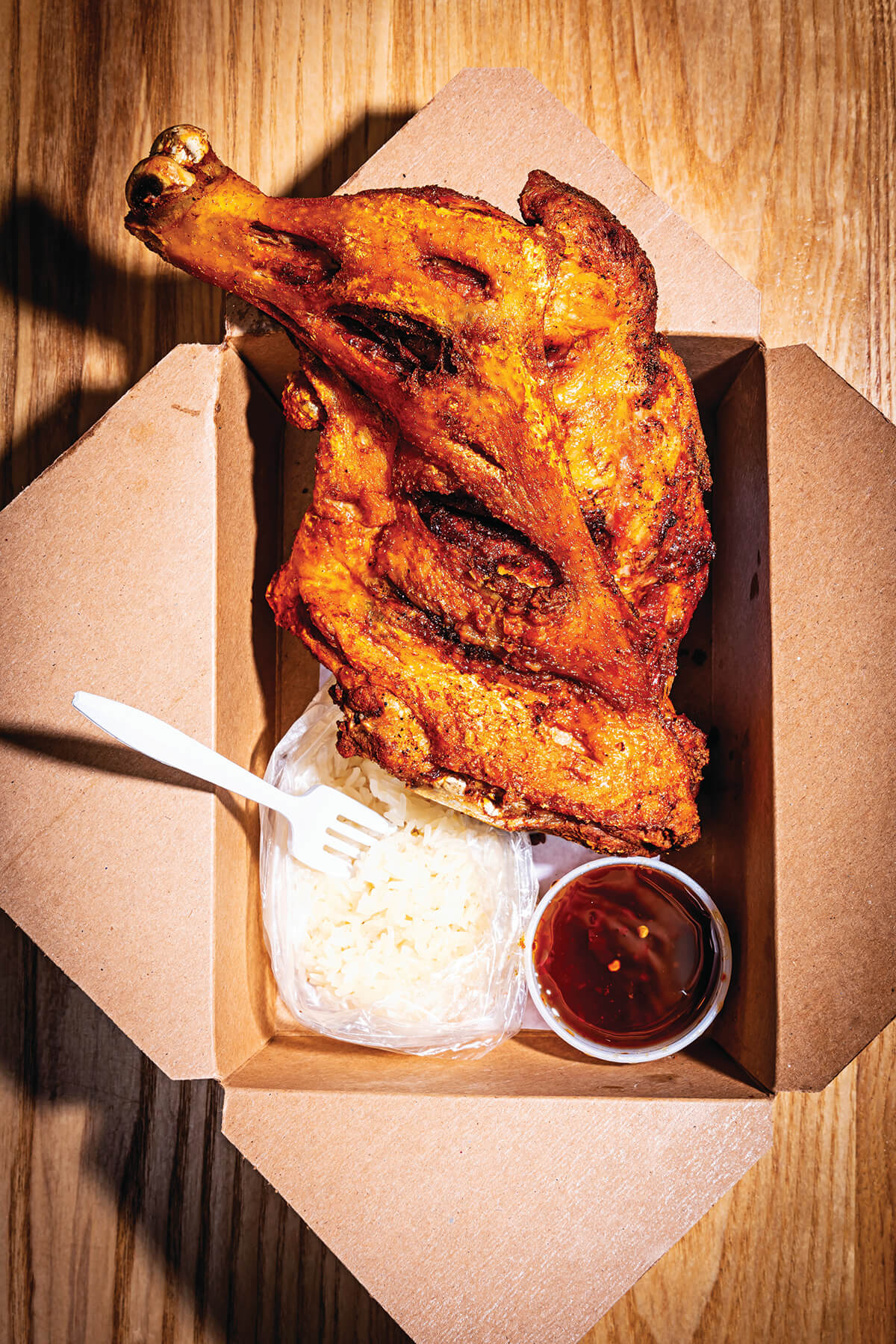 At Mona's Super Noodle, a light-filled cafe on Hampden's bustling 36th Street, you'd do well to order some noodles.
This shouldn't come as a surprise, given the name. There are plates of pad see ew, toothsome wide rice noodles winding around vegetables and mixed with an addictive sauce; slippery, spicy drunken noodles with Thai basil and more veggies; and versions of the ubiquitous pad Thai and chow mein. Then there's the pho, big bowls of rich broth and more noodles, variously loaded with beef, chicken, seafood, or more vegetables, all thatched with fresh herbs, jalapeños, bean sprouts, and wedges of lime.
This is deeply soothing stuff, well-orchestrated comfort food, made with bright flavors, carefully cooked ingredients, and many, many noodles. But owner Mona Kettavhong, who opened the restaurant in February 2021, has more up her sleeve. Though the noodle dishes are all very good, what you're here for is Mona's Chicken Box described as a Laotian take on the Baltimore classic. (If you're not sure what Kettavhong means by that, there's a Royal Farms a block up the street.)
Mona's Laotian fried chicken only comes in a box if you order it to-go, which you can do if you must. The best thing is to sit down, order some noodles, maybe a Slushie-like frozen Thai tea, and wait for your server to bestow upon you a plate of that burnished, impossibly crispy bird.
Made from a recipe she credits to her wife's mother, the chicken is a masterwork of texture and flavor, neither oily nor dry, but somehow both shatteringly crunchy and surprisingly succulent. Don't even try using utensils. Pull the golden bits from the bone, dipping them and nobs of the accompanying sticky rice into the bowl of house-made sweet-sour sauce. And if you've made the mistake of ordering your fried chicken to share, ask for another one before things get testy.
Kettavhong, who learned to cook from her grandmother, immigrated from Laos in 2007. The repertoire at Mona's Super Noodle, her first restaurant, isn't specifically Laotian, but a mashup of Southeast Asian recipes, including some from Thailand and Vietnam. In addition to all the noodles, and that box of chicken, there are irresistible curries, somewhat tame iterations of fried rice, barbecued chicken and beef, soups, salads, satays, rolls, and desserts in the form of fried bananas (pass) and mango sticky rice (absolutely). Kettavhong, who describes herself as "owner, chef, market, everything," wants to start making bánh mì and expand the dessert menu.
There are cocktails, beer, and wine. There's also plenty of outdoor seating set up on the sidewalk against the walls, a haphazard hopscotch of corrugated metal and painted wood that makes the space resemble a market stand.
The place seems a comfortable work-in-progress. But that chicken? Says Kettavhong: "That's gonna be forever."

MONA'S SUPER NOODLE, 850 W. 36nd St., 667-930-3119. HOURS: Tues.-Sun., 11 a.m.-10 p.m. PRICES: Appetizers: $8.50-9.95; entrees: $13.95- 17.95; desserts: $7.95