Review: Toki Tako Serves Authentic Korean Food in Hampden
The restaurant is a passion project for The Local Fry's Liz and Kevin Irish.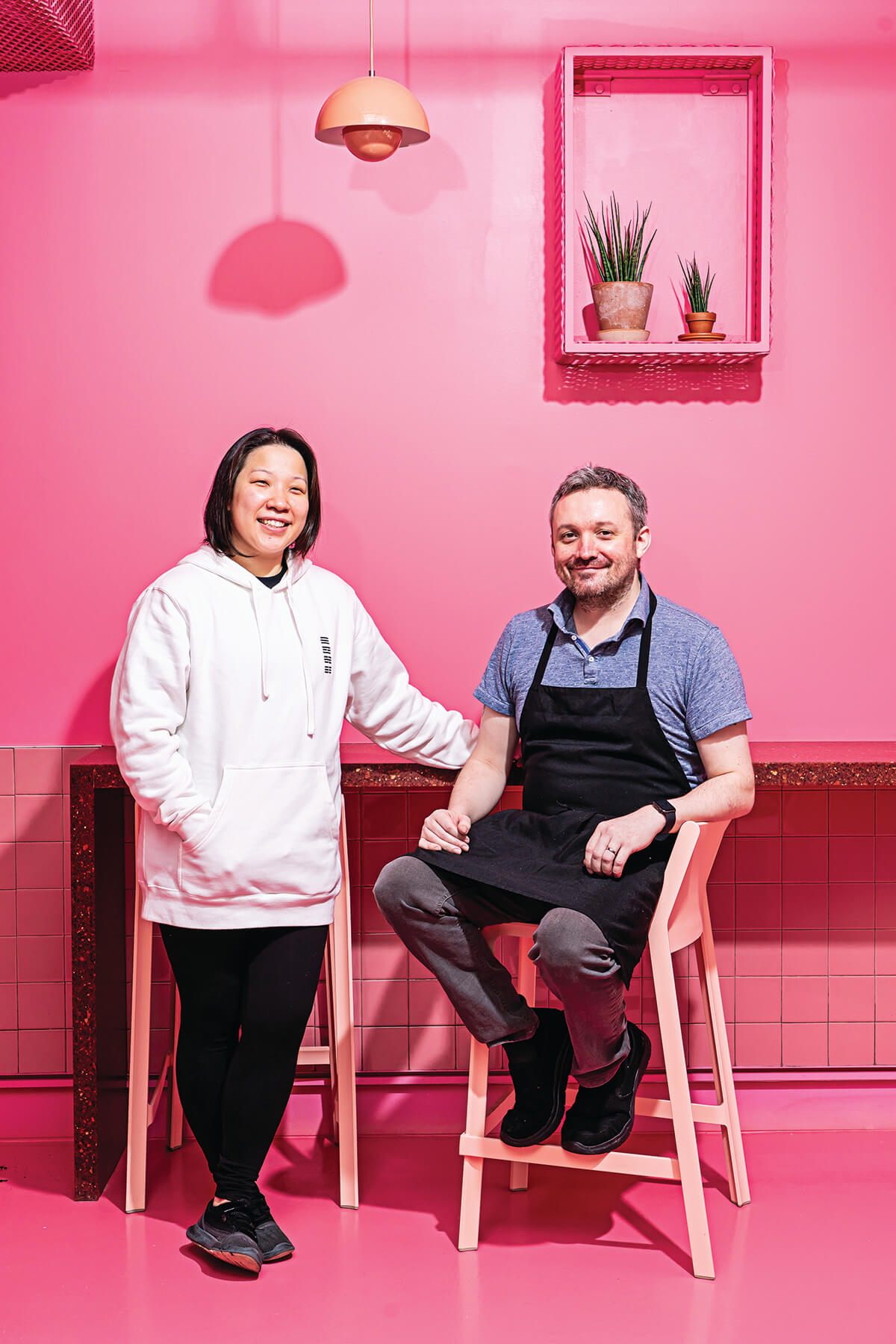 Years ago, Liz Irish dreamed of opening a Korean restaurant to honor the foods of her heritage and help demystify the cuisine.
"On and around Charles Street, there's a cluster of old-school Korean restaurants, says Liz, "and, whenever I would talk to friends, that was their only introduction or knowledge of Korean food—we wanted to do something that was a little more modern."
Welcome to the adorably named Toki Tako at the Rotunda in Hampden, just a few hundred feet away from The Local Fry, the other spot Liz and her husband, Kevin, own and operate.
Back in 2019, the couple signed a lease, hoping to open Toki Tako in the spring of 2020—then COVID struck. In January 2021, at long last, they opened their (rounded) pink and white doors, which are shaped like bunny ears, their sly wink to the word "toki," which means rabbit in Korean.
"We chose that name because my parents sent me to Korean school when I was a kid," says Liz, who was born in Baltimore and raised in Ellicott City. "They didn't want me to lose touch with my heritage. In the school, we were taught that the Korean peninsula, with North and South Korea together, is the shape of a rabbit, so it's cool to bring that idea back to the name."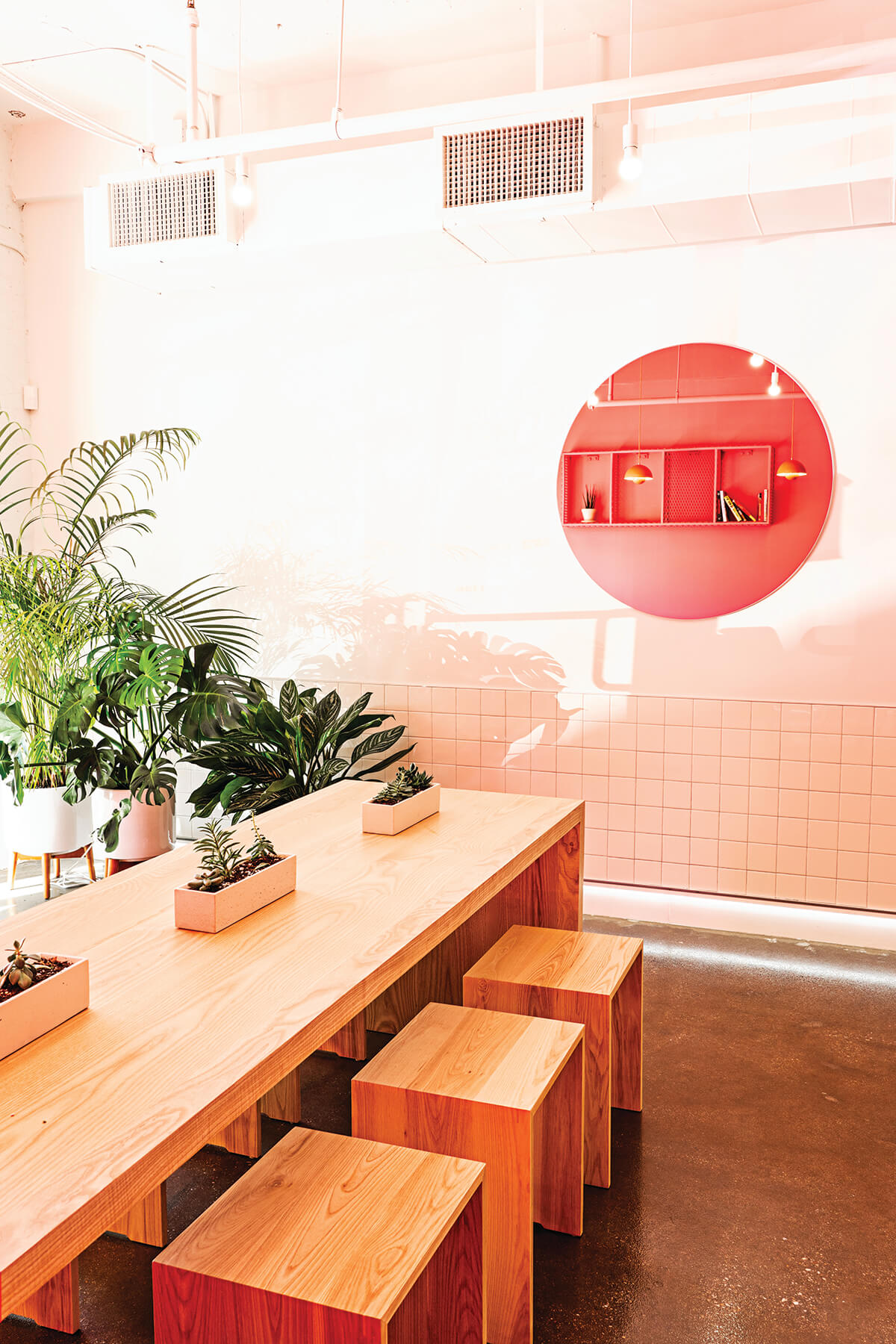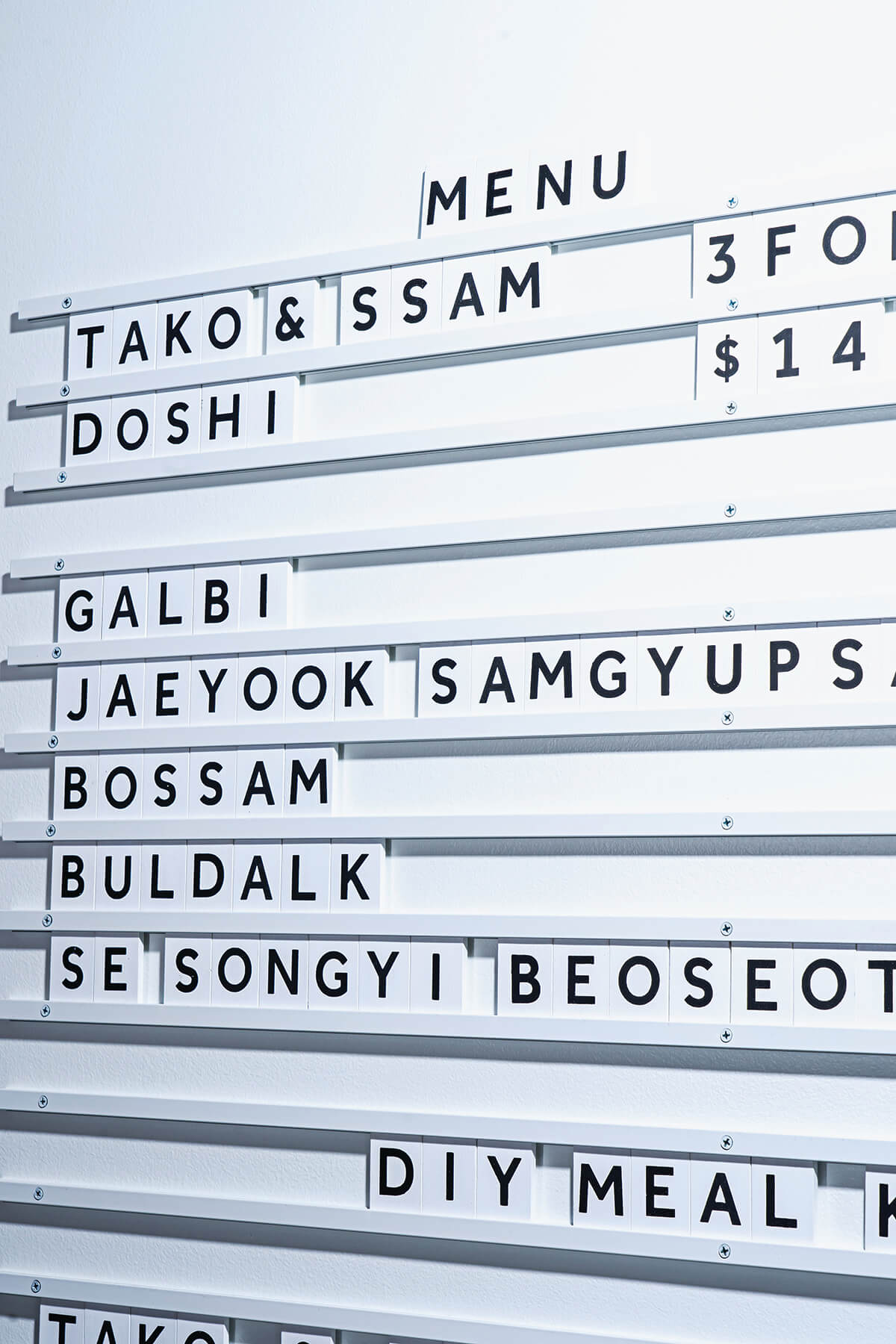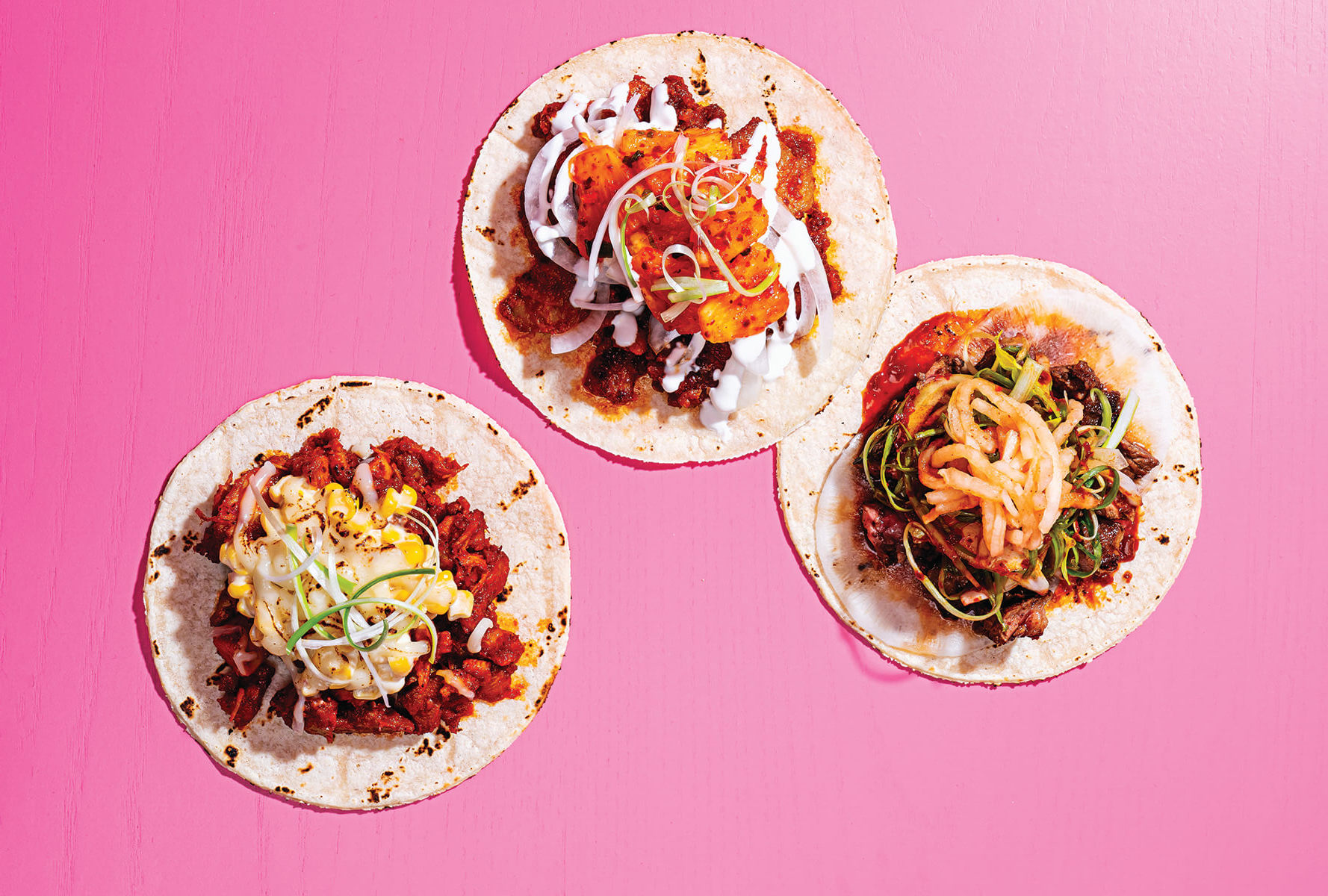 Despite the sound of the name, Toki Tako is not a South-of-the-Border/Korean mash-up, though the original concept was to open a Korean-Mexican fusion concept.
"As we were developing the recipes and the concept, I was like, 'I'm not proficient in Mexican cuisine or culture, so I don't want to cook something and pretend that I do know it,'" recalls Liz.
"I wanted the restaurant to be 100 percent Korean. "There's no Mexican side at all here," adds Kevin. "People come in here and they think that some things will be Mexian, but we are like, 'This is literally straight Korean, but you can get it in a tortilla.'"
While the menu features many of the delectable dishes you'd get in a Korean barbecue joint—the spicy pork belly, the pickled radishes, the kimchi—Liz and Kevin came up with the idea of using tortillas as a vehicle to make the fare less intimidating to patrons.
DESPITE THE SOUND OF THE NAME, TOKI TAKO IS NOT A SOUTH-OF-THE-BORDER/ KOREAN MASH-UP.
"We wanted to serve the Korean food in an approachable, familiar vessel," says Liz. Another option for holding the fillings: lettuce wraps or "ssams," (which is Korean for wrapped).
"When people think of lettuce wraps, they think of P.F. Chang's or something very Americanized," says Liz. "It's not intimidating to have the meat and pickled vegetables inside the lettuce wrap."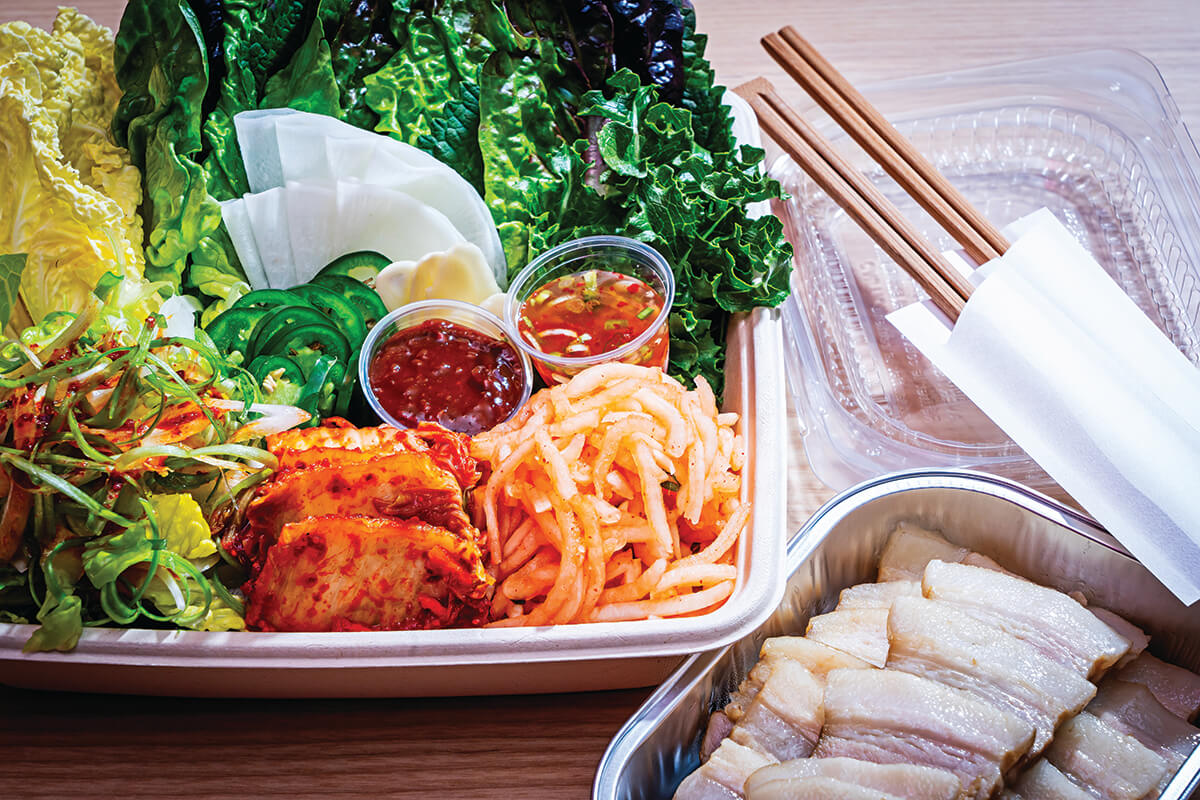 In addition to the tortillas and ssams, there's also doshi boxes, as well as elements of Korean street food such as tteokbokki (stir-fried rice cakes in fish sauce) and corn cheese (similar to creamed corn), a popular bar snack in Korea.
"I also want people to know that Korean cuisine is vast," says Liz. "Korean food is not just rice and Korean fried chicken and kimchi. It's very vegetable-heavy, so when you go to a Korean restaurant, typically, the meal is served with a bunch of side dishes at the table."
"We are trying to educate people about the common items, and the ones that are not common, as well," adds Kevin. "The majority of items on our menu, you can't get anywhere else."
While The Local Fry, with its spud-centric fare, honors Kevin's Irish traditions, Toki Tako harkens back to Liz's childhood. "I grew up eating Korean food," she says, "but it was the adults who would make the food and the kids would just rush into the room to eat it. Other than mandu, which we sat around and made together on holidays, we were really never taught to make stuff."
Eventually, she did learn, while living abroad in Italy, where she studied fashion for five years. "When I was living there, I missed Korean food," says Liz wistfully. "I was always asking my mom for recipes and asking her how it was made."
Toki Tako is considered a fast-casual concept, though it's anything but fast food. Everything, from the hand-sliced garlic to the giant bowls of kimchi, is made with complete consideration and care.
"We use as our business model fast-casual food, because people can come in and out and get their food quickly," explains Liz, "but on the kitchen side of it, we've always focused on making everything super-fresh and super-hot—and we don't do anything frozen. We make things to order."
In addition to educating patrons all about Korean cuisine, Liz is also keeping continuity with her culture. The latitude and longitude of Seoul are prominently displayed on a wall near the cash register, and the dishes on the pegboard menu are spelled phonetically with their Korean names.
"I am American, and my parents were immigrants," says Liz, whose father passed away in 2001. "But even after my mom goes, and our connection to Korea is gone, I want to be able to still hold on to it."
TOKI TAKO: 711 W. 40th St.; 443-708-4993. HOURS: Tues.-Sat. 5-8 p.m. PRICES: Ban chan and sides: $3-8; tako and ssam: $4.50 each; (or $13-14 for three); DIY meal kits: $25-28. AMBIANCE: Think pink.