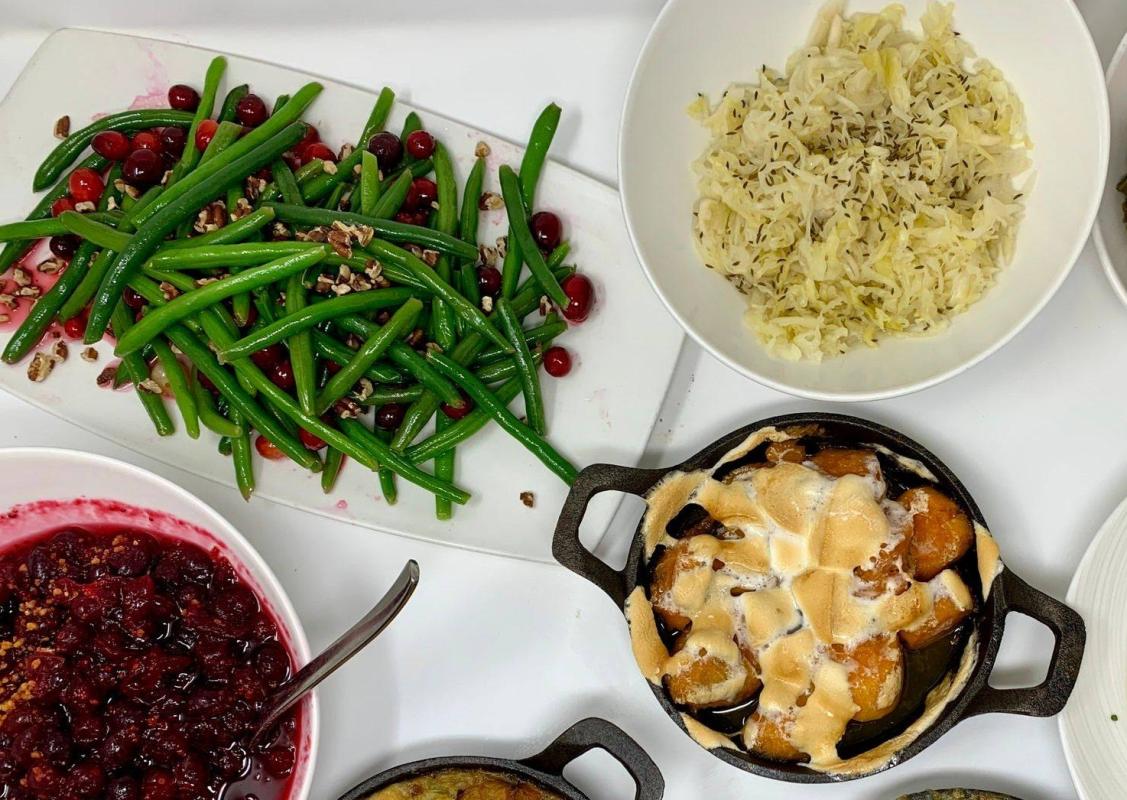 —Courtesy of Gertrude's Chesapeake Kitchen
Most people look at sauerkraut as something to give sausages and hot dogs added gusto. It's a Reuben sandwich must-have, too. But ask and you'll discover: here in Baltimore, the pungent cabbage mixture is much more than that.
As puzzling as it might seem to folks who grew up out of town, a helping of sauerkraut is part of a complete Thanksgiving dinner plate in these parts. But how did it become a local Turkey Day tradition?
The ritual took hold around the latter 19th century as European immigrants continued to pass through the Port of Baltimore, which rivaled New York City's Ellis Island as a gateway to prosperity. Not long after Thanksgiving was declared a U.S. holiday in 1863, we learned that roughly 25 percent of Baltimoreans had come from Germany.
Despite common misconception, that's not where sauerkraut was first conceived (it actually started off in ancient China), but German people began curing and fermenting their own cabbage sometime in the 1600s, after which, it would endure there as affordable cuisine. Inevitably, sauerkraut would follow Eastern European families to home kitchens in Charm City, where it would serve as a Thanksgiving reminder of traditions from back home. 
Before too long, kraut "spilled over to everyone," says chef John Shields, cookbook author and owner of Gertrude's Chesapeake Kitchen at the Baltimore Museum of Art. He references a quote from Baltimore-born journalist and writer H.L. Mencken: "No self-respecting Baltimore household would be caught dead without kraut brewing in the basement. There was no leeway around it."
So, what is it about the staple side dish that makes it so beloved? For Shields, it's just a no-brainer: "It's a tradition," he says. "It is a pretty uniquely Maryland thing."  A sauerkraut enthusiast himself, Shields, who came of age in Baltimore surrounded by Italians, remembers the fermented stuff served next to ravioli and roast turkey on Thanksgiving. 
"Some people pile their plate up, but everybody feels like they have to put at least a tablespoon on their plate for Thanksgiving," he says. "Otherwise, it could be terrible, bad luck—probably forever." 
If Shields' family sentiment is true, it's safe to say that Baltimore is shrouded in good fortune, as the fermented substance is served everywhere from Johnny Dee's in Parkville to Vikki's Fells Point Deli in Broadway Market to Snake Hill in Highlandtown—where the signature sausages are made with rabbit, rattlesnake, and duck. 
"If you have sausages, you have kraut. That's about it," Snake Hill owner Randy Coffren says, admitting that he isn't very keen on sauerkraut's tangy taste, which calls to the eatery's older patrons. "It seems like a boomer topping, if I'm being honest."
Be that as it may, for people like Meaghan Carpenter of HEX Ferments, sauerkraut never went out of style. In fact, it's trending. While it's true that time-honored recipes for kraut—including shank bones, simmered apples, and braised pork chops—have been loved for generations, those are far cries from the modern variations found at HEX, a longtime local innovator in the world of sauerkraut and kimchi (a Korean cousin to kraut that is typically fermented with additional spices). Varieties like HEX's Glow Kraut, made with ayurvedic spices, and a mineral-rich Sea Kraut, are reminders of the dish's status as a superfood. They also make for tasty snacks, according to Shields, who says he likes to keep a jar of HEX kraut handy throughout the day. 
"Personally, I think the American diet has removed the sour flavor profile from our cuisine for so long, that a lot of people may be afraid of this process that's as old as mankind," Carpenter says. 
It might sound unconventional, but Carpenter, who recently launched HEX Superette—a tasting room and marketplace in Govans—with her husband, Shane, prefers kraut as a topping to enhance her homemade sandwiches. 
"Growing up, my mom used to make peanut butter and banana sandwiches," says Carpenter, who isn't big on sweets. "So I was like, 'Oh…what about a peanut butter kraut sandwich?' Instead of adding jelly, I'll just add some Orchard Kraut. It sounds bizarre, but if you've got some fat, and you add sauerkraut to it, it's going to taste good."
Shields says it even tastes good in martinis—and in double chocolate cake. "That's really good," he says. "Basically, the sauerkraut gives moisture to the cake, kind of like oil or butter would. And there's a very slight tang to it. It works well with the chocolate, and the sauerkraut dissolves, so it's not like you're eating hunks of it." 
Soon, Shields and his team will be encasing and fermenting several hundred pounds of sauerkraut for fans—but not for Turkey Day. In January, lovers of the funky food will flock to Gertrudes' annual Krautfest event to sample it in everything from Spaetzle casserole to quite-realistic vegan bratwursts.
"It's a trip and a half—and it sells out in a day."