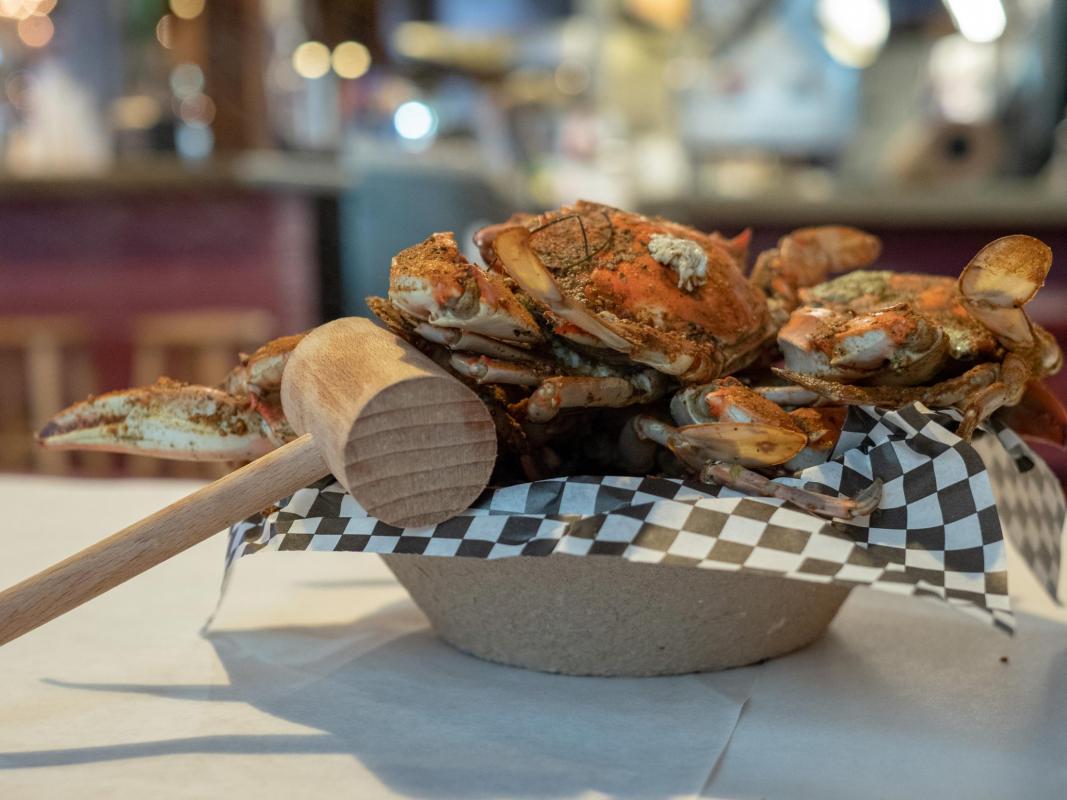 South Baltimore-native Kris Ruhling, with only a hint of hyperbole, says as a young man he worked at about every restaurant in and around Federal Hill.
Ruhling, 42, worries that the COVID-19 pandemic—which has sickened nearly 360,000 and killed more than 7,000 Maryland residents—will force many of those beloved establishments to shutter for good.  
"Unless we come together as a city, and community, I don't know how many of them won't have to close their doors forever," Ruhling says. "Hopefully the Baltimore we love is still standing when this entire thing goes away."
Now the owner of Great 8's Memorabilia, Ruhling is doing more than clutch pearls. He is teaming up with restaurateurs, local businesses, athletes, and musicians to raise funds to aid struggling restaurants and their employees.
The latest fundraiser organized by Ruhling, the Save Baltimore Restaurant Relief Virtual Gala, is slated to live stream from 7 p.m. to 10 p.m. this Saturday, Feb. 6, and will benefit Jimmy's Famous Seafood's Famous Fund.
John Mindakis, co-owner of Jimmy's Famous Seafood, recently created the Famous Fund to help established restaurants struggling to stay afloat during the pandemic. So far, those efforts have raised more than $400,000—including roughly $200,000 in a four day period—and delivered financial assistance to local eateries such as South Baltimore bar Shotti's Point, whose owners received a gift of $20,000. 
Saturday's virtual gala, hosted by 98 Rock's Justin Schlegel, will feature musical performances from bands including Jimmie's Chicken Shack, The Kelly Bell Band, and the Amish Outlaws. Prominent Baltimore sports figures including Matt Stover, Trey Mancini, and Buck Showalter will also make appearances.
Viewers are encouraged to bid on items from Great 8's Memorabilia in a silent online auction, donate to the Famous Fund, or purchase "I Love Bmore Food" t-shirts and hoodies supporting the cause. Donors, Ruhling says, can even stipulate which restaurant receives their donation.
So far there's been a strong response, Ruhling says, adding that he's touched by the willingness of so many people who have stepped up to help out struggling businesses and their employees.
"It's a beautiful thing to see Baltimoreans linking arms like this," he says, "and going in to save Baltimore restaurants that have been here for many, many years."
The pandemic has forced Baltimore City's bars and restaurants to close twice since last March. The most recent closure came in December when Mayor Brandon Scott ordered restaurants to shutter because of a spike in local infections. Dining establishments have since reopened, but indoor dining is limited to 25 percent capacity and outdoor capacity is capped at 50 percent. As a result of the closures and restrictions, bars and restaurants missed out on crucial business from Christmas parties, New Year's Eve celebrations, and the NFL playoffs.
While Maryland residents have started receiving COVID-19 vaccines, challenges with distribution logistics—as well as vaccinating the roughly 80 percent of the population necessary to achieve herd immunity—indicate that local restaurants will be operating under restrictions for the foreseeable future.    
That means Saturday's virtual gala likely won't be the last fundraiser they'll need to see them through what looks to be another tough year.  
But while raising funds to support eateries is the ultimate goal, Ruhling says efforts like the virtual gala do more than deliver financial assistance. They provide a catalyst for uniting the community during what's proven to be a trying time for everyone.  
"We saw the Titanic had hit an iceberg, and we jumped into the rescue boats," he says.