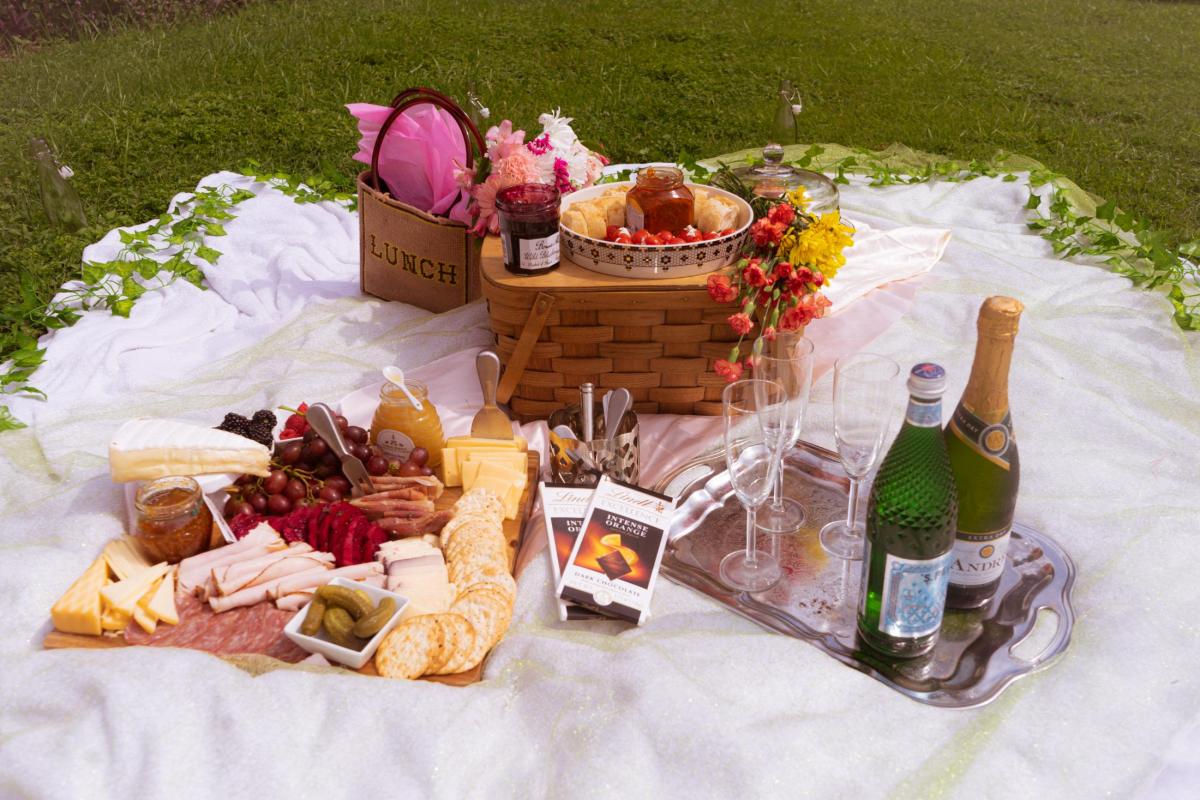 —Photography by Anna Divinagracia
Heaps of sunshine over mounds of dewy grass—everywhere from Patterson Park to Druid Hill Park—are warming our chilly hearts this spring. If you're a single and social person in the city of charm, you're likely looking for a way to whisk a lucky lady, gent, or gender non-conforming human away for a warm-weather dream date to take your minds off the pandemic and focus on each other. And we've got you covered with a batch of new ideas for spring. Remember: both love and (sadly) COVID-19 are in the air, so be sure to wear your mask while out and about.
EAT 
Indulge in tacos and tequila outside at Clavel: Make it a Taco "Twos-Date." Get it? Well, we hope you've brushed up on your small talk and date etiquette more than we have. At Clavel, Remington's beloved taqueria and cocktail haven, the team has used plants and lighting to pull the authentic Mexican aesthetic of their usual indoor ambiance onto their outdoor seating area. Four types of tacos, margaritas, and scratch-made guacamole are the perfect reasons to pull your mask down for a bite with your date. 225 W 23rd St.
Try the risotto at Joe Squared: Joe Squared, which recently reemerged as a worker-owned cooperative and debuted outdoor seating along North Avenue, is a Station North date destination that we can sum up in six syllables: gluten-free risotto. Do your tastebuds, and your lovebug, a favor by trying their slow-cooked masterpiece and grabbing a few of the namesake square pies while you're at it. 33 W. North Ave.
Plan a romantic evening in Little Italy: Nothing says romance like a glass of wine and a hearty plate of pasta at a Littly Italy haunt. Go for a moonlit stroll around the historic neighborhood before settling in at a distanced table at La Scala, on the rooftop patio at Cafe Gia, or at one of the neighborhood's many other restaurants. For dessert, treat your sweetheart to a cannoli and espresso at Vaccaro's Italian Pastry Shop.
Mask up and explore Mount Vernon Marketplace: Swim into his/her/their heart by visiting Fishnet, one of Mount Vernon Marketplace's many vendors, whose specialties include grilled salmon and crispy catfish sandwiches. You can also check out the cheesesteak egg rolls at Cheezy Mike's, dumplings at Pinch, shrimp salad at The Local Oyster, and pizza at Neo. And don't forget to visit Wine O'Clock, a luxury wine shop that is both Black and women-owned. 520 Park Ave.
Join the pasta club at Orto: This Italian-inspired hotspot in Station North has simple and flavorful cuisine perfect for your first date delights. Pick up a package containing two servings of fresh pasta and all the necessary ingredients to create a fantastic meal in the comfort of your home. On warmer nights, there is seating in their parklet where you can split the Orto Caesar and follow it up with the Italian chicken and dumpling stew, charred broccolini orecchiette with toasted pine nuts, or the famous shrimp and squid ink spaghetti. Just be sure that you and your dining companion save room for dessert, because there is always plenty of gelatos, sorbetto, and other rotating pies and pastries to go around. 1709 N. Charles St.
Feast on a burger, ramen, tacos, or all three at R. House: Remember going to the mall food courts as a teenager with your middle or high school crush you thought you'd be with forever? Duplicate those nostalgic vibes by visiting R. House in Remington, a much more mature food hall that features 10 stalls including Be.bim, Amano Taco, and Noisy Burger, a Black-owned spot that also gives opportunities to local youth through employment and leadership development. Save room for dessert and swing by Taharka Bros. to find an ice cream flavor—like Caramel Crunch or the famous Honey Graham—that makes you scream for a second date. R. House offers distanced indoor seating in addition to its spacious patio with a fire pit. If you're looking to get active on your first date, A Tribe Called Run—a masked run crew led by William Walker Jr. and friends—leaves from R. House every Monday at 6 p.m. 301 W 29th St.
Grab brunch at Red Emma's: Visit Red Emma's—a worker cooperative, vegan/vegetarian restaurant, and radical bookstore in Mt. Vernon—for brunch on a weekend. Feed each other plant-based "McBluffins" or vegan lox bagels—which are as desirable as the cafe's customer service and socially distanced pickup line.
DRINK
Hang out on the lawn at the Guinness Open Gate Brewery: The gates at Guinness' Halethorpe brewing facility are open with socially distanced entertainment, special beers, and food pairings for you and your latest Tinder swipe to graze on. 5001 Washington Blvd, Halethorpe
Sip cocktails at Of Love & Regret: Don't let the name fool you. You won't have any regrets about taking your date for dinner and drinks at this Canton watering hole. Snag a table outside and order a local draft, glass of wine, or craft cocktail like a barrel aged whiskey-infused Old Fashioned with lemon, orange, and brandy-soaked cherries. 
Down pints at Peabody Heights: The patio and taproom at this Abell brewery—which recently unveiled a brand new, donation-based "Barcade" in its side room—are open for business with safety measures in place. If you love good beer with a side of sports history, it's definitely worth the visit as the brewery is located on the site of Terrapin Park, a wooden stadium that hosted a variety of teams including the minor league Baltimore Orioles from 1914-1944. You can also line your stomach with eats from the occasional food truck in the courtyard. 401 E 30th St.
SEE 
Be kind (and rewind) at Beyond Video:The Baltimore Video Collective has a love for home videos—and they have the VHS collection to prove it. Go retro with your darlin' at this trippily painted Remington rental store, which is open at a limited capacity, and experience that Blockbuster vibe we all know and miss. 2545 N. Howard St. 
Browse books at Greedy Reads: It's likely that both you and your date were glued to your electronic devices for nearly all of 2020. But a first date is the perfect moment to slow things down, get back to basics, and learn more about each other by browsing well-bound paper or hardbacks. (Plus, nothing says "fall in love with me" like reading to each other.) Visit Greedy Reads' website to take a look at the shop's "Book Club Favorites" before securing an in-store browsing appointment. 1744 Aliceanna St. or 320 W 29th St. 
Stroll around a local museum: Take advantage of the recent reopenings of our beloved cultural institutions. At the BMA, you can take in the Sculpture Gardens and exterior exhibits—such as The Avenue, a collection of five murals by local photographer Shan Wallace—before grabbing a bite from Gertrude's Chesapeake Kitchen. Or you and your date can reserve a time to mask up and explore indoor presentations like Stephanie Syjuco: Vanishing Point (Overlay) and Adelyn Breeskin: Curating a Legacy. At AVAM in Federal Hill, grab your partner and relax your minds by checking out The Science and Mystery of Sleep. The collections at the Reginald F. Lewis Museum are also a must-see, showcasing more than 400 years of African American history through the lens of industry, leisure, sports, media, the arts, and more. Learn more about local museums to visit, here. 
HEAR 
Catch one of the Bmore Pop-Up Jazz Jams: This is a great opportunity for you and your main squeeze to support the Baltimore arts community. Every Wednesday at 7 p.m., dynamic local musician Ed Hrybyk curates a concert from the porch of a charming Charles Village rowhome. Stop by to hear Hrybyk collaborate with other awesome musicians like trumpeters Clarence Ward III and Brandon Woody, saxophonists Sam King and Rachel Winder, vocalists Scott Paynter and Candace Potts, and drummer Allen Branch. He has also organized other pop-up shows in places like St. Mary's Park and Carroll Park. (Follow along on Instagram for updates.) Each of these performances brings a flavor all their own, leaving you no option but to taste the rich jazz history of Baltimore with your date by your side. Multiple locations including 28th and Calvert St. (You'll hear the music!)
Schedule one of Creative Alliance's Sidewalk Serenades: Nothing is more romantic than being serenaded by a smooth and sultry voice. But if you weren't blessed with the tonality of Sade or Leslie Odom Jr., you can book a Sidewalk Serenade from Highlandtown's Creative Alliance. The close, but not too close, personal concerts are back in their second season, offering Baltimoreans the opportunity to have a short showcase delivered straight to their doorsteps. If you're interested in organizing a pop-up performance for your lamb chop, you can select a performer—like Brandon Woody and UPENDO, Rufus Roundtree & Da' Bmore Brass Factory, Al Rogers Jr., or the Slammageddon Poetry Slam Team—from the online calendar. The personal shows are the perfect way to keep the arts, and your love life, alive this spring.
Set the mood with the Love Groove Music Festival: Think Tiny Desk, but Baltimore-centric. Founded by John Tyler when he was a high school junior, The Love Groove Music Festival showcases from 2020 and 2021 feature local songstresses and musicians including Black Assets, MovaKween, YTK, and Tyler himself. Covering genres of funk, soul, and R&B, these pre-recorded concerts are the perfect mood-setter for your date night. 
Watch a Carcert: While we wait for live music venues to return to their regularly scheduled programming, cozy up with your loved one at home and tune in to Carcerts, hosted by homegrown emcee Rickie Jacobs. As its name suggests, the live music series features local hip-hop artists—including Al Rogers Jr., Miss Kam, Mallo Obasi, Baby Kahlo, and Eze Jackson—performing while driving around the city. 
DO
Become plant parents at B. Willow: Anyone up for a chat about family planning on the first date? Yank your muffin off of their body-shaped slump in the couch and head to Remington to visit B. Willow—a small plant shop that just celebrated its four-year anniversary. If you're new to houseplants, the shop has a specialized quiz to help you and your honey dip choose the perfect pathos, cactus, or dracaena to nurture and grow. B. Willow is also hosting a Plant Care 101 virtual workshop on April 17 if you want to ensure that your plants live a long and healthy life—just like your budding (or established) relationship. 220 W 27th St. 
Get creative together at the Chesapeake Arts Center: Brooklyn Park's Chesapeake Arts Center hosts an array of fun-filled (and COVID-safe) classes that are accessible to all levels of adult painters, illustrators, and potters. If you're a regular at the Waverly Farmers Market, you've likely seen the beautiful Mirkwood Mural—a collaborative public art space on the corner of 33rd and Frisby streets. That space is managed by local artist Brandon Buckson, who is teaching "Painting for Change," a spring series that guides participants through the fundamentals of painting. All attendees will leave the class with their own signature piece, which is perfect if you're looking to create something special for your beau or beauty. 194 Hammonds Lane, Brooklyn Park. 
Plan a picnic at a local park: After checking your almanac (or your iPhone) for the daily weather report, grab your dog and your sandals to settle on one of the grassy knolls at any of the 4,000 acres of parkland throughout Baltimore City. Patterson Park, Druid Hill Park, Clifton Park, Federal Hill Park, and Wyman Park Dell (which holds monthly clean-ups if you're into community service as a date) are among the many public spaces open to masked, and socially distanced, traffic. 
Strike up some fun at Patterson Bowling Center: Nothing says "let's get to know each other" like a bit of friendly competition. This staple duckpin bowling alley—which has been around since 1927 and surely seen many first dates—is safe, sanitized, and ready for visitors. Classic bowling fare like personal pizzas, French fries, corn dogs, and nachos make this a simple and retro date idea. 2105 Eastern Ave.
Aim for the bullseye at Urban Axes: Down some liquid courage and test your strength at this fun-filled axe-throwing bar in Highlandtown. Reservations are available for couples or small groups if you want to keep it low key and bring your friends to help break the ice. Make a night of it by stopping by neighboring Monument City Brewing Company for a beer before or after you throw. (If you're searching for a date spot in the county, check out Stumpy's Hatchet Throwing House in Towson or Columbia.)