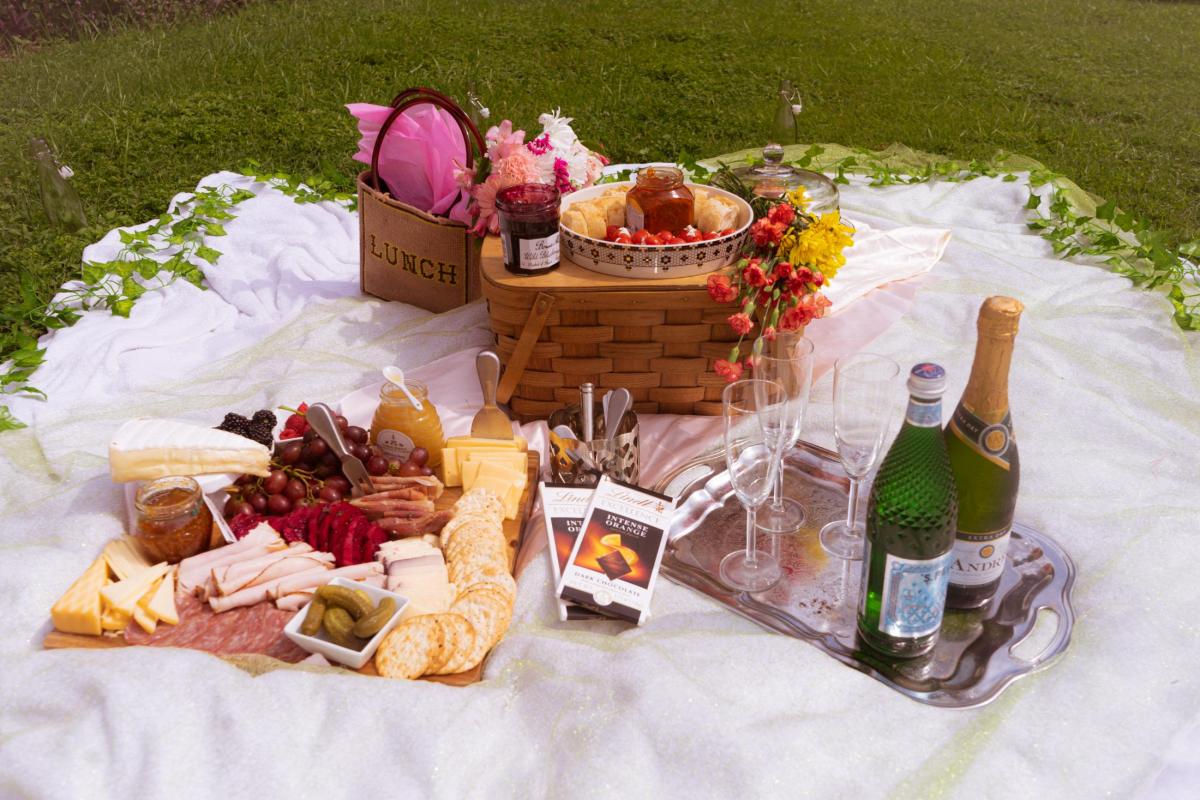 —Photography by Anna Divinagracia
Times are a-changing and so are the leaves as we prepare for another season of navigating the world in the wake of COVID-19. If you're a single and social person in the city of charm, you're likely looking for a way to whisk a lucky lady, gent, or gender non-conforming human away for an autumnal dream date to take your minds off the pandemic and focus on each other. As the weather goes from humid to a humble chill, you may need to bring a blanket and bottled local spirit to keep warm, but, if you're open to throwing on a mask and exploring the city, we've got you covered with a list of socially distanced first date ideas to try out this season. 
Pick a park
After checking your almanac (or your iPhone) for the daily weather report, grab two blankets, a six-pack of fall beers, and a variety of fresh baked goods and snacks for a seasonal park visit. Settle onto one of the grassy knolls at any of the 4,000 acres of parkland throughout Baltimore City and let the magic commence. Druid Hill Park, Patterson Park, and Federal Hill Park are among the many public spaces open to masked and socially distanced date traffic. Find a full list of City Parks at bcrp.baltimorecity.gov/parks
Need to know where to stock up on picnic essentials? The Remington Bottle (329 W. 29th St.) has more than 1,700 products to choose from, including local fall beers like Key Brewing's Oktoberfest kölsch, a classic German pilsner from Manor Hill Brewing, or, if you're really feeling festive, DuClaw's 31 Pumpkin Spiced Lager. The team has installed a cashier-customer partition and they have hand sanitizer and gloves available at the front of the store for a corona-friendly bottle selection. The Saturday-morning 32nd Street Farmers Market (E 32nd and Barclay Sts.) is also full of in-season picnic products from local favorites like Bramble Baking, Baltimore Waffle Company, Atwater's, and more.
Make an appointment to browse books at Greedy Reads
It's likely that both you and your date have been glued to your electronic devices for nearly all of 2020. But a first date is the perfect moment to slow things down, get back to basics, and learn more about each other by browsing well-bound paper or hardbacks. (Plus, nothing says "fall in love with me" like reading to each other.) Visit Greedy Reads' website to take a look at the shop's "Book Club Favorites" before securing an in-store browsing appointment. Pro-tip: If you're looking to go deep and stay true to these turbulent times, check out new-to-shelf The Antiracist: How to Start the Conversation about Race and Take Action from local author Kondwani Fidel. Reading is sexy again. 1744 Aliceanna St. or 320 W 29th St. 
Strike up some fun at Patterson Bowling Center
Nothing says "let's get to know each other" like a bit of friendly competition. This staple duckpin bowling alley—which has been around since 1927 and surely seen many first dates—is safe, sanitized, and ready for visitors. Classic bowling fare like personal pizzas, French fries, corn dogs, and nachos make this a simple and retro date idea. 2105 Eastern Ave.
Swing by one of the Charles Village Porch Concerts
Every Wednesday at 7 p.m., dynamic local musician Ed Hrybyk curates a concert from the porch of a charming Charles Village rowhome. Stop by to hear Hrybyk collaborate with other awesome musicians like respected trumpeters Clarence Ward III and Brandon Woody, saxophonists Sam King and Rachel Winder, vocalists Scott Paynter and Candace Potts, and drummer Allen Branch. Each of these performers brings a flavor all their own, leaving you no option but to taste the rich jazz history of Baltimore through a collaborative jam-style concert that you'll want to spread from edge to edge on your date—hopefully for weeks to come. 28th and Calvert St. (You'll hear the music!)
Grab a backpack full of picnic supplies from Topside
This social spot on the top floor of Mt. Vernon's Hotel Revival has certainly done its share of pivoting throughout the pandemic. For starters, the restaurant's new parklet on Cathedral Street  features a vibrant ground mural by local artist Will Watson, along with brightly colored patio furniture and a full bar surrounded by a partition to keep you and your "possi-bae" secluded from oncoming traffic. Plus, Topside is selling signature picnic backpacks filled with plates, utensils, two carryout entrees, a side, dessert, and portable sips like to-go cocktails or a bottle of wine. Grab yours and head across the street for a romantic picnic overlooking the Washington Monument. 101 W Monument St. Backpacks start at $85.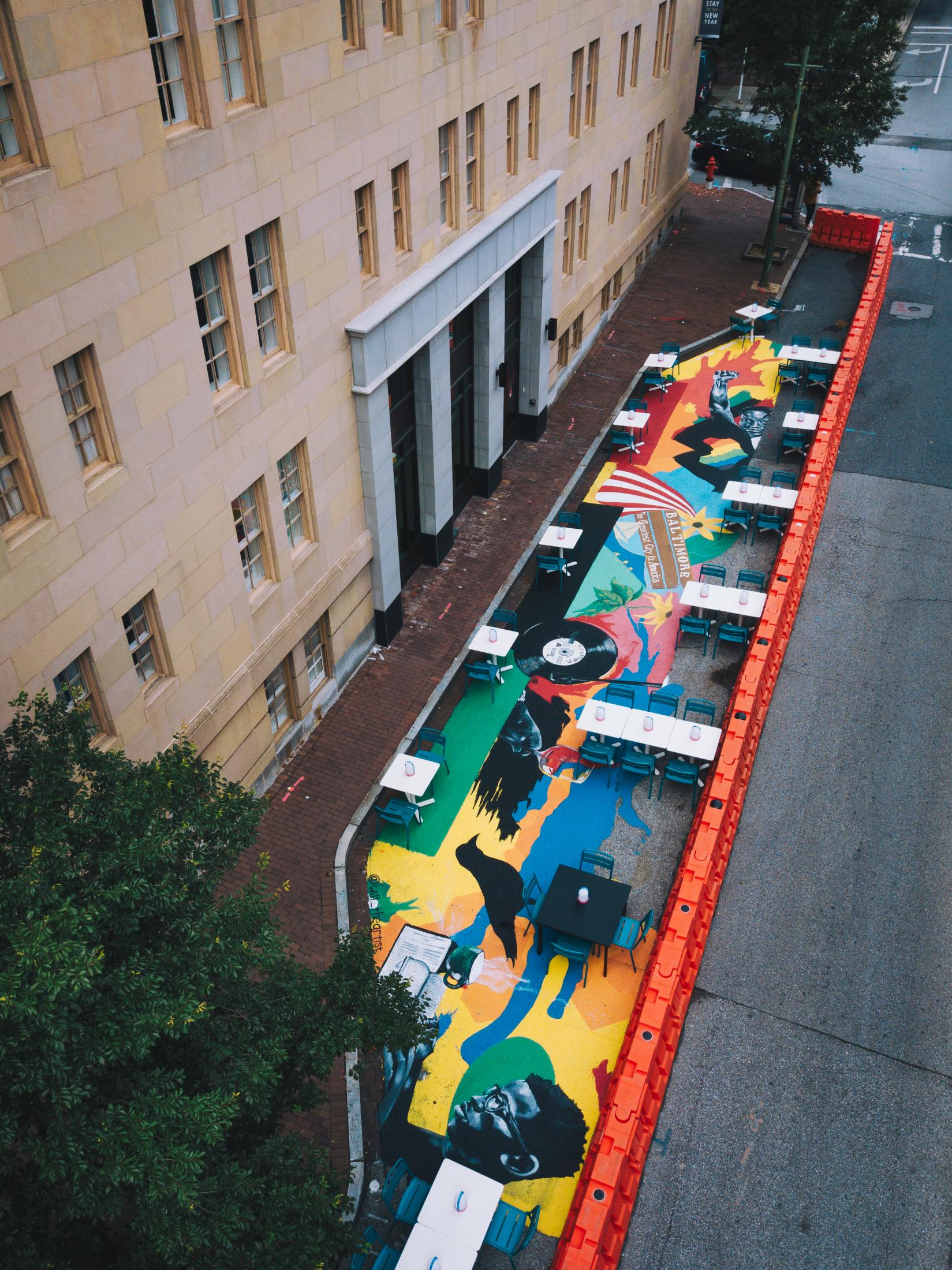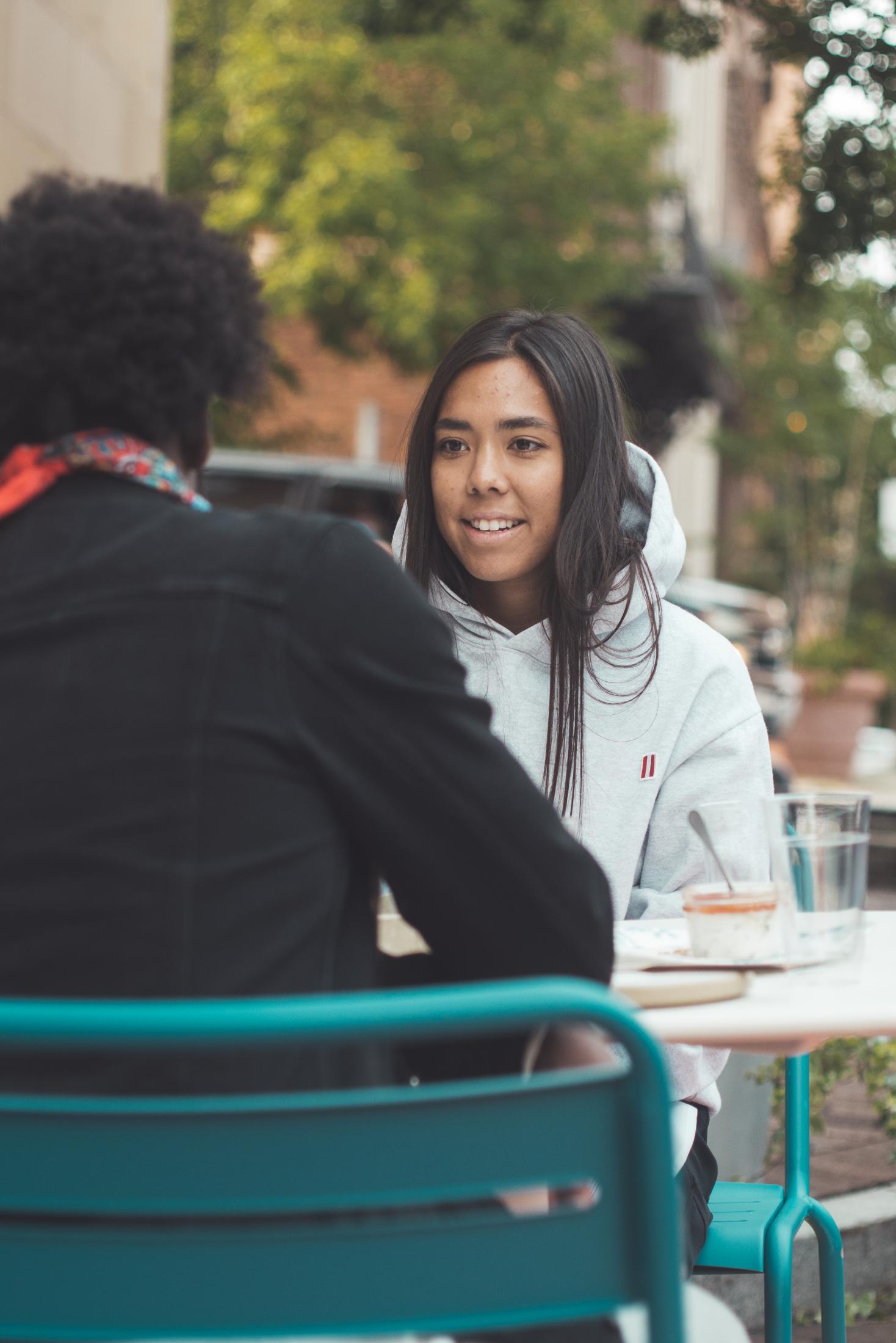 Sample tacos and tequila outside at Clavel
Make it a Taco "Twos-Date." Get it? Well, we hope you've brushed up on your small talk and date etiquette more than we have. At Clavel, Remington's beloved taqueria and cocktail haven, the team has used plants and lighting to pull the authentic Mexican aesthetic of their usual indoor ambiance onto their outdoor seating area. Four types of tacos and scratch-made guacamole are the perfect reasons to pull your mask down for a bite with your beau or beauty on an autumn night. 225 W 23rd St.
Try the chicken parm at Orto
This Italian-inspired hotspot in Station North has simple and flavorful cuisine that we highly recommend for your first date delights. After seating you in their newly built parklet or existing sidewalk dining area, superb staff will recommend the perfect apéritif. (It might be fall, but don't sleep on the Aperol Spritz!) Split the Orto Caesar and follow it up with cherrywood-smoked spare ribs, stuffed red bell peppers, or the famous chicken parm topped with San Marzano tomato sauce. (Is your mouth watering yet?) Just be sure that you and your dining companion save room for dessert, because there is always plenty of gelato, sorbetto, and other rotating pies and pastries to go around. 1709 N. Charles St.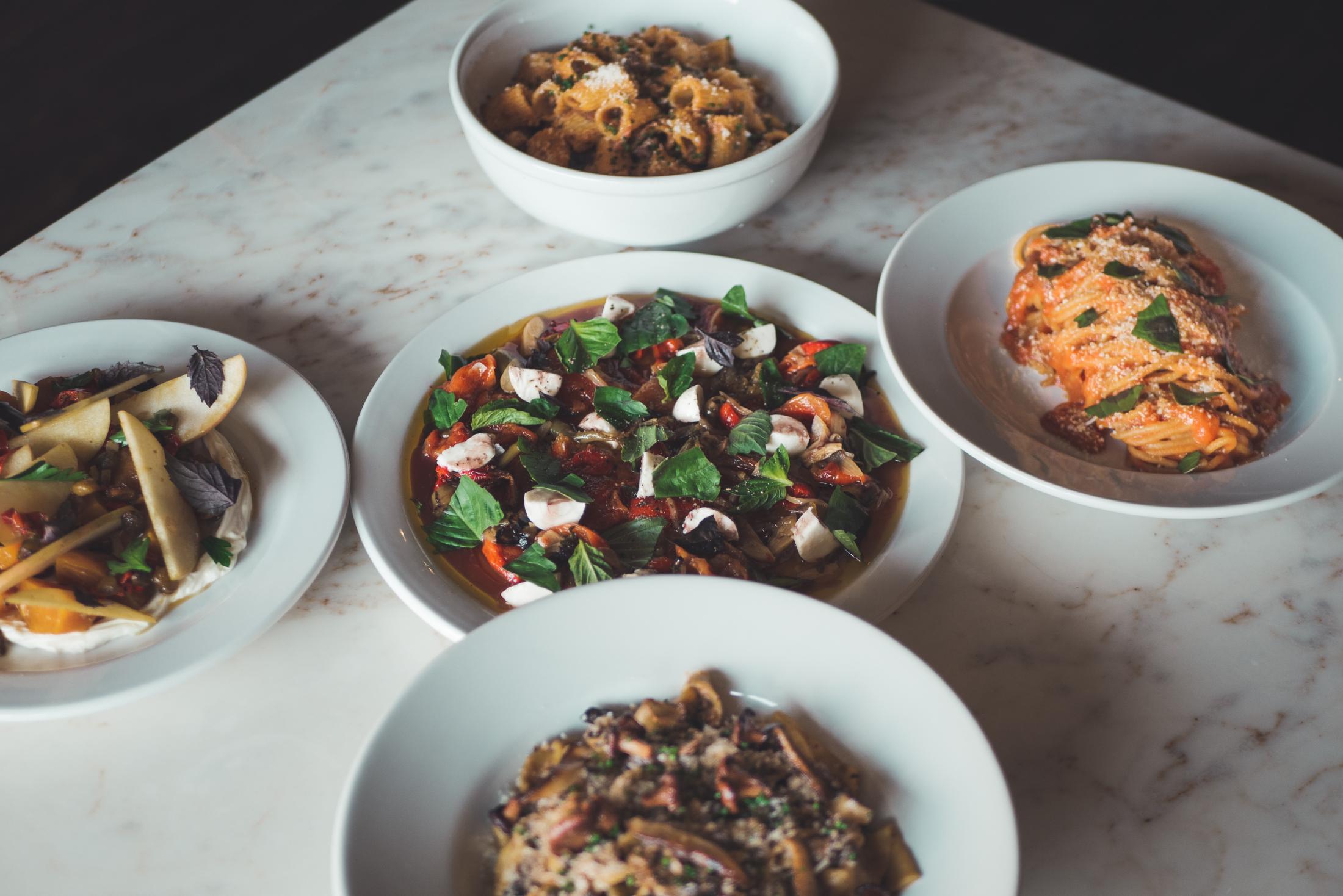 Stroll around the Sculpture Garden at the BMA
Take advantage of the recent reopening of our beloved Charles Village cultural destination. You can choose to take in the Sculpture Gardens and exterior exhibits before grabbing a bite from Gertrudes' new outdoor snack kiosk, or you and your date can reserve a time to explore the museum. Get inspired by exhibitions like Candice Breitz: Too Long, Didn't Read, Shinique Smith: Grace Stands Beside and 410 by local photographer Shan Wallace—who says her project is a love letter to the beauty, complexity, and resilience of Baltimore. No visit to the BMA is complete without reservations at Gertrudes Chesapeake Kitchen, where you can enjoy aphrodisiacs like oysters on the half shell or other seafood specialties. 10 Art Museum Drive.
Enjoy dinner and a show at R. House
Remember going to the mall food courts as a teenager with your middle or high school crush you thought you'd be with forever? Duplicate those nostalgic vibes by visiting R. House, a much more mature food hall that features 10 stalls including BRD, Amano Taco, and Creole Soul—which is Black-owned and freakin' delicious if you're in the mood for gumbo or catfish. R. House recently began offering distanced indoor seating (in addition to its spacious patio), as well as live performances with local musicians and improv groups. If you're looking to get active on your first date, A Tribe Called Run—a masked run crew led by William Walker Jr. and friends—leaves from R. House every Monday at 6 p.m. 301 W 29th St.
Down pints at Peabody Heights Brewery
The patio and taproom at this Abell brewery are open for business with safety measures in place. If you love good beer with a side of sports history, it's definitely worth the visit as the brewery is located on the site of Terrapin Park—a wooden stadium that hosted a variety of teams including the minor league Baltimore Orioles from 1914-1944. You can also line your stomach with eats from the occasional food truck in the courtyard. 401 E 30th St.
Beat your date's high score in Tetris or Pacman at North Avenue Market
Great food, drinks, and free (yes, we said free) arcade games make this hangout the perfect date for two or ten—if you're looking to make it a group thing. This gem in the Station North Arts District has reopened with limited indoor and outdoor seating options on Thursdays, Fridays and Saturdays. A night of retro gaming and grubbing is sure to open the door for a second date. Ask for Matty—tell him Alanah sent you. 30 W North Ave.