Stuggy's Settles In at Its New Home—With a New Name
We catch up with owner Ryan Perlberg about the new Fells Point space, the famous crab mac-and-cheese dog, and what come's next.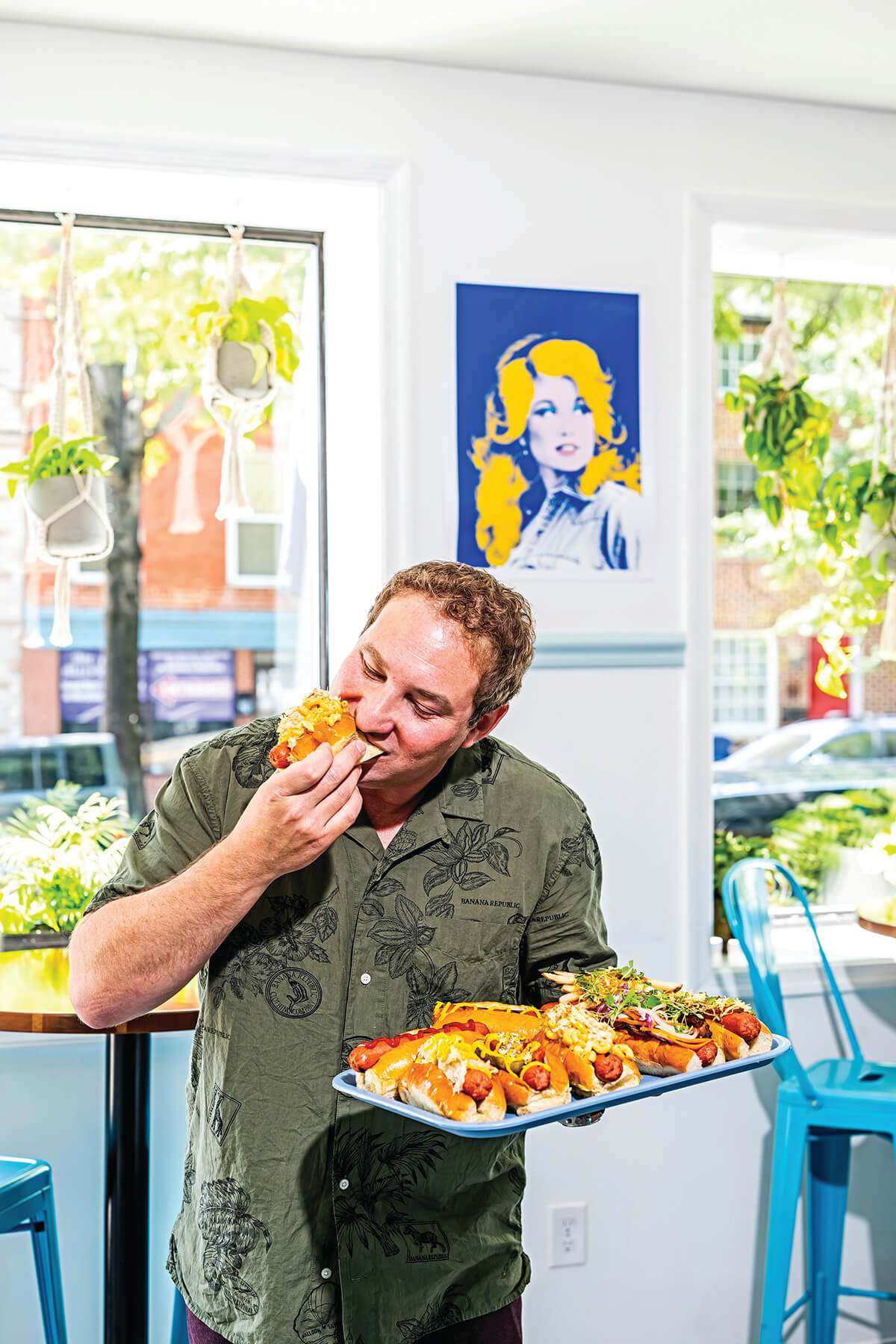 When Stuggy's co-founders Ryan Perlberg and his father, Stuart, were first thinking about opening a hot dog stand, they didn't want it to be any old dog of a spot.
"My dad originally had the idea," says Perlberg, a former songwriter for Universal Records. "He saw how many burger places were sweeping the nation and how many sausage and hot dog companies had gone away. I told him if we did it, it had to be special. We wanted to do something that was different and unique to our region."
After a mere 12 years, Stuggy's has become something of a Charm City institution—and it continues to grow, thanks to its fantastic franks.
Several months ago, the spot, now known as Stuggy's Sandwich Shop, started a new chapter when it moved from its brick-and-mortar location on Broadway in Fells Point to Fleet Street, not far from its original stand. When Papi Cuisine vacated the space, the Perlbergs, who owned the property, moved in.
"We really outgrew our space 36 months into opening," says Perlberg. "I never wanted to move off Broadway, but when we started thinking about having outdoor seating, more of a menu, and a liquor license, it was just something we couldn't pass up."
Why do people love hot dogs?
When a lot of people [from Eastern Europe] came to America, they came to New York or Baltimore, so you have the coolest communities here and all these old recipes. Much of it has been phased out because our diets are changing and times are evolving, but it's still this slice of Americana. People smell a hot dog on a grill being cooked and they think of their childhood. I think that's the basis of why they are so special—food is so emotional.
Tell us about the new space.
We wanted to lighten the space. We consulted with Flowers & Fancies, and they helped us visualize the space as the light came in and we filled the space with different varieties of plants and palms. And we got inspired by all these MICA students who are customers. We found pictures and paintings that were inspired by the artists and in some cases done by them. We are going to showcase the art and some of it will be for sale. At Stuggy's, we're really selling fun.
What should first-timers get?
The crab mac-and-cheese hot dog. It has been such a viral product and it was so totally unexpected. We're also trying to have healthier options. From the sandwich side of the menu, I'd recommend the falafel.
So, what does the future hold?
It has been a wild journey. We've been through a lot of things with our city. And we've been able to expand so far beyond our brick-and-mortar locations with corporate deals at M&T Bank Stadium and Camden Yards. Minor league ballparks are on the horizon. And it all started in Fells Point with selling one hot dog at a time.