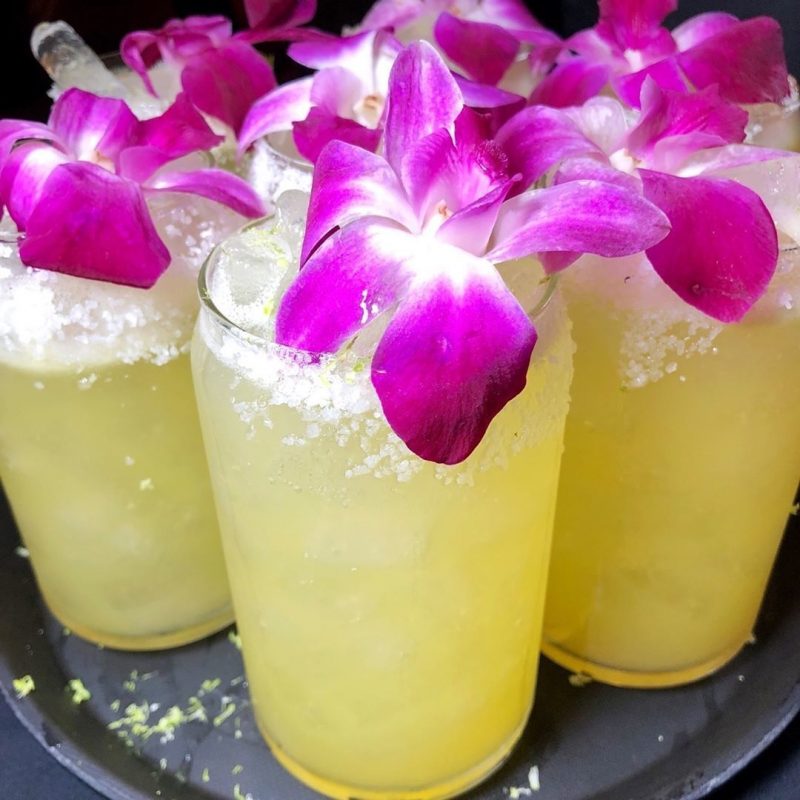 Photography by Jordan Zelesnick
While Americans are known to embrace the fake mustaches, noise-making maracas, and massive margaritas that are typically associated with Cinco de Mayo, in Mexico, the fifth of May isn't as big of a party as one might think.
"Our independence is celebrated on the 16th of September," explains Cocina Luchadoras owner Rosalyn Vera, whose family hails from Puebla, Mexico. "People have the weekend off and usually there's a parade for Cinco de Mayo, but it's not nearly as big as the celebrations on our Independence Day."
Even so, Vera sees Cinco de Mayo—the anniversary of the Mexicans' unlikely victory over France in the Battle of Puebla in 1862—as a holiday for Americans to celebrate the contributions that Mexican immigrants have made throughout history. In her case, that means sharing her family's traditions through food.
"We're happy to be represented in that way," she says. "Food unites us—I can always see it in people when they come in."
This weekend, Vera will climb on board the Wilde Thyme food truck for a collaborative pop-up at Monument City Brewing Company on Saturday before pulling out some of her special recipes for Cinco de Mayo service at her Upper Fells Point restaurant. Among the featured tacos will be shredded tinga de pollo, lamb barbacoa, and cochinita pibil—braised shredded pork with citrus.
In addition to Cocina Luchadoras, plenty of other spots around town are featuring eats and drinks in honor of the holiday.
Clavel: A three-day fiesta is in the works at this beloved taqueria and mezcaleria in Remington. To kick off the holiday weekend, Sinaloa-born chef Carlos Raba will head outside to grill carne asada, al pastor, and cebollitas (grilled green onions) during dinner service on May 3. There will also be a ceviche special, and the bar team plans to shake up cilantro margaritas all weekend long. From 10 a.m. to 3 p.m. on the big day, enjoy Clavel's classic brunch plates, including huevos rancheros and chilaquiles with salsa verde, alongside a selection of tacos from the dinner menu. 225 W. 23rd St. 443-900-8983
La Calle: Chef/owner Valentino Sandoval, a native of Puebla, is offering a pages-long list of specials for his first-ever Cinco de Mayo party at La Calle downtown. Head to the restaurant to chow down on $2 tacos, $4 orders of chips and salsa, $5 nachos, $6 empanadas, and $7 ceviches. Wash down all of the discounted snacks with $2 canned beers, $3.50 bottles, and $4.50 drafts. A signature $5 drink menu includes tequila shots, classic margaritas, micheladas, and red and white sangria. 10 South St. 667-312-2964
La Palapa Grill & Cantina: The doors to this annual blowout in Ellicott City open at 10 a.m. Head to the restaurant early for brunch, or stop by throughout the day to dance to live mariachi music, sip cocktails, and enjoy tacos from an outdoor pop-up grill. A portion of all proceeds from the tent in the front parking lot, which will feature a Red Bull bar, tequila drinks, and DJs spinning all day, will benefit Voices for Children Howard County. 8307 Main St, Ellicott City. 410-465-0070
Nacho Mama's: Both locations of this Tex-Mex hangout in Canton and Towson will be starting things off early with an "Uno and Dos de Mayo" fiesta May 1-2. From 4-8 p.m., enjoy corn hole, margaritas, and the release of Flying Dog's Numero Dos dark lager. Swing by throughout the weekend to take advantage of $4 Modelo drafts, $18 Corona buckets, and $15 hubcap margaritas equipped with multiple straws for sharing. 2907 O'Donnell St. 410-675-0898
Papi's Tacos: This Fells Point staple known for its DIY tacos and antojitos (Mexican street food) is going all out with special sips that will replace its typical all-you-can-drink deals on Sundays. Get in the spirit with $3.50 screwdrivers, mimosas, Bloody Marys, and tequila sunrises. Or, if you're celebrating with a group, indulge in $17 pitchers of Modelo and Pacifico beer, as well as $23 Corona buckets. As an added bonus, the long-awaited Papi's location in Hampden has officially opened just in time for Cinco de Mayo—promising plenty of food and drink discounts for a bonafide Sunday funday. Multiple locations including 1703 Aliceanna St. 410-299-8480
Vida Taco Bar: Head toward the massive white tents in Harbor Point for the "Cuatro de Mayo" festival hosted by Vida Taco Bar on May 4. The all-day festivities happening from 12-10 p.m. will include Mexican street food, cocktails made with Sagamore Spirit whiskey and Ilegal mezcal, live DJ entertainment, piñata smashing, and even an outdoor viewing of the Kentucky Derby, which just so happens to fall on the same day. 1401 Point St. 443-835-3474
Woody's Cantina: Take in the killer waterfront views of Fells Point at this rooftop watering hole, which is celebrating accordingly with a three-day extravaganza. Complimentary Casamigos tequila samples will be flowing on Friday night, followed by bottomless brunch service and Espolon bottle engraving on Saturday. On Cinco de Mayo, show up early to enjoy beat-the-clock specials that start at $2 and increase every hour. Revelers will be able to get in plenty of liquid courage before karaoke kicks off at 2 p.m. 821 S. Broadway. 410-563-6600