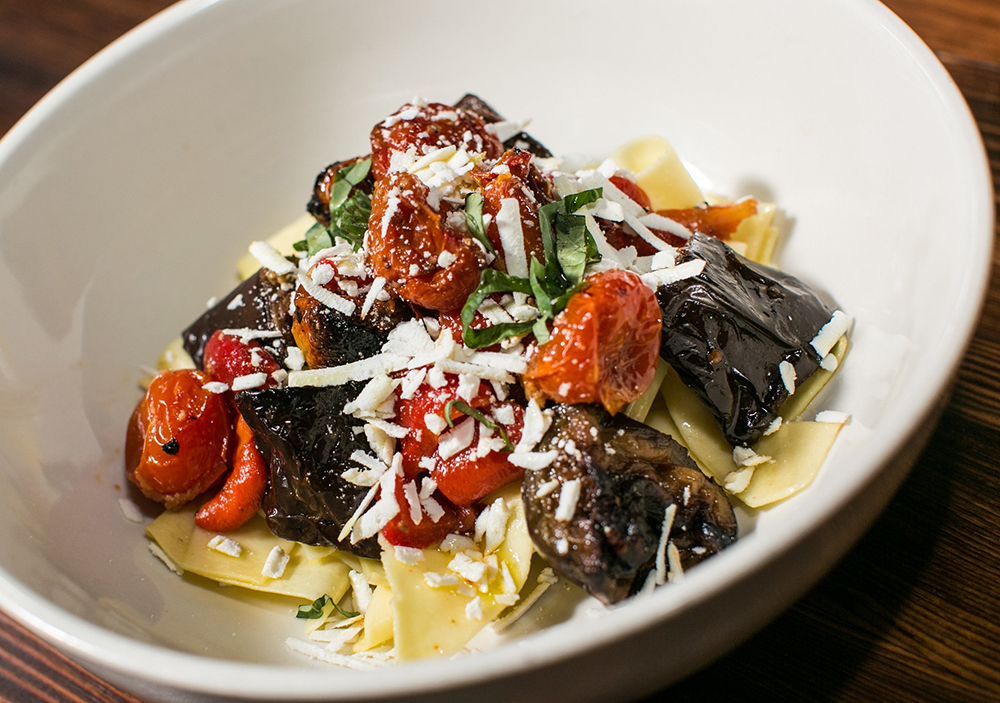 Courtesy of Cosima
This month's Baltimore Restaurant Week is going to be a bit different for chef Donna Crivello, who shuttered her 19-year-old neighborhood outpost Donna's Cafe in the Village of Cross Keys last month. Instead of overseeing two kitchens during the annual dining-out promotion, she is now solely focused on her work at rustic Italian spot Cosima inside Woodberry's Mill No. 1.
"I have so many mixed emotions about closing Donna's," Crivello says. "It was the end of an era for us. But moving forward, it's nice that I have a lot more time to spend at Cosima."
Though Donna's was one of last year's record-high restaurant closures—among others including Aggio, Parts & Labor, and Wit & Wisdom—the industry is ready to wipe the slate clean. And Baltimore Restaurant Week, which returns January 11-20, will kick off the year on a high note.
"I always like to look at the glass half full," says chef Robbin Haas, who closed The Nickel Taphouse in Mt. Washington due to financial struggles last October. "Even though there may have been some setbacks, you still have to keep moving ahead. And Restaurant Week is a way to really bring some energy into the restaurants."
Haas remains a partner at Birroteca in Hampden and Encantada at the American Visionary Art Museum in Federal Hill. Both spots will be participating in Restaurant Week, which offers multi-course lunch and dinner menus at fixed price points ranging from $12-35. The idea behind the winter promotion is to generate business during a season that is notoriously slower for the dining scene.
"You have this natural doldrum after the holidays where people are not going out because they're watching their weight or their credit card bill," says Steven Rivelis, co-owner of The Elephant in Mt. Vernon. "It's a great opportunity to reset things and start them in a positive way."
Though the dining deal makes it easy to explore restaurants in unfamiliar neighborhoods, Rivelis also stresses the importance of supporting the spots in your own backyard.
"Businesses need our neighbors," he says. "And neighbors need the businesses, or else you don't have a thriving community. It's a reciprocal responsibility, and I think Restaurant Week provides an opportunity for folks to get out and spend money in their own city."
Crivello agrees, mentioning that Cosima typically sees a spike in reservations throughout the event: "It's a real boost for January sales," she says. "If you can get 11 really good days, it makes a huge difference."
While some might be quick to pass on Restaurant Week because of the increased crowds or limited menu, Crivello assures that most teams anticipate the high demand and plan ahead.
"I think that's part of the fun of Restaurant Week—that's it's always busy and energetic," she says. "Most of us who run restaurants streamline things so that you're not going to have to wait a long time."
From a chef's perspective, Haas says that the week gives him a chance showcase highlights on the regular menu. Birroteca will feature the signature mushroom bolognese cavatelli and burrata bruschetta, while Encantada will offer dishes like crispy Brussels sprouts and steak frites with onion butter.
"Sometimes some of our dishes get lost in translation a little bit," he says. "So the Restaurant Week menu is something that we have a lot of fun with."
Rivelis is looking forward to debuting a few new items, including a lemon-caper chicken with house-made fettuccine and herb butter sauce, which will remain on The Elephant's worldly menu even after Restaurant Week ends.
As for Crivello, her special prix-fixe features ricotta meatballs, butternut squash soup, roasted pork belly, and the signature spit-roasted chicken with roasted vegetables and saffron couscous. Overall, she hopes that the upcoming event ignites diners to support the industry as a whole.
"When Donna's closed, I had a lot of people say to me, 'Well I guess I didn't come often enough,'" recalls Crivello. "You don't want people to feel bad, but it's true. You have to get out and support the places that you like, and visit the places that you haven't been yet. Our city needs that energy."