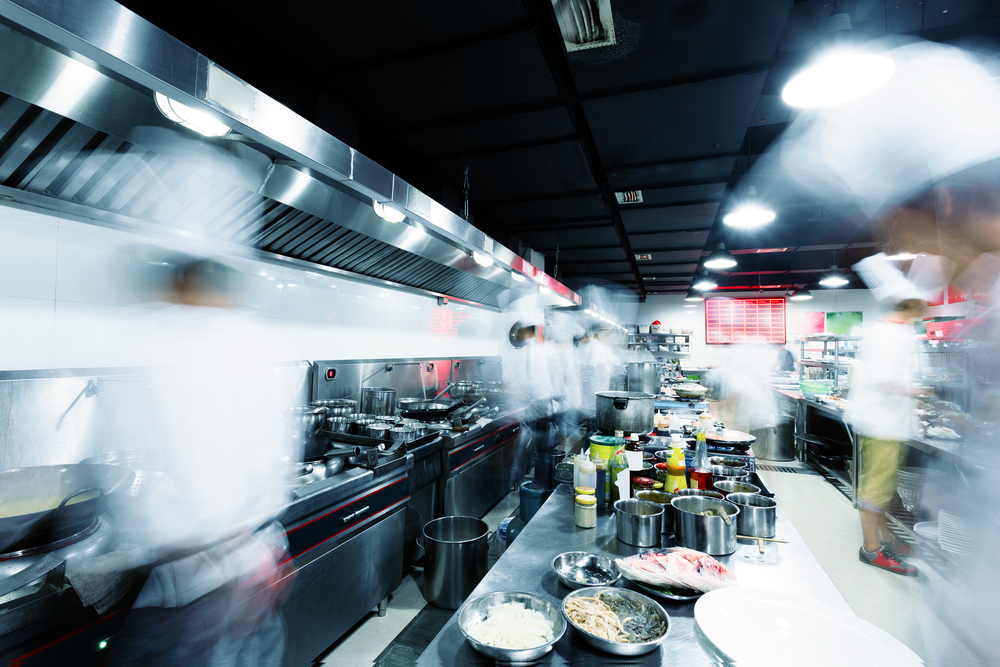 Working in the restaurant industry has long been known to be a pressure cooker, but the recent deaths of Anthony Bourdain to suicide; Miami's Sweet Liberty bar co-founder John Lermayer, who was found dead in his apartment in June; and, closer to home, former CEO for Bagby Restaurant Group Chris Becker—who allegedly lost a long battle with drug addiction—have all served as tragic reminders.
"It's high stress and late nights," says Blue Fork Marketing founder Dave Seel, who worked with Chris Becker at Bagby. "If you've ever stood in the line of the kitchen in a busy restaurant, it's boom, boom, boom. It's go, go, go, go for three, four, five hours, and you're firing off stuff and always have to be on point."
Those not working "the line" have pressures, too, says Cyrus Keefer, who has worked at several restaurants in Baltimore and is currently chef du cuisine at Cunningham's.
"Once you get a title or become management, the stresses are worse," says Keefer. "It's all about the bottom line for the owner. And if that means cutting a few people to keep costs down, the chef has to work the hours to make the difference. When I was at Fork & Wrench, I worked 30 to 40 days straight without a break because half the staff had left as I was taking the job there."
Sadly, abuse of alcohol and drugs is a far too common coping mechanism in kitchen culture—and addiction is rampant. In fact, a 2015 study by the Rockville-based Substance Abuse and Mental Health Services Administration reported that the hospitality and food service industry has the highest rates of substance use disorders and the third-highest rates of heavy alcohol use of all employment sectors.
"In past jobs, from Adderall to cocaine to heroin, I've worked with people who've been on every drug in the business," says Keefer, as he ticks off a list of well-known chefs who've struggled, not to mention the bartender he knew in Rehoboth who died of a heart attack after using "bad cocaine."
"[Husk's] Sean Brock went to rehab," he says. "[Cockscomb's] Chris Consentino came out and talked about his struggles with mental illness. I don't know one chef who doesn't have a therapist. When Bourdain's book came out, people thought it was amusing, but this stuff is real and ugly."
Seel says that, to some extent, some of those who choose kitchen work are already vulnerable. "One of the great things about the restaurant industry is that it's all-inclusive of these culturally fringe human beings," he says. "Young, blue collar kids are drawn to working in restaurants—it's a communal atmosphere, you're dating servers, you're part of a team, you can have a whole bunch of tattoos that are not going to fly in the corporate world. But with that there come these realities."
Of course, it's an irony of the service industry that those whose job it is to take care of others are not necessarily good at taking care of themselves, though that seems to be changing.
Seel says that he's also known people in the industry to be proactive about making better choices, as was the case with a cook who recently left a stressful kitchen job. "He switched lifestyles," says Seel. "Now he's up early in the morning and leads much more of a meditative lifestyle—it works for him. I know a lot of people who don't want to work the line."
Three years ago, executive chef Sarah Acconcia decided to take a stand by leaving her demanding job at a trendy Baltimore cocktail bar to take care of herself.
"Stress-wise, I was really finding the environment to be unmanageable," says Acconcia. "And I had health issues on top of it."
Though it wasn't easy to walk away from a high-profile gig, Acconcia did some serious soul-searching. "I came to the conclusion that I needed to take a break from being at the executive management level," she says. "A small restaurant did not have the resources to support their staff in having a work-life balance. I was working 60 hours a week. Every day was like fight or flight, not general work stress but that heart-racing flight or flight stress—the kind of stress that I think a lot of chefs feel every day."
Making matters worse was the machismo culture of the kitchen. "I'd be too embarrassed saying that it was too stressful or too unmanageable," Acconcia says. "That's not accepted, that's the culture teaching me that I'm weak." Acconcia acknowledges that in some ways, she, too, contributed to that culture.
"I have some regrets about the way that I managed kitchens," she says. "I was part of that culture that said you can't take a day off just because you have a cold—'Here's a bottle of DayQuil, now get back to your station.'"
These days, Acconcia runs Juniper Culinary Apothecary, an e-business that takes a holistic approach to spices. Recently, she also became the general manager of 13.5% Wine Bar in Hampden, a job she says offers a "good work-life balance."
Given her own struggles and former management style, Acconcia wants to help others and right some wrongs with her newfound wisdom. She created Self-Care for the Service Industry, a private Facebook discussion group, offering self-care tips and even meal planning for those in hospitality.
"There are so many toxic restaurant groups in Baltimore," she says. "If I could reach out and grab them, that would be great. I want to inspire a young cook who struggles. I want to show them how to make their place and learn and let them know that putting everything aside for work is not life. I just want people to know that it's 2018—it doesn't have to be like that anymore."
Restaurateur Tony Foreman of the Foreman Wolf Restaurant Group also adheres to the open-door policy with the thousands of employees he's hired in his decades working in the industry.
"I feel the same way about mental health as I do about my own cardiac health," says Foreman. "Everyone has something that could kill them. Those things need to be treated and people need to be cared for. Just listening to them is a gigantic thing—so many people are relieved to tell someone that they have this stuff going on and are vulnerable. Sometimes just having done that empowers them to seek the treatment that they need."
As these issues come to the fore, a number of support groups have sprung up around the country such as Ben's Friends, an open forum for discussing the difficulties of working in the restaurant industry and a sort of AA tailored to restaurant workers. The group was founded after South Carolina's Charleston Grill chef Ben Murray died by suicide after struggling with addiction and depression.
Bartenders, in particular, have their own set of issues that are unique to their craft.
"Customers will sometimes tell you a lot of things about their lives that you shouldn't know," says Amie Ward, beverage director at R. Bar. "At one of my jobs, a couple of regulars were having an affair with each other and I kept that a secret for many years—that didn't exactly make me feel like a great person. I've had to kick people out of bars, I've had barstools thrown at me—the job can take a lot out on you, especially if you don't understand the basic premise of self-care."
Other industry leaders, such as Lindsey Johnson, of Louisville, Kentucky-based Lush Life Productions points to the problems.
"With the way that the current landscape is set up for bartenders, there are a million occasions to have a drink and to maybe make choices that aren't the best for their long- or short-term health," says Johnson, who runs bartending education classes all over the country while also emphasizing mental health. "Almost every day, there's an opportunity to go to a sponsored event at someone else's bar where alcohol and drugs are flowing freely. There's a lot of social pressure that goes along with these events, not only to be open to trying the drinks presented, but to take every one of the shots that's put in front of you—there's a deep-seated social pressure that we see is pervasive."
But Johnson also sees the tide turning.
"I'm seeing this less and less with this new generation of bartenders," she says. "The deaths and suicides and overdoses have prompted bartenders to look at what we're doing to ourselves and make better choices every day. You have to set boundaries. If someone is pouring you all these shots, give some to a friend or just leave it. You have not failed your community—you've propped up your community and helped yourself by saying no."
Ward, who studied exercise physiology, travels across the country with Johnson offering healthy lifestyle advice to bartenders.
She shares what she has seen, including plenty of cautionary tales like the time at a former restaurant when "one of the line cooks accidentally overdosed and it crushed the kitchen."
"I encourage people to rethink what it means to be a bartender," she says. "Why does it mean that you have to be out every night until four in the morning?"
Locally, she has become a healthy lifestyle warrior in the bartending community, offering free weekly workout classes at Movement Lab to those working in the service industry.
"We do lots of core work so that people have the strength to stand up all day long and have good posture," she says. "We make it fun and do things like trampoline rebounding that helps increase circulation in areas of trauma, especially our feet and hips and back."
Ward also keeps healthy snacks at the bar to help her "bar children" get through a shift during which thousands of drinks are often made. In a previous job, she says, "I'd drink while I was at work the entire time. We only got paid in tips, so the balance was being able to drink. I wasn't trying to get drunk, but if you're taking a shot once an hour for eight hours or more with your favorite guests, it adds up. And there's a culture of greeting your fellow bartender with a shot."
At R. Bar, full-time bartenders only work four days a week and, with the exception of one night, the bar closes by midnight. Ward does not allow shift drinks and forbids drinking on the job. "When my kids clock out, they can change their clothes and buy a drink at the bar if that's what they want. But I remove the temptation."
And when one bartender quit so that he could go to rehab, Ward was supportive. "I encouraged him," she says. "It was the best inconvenience I could have. You have to set people up for healthy habits and provide the right environment if anything is going to change. These are the only children I'm ever going to have—I want them to be healthy and happy and safe and here for a very long time."