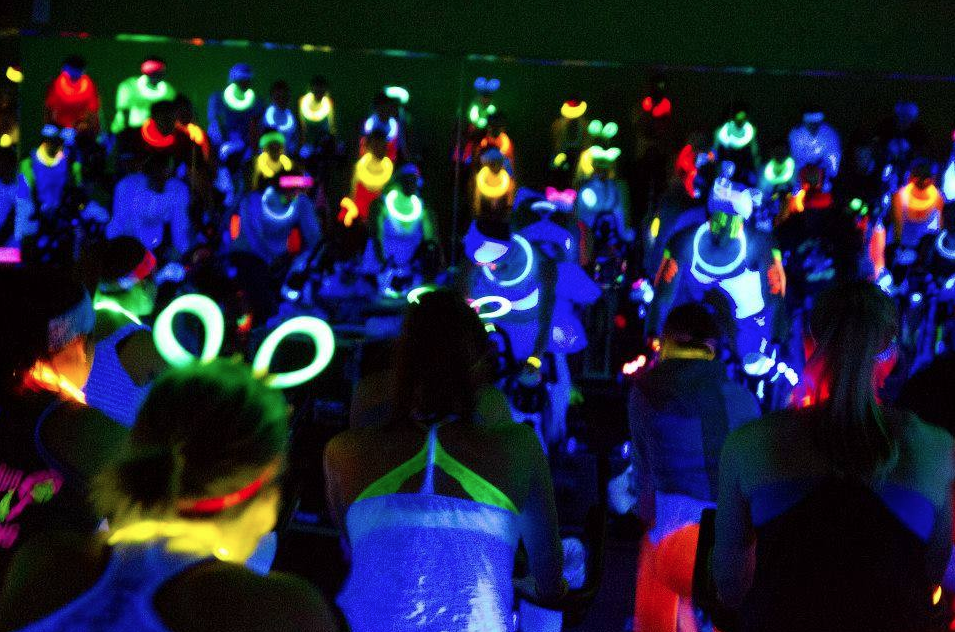 Courtesy of REV Cycle Studio
Get in on the Light City festivities this week with these fun and unique fitness classes.
Glow Ride
March 28, 7 p.m., 1718 Whetstone Way, 410-727-4738. Looking to add some excitement to your Monday night while also getting in a great workout? Look no further. REV Cycle Studio will be hosting a glow ride with black lights, glow sticks and DJ James Nasty spinning live in the studio. You can register for this class online starting on Sunday at 12:30pm.
Illuminated Yoga
March 30, 8-9 p.m., Area 10. If you like yoga, being outside, and body paint then this is the class for you. Medifast and Waterfront Partnership have partnered with Yogaworks to host illuminated yoga at Area 10, the grassy area by the World Trade Center and the National Aquarium. This is a mixed level class and every participant will receive glow necklaces, bracelets and glow body paint to illuminate their flow.
March 30, 7 p.m., 1713 Whetstone Way, 410-645-8266. Grab your running shoes and best bright attire for a running tour of the best Light City sights. The fun starts at Charm City Run in McHenry Row and ends at the stage along the Promenade between the Science Center and the Visitor Center. Runners are encouraged to dress in their best Light City themed attire with a prize going to the most creative.
April 2, 7-10 p.m., 3600 O'Donnell St., Suite 100, 410-534-9642. Join M. Power Yoga and Of Love and Regret for a night of yoga, blacklights, and brews. Start the evening off with a 75-minute blacklight class led by Keith Lightning that will combine power yoga and dance for a one of a kind yoga dance party. Be sure to arrive early to accessorize your yoga look with glow body paint and glow sticks. Then after class, head over to Of Love and Regret for DJ Bobby Byrd, food, and drinks. Tickets are available here and include food and one drink ticket.