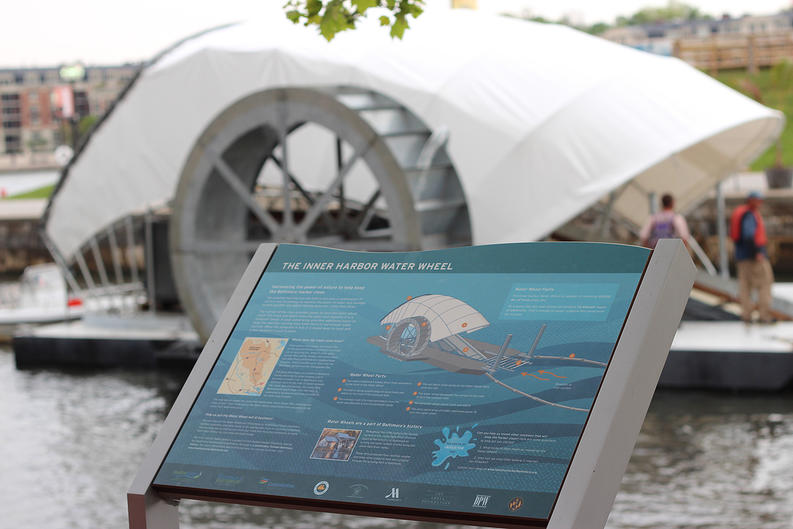 Sierra Club
The new Inner Harbor Water Wheel, harnessing the current of Jones Falls River and solar power to scoop up trash, is gathering international attention, with a recent YouTube video of the wheel picking up more than 1 million views.
The two and a half minute clip shows the wheel in action following a heavy rainstorm this spring and was created by Healthy Harbor Project Manager Adam Lindquist.
Capable of removing up to 50,000 pounds of trash daily, the Water Wheel has removed more than 58 tons of trash—mostly plastic bottles and bags, foam cups and containers, various debris and cigarette butts, but also a car tire—since its installation this May off Pier 6.
"The number of views is really incredible but I'm more excited about the conversations the video has sparked. There are about 1,500 comments on Reddit, more than 400 on YouTube and hundreds on the Healthy Harbor Facebook page," said Lindquist. "I'm hopeful all of this interest will lead to a more concerted effort by the public to pick up their trash and to do their part to keep our waterways clean."
Designed by Baltimore-based architecture firm Ziger/Snead, the $800,000 Water Wheel was paid for by Maryland Port Administration and Constellation, the renewable-energy arm of Exelon Corp, according to a press release from the Waterfront Partnership.
Michael Hankin, chairman of the Waterfront Partnership board of directors, noted that Water Wheel's work points to the need for Baltimore to pass bottle and bag bills.
"The Water Wheel and what it's doing to clean up the trash and debris from the Inner Harbor is powerful—none of us should ignore what it means for this many people to be paying attention to this issue," said Michael Hankin, chairman of the Waterfront Partnership board of directors. "The fact that is has 'gone viral' is proof that people care. . . People wonder why we advocate for a bottle bill and bag bill—other states and cities have adopted these and reduced the need for projects like the Water Wheel. I encourage those interested in supporting our work towards a swimmable and fishable Baltimore Harbor to do so by supporting these types of laws."