At 57, East Baltimore's Muggsy Bogues is Still Larger Than Life
Former NBA star's new memoir recounts relationships with family, mentors, and his fellow Dunbar Poets.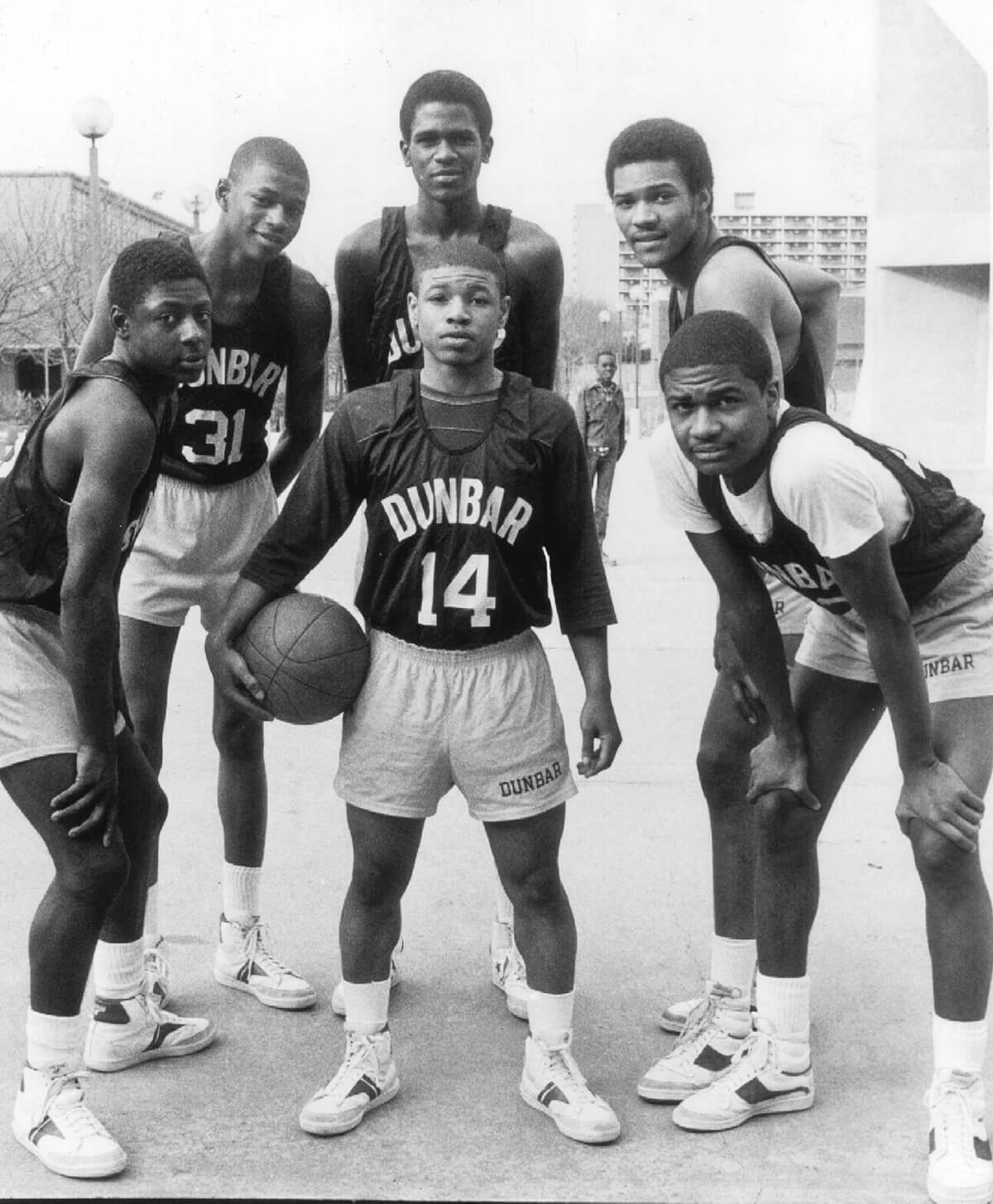 Forty years ago, Muggsy Bogues, with his best friend Reggie Williams and the rest of the Dunbar High Poets, played the Camden High Panthers and the No. 1 player in the country, Billy Thompson. Dunbar was Baltimore renown, but in the pre-cable, pre-internet era, not nationally visible, and when the 5-foot-3 point guard took the floor, the packed New Jersey house heckled the diminutive playmaker. Even the opposing players got into it.
"When we took the court, they were laughing at me, saying, 'Why is this little kid playing against us?'" Bogues recalls. "They called me the water boy. Coach [Bob] Wade pulled me in and said, 'Little man, you okay?' I just looked at him and said, 'Coach, we're about to have a party.'"
At one point, Bogues made steals on three straight possessions, sparking the Poets to a 29-point halftime lead and a blowout win. Afterward, he received a standing ovation and in the newspaper the next day, Camden's coach called Bogues, who scored 15 points and whose quickness and aggressiveness had set the tempo at both ends of the floor, "phenomenal."
"Kevin Walls [Camden's other star] thought it was going to be an easy day for him. But that would just be the journey," Bogues says. "People had their perception, but for me, it was always about not believing what was coming out of folks' mouth and not taking it to heart. The dramatic experience that I went through early, getting shot when I was a kid, changed my mindset more than anything. My dad being incarcerated, too. Words were the least of my worries. I'd learned to be in control of how I felt about myself. No one else."
That 1981-82 Dunbar team went undefeated and repeated the feat the next season. Incredibly, Bogues, Williams, and Reggie Lewis were all later drafted in the first round of the 1987 NBA Draft. Teammate David Wingate, a year ahead of those three, was already playing with Philadelphia, making it four from Dunbar's '81-'82 squad to reach "The League."
In his new memoir, Muggsy: My Life from a Kid in the Projects to the Godfather of Small Ball, Bogues recounts how Wade forced his charges to hold bricks in their hands during calisthenics and defense drills, and that his nickname originated from pickup games in tough East Baltimore. It was bestowed for his ability to snatch the ball from opponents, a "mugging." He didn't appreciate it at first, given its connotation, but as a fan of the coincidentally named East Side Kids reruns on TV, he learned to embrace it.
"Their leader [played by the similarly small but scrappy Leo Gorcey] was named 'Muggs.' I liked that. A nickname means you're someone in neighborhood and I wanted to be the leader of my guys, too."
In his book, Bogues recalls the fun Charlotte squads of the mid-'90s. He also recalls starring in Space Jam with Michael Jordan, the current owner of Hornets, where the popular Bogues serves as a team ambassador. At 57, he says the memoir "is about relationships."
Among those relationships are the bonds with his rec center mentors, his teammates at every step, including Lewis, the former Celtic star who died at 27 of a congenital heart disorder, and a close older brother, who struggled with addiction, as did his father. There is his first basketball rival, his older sister Sherron, who starred at Dunbar ahead of him, and his mother, both now deceased like his father—the book includes an entire chapter titled "Grief"—and his wife, Kim. The couple divorced and then, 10 years after separating, remarried in 2015.
They met during a Dunbar alumni game when Bogues was home on break from Wake Forest. Kim attended with a girlfriend who was dating one of his former teammates, but to this day, they have very different memories of their meeting. His wife claims she'd never heard of him and he still doesn't believe her. She didn't care that he was short, Bogues adds with a chuckle; she tells people she walked out on their first date because "my head was too big."